If you're into cocktails, you've probably heard the word "amaro" thrown around pretty often. What is an amaro liqueur, and why are they so popular? Here's your guide to everything you need to know about this bittersweet category of spirits.
Jump to:
What is Amaro Liqueur?
An amaro (plural of amaro: amari) is a type of Italian liqueur. The word amaro means bitter in Italian, and that is one of the defining flavor characteristics of amari. Each one has its own secret recipe: unique combinations of herbs, roots, and other botanicals that give it a special flavor all its own.
One of the reasons it's so hard to pin down this type of liqueur is the looseness of the definition. It has to have bitterness and sweetness, and it has to have alcohol and sugar, but there is a massively wide range of flavors this covers.
This also means that each Italian amaro is essentially like no other. Unlike vodkas or whiskeys, in which you kind of have an idea of what types of flavors to expect when you open a bottle, amari can be vastly different from one brand to the next. This can make it hard to substitute one for the other, but it's also an amazingly easy way to add depth of flavor and complexity to your mixed drinks.
How Do You Drink Amari?
Although they are wonderful ingredients in cocktails, amari are very often sipped on their own in a small shot glass. Enjoying them "neat" like this (and at room temperature) is the traditional way, so you can get the full expression of flavors and health benefits. They are used as either an aperitivo (aperitif) taken before a meal, or, more commonly, a digestivo (digestif) after a meal.
Another increasingly popular (and refreshing) ways to enjoy amari is in the Amaro Spritz cocktail, where the spirit is combined with Prosecco sparkling wine and seltzer water. These drinks are typically served during "Aperitivo Hour", the magic hour of a summertime sunset.
History of Amaro
Amaro has a long and rich history that dates back centuries, with evidence that it was even around during Roman times. Like bitters, amari were originally used medicinally, to cure everything from aches and pains to digestive ailments.
Small towns would develop their own unique recipes using local ingredients like roots, bark, herbs and citrus peel. Common flavoring ingredients were gentian, anise, sage, and even artichoke. This proud local tradition continues to this day, with small bars across Italy making their own unique "house" liqueurs.
But everything changed in the 1800's with the start of modern manufacturing techniques and shipping methods. Companies were now able to bottle and brand their secret recipes, allowing them to more easily share their products with a wider audience and start to gain recognition for their unique flavors. They sold the liqueurs as health tonics at first, but people began to appreciate them for their complex flavors too, and a new era of amari began.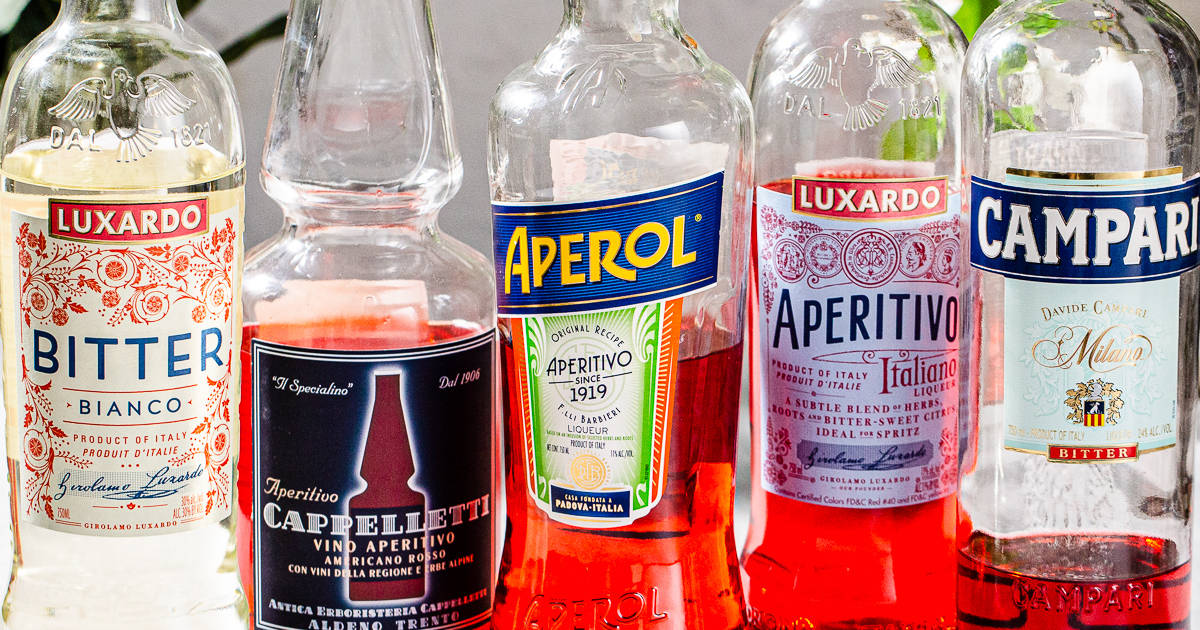 How is Amaro made?
Amaro is made by blending a base of neutral spirits or wine with a variety of herbs, spices, blossoms, and fruits. Traditionally, the base spirit is grappa, which is a brandy made from the leftover grapes and seeds of wine production, but any neutral spirit can be used.
The maker will choose their own blend of bitter herbs such as gentian, cinchona bark, rhubarb and bitter orange. Then, they add in other flavoring ingredients like citrus, cardamom, and saffron. These ingredients are all macerated (mashed together) with the base liquid. Then, sugar syrup is added in, and the whole mixture is aged in casks or oak barrels for anywhere from a few months to a few years.
After it's aged, the mixture goes through a final filtration process. This is to make sure that the liqueur is free from any sediment before bottling and distribution.
Common Types of Amari
We can usually classify an amaro liqueur based on whether it's intended as an aperitivo (before dinner) or digestivo (after dinner) drink. Aperitifs tend to be lighter, both in flavors and in alcohol content, whereas the digestifs are a little sweeter, but also more complex and bitter. (Of course, there are lots of exceptions! They're amari, and they can't be tied down!)
Popular Aperitivo Style Amari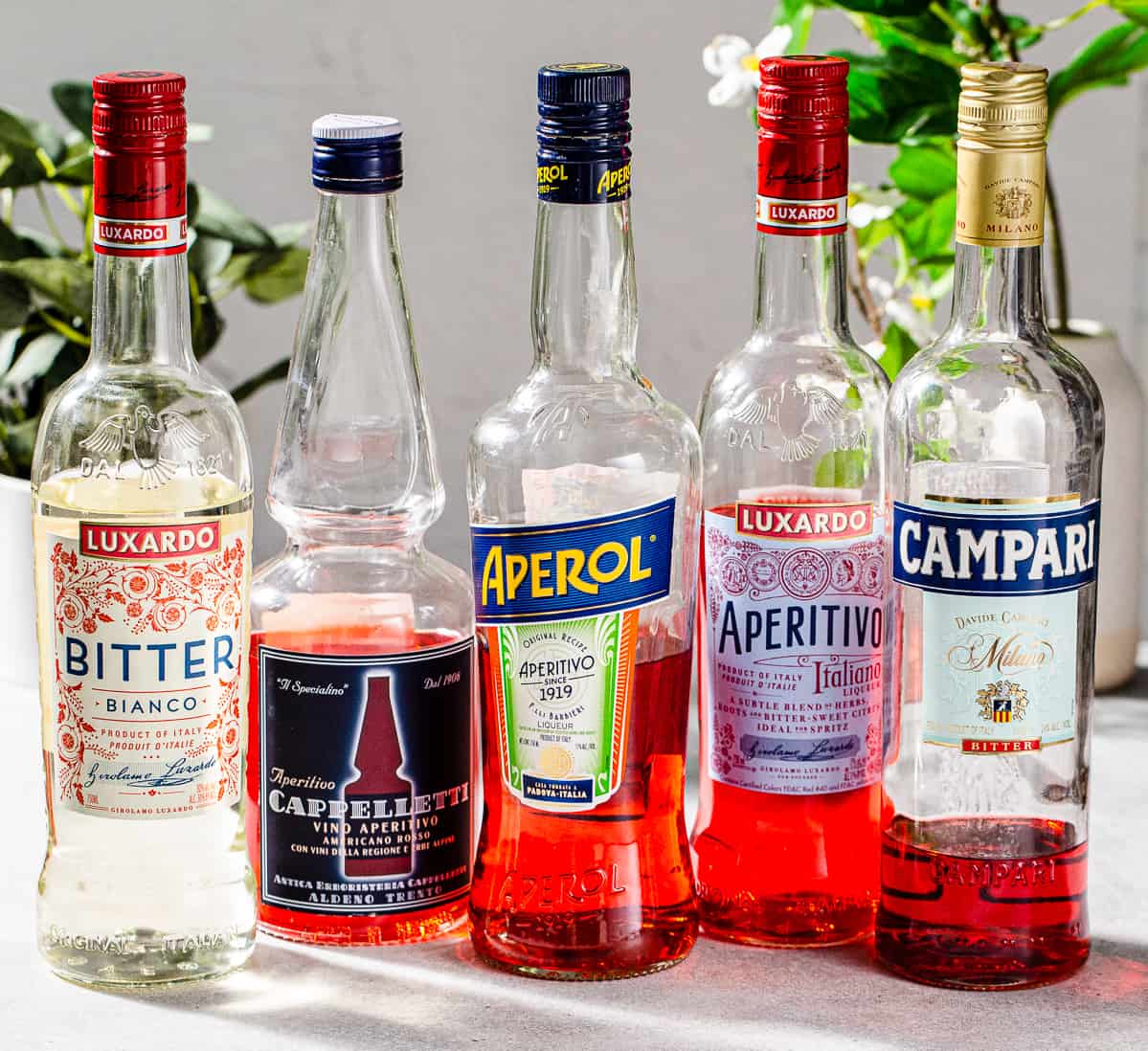 Popular Digestivo Style Amari
Even More Popular Amari
Cocktails that use Amaro Liqueur
There are lots of cocktail recipes that call for an amaro liqueur. Here are few popular ones, and some of my original recipes too!
Common Amaro Questions
Is Campari an Amaro?
Campari is definitely considered an amaro! Its combination of bitter citrus and herbal notes, plus lots of sweetness, put it firmly in the amaro category. It is on the lighter, more citrusy side flavor-wise, so it's often used for a spritz aperitif or in a Negroni cocktail.
Is Amaro the same as Amaretto?
Although the names are similar, Amaretto (literally meaning "a little bitter") is actually not an amaro. Amaretto is a liqueur flavored with either almonds or apricot kernels. Almonds do have a slight bitterness to them, which is likely where the name came from.
Is Jägermeister an amaro?
Although it's made in Germany instead of Italy, Jägermeister is still considered an amaro. It has a strong bitter flavor along with many herbal notes from over 50 different herbs and spices, including citrus and licorice.
Should amari be refrigerated?
Most amari don't need to be refrigerated, although there are some exceptions. If the amaro has wine as a base, like Cappelletti, it should be refrigerated after opening. This is because the wine can oxidize and throw off the flavors. (The same is true for vermouth or any wine-based liqueur.) Just check the label on the bottle to see if you'll need to refrigerate yours.
Is vermouth considered an amaro?
Although it has both bitter and sweet flavor notes, vermouth is considered a fortified wine. In contrast, although some amari do contain wine, the primary base is a neutral spirit (often grappa).
Further Reading
Looking for even more of a deep dive into the world of amari liqueurs? These books go into much more detail about these complex and wonderful spirits!
---