The Apple Cider Mimosa is a twist on the classic Mimosa cocktail using fresh apple cider. This easy-to-make cocktail is both delicious and perfect for the fall season! It only has three ingredients (or two if you want to skip the hard liquor). The cinnamon sugar and caramel rim gives an extra pop of sweetness and flavor.
This recipe is a hit during apple season, which is in the early fall, because that's when fresh apple cider is usually available. It's best made with fresh cider, since you'll get the best apple flavor!
A traditional mimosa contains just orange juice and Champagne. Since there is not as much sourness and even more sweetness in the apple cider than the OJ, I used some applejack brandy in this recipe to balance it out a bit. It is so good this way! It does add a bit more alcohol for a stronger drink overall, but it is worth it!
Looking for more fall-themed recipes? This Fall Sangria with Apple Cider is an amazing white wine based sangria with fall flavors! Or, try out this Apple Cinnamon Bourbon cocktail, another delicious drink with fresh apple cider (and a cute baked apple garnish).
Jump to:
Ingredients
Here are the ingredients you'll need to whip up this cocktail.
Apple Cider

- fresh apple cider works best here, without spices added. Or, you can also use for spiced apple cider that already has things like cinnamon, nutmeg and clove flavoring it.
Champagne or sparkling wine - traditionally a mimosa is made with Champagne, which has some more yeasty and tangy notes to it than other sparkling wines. If you want more of a sweet flavor, go for a Prosecco style.
Applejack - this is a type of apple brandy that goes perfectly with the apple cider. (I used Laird's Applejack.) You can omit it if you want a lower-alcohol drink, but I suggest using a spiced apple cider if you are not going to use the brandy, otherwise the drink will be very sweet.
Caramel sauce - this is for adding a sugar rim garnish. I used a pre-made caramel sauce here. You can also use a homemade caramel syrup, although the syrup is thinner and may drip down the sides of the glass.
Cinnamon sugar - this is for garnishing the rim of the glass.
Fresh apple - a fresh apple slice makes a perfect (though optional) extra garnish.
Substitutions
Here are some ways you can substitute ingredients for this drink.
Apple Cider - if you don't have fresh apple cider, you can use an apple cider concentrate, which is like a thick syrup. It usually comes with spices like cinnamon already in it, and you would need to dilute it with water before using it in this recipe. In a pinch, you could also use apple juice, but if you can use a juicer to make fresh juice it would work better!
Sparkling wine - I definitely suggest trying to find sparkling wine, but if you don't have it, you can use regular wine and substitute sparkling apple cider in place of the fresh cider. It's kind of like a reverse mimosa!
Applejack - you can use any kind of apple brandy here. Calvados is another type of apple brandy to try. If you don't have it, another type of brandy works great too, like Kirsch (cherry brandy) or even Cognac or Armagnac.
Variations
Here are some variations of this drink!
Mulled Cider Mimosa - this is mainly a way to add some mulling spices to flavor the drink. Just stick some whole spices like cinnamon, cloves, nutmeg, star anise and some slices of fresh orange into a saucepan with apple cider, and bring it up to a simmer. Let it simmer for a few minutes, then strain and bottle it, and chill in the fridge before using it in this drink. Bonus: you can drink it hot with some apple brandy too!
Non-alcoholic Apple Cider Mimosa - to make a virgin version of this drink, just use sparkling apple cider in place of the Champagne. You can also use a non-alcoholic whiskey like Monday whiskey in place of the applejack. Sparkling cider is different than fresh cider, so mixing the two will give a different flavor. Serve this one with a cinnamon stick instead of an apple so you can tell the difference between the alcoholic and non-alcoholic glasses.
Cinnamon Apple Cider Mimosa - add an extra cinnamon kick by infusing your applejack with cinnamon sticks. Just add the applejack to a glass container or mason jar along with a cinnamon stick or two, and let it sit overnight. Remove the cinnamon sticks and use it as normal in the drink.
Equipment
This is an easy recipe, and you'll only need a few things on hand to make it! You'll just need a jigger or small measuring cup, a couple of small dishes for the sugar rim, and a knife and cutting board to make the apple garnish.
Optional, but awesome: I love using this Champagne bottle opener! It really makes opening the pressurized bottles super easy (and I don't spill nearly as much when the cork comes out!)
Instructions
Start out by adding the cinnamon sugar rim to your glass. Put cinnamon sugar in one small dish and the caramel sauce on another dish.
Dip the glass rim into the sauce, making sure not to let any drip down the sides of the glass. Then dip the rim into the cinnamon sugar, turning the glass to make sure all of the sauce is coated. Set the glass aside.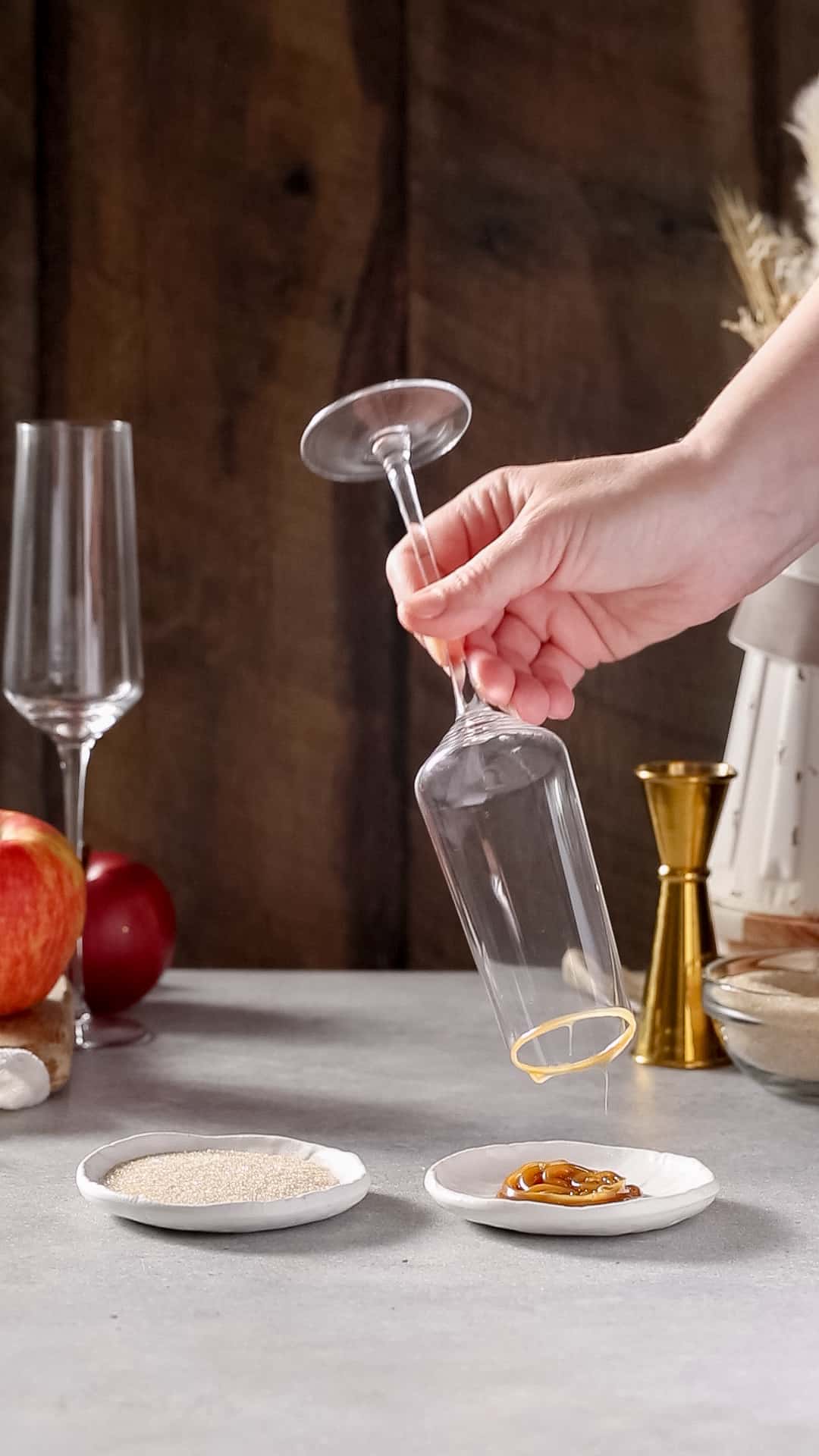 Make your apple slice garnish by cutting one side off of an apple, avoiding the core. Place the cut side down on a cutting board and make slices from the middle of the apple piece.
Then, with each piece you want to use as a garnish, make a thin notch in the side where it will sit on the rim of the glass.
Once your garnishes are done, make the drink. Add the applejack and the apple cider to your cocktail glass.
Open up your sparkling wine and pour it directly into the glass.
Add the apple slice to the rim of the glass. If it is wobbly, just press it down a little bit further past the notch. Serve and enjoy!
Hint: as long as you are using a normal-sized Champagne flute, which typically holds 6 ounces, you can eyeball the sparkling wine measurement. Just fill the Champagne flute until it is a little bit more than halfway full. If you measure it out first, you will lose a little bit of carbonation.
Frequently Asked Questions
Is apple cider an alcohol?
No, fresh apple cider is non-alcoholic. It's made by juicing apples, but not filtering out all of the apple solids. The alcohol ingredients in this mimosa are the Champagne and applejack brandy.
What is the difference between apple cider and apple juice?
Fresh apple cider is a seasonal product that is normally only available during apple season in the fall. It's made from the juice of apples, but it is unfiltered and usually unpasteurized. It requires refrigeration, and the shelf life is very short. Apple juice is usually pasteurized, and all of the apple solids are filtered out. It can be bottled and stored at room temperature for a long time.
Top tip
A wonderful way to serve this drink at a party is to set up a mimosa bar. You can have some bottles of Champagne chilling in ice, and a pitcher of the fresh apple cider pre-mixed with the apple brandy (or, keep them separate if you want your guests to decide whether or not they want the brandy). You can add the sugar rim to all of the glasses ahead of time. You can also have some orange juice there for any guests who want a traditional mimosa!
📖 Recipe
Apple Cider Mimosa
This Apple Cider Mimosa combines fresh apple cider with applejack brandy and Champagne for a bubbly, fruity and delicious cocktail.
Equipment
2 Small plates

(for the sugar rim)

Knife and cutting board

(for the apple garnish)
Ingredients
Garnish (optional)
3

tablespoons

cinnamon sugar

3

tablespoons

caramel sauce

1

slice

apple
Cocktail
½

ounce

applejack

(see Notes)

2

ounces

apple cider

3

ounces

sparkling wine
Instructions
Garnish
Add the cinnamon sugar to one small plate and the caramel sauce to the other.

Dip the rim of the cocktail glass into the caramel sauce. Hold the glass over the sauce upside-down for a few seconds, so any excess will drip back onto the plate instead of down the side of the glass.

Dip the caramel-coated rim into the cinnamon sugar so that it sticks to the caramel all the way around the glass. Set the glass aside.

Using a sharp paring knife, cut your apple slice and make a small notch in the side of the apple slice. This will be where you attach the apple to the rim of the glass. Set the apple slice aside.
Cocktail
Add the applejack to your serving glass, being careful not to disturb the sugared rim.

Add in the apple cider to the glass.

Open your sparkling wine and pour it into the glass.

Add the apple slice to the rim of the glass, and serve.
Notes
You can omit the applejack if you want to make a lower-alcohol drink. If you do, I suggest using a spiced apple cider rather than plain apple cider.
Nutrition
Calories:
139
kcal
Carbohydrates:
11
g
Protein:
0.1
g
Fat:
3
g
Saturated Fat:
1
g
Polyunsaturated Fat:
0.03
g
Cholesterol:
5
mg
Sodium:
22
mg
Potassium:
145
mg
Fiber:
0.4
g
Sugar:
9
g
Vitamin A:
7
IU
Vitamin C:
1
mg
Calcium:
13
mg
Iron:
0.4
mg
Made with WP Recipe Maker plugin