If you're looking for a delicious and beautiful brunch cocktail, look no further than this Blood Orange Mimosa! This tasty drink is a twist on the traditional mimosa, a classic cocktail with orange juice and sparkling wine. By substituting in blood orange juice and using a slice of the fresh fruit as a garnish, this bubbly cocktail looks as good as it tastes!
Blood oranges (sometimes called raspberry oranges) have a sweet and tart flavor, with just a touch more bitterness than a navel orange. The inside flesh of the orange has a dark crimson color, which happens when the fruit develops in cooler temperatures at night. Sometimes the peel is just orange, but often the color will transfer to the peel as well.
Not only is this mimosa recipe incredibly simple to make, but the vibrant color of the juice adds a beautiful and festive touch to any brunch spread. The bright reddish orange will stand out and delight your guests for any occasion! It's a great cocktail for brightening up a winter day.
While blood oranges are in season, don't let them go to waste. Try out my Spicy Blood Orange Margarita, a showstopping cocktail with a spicy kick. If you're looking for a bit more bubbly, this Vodka Champagne Cocktail, French 75 & French 76 are all absolutely delicious cocktails for brunch and beyond!
Jump to:
Ingredients
Only three ingredients make up this wonderfully bright and refreshing cocktail:
Blood orange juice - fresh blood oranges are a little hard to find outside of winter citrus season, but they're becoming more common in stores. Look for either the oranges themselves, or bottled juice (cold pressed if possible).
Orange liqueur - I used Orange Curaçao, but Cointreau or Triple Sec also work great. The liqueur is more of an optional ingredient, but a little really adds to the flavor and richness of the drink.
Sparkling wine - I used Prosecco in this drink, which is on the sweeter side for sparkling wines and goes really well with the fruit juice. Champagne is used in a traditional mimosa, and works well here too.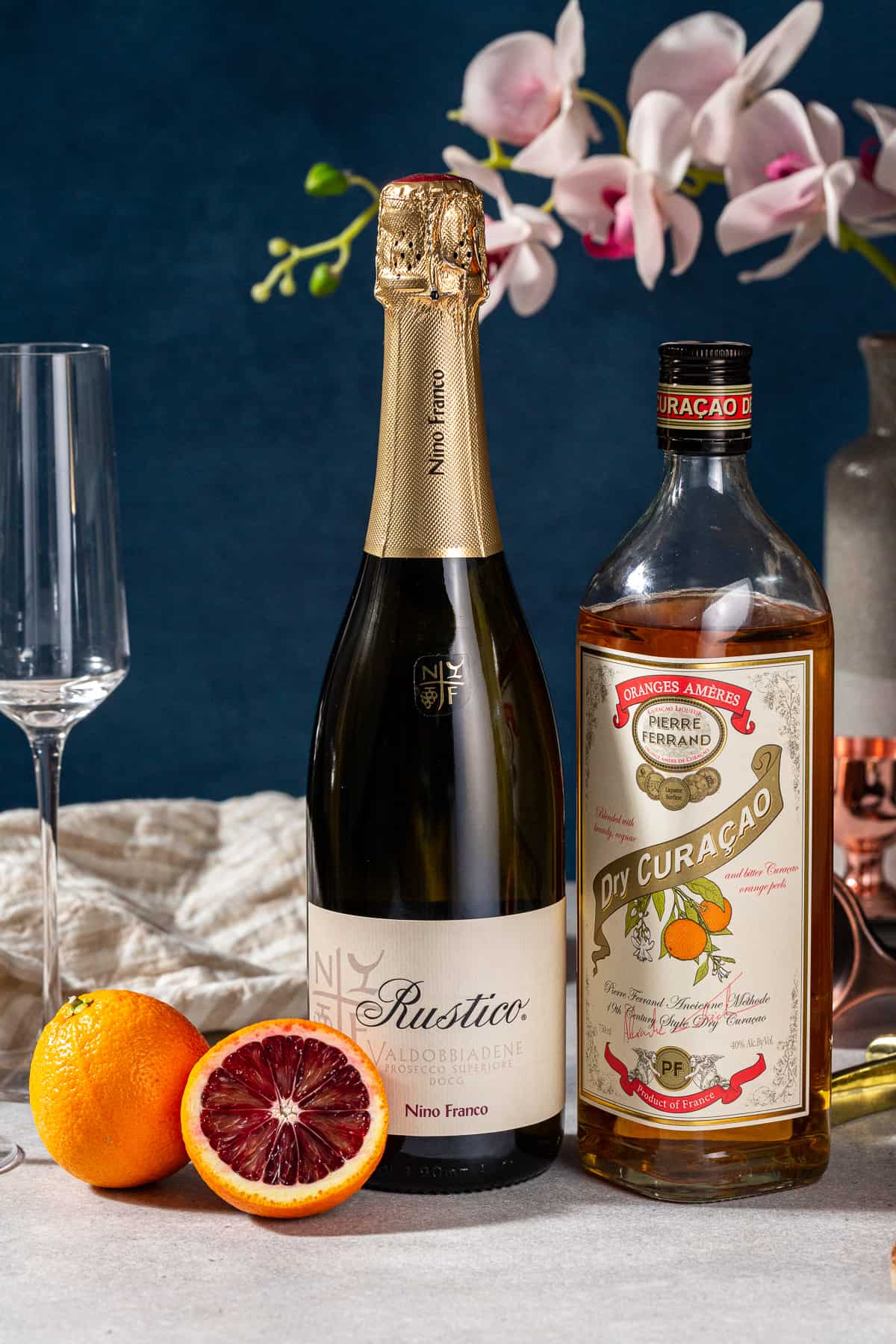 Substitutions
Here are some ways you can substitute the ingredients in this cocktail:
Sparking wine - If you don't have any Prosecco on hand, try Champagne or Cava for a deeper flavor. A brut Champagne (dry Champagne, which means it has less sugar) will cut down on the sweetness. A rosé sparkling wine would also work really well in this drink.
Orange Liqueur - Omit the liqueur if you don't have it, or you can use a different citrus liqueur like limoncello or Italicus bergamot liqueur.
Juice - Keeping with the orange flavors, swap out blood orange juice for the juice of a navel orange, clementine, or a cara cara orange. You can add a splash of grenadine syrup to add some color to the drink.
Variations
Here are some variations on this recipe:
Spiced Rum Mimosa - Add spiced rum in place of the orange liqueur for another layer of flavor. The juice and cinnamon spices go surprisingly well together!
Virgin Blood Orange Mimosa - If you're avoiding alcohol, you can use an alcohol substitute in place of the hard stuff without sacrificing flavor. Lyre's orange sec is a non-alcoholic option to replace the orange liqueur, and here's a list of the best reviewed non-alcoholic champagne.
Different flavors - Use grenadine and pomegranate juice for a different spin, then garnish with pomegranate seeds. You can also try the Poinsettia Cocktail, which is a tasty cranberry version of the mimosa.
Equipment
To prepare your orange garnish, you'll want to have a sharp knife and cutting board on hand.
Since this cocktail is made directly in the serving glass, a jigger or measuring cup on hand is all you should need in terms of equipment. A fine mesh strainer also helps to help remove any pulp from the orange juice, so that more of the sparkling wine bubbles stay intact.
For the serving glass, grab some tall champagne flutes, or use stemless flutes for a more casual feel.
Instructions
Prep your garnish by cutting an orange slice, and then cut it in half. Making a slit in the middle so you can attach it to the rim of the glass later. Set aside.
Add the orange liqueur to the bottom of the serving glass.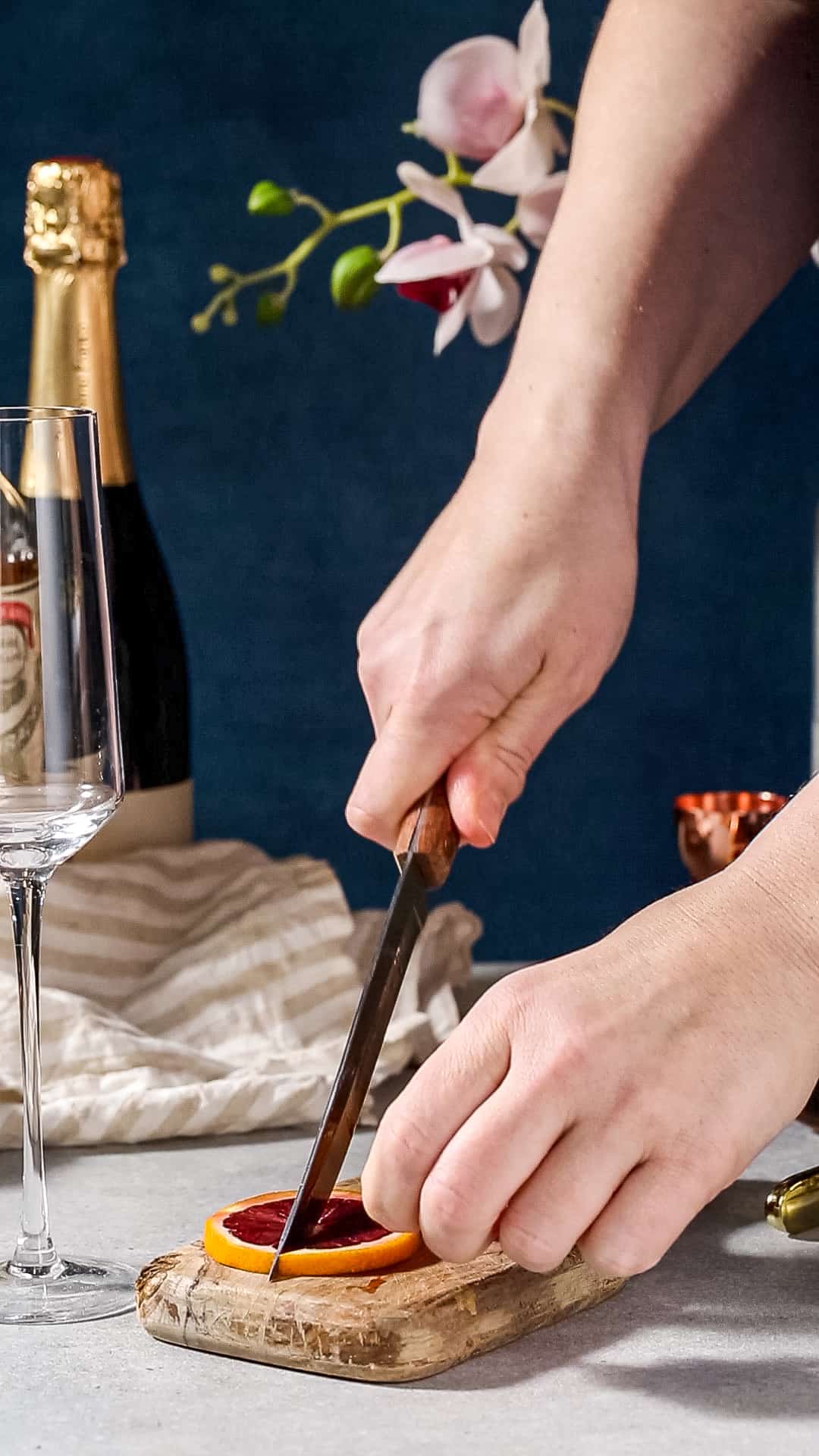 Pour the blood orange juice into the glass. If your juice is freshly squeezed or has pulp, pour it through a fine mesh strainer to try to get rid of most of the pulp. Leaving in the pulp will cause a lot of the carbonation to come out of the sparkling wine.
Top the drink off with the sparkling wine. Then, add the garnish and serve immediately. Cheers!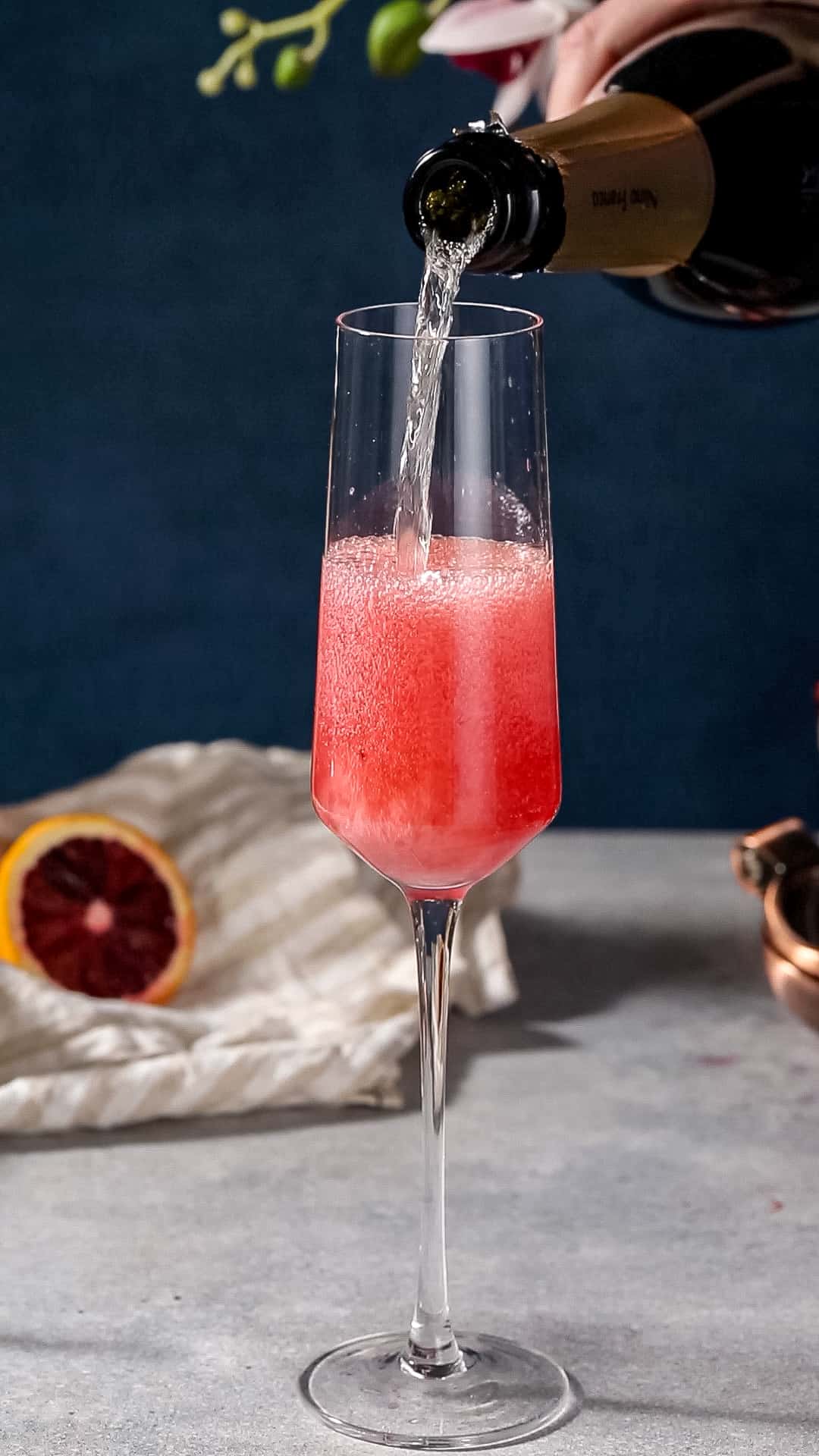 Hint: Try to chill all of your ingredients (including the serving glass!) for at least 30 minutes before preparing. This will ensure your cocktail stays cool longer.
Frequently Asked Questions
What fruit is good for mimosas?
While orange juice is usually the go-to for mimosas, pineapple juice, guava, mango, and cranberry juice all offer deliciously flavored cocktails, like in the Poinsettia Cocktail. You can offer berries or sliced up fruits as a garnish for your guests to customize their drinks.
What orange juice is best for mimosas?
Cold, freshly squeezed, and finely strained orange juice is going to be best for mimosas. If you can't squeeze it fresh, look for a "cold pressed" bottled orange juice. This avoids the pasteurization process, which takes away a lot of the tangy and fresh flavor.
Can you make larger batches of blood orange mimosas?
Yes, making a larger batch is easy! To create a larger batch, simply multiply the ingredients listed in the recipe and mix them up in a pitcher before serving. You can also adjust the alcohol content depending on how strong you would like your mimosa to be. Alternatively, you can mix the juice and liqueur in a pitcher, and have your guests add their own fresh sparkling wine, which will keep more of the bubbles intact than pre-mixing.
Top tip
Since blood oranges have a short season, a great way to enjoy blood orange mimosas year-round is to juice them in season and then freeze the juice in ice cube trays. The flavor will stay super fresh and delicious!
📖 Recipe
Blood Orange Mimosa
This Blood Orange Mimosa is a twist on the classic brunch cocktail! With fresh blood orange juice, orange liqueur and sparkling wine, this mimosa looks as good as it tastes.
Ingredients
Garnish
Half slice of fresh blood orange

(optional)
Cocktail
1

ounce

Blood orange juice

½

ounce

Orange liqueur

4

ounces

Sparking wine
Instructions
Prep your garnish by cutting a slit in the orange slice where it will sit on the rim of the glass. Set aside while you make the drink.

Add the orange liqueur to the bottom of the serving glass.

Pour the blood orange juice into the glass. If your juice is fresh squeezed or has pulp, pour it through a fine mesh strainer to try to get rid of most of the pulp.

Top it off with sparkling wine.

Add the garnish, and serve immediately. Enjoy!
Notes
If you prefer a less strong drink, just omit the orange liqueur. You can add more of the orange juice in its place.
Nutrition
Serving:
1
g
Calories:
115
kcal
Carbohydrates:
10
g
Protein:
0.4
g
Fat:
0.1
g
Saturated Fat:
0.03
g
Polyunsaturated Fat:
0.02
g
Monounsaturated Fat:
0.01
g
Sodium:
9
mg
Potassium:
173
mg
Fiber:
0.2
g
Sugar:
9
g
Vitamin A:
71
IU
Vitamin C:
18
mg
Calcium:
16
mg
Iron:
1
mg
Made with WP Recipe Maker plugin