There are so many styles of chocolate chip cookies, and of course, everyone has their own preference. My mom's tastes are firmly on the thin-as-a-wafer, super crisp side of the spectrum. These Brown Butter Chocolate Chunk Cookies, though, are another thing altogether. They are best described as thick and dense, with a fudgy texture almost like a brownie or blondie. The brown butter makes them amazingly flavorful, and using chocolate chunks instead of chips gives them a craggy look, with pops of chocolate in every bite.
Browning the Butter
Like all chocolate chip cookie doughs, this one is pretty simple to put together. But this one also starts off by browning the butter, a step which gives the final cookies loads of delicious flavor. You can always skip this step and just melt the butter instead, but browning it will really bring them to the next level.
To brown the butter, you'll just need a medium saucepan that you'll put the butter in. Let it melt over medium heat, keeping an eye on it. When it is fully melted, it will start to bubble up.
At this point, I don't leave the stove. Keep stirring it so you can see the bottom past all the bubbles. It will start to smell different, more of a nutty smell, and the color will change to a light brown (see photo). Remove it from the heat at this point. You don't want to let it burn, or it will ruin the taste, so err on the side of underbrowned.
Making the Dough
While the butter is cooling, you can measure out your dry ingredients. Weigh out your flour in a medium size bowl along with the baking soda and salt, and whisk them all together. Set that bowl aside.
When the brown butter is cool enough, you can add it to a large mixing bowl and start adding your other ingredients. These cookies use a mix of brown and white sugar, which you'll stir in to the brown butter.
Add in your vanilla and egg, and then stir until everything is combined well.
Then, add the flour mixture into the butter mixture, and gently stir to combine.
Note: This can all be done with an electric mixer or stand mixer too, it's your preference!
Chocolate Chunks
In the chips vs. chunks debate, I'm firmly on the side of chunks. I mean, they're bigger pieces of chocolate, what's not to like about that?
I really like these baking chunks from Whole Foods, and I used them to make the cookies in my photos. They are the perfect size for the cookies, and you can make one recipe with half a bag.
Fold in the chunks until they're evenly distributed. (And eat those chunks that fell on the table.)
And now, you're ready to shape the cookies. That's right! No overnight resting for this dough. Trust me, I tried it and it is pretty much impossible to work with this dough when it's cold! Plus, the cookies don't spread nearly as much, so they look kind of wimpy after baking (they still taste amazing, though.)
Shaping the Cookie Dough
I find that this dough works best if you shape it into a disc using your hands. To portion it out, use a quarter cup measuring cup or a large ice cream scoop, and then mold it in your hands to create little discs. Kinda like mini hockey pucks.
Give them a bunch of space in between, since they will spread during baking. Also, feel free to reposition the chunks as you like! I usually move them from the bottom to the top so I can have lots of melty chocolate on top.
Once they're all shaped, pop them in your preheated oven. These bake really quickly, around 10 minutes, so keep an eye on them. If you see them start to brown at all near the bottom, take them out. If you have a probe thermometer, the internal temperature should read 175-180 degrees F (80-82 C).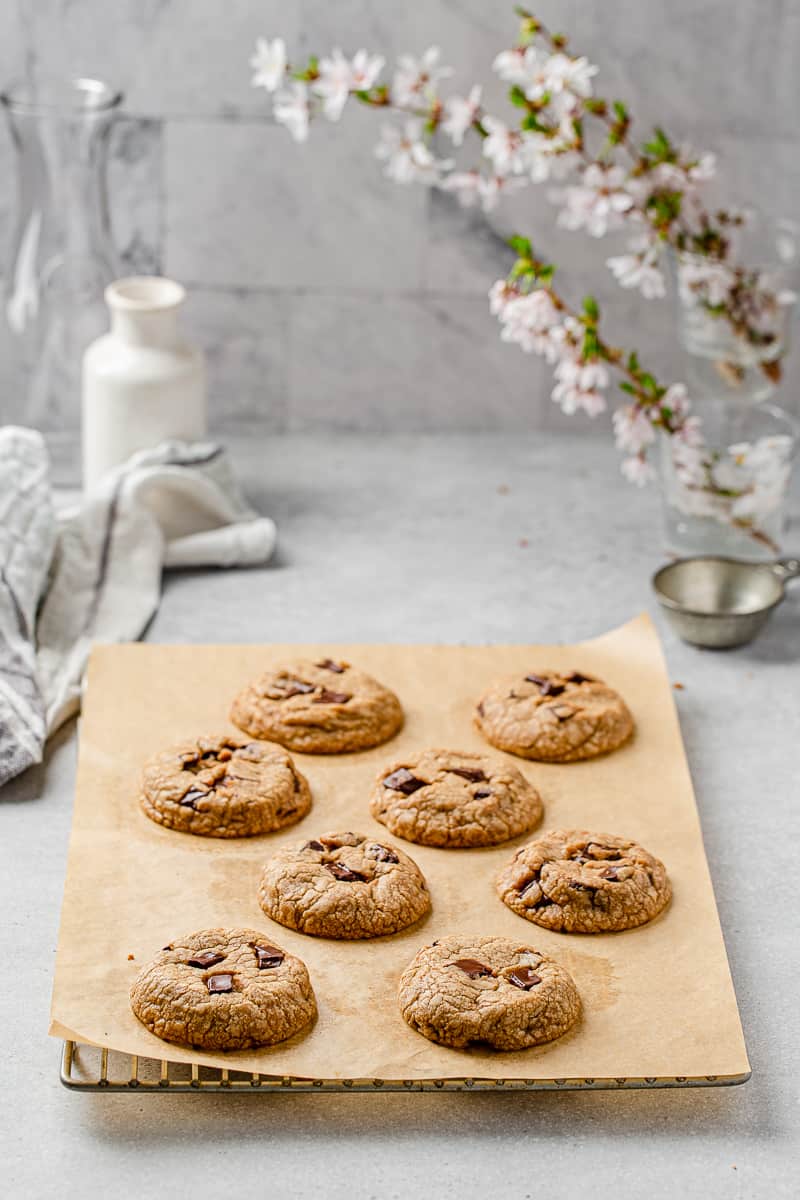 They get kind of a crinkly-ness on the outside, sort of like the top of a brownie. This adds a little bit of texture, although it will soften up by the next day if you're storing them.
What is your favorite style of chocolate chip cookie? I would love to know in the comments! If you make these Brown Butter Chocolate Chunk Cookies, let me know how they turned out!
📖 Recipe
Brown Butter Chocolate Chunk Cookies
A thick, fudgy texture and loads of chocolate makes these Brown Butter Chocolate Chunk cookies super decadent.
Ingredients
6.7

oz

butter

(1 stick plus 5 Tbsp)

8.8

oz

flour

(2 cups)

½

teaspoon

baking soda

½

teaspoon

fine grain salt

6

oz

brown sugar

(¾ packed cup plus 2 Tbsp)

2.6

oz

white sugar

(⅓ cup)

2

teaspoon

vanilla extract

1

egg

6

oz

chocolate chunks
Instructions
Brown the Butter
Place the butter in a medium saucepan and set it over medium heat.

Pour the butter into a large mixing bowl or the bowl of a stand mixer and set aside to cool.
Assemble the Dough
While the butter cools, whisk the flour, salt and baking soda together in a medium bowl.

When the butter is cool enough, add both sugars, the vanilla extract and the egg to the large bowl with the butter, and mix until combined.

Add the flour mixture and mix until just combined.

Fold in the chocolate chunks until they are evenly distributed.
Shape the Cookie Dough
Scoop the dough into large balls with an ice cream scoop and use your hands to mold it into round and flat discs, like small hockey pucks.
Bake
Bake the cookies at 350°F (177°C/gas mark 4) for 10-11 minutes. If you notice even a small amount of browning at the bottom, they are probably done. They will still be very soft when you take them out, but will firm up quickly. The internal temperature of the cookies will be 175-180*F when they are done.
Store
These are best on the day they are baked, but if you have any leftovers, you can keep them at room temperature for a few days.
Make Ahead
If you want to make these ahead, the best way is to freeze the actual cookie dough before baking it. After you shape it into pucks, pop your cookie sheet in the freezer until the dough firms up a little bit, and then put the pucks into an airtight freezer container.

You can bake these directly from frozen, but they will not spread as much and come out much smaller (see picture: cookie baked directly from frozen is on the left). If you're baking from frozen, bake them at 325°F (165°C/gas mark 3) for 15 minutes. You can also defrost them in the refrigerator and let the dough come to room temperature before baking, in which case you can bake them normally.
Nutrition
Serving:
1
large cookie
Calories:
305
kcal
Carbohydrates:
37
g
Protein:
3
g
Fat:
16
g
Saturated Fat:
10
g
Trans Fat:
1
g
Cholesterol:
42
mg
Sodium:
229
mg
Potassium:
113
mg
Fiber:
1
g
Sugar:
22
g
Vitamin A:
362
IU
Calcium:
25
mg
Iron:
2
mg
Made with WP Recipe Maker plugin