The Chambord Margarita is the perfect margarita for raspberry lovers! With tequila, lime, triple sec and Chambord raspberry liqueur, this refreshing drink is the perfect upgrade to a traditional margarita. Fresh raspberries, lime and pink salt make the perfect garnish.
The Chambord Raspberry Margarita is such a great year-round drink, but I especially love it in the summer when raspberries are in season. Since it's liqueur based, you don't really need fresh berries, but the garnish makes a great little snack! This is also my favorite margarita for a girls night!
Looking for more margarita recipes? Try out this easy Cranberry Margarita, the Prickly Pear Margarita (another perfect one for girls night) or the Pineapple Coconut Margarita.
Jump to:
What is Chambord liqueur?
Chambord black raspberry liqueur is a delicious berry-flavored liqueur produced in France. It has a really nice berry flavor with a deep purplish red color.
It's made with real blackberries, raspberries and blackcurrants in a cognac base, with additional flavors of vanilla, citrus and honey (source). The flavor is rich and sweet. For me, it's too sweet to drink on its own, but it is perfect in a tangy drink like a margarita.
This is a pretty recent liqueur, first produced in 1982, but it caught on quickly. The distinctive globe-shaped bottle definitely screams "royalty", with its gold detailing and crown logo.
Ingredients
Here are the ingredients you'll need to make this Chambord margarita recipe:
Tequila - tequila blanco (aka silver tequila) works perfectly here. I used YaVe brand, but Espolon blanco tequila is my top pick on a budget (check if you can get it for under $30).
Chambord - Chambord liqueur is the star of the show with its deep berry flavor.
Cointreau - I used Cointreau liqueur, but you can also use Triple Sec here. This is a tasty orange liqueur that is standard in a margarita.
Lime juice - freshly squeezed lime juice will give you the best flavor. Optionally, cut a lime wedge or slice from your fresh lime for a garnish.
Fresh raspberries - these are great for a garnish if you can get some.
Pink salt - Himalayan pink salt is my favorite! Tastes great and looks pretty on the rim of the glass.
Substitutions
Here are some ways you can substitute the ingredients in this cocktail:
Tequila - try using vodka, white rum or gin if you don't have tequila. You can also use an aged tequila, like reposado.
Chambord - you can substitute in a flavored syrup if you don't have this liqueur. Try out Monin black raspberry syrup (which uses actual black raspberries, unlike Chambord).
Cointreau - you can omit this, or use extra Chambord if you don't have it. Or, just use a little simple syrup in its place.
Lime - lemon juice works great in place of the lime. Or, try using True Lime powder mixed with water.
Variations
Here are some variations on this recipe:
Vanilla Raspberry Margarita - add in ⅛ teaspoon of vanilla extract to the mix for a warm vanilla flavor in this drink. Or, try using a syrup like Amoretti vanilla syrup in place of the Triple Sec.
Fresh Raspberries - muddle 3 to 5 fresh raspberries in the cocktail shaker before adding the other ingredients. This will give a fresher raspberry flavor, and give it a more red color. Try to use a fine mesh strainer when straining to avoid getting bits of raspberry through the drink.
Non-alcoholic version - if you're avoiding alcohol, try using a tequila substitute to use in this drink, like Lyre's agave blanco. Sub in Monin black raspberry syrup for the Chambord, and either just omit the orange liqueur, or use Lyre's Orange Sec in its place.
Frozen version - this makes a delicious frozen margarita! Add all the ingredients to a food processor or blender, along with 3 to 5 frozen raspberries. You can increase the Chambord by ½ ounce too. Add a scoop of ice, and blend everything until smooth. Pour into a margarita glass and serve.
Equipment
To make this tasty marg, you'll need a cocktail shaker, strainer and jigger. You'll also need a cocktail glass -- I used an old fashioned glass, but a stemmed coupe or margarita glass works too if you want to serve it without ice.
A knife and cutting board will also come in handy if you're using fresh lime, as will a citrus juicer and little dish for the salt.
A Bar Above has the best bar tools (in my opinion!) if you're in need of any new equipment. Grab 10% off with my discount code, LKDrinks.
Instructions
Start out by preparing your garnishes. I used a lime slice in addition to fresh raspberries, so I cut a slice of fresh lime. Cut a slit into the lime slice and set it aside.
Then, make the salt rim on the glass. Use water or one of the pieces of the cut lime to wet the rim of the glass.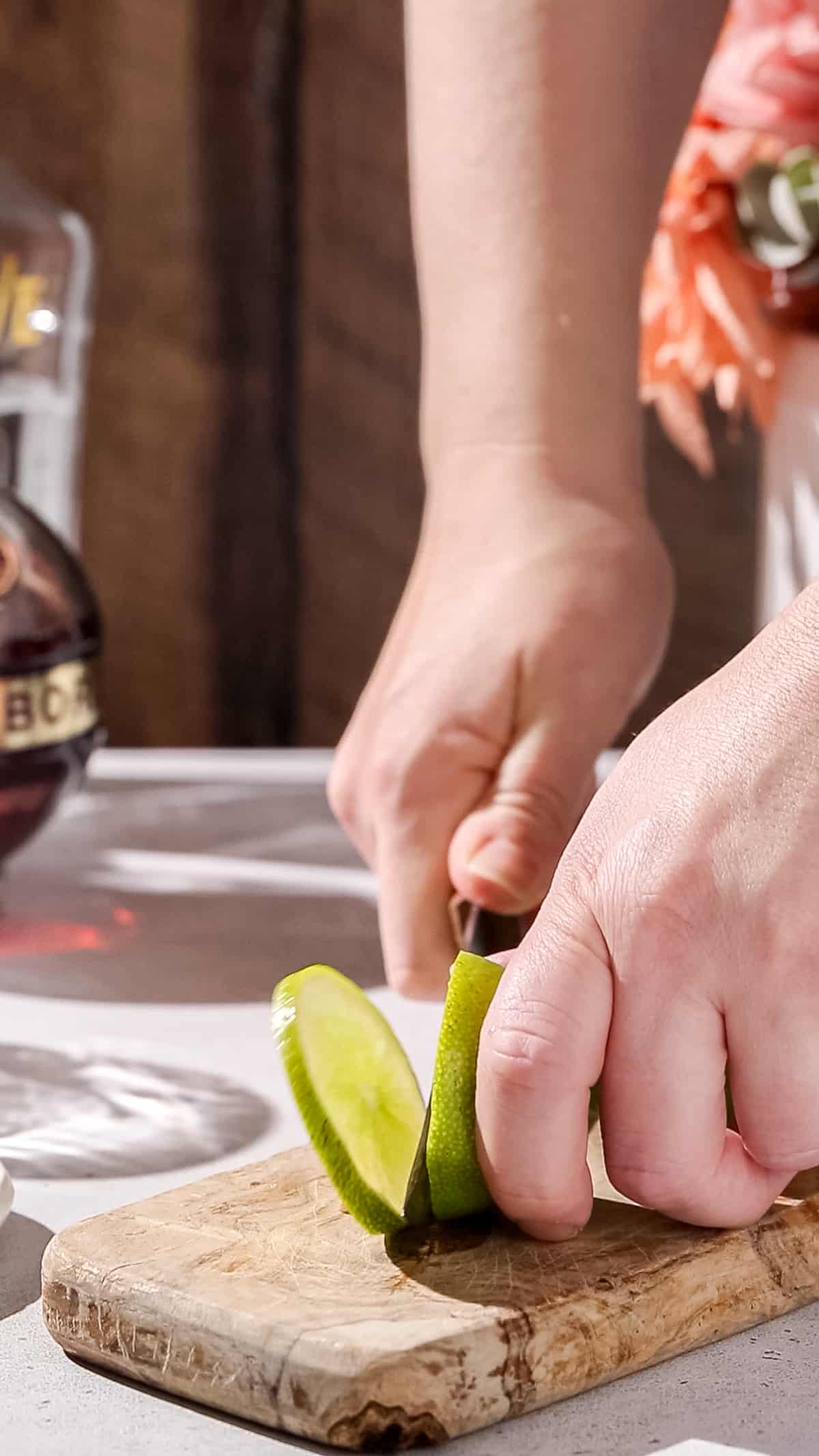 Dip the rim into the dish of salt, turning and re-dipping to coat the entire rim.
Then, start to make the drink. Add fresh lime juice to your cocktail shaker.
Add in tequila and triple sec (or Cointreau) to the shaker.
Add in the Chambord.
Fill the cocktail shaker with ice and seal it up.
Shake vigorously, about 15-20 times. Then, add fresh ice to your serving glass.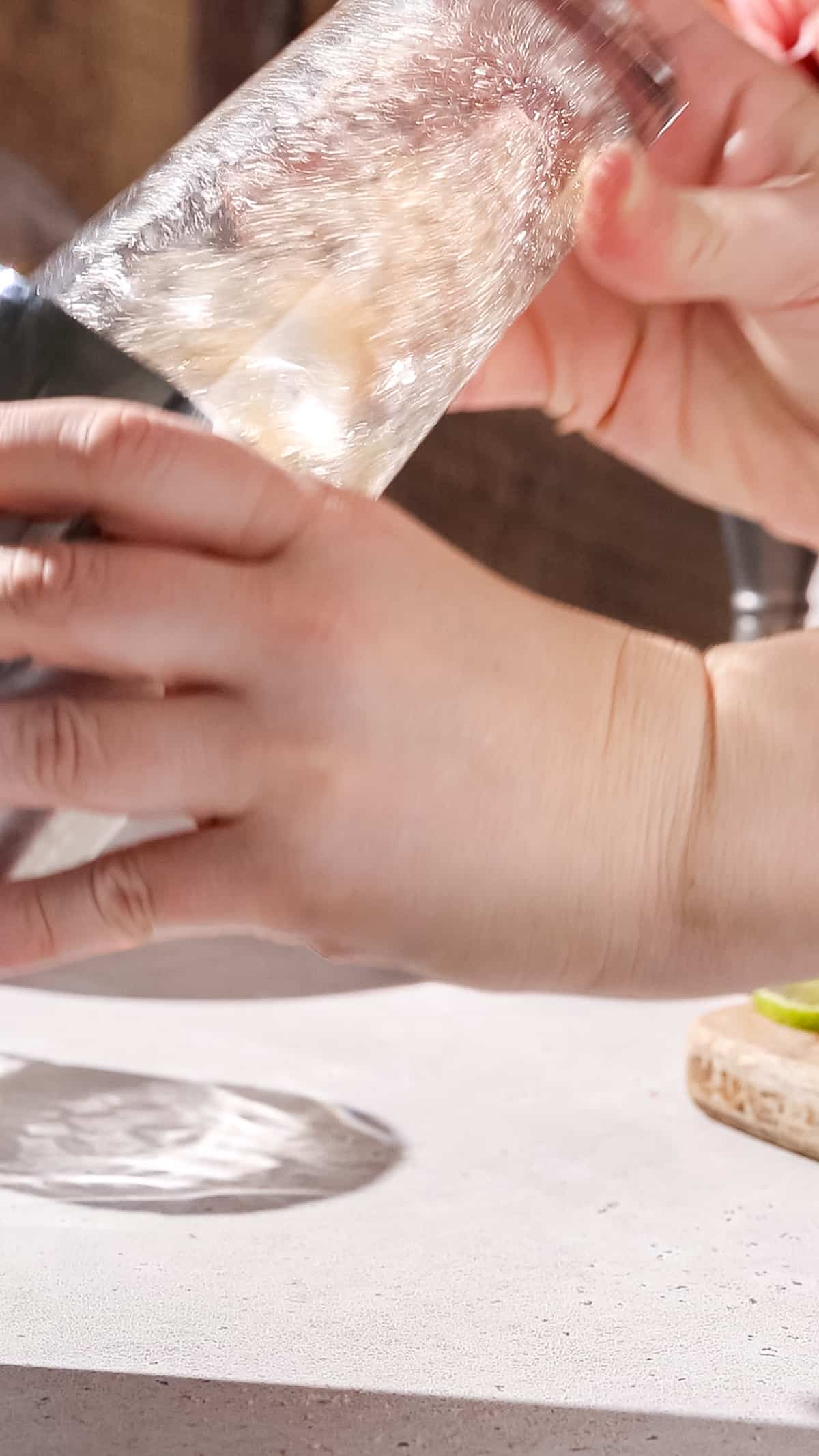 Strain the drink into the glass.
Add in your fresh raspberries if you're using them as a garnish. You can just drop them in, or add them to a cocktail pick if you prefer.
Attach the lime slice to the rim of the glass, using the slit you cut in it earlier.
Then, serve and enjoy!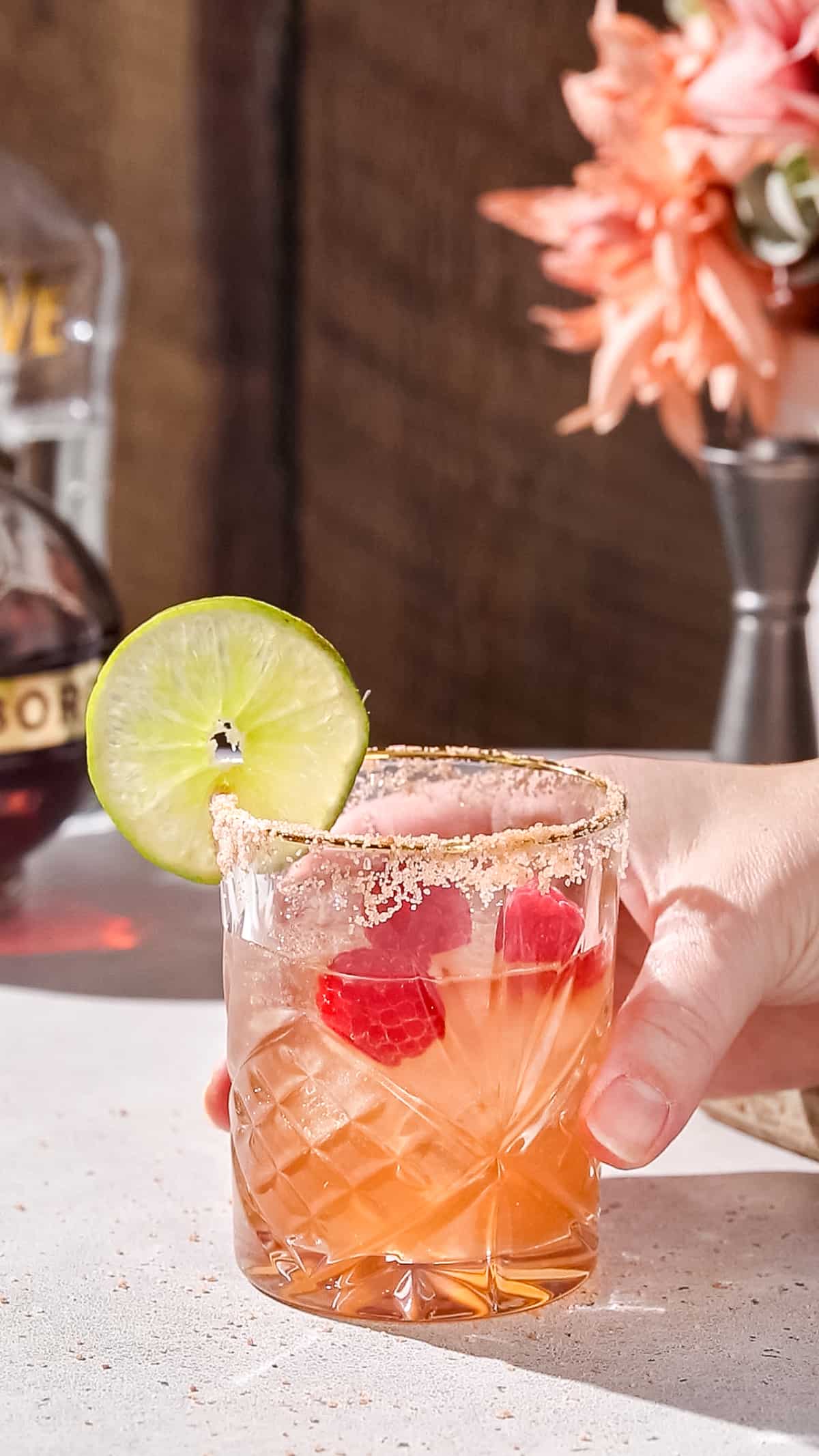 Hint: try chilling your cocktail glass for about 30 minutes before making the drink. You can even add the salt to the rim ahead of time before chilling it.
Frequently Asked Questions
What goes well with Chambord?
Chambord is a really versatile liqueur! It goes well with all types of fruit ingredients, especially citrus. It also is delicious with vanilla flavors and cream (think: drizzled over ice cream!)
What kind of liquor is Chambord?
Chambord is a berry flavored liqueur. It uses blackberries, raspberries and blackcurrants. It's sweet and fruity, and has 16.5% alcohol, which is a little stronger than most wine.
Is Chambord a brandy?
Chambord is not considered a brandy, although it uses a base of cognac (which is a special type of French brandy). It is considered a liqueur, which has a lower alcohol content than brandy and a lot of sugar.
Top tip
If you're making Chambord Margaritas for a crowd, definitely salt the rims of your serving glasses beforehand if you can! You can mix up everything up to an hour ahead of time and keep it in a pitcher in the fridge. If you add in ½ ounce of water per cocktail, you won't have to shake it with ice -- just pour it directly into the glass for your guests.
📖 Recipe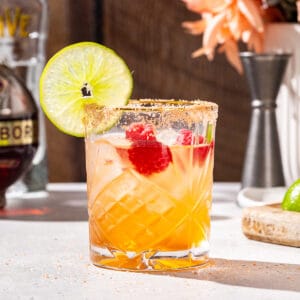 Chambord Margarita
The Chambord Raspberry Margarita is a delicious fruity tequila cocktail with Chambord liqueur.
Equipment
Knife and cutting board

(if using fresh lime)

Cocktail serving glass

Small dish

(for the salt rim)
Ingredients
Garnish (all optional)
1

lime slice or wedge

1

Tablespoon

fine grain salt

(for the glass rim - I used Himalayan pink salt)

3

fresh raspberries
Instructions
Garnish
Prepare your lime slice garnish and cut a slit where it will rest on the rim of the glass. Set it aside.

Add your salt to a small dish.

With some water or the lime you used to make the garnish, wet the rim of your cocktail glass.

Dip the wet rim into the dish of salt, picking it up to turn and re-dip so the entire rim is coated.

Set the glass aside while you make the drink.
Cocktail
Add the tequila, Chambord, Cointreau and lime juice to a cocktail shaker.

Fill the shaker with ice and seal it up.

Shake well, about 15-20 times.

Add fresh ice to your serving glass.

Strain the drink into the glass.

Add the raspberries to the glass, attach the lime slice to the rim and serve.
Nutrition
Calories:
203
kcal
Carbohydrates:
16
g
Protein:
0.2
g
Fat:
0.2
g
Saturated Fat:
0.1
g
Polyunsaturated Fat:
0.1
g
Monounsaturated Fat:
0.01
g
Sodium:
4
mg
Potassium:
39
mg
Fiber:
0.5
g
Sugar:
14
g
Vitamin A:
9
IU
Vitamin C:
6
mg
Calcium:
4
mg
Iron:
0.1
mg
Made with WP Recipe Maker plugin