The Cranberry Whiskey Sour is such a delicious twist on a classic cocktail! Cranberry goes perfectly with the lemon, and the rye whiskey has a nice spicy flavor that isn't overpowered by the cranberry. This is the perfect cocktail for Thanksgiving!
Cranberries start to show up in grocery stores here in the US during fall, so this cocktail definitely brings the fall vibes. The bright red color makes it so festive for Christmas too!
If you're looking for more delicious fall drinks, try out a delicious Apple Cider Mimosa, or a Vampire's Kiss cocktail for Halloween. Or, give the New York Sour a try, which is a classic whiskey sour with a red wine layer on top.
For more cranberry drinks, the Mistletoe Martini is an amazing gin-based drink, or try out the delicious Poinsettia Cocktail with sparkling wine. Or, the delicious Christmas Mule is perfect for ginger beer lovers.
Jump to:
Creating the Cranberry Whiskey Sour
The traditional whiskey sour is such a great and versatile classic cocktail. With a base of whiskey, lemon and sweetener, it's easy to make, and goes so well with lots of different flavors if you want to put your own spin on it.
Adding in cranberry juice turns this more into a holiday cocktail, which is so fun for the winter holiday season! Since cranberries are super sour, I reduced the amount of lemon juice from a traditional recipe. The result is still tart, but the spicy rye whiskey still comes through.
Ingredients
You'll only need a few ingredients to make this drink:
Rye whiskey - you can use a blended whiskey if you prefer, but rye is great in this drink. I used Sazerac rye whiskey, which has a great caramel like flavor with some spicy top notes.
Cranberry juice - I used 100% cranberry juice, unsweetened, for this recipe. Sometimes this can be hard to find, so I added some notes in the recipe if you can only find cranberry cocktail or a diluted version.
Lemon juice - freshly squeezed if possible.
Simple syrup - this adds sweetness and body to the drink. You can also use cranberry syrup if you have some for some extra flavor.
Fresh cranberries (optional) - these are for the garnish, and more for looks, but you can also muddle some into the drink if you want even more cranberry tartness.
Lemon peel (optional) - this is another optional garnish, if you are using fresh lemon in the drink.
Substitutions
Here are some ways you can substitute the ingredients in this cocktail:
Rye whiskey - if you don't have rye, you can use bourbon or blended whiskey. Or, you can use reposado tequila or an aged rum for a different type of flavor.
Cranberry juice - if you can't find cranberry juice, you can try substituting in a tart cherry juice or lingonberry juice. If all you can find is "cranberry cocktail" instead of juice, you can use that, but just use less simple syrup in the drink.
Simple syrup - instead of simple syrup, you can use a tablespoon of sugar. Just mix it with the lemon juice and cranberry juice until the sugar is fully dissolved before adding in the whiskey.
Lemon juice - you can use bottled juice if you don't have fresh, or use a packet of True Lemon and ¾ ounces of water.
Variations
Here are some variations on this recipe:
Cranberry Orange Whiskey Sour - for a different twist on this drink, try using orange juice instead of the lemon juice. Just use an ounce of the orange juice, and cut back on the syrup to about ½ ounce, since the orange is sweeter than lemon. You can use an orange peel for the garnish.
Cranberry Cinnamon Whiskey Sour - instead of plain simple syrup, try using cinnamon syrup in this drink. This will add some delicious cinnamon flavor and warmth to the cocktail. You can also garnish it with a cinnamon stick, or a sprig of fresh rosemary for a more holiday feel.
Non-alcoholic Cranberry whiskey sour - try substituting in a non-alcoholic whiskey, like Ritual whiskey alternative.
Keto Friendly version - it's easy to make this into a more keto-friendly drink. Just switch out the simple syrup for a syrup made with a sugar free sweetener. You can use store bought sugar free syrup, or you can find more info on how to make your own using allulose in my How to Make Simple Syrup post.
Equipment
You'll just need a few basic bar tools to make this drink:
Cocktail shaker
Strainer
Jigger
Serving glass - if you're using ice, go for a glass that will hold 8 to 10 ounces. An old fashioned glass works great, or a wine glass too.
Garnish tools - to make the cranberry lemon garnish, you'll need:

paring knife and cutting board, or a channel knife to make the lemon peel strip

cocktail pick or toothpick.
If you need any new bar equipment, the products from A Bar Above are my favorite! Grab 10% off using my discount code, LKDrinks. Their bar tools are pretty, durable, and also can be thrown in the dishwasher when you're done mixing!
Instructions
Start by making your garnish. You can use a channel knife to make a long strip of lemon peel without cutting it.
Or, another easy way is to cut a slice of lemon, and then use a knife to cut away the peel from the slice. You'll be left with a ring of lemon peel which you can just make a cut in to create a long strip.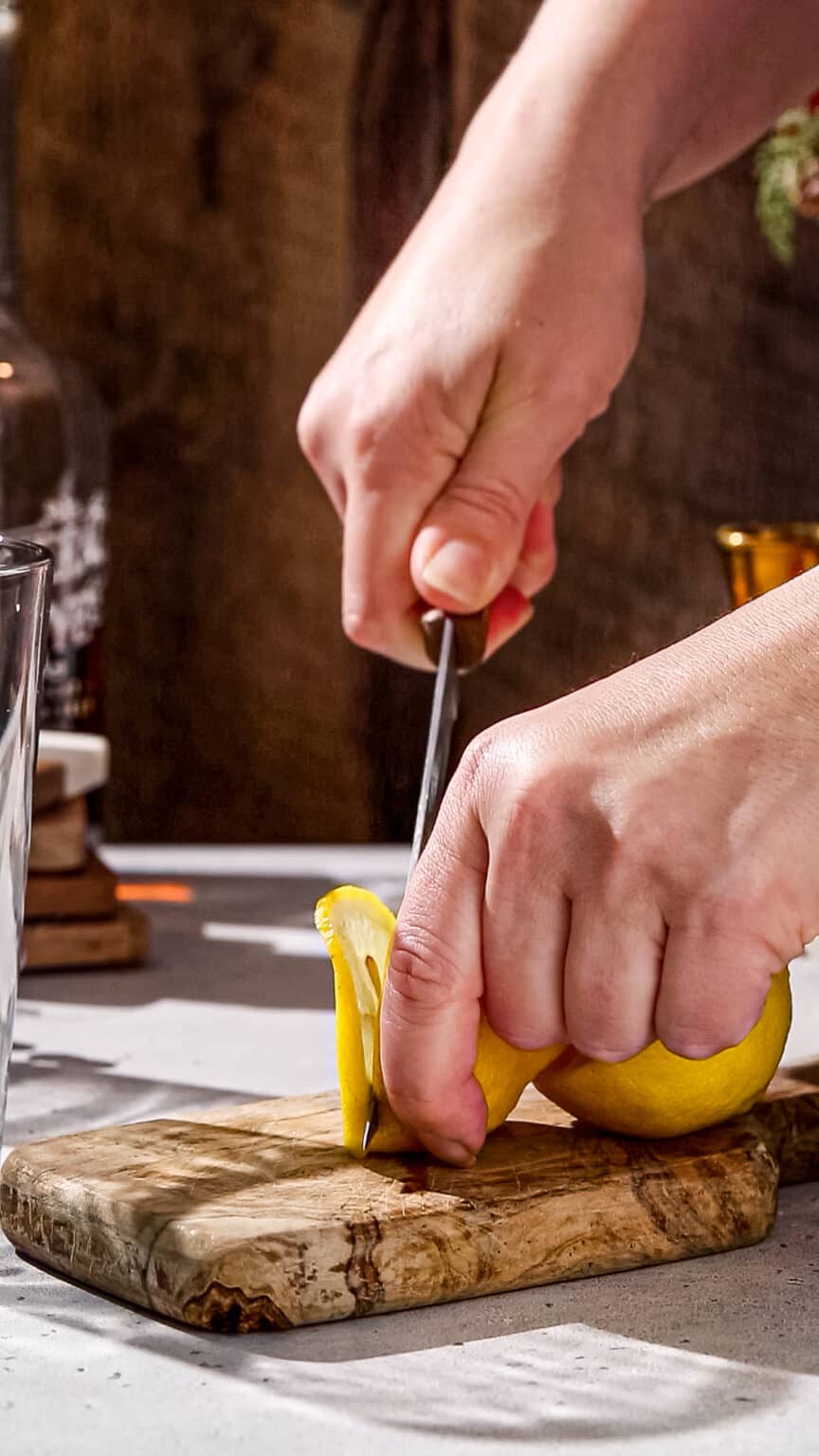 Add the fresh cranberries to the cocktail pick. Then, wrap the lemon peel strip around the cranberries, and set it aside while you make the drink.
Add the lemon juice and simple syrup to the cocktail shaker.
Add the cranberry juice and whiskey into the shaker.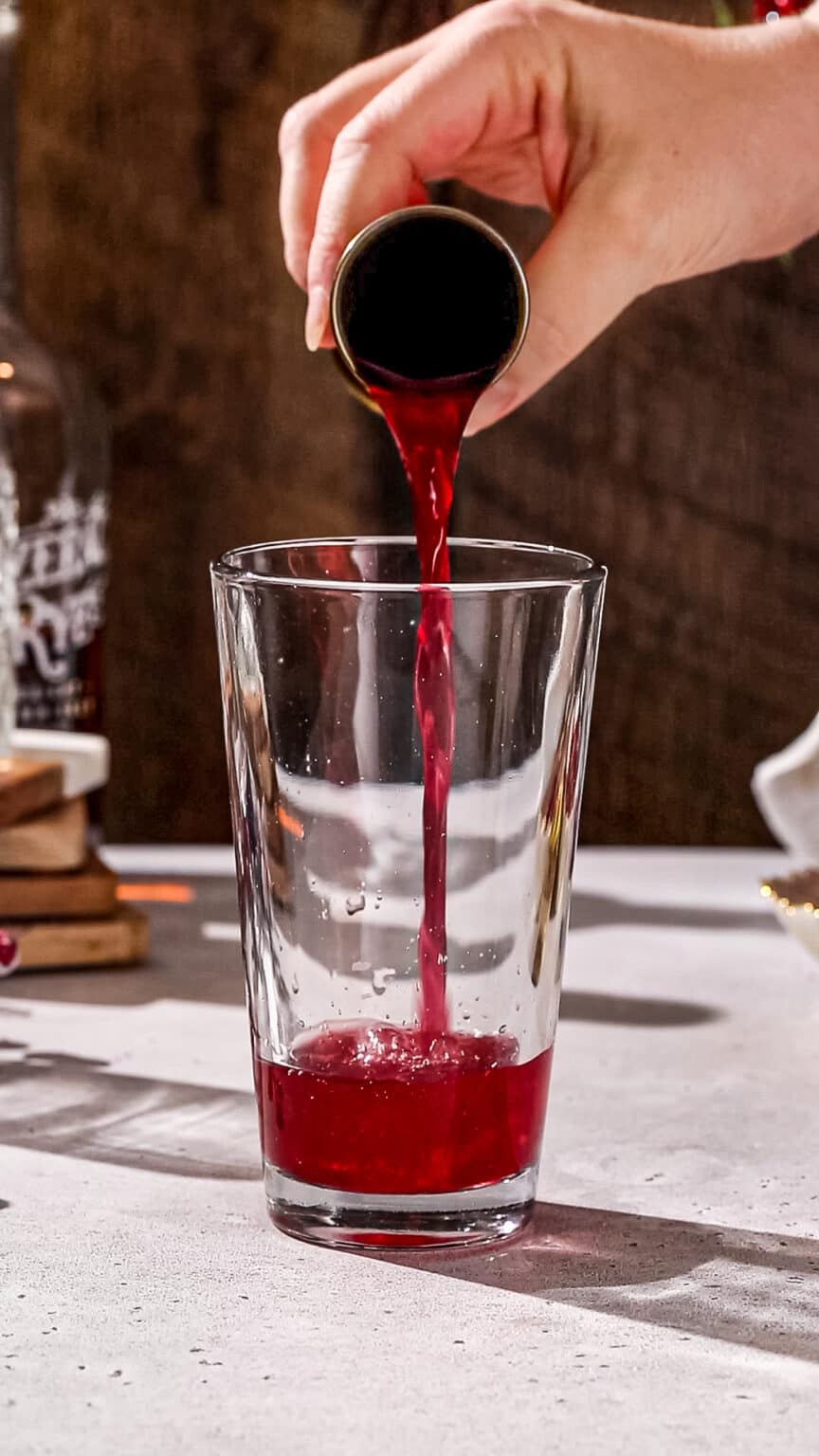 Fill the shaker with ice. Seal the shaker and shake vigorously for about 30 seconds, or around 15 to 20 hard shakes.
Add ice to your serving glass, and strain the drink into the glass. Rest your prepared garnish on top of the glass, and serve.
Hint: using a large ice cube instead of a bunch of smaller cubes will make the ice last longer! I highly recommend trying out this clear ice sphere maker for perfectly clear spheres without all the bubbles.
Frequently Asked Questions
Do whiskey and cranberry go together?
Whiskey and cranberry are a great combination. Cranberries are sour, but they have a red berry undertone flavor that works really well with the caramel and oak notes of whiskey. They both work really well with winter spices like cinnamon and ginger, too.
What kind of whiskey works best in this drink?
I really prefer rye whiskey in this cranberry cocktail, because the rye has a deep flavor and a spicy note that cuts through the cranberry. You can also use bourbon, which will make the finished drink a touch sweeter. A blended whiskey can also work, but it will be a little milder flavor-wise.
Top tip
If you find that this drink is too tart for you, you can try a couple of things. First, try reducing the amount of lemon juice, or increasing the syrup. Or, you can add in an egg white or 1 ounce of pasteurized egg whites.
The egg whites will smooth out the cocktail and make it feel more creamy in your mouth. With egg whites, you can also create a foam on top by shaking the drink without ice for about a minute before you add ice and shake again.
📖 Recipe
Cranberry Whiskey Sour
This Cranberry Whiskey Sour is such a delicious and easy cocktail to make! It's perfect for Thanksgiving or the Christmas holidays.
Equipment
Cocktail serving glass

(at least 8 ounces if you're using ice)

Knife and cutting board

(if using fresh lemon or making the lemon garnish)
Ingredients
Garnish
3

fresh cranberries

(optional)

lemon peel

(optional)
Cocktail
½

ounce

lemon juice

1

ounce

simple syrup

1½

ounces

cranberry juice

(100% cranberry juice if possible -- see notes)

2

ounces

rye whiskey
Instructions
Garnish
Either use a channel knife to make a long strip of lemon peel, or cut a round slice of lemon and cut the rind off of the inside part.

Add three fresh cranberries to a cocktail pick.

Wrap the lemon peel around the cranberries and set the garnish aside.
Cocktail
Add the lemon juice, syrup, cranberry juice and whiskey to a cocktail shaker.

Fill the shaker with ice.

Seal up the shaker and give it about 15-20 vigorous shakes.

Add ice to your serving glass and strain in the drink.

Top it off with your prepared garnish, and serve. Cheers!
Notes
You can garnish with just a lemon slice if you don't have fresh cranberries.
If you can't find 100% cranberry juice, you can use a "cranberry cocktail" or something like Cran-Apple juice. You just will need to reduce the amount of simple syrup, because they will be less tart than the all-cranberry juice. Try using just half the simple syrup called for in the recipe, and then add more if you need more sweetness.
If you want a foamy layer on top, you can add in Fee Foam, or use 1 ounce of pasteurized egg whites in the drink. Shake it for about a minute without ice to develop a foam, before shaking again with ice.
Nutrition
Calories:
242
kcal
Carbohydrates:
27
g
Protein:
0.2
g
Fat:
0.1
g
Saturated Fat:
0.01
g
Polyunsaturated Fat:
0.03
g
Monounsaturated Fat:
0.01
g
Sodium:
17
mg
Potassium:
68
mg
Fiber:
0.2
g
Sugar:
26
g
Vitamin A:
22
IU
Vitamin C:
10
mg
Calcium:
8
mg
Iron:
1
mg
Made with WP Recipe Maker plugin