Demerara Syrup is a delicious sweetener used in cocktails, coffee and more. This syrup recipe is so easy to make with just Demerara sugar and water! It adds a warm, caramel flavor to any drink. It goes perfectly in rum and whiskey drinks, and it's a delicious addition to your lattes, especially in the winter months!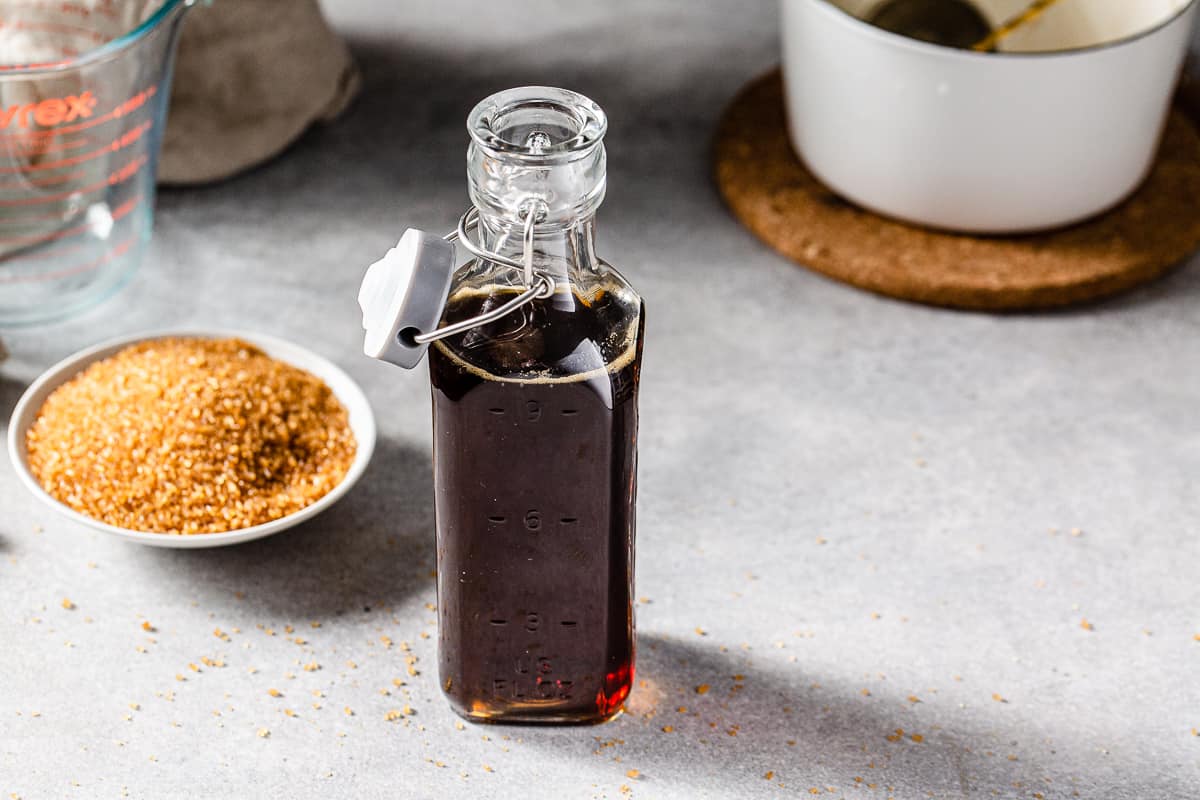 What is Demerara Sugar?
Demerara sugar is a type of raw cane sugar. Unlike granulated white sugar, it's minimally processed and retains some of the color and flavor of molasses. It has a distinct light tan color and large, crunchy crystals. It is named after the Demerara region of Guyana, where it was first produced.
Demerara sugar is made by pressing sugar cane to extract its juices, which are then heated and evaporated until crystals form. These sugar crystals become Demerara sugar retains some of its natural molasses and has a richer, more complex flavor profile with notes of toffee, caramel, and honey.
Because of its crunchy texture and rich flavor, Demerara sugar is often used for making cocktails and in baking recipes. It can be used to sweeten hot beverages like coffee and tea, as well as cold drinks like lemonade and iced tea. It's also a great choice to add to your cocktail glass rim as a garnish!
Ingredients
All the ingredients you'll need to make this syrup are:
Water - preferably filtered or bottled water for the best flavor.
Demerara Sugar - this raw, unprocessed sugar is the key ingredient, but it can sometimes be hard to find in stores. I buy mine online (link: Caribbean Rhythms brand Demerara sugar). Turbinado sugar is a little more widely available, but will create a syrup that is more molasses-like in flavor.
Substitutions
If you can't find Demerara sugar, here are some ways you can substitute for it.
Turbinado sugar - this is very similar to Demerara sugar, but it is darker and has more molasses flavor in it, which comes through in the finished syrup.
Light brown sugar - the light brown sugar most commonly found in stores is actually refined white sugar with molasses added back into it. It has more moisture with more of a molasses flavor.
Organic/raw sugar - any sugar that is marketed as "raw" will work fine in this recipe. Each one will end up giving a slightly different end flavor.
Variations
Here are some different variations you can make with this recipe.
Vanilla Demerara syrup - add a teaspoon of vanilla extract to the mixture after you take it off the heat.
Cinnamon Demerara syrup - like Cinnamon Syrup, but with an extra Demerara flavor kick! Just add 1 or 2 cinnamon sticks into the saucepan while it heats and cools. Let this version cool to room temperature without the ice bath for maximum cinnamon flavor.
Keto friendly syrup - although technically you can't make a Keto friendly Demerara syrup, you can make a similar type of syrup with less real sugar. Just use 1¼ cups of allulose instead of the sugar, and add ½ tablespoon of molasses into the mixture.
Equipment
To make this syrup, you'll need a kitchen scale and/or measuring cups to measure the ingredients. You'll also need a medium sized saucepan, a spoon or spatula, a funnel and a storage container (preferably glass, and at least 10 ounces in capacity for one batch). You'll also need a trivet for cooling the syrup.
If you plan to use an ice water bath to cool down the syrup, a large bowl or container to hold the ice water is ideal. Make sure it is wider than the bottom of your saucepan.
Instructions
Start out by adding the sugar and water to a medium sized saucepan. I measured out my sugar by weight, but you can also use a regular volume measuring cup.
Stir the mixture and place it over medium high heat.
Let it come to a boil, and then reduce the heat down so the mixture comes to a simmer. Let it simmer for about 5 minutes.
Remove the mixture from the heat, and allow it to cool to room temperature, about 30-45 minutes.
To speed up cooling the syrup, you can cool the whole pot in an ice water bath. Stir it occasionally and make sure the water is not getting into the syrup. This will speed up cooling to take less than 5 minutes.
Pour the syrup into an airtight container using a funnel. You can use the syrup right away, or seal up the bottle and keep it in the refrigerator. It will keep for up to a month. Keep an eye on it and discard at any sign of mold formation.
Hint: Add a label to your bottle to easily organize your storage, and to remember the date you made it! I love this little pocket label maker that works with my phone to label syrup bottles.
Making the syrup without heat
You can make this syrup without heating it by combining the Demerara sugar and water and shaking them up, but it will take a long time for the crystals to dissolve. Personally, I do always heat my simple syrup, for reasons I go into in my How to Make Simple Syrup post.
If you prefer to make it without heat, I suggest using a food processor to blitz the sugar until it becomes a much finer powder, similar to caster or superfine sugar. You can process your whole bag at once and then just measure it out later, so you don't have to keep washing out your food processor! For measuring out the processed sugar, try to use a kitchen scale (200 g for one recipe), or use ¾ cup plus 2 tablespoon of the processed sugar instead of 1 cup.
Frequently Asked Questions
What is Demerara syrup?
Demerara syrup is a syrup made with water and Demerara sugar, a raw, unprocessed type of sugar made directly from sugar cane. It has a dark brown color and a toffee-like flavor.
What is the difference between Demerara sugar and Turbinado sugar?
Although they are both raw sugars made from sugar cane, Demerara is a little more processed with larger crystals and a lighter color. Turbinado has more molasses content and flavor.
Top Tip
Some cocktail recipes call for a "rich" syrup, which means that the amount of sugar is doubled. The ratio of sugar to water is 2:1 in this case. You can make a rich Demerara syrup by just doubling the amount of sugar you use, and following the same method outlined in the recipe below. The resulting syrup will be thicker and sweeter.
📖 Recipe
Demerara Syrup
Demerara Syrup is a delicious sweetener for cocktails, coffee and more. Easy to make with just demerara sugar and water, it adds a warm caramel-like flavor to any drink.
Instructions
Making the Syrup
Combine the Demerara sugar with the water in a saucepan and stir together.

Place the saucepan on the stove over medium high heat.

Bring the mixture to a boil, and then reduce the heat to medium low, so the mixture simmers.

Let the mixture simmer for 5 minutes.

Remove the saucepan from the heat and place it on a heatproof trivet. Let cool to room temperature (30 to 45 minutes), or use an ice water bath.
Ice Water Bath Cooling
Optionally, you can speed up the cooling of the syrup with an ice water bath. Fill a large bowl or container ¾ of the way with water and place the bottom of the saucepan in the ice water, making sure not to get any of the water in the syrup.

Stir the mixture occasionally. You can use an infrared or other kitchen thermometer to check the temperature.

Once the syrup is at room temperature, you can move on to bottling and storing it. It should take less than 5 minutes to get to temperature as long as you have enough ice in the water bath.
Bottling and Storing
Place a funnel in the mouth of your storage bottle so you don't spill any syrup.

Pour the cooled syrup from the saucepan through the funnel and into the bottle.

Seal the bottle, and store it until you're ready to use. It will keep for about a month in the refrigerator. Discard at any sign of cloudiness or mold growth.
Notes
If you can't find Demerara sugar in your local store, you can purchase it online: Demerara sugar. You can also substitute in either Turbinado sugar or brown sugar, although the final result will have a different flavor, with more molasses notes rather than toffee/caramel notes.
If you want to make a rich Demerara syrup (2:1 ratio), just double the amount of sugar you use, and continue with the recipe as written.
Nutrition
Calories:
80
kcal
Carbohydrates:
20
g
Sodium:
2
mg
Potassium:
6
mg
Sugar:
20
g
Calcium:
3
mg
Iron:
0.1
mg
Made with WP Recipe Maker plugin