The Dirty Shirley cocktail is a little piece of nostalgia for anyone who was a fan of ordering a Shirley Temple as a kid! This easy-to-make drink is definitely on the sweet side, and the maraschino cherry garnish is a whimsical touch that makes it super cute and fun.
This drink is, of course, based on a Shirley Temple, which is a non-alcoholic drink named after the famous child actress from the 1930's. The Shirley Temple itself is just a mixture of lemon-lime soda (or ginger ale), grenadine syrup and maraschino cherries. In the Dirty Shirley, adding vodka shakes things up a bit.
This is one of those drinks where you don't really taste the alcohol. The lemon-lime soda and grenadine take center stage here, so it's perfect for anyone with a sweet tooth!
Looking for more simple and easy vodka cocktails? Try out the Limoncello Martini for an easy and elegant lemon cocktail. Or, this Lavender Vodka Cocktail is another refreshing vodka drink that's perfect for spring or summertime.
Jump to:
Ingredients
Here are all the ingredients you'll need to make this drink:
Vodka - the vodka is more of an undercurrent here, so don't break the bank on an ultra-premium spirit for this drink. Any vodka will work great. I used Neft vodka, but Tito's vodka is another great and not too expensive choice.

Lemon-lime soda

- I used Sprite here. Sierra Mist is also a great choice that uses sugar instead of high fructose corn syrup. This can also be made with ginger ale.
Grenadine syrup - I used Barsmith brand grenadine, which is a great quality syrup made with real pomegranates. Liber & Co grenadine syrup is another nice choice.
Maraschino cherries - arguably the most important part! I used Tillen Farms maraschino cherries, which are beautifully red without any artificial food coloring.
Substitutions
Here are some ways you can substitute ingredients:
Lower sugar - instead of lemon-lime soda, use a lemon or lime flavored seltzer or a diet soda. The grenadine will still provide some sweetness.
Grenadine - if you don't have any grenadine on hand, you can use strawberry syrup or cherry syrup instead. If you're really in a pinch, any red juice will do! It's more for color than flavor, and the main flavor note will still be the soda.
Cherries - if you don't have any maraschino cherries, you can use any type of fruit to garnish. Strawberries would be perfect! The point is to make it look cute and fun.
Variations
Here are some other versions you can make:
Gin Shirley - Use gin instead of vodka in this variation. You can use up to 2 ounces of gin if you want the flavor to come through more.
Tequila Shirley - Like the Gin Shirley, use up to 2 ounces of tequila instead of the vodka for more flavor.
Extra Dirty Shirley - instead of grenadine, use a cherry liqueur for more cherry flavor and and an extra alcohol kick.
Equipment
You don't need anything fancy to make this drink! All you'll need are a serving glass (I like a Collins cocktail glass for this) and a jigger or small measuring cup.
If you want to make it a little easier to grab and eat the cherries, you can use something like these gold cocktail picks to hold them together.
Instructions
Start this drink out by adding ice to your serving glass. Then, add the vodka directly into the glass.
Add the lemon-lime soda to the glass, being sure to leave some room at the top for the grenadine and cherries. Then, pour in the grenadine. It should slowly sink through the drink and kind of mixes itself in, but you can give it a quick stir at this point if you want.
Add in the maraschino cherries. I like to use a few for more of a visual impact, but just one works fine too. Then, just serve and enjoy!
Hint: If you add in the grenadine before the soda, it will collect at the bottom of the glass and look like a layered drink. If you prefer this look, just serve with a spoon or straw so the person drinking can stir it up.
Frequently Asked Questions
What is in a Dirty Shirley?
A Dirty Shirley cocktail is a Shirley Temple with vodka. It contains lemon-lime soda, grenadine syrup, vodka and maraschino cherries over ice.
Is there another name for a Dirty Shirley?
The Dirty Shirley, which is a Shirley Temple with vodka, is also known as a Shirley Temple Black (which is the actress's married name).
Top tip
This drink is definitely on the sweet side, so if it's too sweet for you, just add a little freshly squeezed lemon juice. Start out by adding ½ ounce, and then more if it's still too sweet.
You can serve this drink with a lemon wedge on the rim to differentiate it from a regular Shirley Temple if you're serving both drinks.
📖 Recipe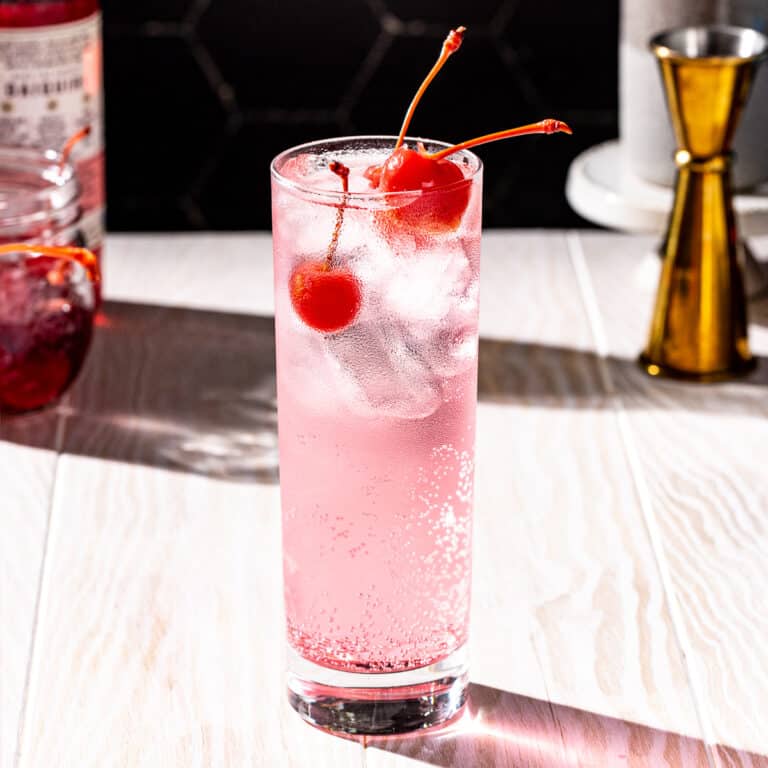 Dirty Shirley
The Dirty Shirley cocktail is a grown-up Shirley Temple with added vodka. It is sweet, easy to make, and looks beautiful with a pink color and maraschino cherry garnish.
Ingredients
1½

ounces

vodka

5

ounces

lemon-lime soda

(or ginger ale)

¾

ounces

grenadine syrup

1-3

maraschino cherries

(garnish)
Instructions
Fill your serving glass with ice.

Measure and pour the vodka into the serving glass.

Add the lemon-lime soda to the serving glass.

Add the grenadine syrup to the serving glass. The syrup should sink down and self-mix into the other liquid, but give it a stir with a bar spoon or straw if you'd like.

Add in the maraschino cherries, and serve.
Notes
Too Sweet? If you find this drink to be too sweet, you can add in ½ ounce (or more) of fresh lemon juice to cut the sweetness a bit. You can also serve it with a lemon wedge in addition to the cherries, so the drinker can squeeze in the lemon based on their own preference.
Nutrition
Calories:
238
kcal
Carbohydrates:
35
g
Protein:
0.2
g
Fat:
0.03
g
Saturated Fat:
0.01
g
Polyunsaturated Fat:
0.01
g
Monounsaturated Fat:
0.01
g
Sodium:
21
mg
Potassium:
11
mg
Fiber:
0.5
g
Sugar:
30
g
Vitamin A:
7
IU
Calcium:
12
mg
Iron:
0.1
mg
Made with WP Recipe Maker plugin