This Elderflower Gin Fizz is a refreshing cocktail that is perfect for springtime. Elderflower liqueur has a tangy, almost fruity taste, and it gives this drink the perfect amount of sweetness to go along with the gin and lemon flavors.
This is a floral cocktail at its core, which means it's a great choice for springtime and holidays like Easter or Mother's Day. Especially when you use a butterfly pea-infused gin like Empress, it is a beautiful drink for any kind of get together. It's also just a super refreshing sip on any hot afternoon!
Another delicious floral cocktail is the Lavender Vodka Cocktail. It is perfect for Mother's Day since it has lots of seltzer, but still has a lot of delicate floral flavor. This Hibiscus Vodka Cocktail is another gorgeous drink, and perfect for spring and summertime. Its pink color, which comes from dried hibiscus flowers, makes it perfect for any celebration!
Jump to:
Ingredients
To make this recipe, here are the ingredients you'll need to have on hand:
Gin - I used one of my favorite gins, Empress 1908 Gin, for its delicate flavor and beautiful color, which comes from infused butterfly pea flowers.
Elderflower liqueur - I used St Germain, which is a delicious liqueur that is flavored only with elderflowers. This liqueur is also known as "bartender's ketchup", because the flavor is so versatile without being overpowering.
Lemon juice - preferably freshly squeezed.
Simple syrup
Egg white - preferably pasteurized.
Seltzer - I used La Croix brand seltzer. Make sure any seltzer you use is bubbly enough (for example, I don't recommend San Pellegrino — although it is great for drinking on its own, it doesn't have enough bubbles to make a great gin fizz).
Substitutions
Here are some ways you can make substitutions in this recipe if you don't have an ingredient or are restricted by a specific diet.
Gin - this drink will look very different if you don't use Empress 1908 gin. It will basically look clear in the glass with a foam topper. If you can't get a bottle of Empress, you can try making your own butterfly pea infusion. Just add dried butterfly pea flowers to your favorite clear spirit, and then strain them out after a few days of infusing.
Egg Whites - if you don't eat eggs or are a vegan, you can use aquafaba instead of egg whites. Aquafaba is the liquid from a can of cooked chickpeas. Just use an equal amount of aquafaba in place of the egg whites. You can also use a cocktail foamer.
Simple syrup - check out d'arbo Elderflower syrup, a delicious and flavorful syrup made from elderflowers. You can use this in place of the simple syrup to make the elderflower flavor even deeper, or if you can't find a bottle of St Germain.
Variations
Give these variations on the Elderflower Gin Fizz a try!
Strawberry - muddle one to two strawberries into the cocktail shaker before building this drink. The color will be a deeper, more ruby-like color, and the strawberry will go really well with the elderflower.
Non-alcoholic - use d'arbo Elderflower syrup in place of the St Germain, and use Monday zero alcohol gin in place of the Empress gin. The color won't be purple. For a purple color, instead make a tea with dried butterfly pea flowers and use that in place of the gin.
Tequila - this drink works really well with tequila as the main spirit instead of gin. As mentioned in the Substitutions section, if you want to use tequila but still have the purple color, infuse your tequila with dried butterfly pea flowers for a few days. Strain out the flowers and bottle your infusion in a clear glass container.
Equipment
To make this drink, you'll need a cocktail shaker, a cocktail strainer, a jigger or small measuring cup, and a long bar spoon with a twisted handle. You'll also need a citrus juicer (if you're using fresh citrus), plus a knife and cutting board for cutting the lemon for juice and garnish.
It might sound unusual to specify that your bar spoon should have a twisted handle, but it actually helps when you are pouring the seltzer into the drink. If you carefully and slowly pour the seltzer directly onto the spoon handle, it will trickle down along the spoon's handle and directly into the drink without spilling.
If you're looking to refresh your bar equipment, I highly recommend the products from A Bar Above! You can get 10% off using my discount code, LKDrinks. Their bar tools are dishwasher safe, and they also look beautiful!
Instructions
To make this drink, if you're using fresh lemon, start out by cutting a lemon in half so you can juice it. Then cut a slice of lemon to create a garnish, and set it aside. Start building the cocktail in your cocktail shaker: add in the gin, and then the St Germain elderflower liqueur.
Next, add in the lemon juice, along with the simple syrup and pasteurized egg whites.
Next you'll need to shake the drink twice: first without ice, and then with ice. Shaking without ice will create a stiff foam within the drink due to the acid and egg whites. Then, shaking with ice will dilute and chill the drink to make it more palatable.
Note: instead of doing a dry shake (shaking without ice), I prefer to use a small milk frother. It gives a really consistent and foamy texture to the drink. If you use a milk frother, just be careful not to blend it too long, or you will end up with an all-foam mixture! Eight to ten seconds is a good timeframe.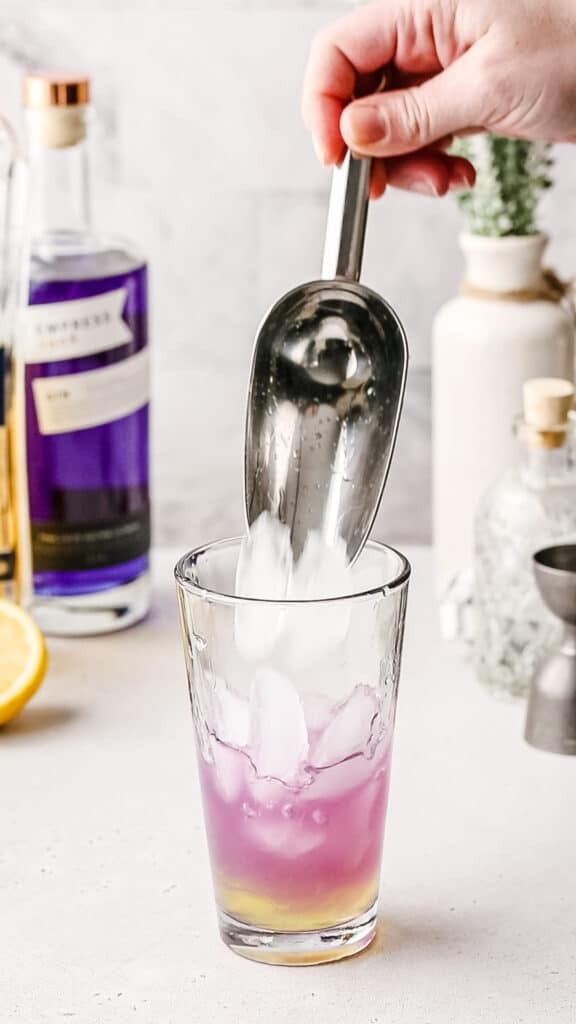 After you've shaken twice, strain the drink into your cocktail serving glass. Use a tall Collins glass for this drink, since the foam will be able to grow tall on top for an impressive look.
Once you finish straining the drink, insert the smooth end of a twisted bar spoon into the drink. Carefully pour fresh seltzer along the bar spoon, and the foam from the egg whites will expand and create an even higher foam. Pour the seltzer until the foam reaches at least a quarter of an inch above the serving glass rim.
Add your lemon slice garnish to the top of the drink. If you have an edible flower like the white pansy I've used in the photos, add it as a decorative touch before serving.
Hint: the foam on top of the drink is not super stable, and adding the lemon will cause it to fade quickly. If you want it to stay tall a little longer, don't add the lemon or anything else on top. Just be sure to serve it cold, because the egg whites tend to get an eggy smell once they get close to room temperature. Twisting a lemon peel over top of the drink could help with this as well.
Frequently Asked Questions
What is the difference between a gin fizz and a Tom Collins?
A Tom Collins is a more simple drink and doesn't have any egg whites. The Gin Fizz uses egg whites or another foaming agent to create a foamy top, and the seltzer is carefully poured in to increase the foam.
What does St Germain taste like?
St Germain is a sweet and floral liqueur, but it has some tanginess to it, almost like a fruit type of flavor. It is light and goes well with a clear spirit like vodka, gin or tequila.
Top tip
Although this is definitely a drink you'll want to make fresh, you can pre-mix everything but the seltzer. Keep it in the fridge until you're ready. Then just do your shake with ice and a dry shake before straining and pouring in the seltzer.
📖 Recipe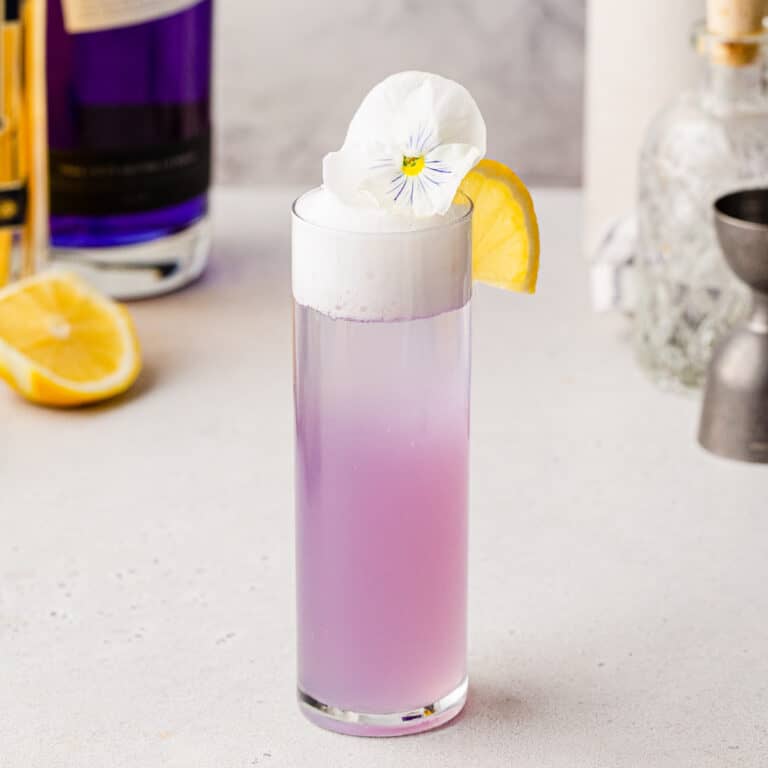 Elderflower Gin Fizz
This Elderflower Gin Fizz is a refreshing twist on a classic cocktail. Adding St Germain elderflower liqueur gives this drink a tangy floral flavor that plays perfectly with lemon and gin.
Equipment
Knife and cutting board

for citrus and garnish
Ingredients
1½

ounces

gin

I used Empress 1908 Gin to achieve the purple color

½

ounce

elderflower liqueur

I used St Germain

1

ounce

lemon juice

½

ounce

simple syrup

1

ounce

egg white

preferably pasteurized

3

ounces

seltzer

lemon slice

garnish

edible flower

garnish
Text Ingredients
Instructions
Prepare your lemon and flower garnish and set aside.

Add the gin and elderflower liqueur to your cocktail shaker.

Add the lemon juice, simple syrup and egg white to your shaker.

Fill the shaker with ice and shake well, about 15-20 hard shakes.

Strain the liquid out of the shaker and discard the ice.

Shake the drink again without ice. You'll want to shake for a while, about 45 seconds to a minute, to create a strong foam. (Instead of shaking, you can also use a milk frother for this step.)

Strain the drink into your serving glass.

Place one end of your twist-handled bar spoon into the drink and slowly and carefully pour the seltzer directly onto the handle of the spoon. The seltzer will trickle down the handle without spilling. (You may need to practice a few times to get this right!)

When the foam climbs above the top of the serving glass, stop pouring the seltzer and remove the bar spoon from the glass.

Add your garnish and serve immediately.
Nutrition
Calories:
209
kcal
Carbohydrates:
18
g
Protein:
3
g
Fat:
1
g
Saturated Fat:
1
g
Polyunsaturated Fat:
1
g
Sodium:
74
mg
Potassium:
87
mg
Fiber:
1
g
Sugar:
17
g
Vitamin A:
2
IU
Vitamin C:
11
mg
Calcium:
10
mg
Iron:
1
mg
Made with WP Recipe Maker plugin