The Empress Gin and Tonic is a gorgeous and delicious cocktail that's super easy to make! It features Empress 1908 gin, an indigo-colored gin as vibrant and royal as its namesake, the Fairmont Empress hotel. With tonic water and a slice of grapefruit, it's the perfect drink to enjoy on a sunny summer day. It's also a really fun drink to make, because the gin actually changes color as you pour in the tonic!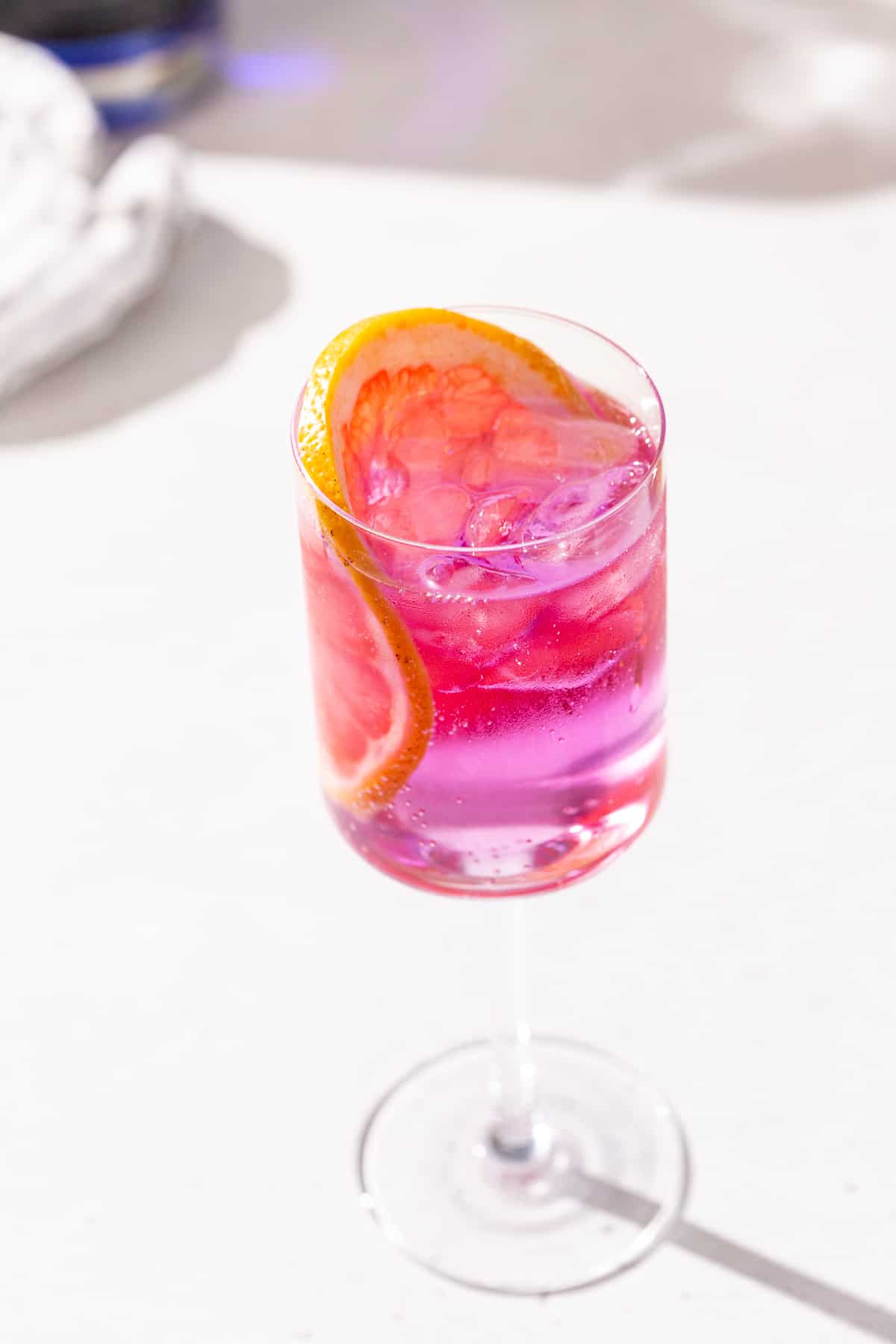 The color change is a big draw for this cocktail, but the taste is on point too. Empress is a dry style of gin, which means that there is a lot of classic juniper flavor, but there are also a lot of subtle botanicals that go perfectly with the bitter and sweet tonic water. It's a great blend of flavors!
Looking for more drinks to try with Empress? Try out the Passion Fruit Spritz, the Elderflower Gin Fizz, the Fade to Pink cocktail or the Pink Gin Sour. All of these drinks are so delicious and perfectly refreshing for summer!
Jump to:
What is Empress 1908 Gin?
Empress 1908 Gin draws its main inspiration from the renowned Fairmont Empress Hotel in Victoria, British Columbia. The hotel is well known for its high-end tea experience. With this in mind, Victoria Distillers created the gin in collaboration with the hotel's tea sommeliers, steeping it an intriguing blend of eight different botanicals.
The botanical blend includes the butterfly pea blossom, which lends it the striking indigo color. The gin launched in the summer of 2017, and thanks to its beauty and flavor, it quickly became hugely popular. It's now the top Canadian gin!
Ingredients
To create this cocktail, you'll just need three ingredients:
Empress 1908 gin - The star of the show! The gin's signature indigo color and exotic flavors will take the lead.
Tonic water - This will introduce the bitter note as well as sweetness, balancing the botanicals in the gin. I used Fever Tree tonic, but your own favorite tonic will work great.
A slice of pink grapefruit - An optional, but highly recommended, garnish that adds a citrusy aroma and a pop of color.
Substitutions
Here are some ways you can substitute the ingredients in this cocktail:
Empress gin - While this is the cornerstone of this cocktail, if you don't have it, you can substitute it with your own favorite gin. But if you want the color-changing magic, try steeping some dried butterfly pea flowers in the clear gin! Just combine and let it sit for 30 to 60 minutes, and strain out the flowers before assembling the cocktail.
Tonic water - You could substitute with lemon lime soda or ginger ale, but be aware that it will alter the flavor. Try adding in a few dashes of grapefruit bitters to up the bitterness.
Grapefruit - If you don't have fresh grapefruit, you can use a slice of fresh lime, orange, or even cucumber. Or, try using these dehydrated grapefruit slices.
Variations
Want to experiment with this recipe? Here are a few ideas:
Elderflower Empress G&T - Try using Empress in my Elderflower Gin and Tonic recipe, which adds in some St Germain elderflower liqueur.
Lavender Empress G&T - Stir in a teaspoon of lavender syrup just before adding the tonic water for a floral twist. You can add a sprig of fresh or dried lavender as a secondary garnish.
Non-alcoholic G&T - You can make this into a virgin G&T pretty easily by using a non-alcoholic gin alternative. Monday Zero Alcohol Gin is a good one, and you can let it steep with dried butterfly pea flowers if you want the color effect!
Spiced Empress G&T - Add a cinnamon stick or star anise along with the grapefruit for an extra spiced aroma.
Equipment
You don't need much to make this simple cocktail! Mainly just a jigger to measure out the gin, and a serving glass. I used a wine glass with straight sides, but any glass will work great as long as it holds around 8 to 10 ounces of liquid.
A knife and cutting board are also key if you're making the grapefruit garnish (which I definitely recommend!)
Instructions
It's so fast and simple to mix up this drink! Get started by prepping your grapefruit garnish, and adding it to the cocktail glass. When I use a full round slice like this, I like to kind of fold it like a taco so it stays on the side of the glass while I pour in the drink.
Fill the serving glass with ice. Then, measure and add in your Empress gin.
Use a fresh bottle of tonic if you can for optimal bubbles! Open up the tonic and pour it into the glass. The color of the liquid will change and you'll get this lovely dark pink color.
Then, just serve and enjoy!
Hint: It's a good idea to chill all your ingredients before making the drink. Just pop them in the refrigerator for about 30 minutes. This includes the cocktail glass too! It'll help your drink stay colder longer.
Frequently Asked Questions
What turns Empress Gin pink?
The indigo color of Empress Gin turns pink when it's mixed with something acidic. It's because the butterfly pea flowers have a chemical in them that reacts to pH levels! If you add in something that's a base, like baking soda or milk, it actually changes into a light blue color.
How does Empress Gin get its color?
Empress Gin is made with eight different botanicals, but the color comes from the butterfly pea flower. This flower gives the gin its signature indigo color, and also reacts with different pH levels to make the gin change color in different cocktails, like in this Gin and Tonic recipe.
Top tip
While you can make a pitcher of Empress Gin and Tonics, I think it's best to make each cocktail individually. The magic of watching the gin change color with each drink poured is for sure part of the fun of this drink!
For a party, try setting out a bottle of Empress 1908 gin, tonic water, and a bucket of ice. Guests can make their own G&Ts so they can experience the color-changing magic first hand!
📖 Recipe
Empress Gin and Tonic
The Empress Gin and Tonic is a beautiful and tasty spin on a classic G&T. A grapefruit garnish gives the perfect finish.
Equipment
Bottle opener

(for tonic, if needed)

Knife and cutting board

(for grapefruit garnish)
Ingredients
1

slice

pink grapefruit

(optional but recommended garnish)

2

ounces

Empress 1908 Gin

4

ounces

Tonic
Instructions
Add the slice of grapefruit to your serving glass and fill the glass with ice.

Measure and add the Empress gin to the serving glass.

Pour the tonic water into the serving glass. The drink will change from a deep purple to a dark pink/purple color.

Serve immediately. Cheers!
Nutrition
Calories:
131
kcal
Carbohydrates:
0.1
g
Protein:
0.01
g
Sodium:
24
mg
Potassium:
5
mg
Fiber:
0.02
g
Sugar:
0.1
g
Vitamin A:
12
IU
Vitamin C:
0.3
mg
Calcium:
6
mg
Iron:
0.03
mg
Made with WP Recipe Maker plugin