This French Gimlet recipe makes such an elegant and chic cocktail! Empress gin, St Germain liqueur and lime juice combine for a perfectly balanced drink. With its herbal notes and elderflower sweetness, this tasty drink is perfect for any occasion, whether it's a cocktail party, happy hour or a relaxing evening at home. A curly lime peel garnish finishes it off for a stunning presentation.
Also known as a St Germain Gimlet or an Elderflower Gimlet, the French Gimlet is such a great cocktail for gin lovers. Besides the great flavor, it's really easy to make, too! It's on the strong side, but great for showcasing both the gin and the delicious botanical flavor of the liqueur.
If you love this drink, try out the White Linen cocktail, the Sunflower Cocktail, or the Elderflower Gin and Tonic, all delicious gin and St Germain cocktail combinations. Or, the Eastside cocktail might be up your alley, with gin, lime and cucumber.
Jump to:
History of the French Gimlet
The French Gimlet is a modern twist on a classic gin Gimlet cocktail, which traces its roots back to the early 20th century. While the classic Gimlet uses either fresh lime juice or lime cordial and gin, this drink uses St-Germain, an elderflower liqueur that hit the market in 2007. This French liqueur quickly became a favorite among mixologists (even getting the nickname "bartender's ketchup" for how often it was used).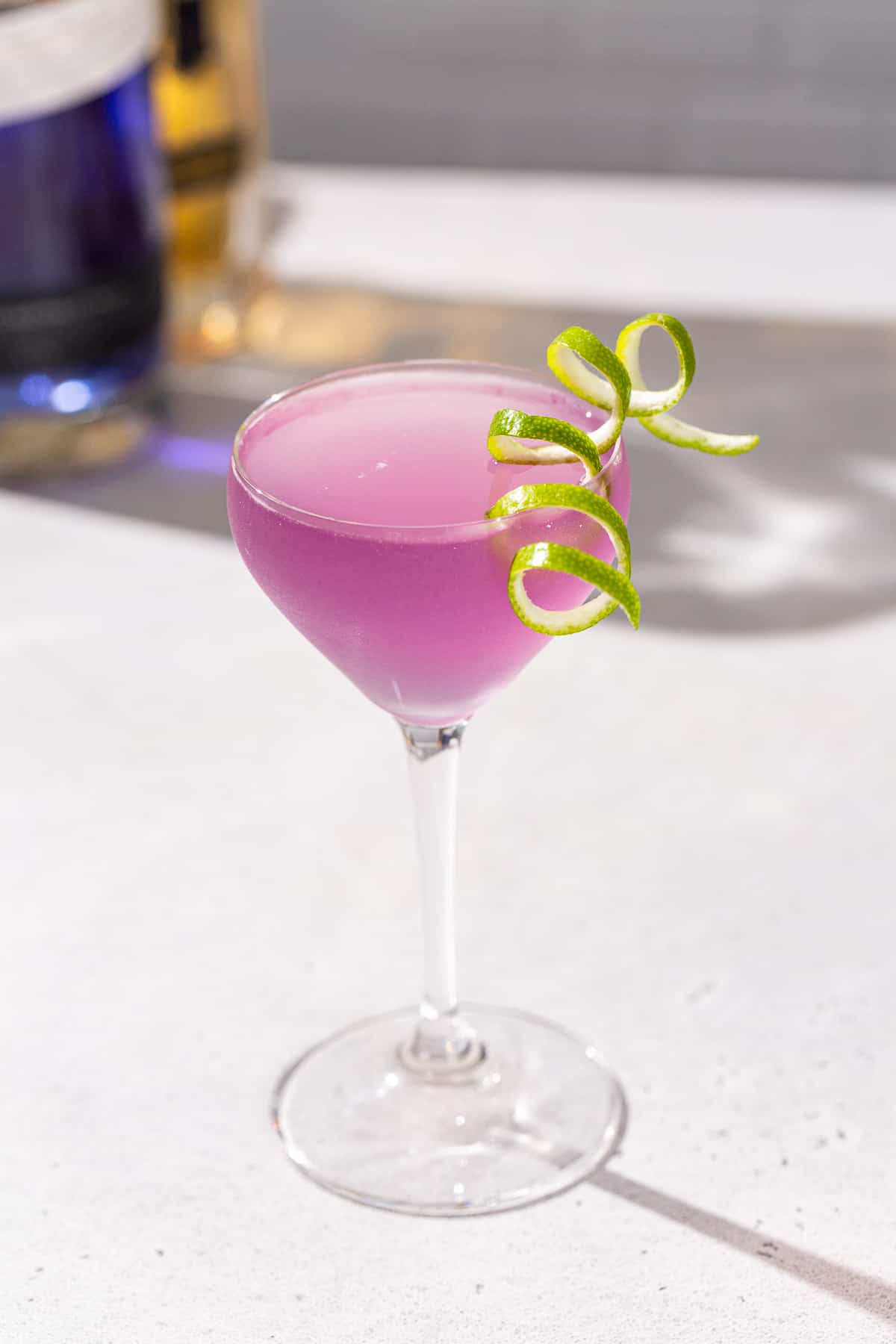 Ingredients
To make a French Gimlet, you'll need the following simple ingredients:
Gin - Using gin brings distinctive herbal and botanical flavors to the drink. I've used Empress 1908 Gin, which also brings a pop of pink color when combined with the lime juice. When choosing your gin, remember that the better the gin, the better the cocktail!
Elderflower Liqueur - The addition of elderflower liqueur (I've used St Germain elderflower liqueur) infuses the cocktail with an almost tropical floral note, balancing the gin and bringing lots of sweetness.
Lime Juice - Freshly squeezed lime juice will add a bright and tart flavor.
Lime peel - This garnish brings not only sophistication, but also a lime aroma and flavor to the drink experience.
Substitutions
If you find yourself missing any ingredients, here are a few substitutions you can make:
Gin - this is the traditional choice for a French Gimlet, but you can make a Vodka Gimlet by substituting in vodka. This is a great choice if you're not a gin fan. You can also try using light rum or tequila blanco.
Elderflower Liqueur - If you don't have access to St-Germain or any other elderflower liqueur, you can try substituting with a different floral liqueur, like violet (similar to the Water Lily cocktail). You could also use elderflower cordial or simple syrup instead.
Lime Juice - Fresh lime juice is great, but you can use bottled lime juice in a pinch.
Variations
You can really get creative with this recipe! Here are a few ideas to get you started:
Non-alcoholic version - you can easily make an alcohol-free version of this drink. Simply use a non-alcoholic gin, like Monday Zero Alcohol Gin, along with a cordial or syrup, like d'arbo elderflower syrup.
Basil French Gimlet - Add a few fresh basil leaves to the cocktail shaker just before shaking. You can also add a sprig of fresh basil to the lime twist garnish.
Strawberry French Gimlet - Muddle a fresh strawberry in the bottom of your cocktail shaker before making the drink. This will bring a delicious berry flavor, red color and some extra sweetness.
Equipment
You'll need to have a few bar tools on hand to make this drink. A cocktail shaker and strainer, a jigger, and a serving glass are all key. It's traditionally served in a Nick and Nora style glass, but a coupe or martini glass both work well too. Since this is served "up" (without ice), a stemmed glass is ideal!
If you want to make the curled lime peel, your best friend will be a channel knife (this Viski channel knife is my absolute favorite). A citrus press juicer along with a knife and cutting board will come in handy if you're using fresh squeezed lime juice.
Instructions
Start out by preparing your garnish. To make a long curly strip of lime peel, your best bet is to use a channel knife as shown. If you don't have one, use a vegetable peeler to cut a long strip and then clean up the edges with a paring knife.
Then, take your long piece of peel and twist it around the handle of a bar spoon or a chopstick. Set it aside while you make the drink.
Measure and add your lime juice to the cocktail shaker, followed by the elderflower liqueur.
Measure and add the Empress gin to the cocktail shaker. This part is pretty cool, as the drink will turn a dark pink instead of the purple color of the gin.
Fill the cocktail shaker with ice.
Vigorously shake the drink for about 30 seconds. Then, strain the drink into the glass. You can either strain it with a regular strainer, or double strain, using both a regular and a fine mesh strainer like shown.
Grab your lime peel garnish and lay it on top of the glass for a beautiful presentation before serving. Cheers!
Hint: to keep your drink colder longer, try chilling all of the ingredients (along with the cocktail serving glass!) for about 30 minutes in the refrigerator.
Frequently Asked Questions
What kind of alcohol is St Germain?
St Germain is an elderflower liqueur. Made in France, it uses fresh elderflowers, along with sugar, water and a neutral spirit base for a deliciously sweet and slightly tangy floral sip.
Why is the drink called a Gimlet?
Although it's a debated topic, the drink definitely had its start in the British navy. It was probably called a gimlet because of a shipboard tool used in the British navy, but may have also been named after Sir Thomas Gimlette, a naval surgeon.
Top tip
Want to make this drink for a crowd? Although freshly squeezed juice is best, to save time you can juice your limes before a party and keep the lime juice refrigerated. Although it will begin to oxidize and lose its tartness over time, it should stay good for a couple of hours.
📖 Recipe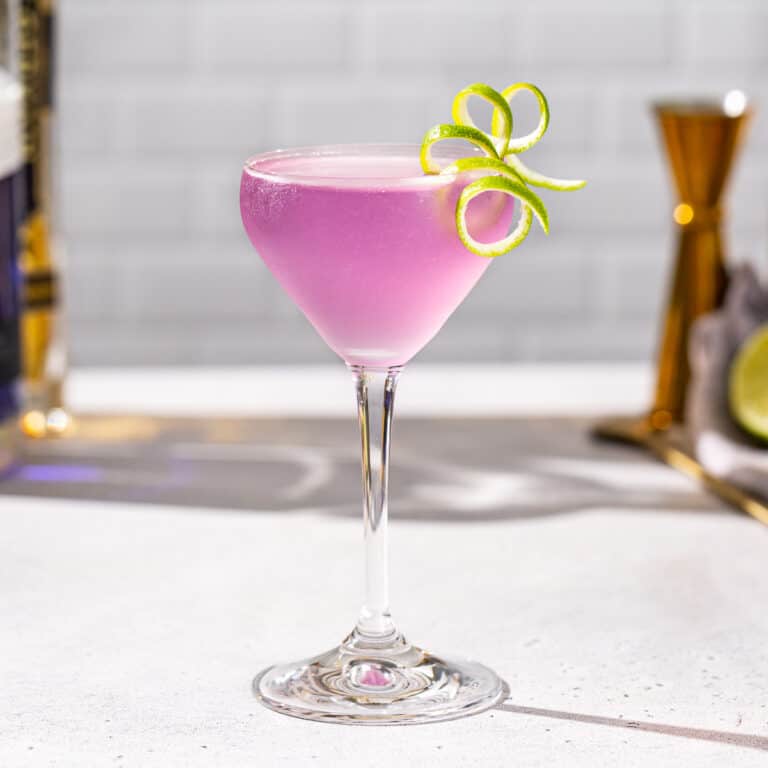 French Gimlet
This easy and sophisticated cocktail combines gin, elderflower liqueur and lime juice for a delicious sip.
Ingredients
fresh lime peel

for garnish

2

ounces

gin

(Empress 1908 Gin if you want the pink color)

1½

ounces

elderflower liqueur

(St Germain)

½

ounce

lime juice

(from ~½ lime)
Instructions
Garnish
Use a channel knife to cut a long thin piece of lime peel.

Twist the lime peel around the handle of a bar spoon or a chopstick and set it aside while you make the drink.
Cocktail
Add the lime juice, gin and elderflower liqueur to a cocktail shaker.

Fill the shaker with ice.

Shake vigorously for about 30 seconds, so the cocktail can chill and dilute with melted ice.

Use a strainer to strain the drink into the glass. Optionally, use two strainers, a regular and a fine mesh strainer, to capture any ice or lime pulp.

Add the lime peel garnish to the drink, and serve immediately. Cheers!
Notes
This drink is pretty strong as written, so if you'd like to reduce the alcohol, you can do one or both of the following:
Nutrition
Calories:
289
kcal
Carbohydrates:
18
g
Protein:
0.1
g
Fat:
0.01
g
Sodium:
1
mg
Potassium:
18
mg
Fiber:
0.1
g
Sugar:
17
g
Vitamin A:
7
IU
Vitamin C:
4
mg
Calcium:
2
mg
Iron:
0.03
mg
Made with WP Recipe Maker plugin