If you're looking for the fudgiest, gooiest brownies ever, you're in luck. These Fudgy Brownies are unbelievably chocolatey, creamy and rich. They're the closest thing to just straight-up brownie batter I've ever had in a baked brownie.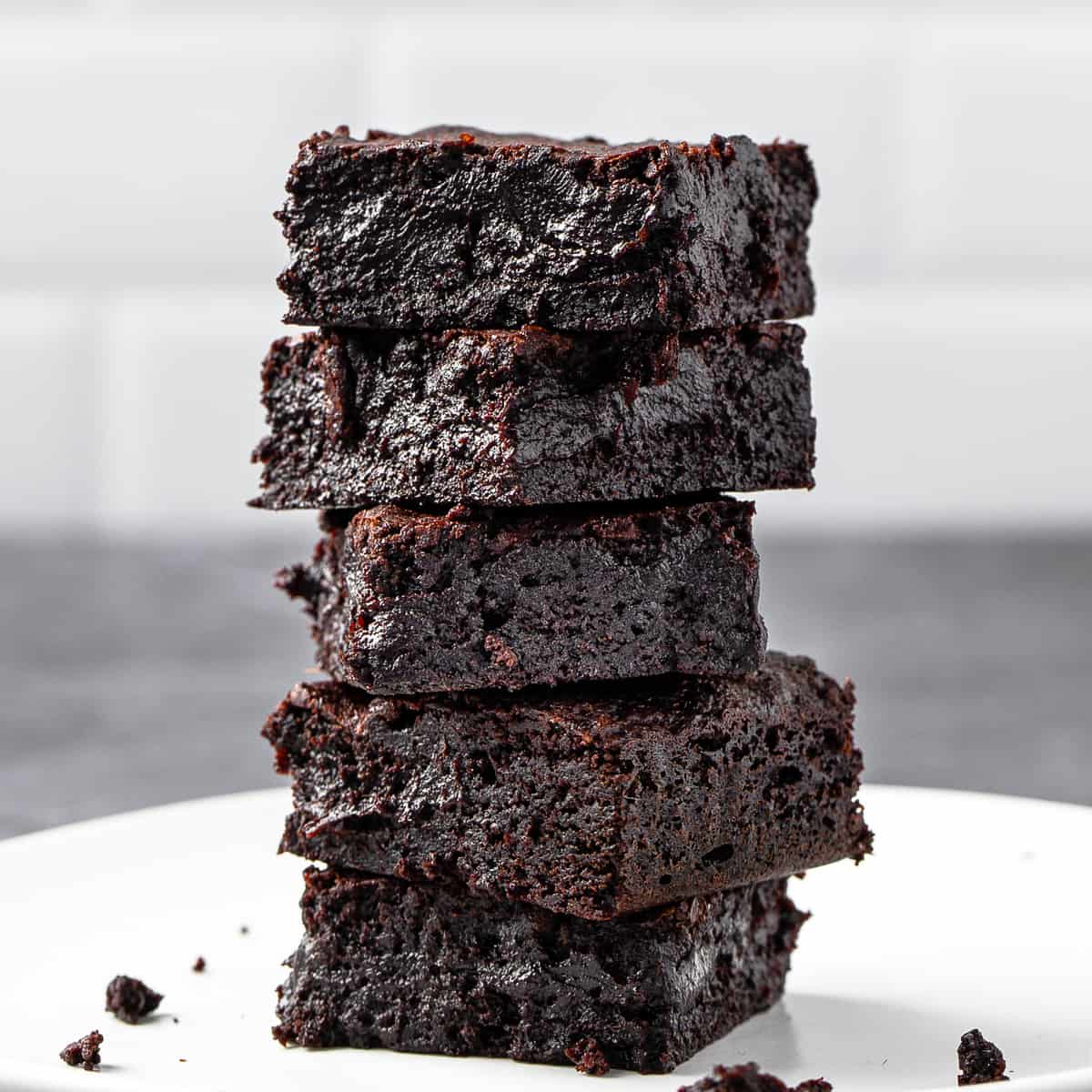 Brownies: Fudgy vs. Cakey
The main difference between cakey and fudgy brownies lies in the ratio of ingredients. More flour + less butter/oil = a drier and cakier brownie. So, the opposite is true for fudgy brownies: add more butter/oil and lower the flour amounts, and it gets moister and more gooey.
Another consideration is the type of sugar you use. In these brownies, I used all brown sugar, since the molasses content in brown sugar helps to retain moisture. If you switch out some of the brown sugar for white sugar, you will get a firmer and slightly sweeter-tasting result.
Cocoa Powder
I decided to use cocoa powder as the only chocolate flavoring in these brownies. The main reason is because melted chocolate contains cocoa butter, which is more solid at room temperature than butter. So, this will make the brownies slightly firmer when they get to room temperature too.
There is a wide variety of cocoa powders out there, but I'm recommending that you use a Dutch processed cocoa in this recipe. It's also known as alkalized cocoa, and it makes the cocoa a darker color as well as giving it a richer, less acidic flavor. Here's a great article on the difference between natural and Dutched cocoa. My favorite cocoa brand is Droste, but Hershey's sells a Special Dark Dutched cocoa that is widely available.
Parchment Sling
After you preheat your oven, prepare your baking tray by greasing the pan and making a parchment sling. This is basically just parchment paper that you cut to the size of your baking tray, with a little hanging up and over the sides. When you go to take the cooled brownies out of the pan, all you have to do is grab the parchment on each side and gently pull straight up.
Make the Batter
Set your baking tray aside and get to work making the batter. This is a super quick batter to make! First, whisk together the cocoa, salt and flour in a medium sized bowl. Then melt your butter in a large microwave safe mixing bowl (or on the stovetop, and transfer to a mixing bowl).
Add the brown sugar to the melted butter and mix until fully combined. Add your eggs and vanilla extract. At this point, the more you beat the mixture with the eggs, the more you will get a crackly top to your brownies (as told in Shirley Corriher's book, Bakewise). I stop once everything is just combined, but feel free to beat longer to get a shinier top.
Then, just add the flour mixture to the egg mixture, and gently stir until everything is combined. Spread it evenly into your baking tray and bake for about 20 minutes.
Testing for Doneness
For these brownies, you can't really do a "toothpick test" because it will still come out gooey when they are done baking! They will seem underdone when they come out, so err on the side of underbaking. The best way I have found to check for doneness is to use a probe thermometer. They'll be done when the internal temperature reaches 180°F (82°C).
Serving the Brownies
Although you can certainly eat these as soon as they are cool, they actually improve in texture overnight and will be best the day after baking. If they're uncut, they will keep really well for a few days at room temperature. After they are cut, though, they will quickly dry out and lose their gooiness.
If you want to freeze them, you can cut them and wrap each one individually, and store them all in an airtight container. This is a great way to keep yourself from eating the whole batch at once 🙂
Other Recipes You Might Like
Did You Try This Recipe?
I'd love to know if you made these Fudgy Brownies! Please leave a review in the comments section below to let me know how they turned out!
📖 Recipe
Fudgy Brownies
World's fudgiest brownies! These cocoa powder brownies are super easy to make, and they turn out gooey and extremely rich.
Equipment
Square, light-colored baking pan (I used a 7"x7" pan for thicker brownies, but 8"x8" will work)

Parchment paper

Mixing bowls

Stand mixer or electric mixer (optional)
Ingredients
75

g

Dutch processed cocoa powder

(¾ cup)

50

g

all-purpose flour

(about 6 tablespoon -- or ½ cup minus 2 Tbsp)

¼

teaspoon

fine-grain salt

114

g

butter

(1 stick/½ cup)

250

g

brown sugar

(1¼ cup packed)

2

eggs

1

teaspoon

vanilla extract
Instructions
Prepare
Preheat the oven to 350°F (177°C/gas mark 4).

Prepare your baking pan by cutting a strip of parchment paper the same width of the pan. Grease the pan with butter or baking spray and stick the parchment into the pan, leaving an overhang on each side.
Make the batter
In a medium bowl, whisk together the cocoa, flour and salt. Set aside.

In a microwave safe mixing bowl, melt the butter. You can also melt it on the stovetop and transfer to a mixing bowl.

Add the brown sugar to the butter and mix well.

Add the eggs and vanilla to the butter mixture and mix until incorporated.

Add the flour mixture to the butter mixture and mix until fully combined.
Bake
Put the batter into the baking pan and spread it into an even layer.

Bake for about 20 minutes, until the internal temperature of the brownies is 180°F (82°C). They will still be gooey on the inside and a toothpick will come out coated, but they will firm up as they rest.

Let the brownies cool fully in the pan before trying to take them out. You can try to cut and serve directly in the pan, or use the parchment sling to gently pull them straight up out of the pan and cut them on a cutting board.
Store
These will be best the day after baking if they are kept uncut in the baking tray. They will keep well uncut for several days.

Once they are cut, eat the same day, or wrap individually and freeze in an airtight container.
Nutrition
Serving:
1
brownie
Calories:
141
kcal
Carbohydrates:
21
g
Protein:
2
g
Fat:
7
g
Saturated Fat:
4
g
Trans Fat:
1
g
Cholesterol:
36
mg
Sodium:
100
mg
Potassium:
105
mg
Fiber:
2
g
Sugar:
15
g
Vitamin A:
208
IU
Calcium:
24
mg
Iron:
1
mg
Made with WP Recipe Maker plugin