This Ginger Shrub recipe is so tasty and easy to make! Shrub is also known as "drinking vinegar", and it is a tangy syrup that makes delicious cocktails and mocktails. This version with ginger is delicious, but the recipe is so versatile that you can use lots of different flavors too!
This Ginger Shrub is so perfect for fall, and it pairs really well with spiced rum, apple cider, and lots of different amaro liqueurs.
Check out my Shrub Cocktail recipe for a delicious gin cocktail with great fall flavors! Or, try adding a splash of it to this Cranberry Orange Juice Mocktail for an extra bit of tanginess and ginger.
Shrub is just one of the many homemade ingredients you can make for cocktails! Try out a Cinnamon Syrup or this tasty Earl Grey Syrup. For some more tasty syrup recipes, check out my full guide to flavored simple syrups.
Jump to:
What is a shrub?
A shrub is a vinegar-based syrup that is typically flavored with fruits. It's also called a "drinking vinegar", since it's mostly used in drinks and mixed with club soda.
People have been making their own shrubs for hundreds of years, starting as a way to preserve fruits. The mixture of fruit, sugar and vinegar mellows over time after it's first made, so the tartness of the vinegar isn't overwhelming.
Recently, they've come back into popularity thanks to craft cocktail bars and mixologists. Shubs are a great way to add acidity to a drink without relying on citrus juice all the time! You can read more on Wikipedia: Shrub (drink).
Ingredients
Here's what you'll need to make your own shrub:
Sugar - plain granulated sugar works great here.
Fresh ginger root - no need to peel the skin off, just wash it.
Lemon - you'll need a whole lemon to use the peel and the juice.
Vinegar - I used O Champagne vinegar, but apple cider vinegar would also work great for this recipe.
Which Vinegar is the best for making a shrub?
You could really use any vinegar in a shrub, but they do all have very different flavors. Think about how the vinegar would taste with the fruit you'll be using.
Apple Cider Vinegar - this is probably the most popular vinegar for shrubs. It brings a nice apple flavor, so it definitely pairs well with apples, pears and cinnamon.
Champagne Vinegar - this works well with lighter fruits, like pear and citrus. It goes really well with ginger, like in this recipe! Any white wine vinegar will have a similar profile to the Champagne vinegar.
Balsamic Vinegar - this vinegar already has some sugar in it. It has a really strong flavors, including molasses and raisin. It would work well with strawberries, watermelon or rhubarb.
Red Wine Vinegar - this tangy vinegar would pair well with berries, like raspberries, or cherries.
Sherry Vinegar - sherry is a fortified aged wine with notes of caramel flavor. This sherry-based vinegar pairs well in a shrub with oranges, strawberries or cherries.
White Vinegar - this has a really strong vinegar flavor, and doesn't bring a whole lot else flavor-wise, so it would be best to pair with something that has its own strong flavor, like pineapple or even chili peppers.
Rice Vinegar - this vinegar is pretty similar to apple cider vinegar, so a great choice for lots of shrubs. Try it with ginger, apples, lychee or citrus fruits.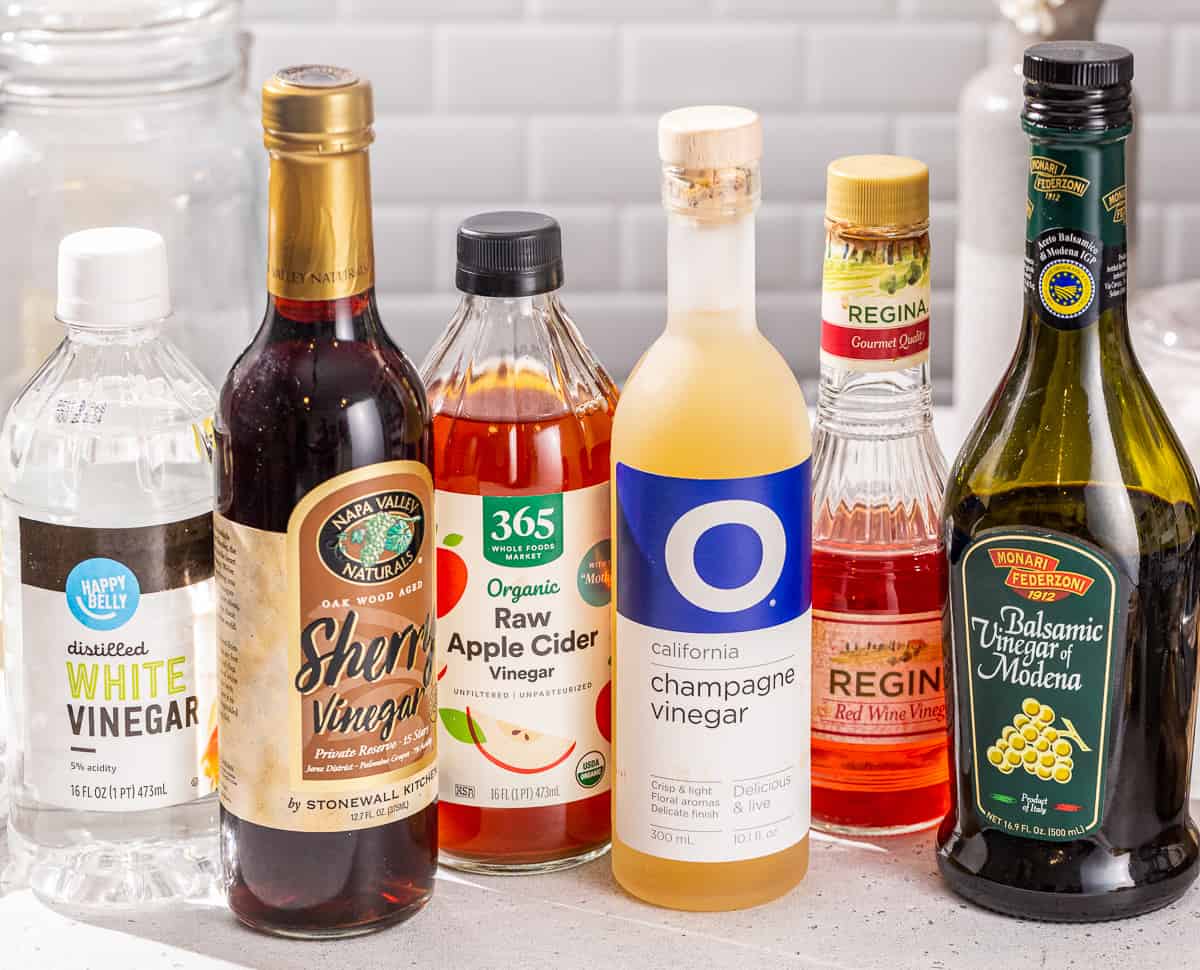 Substitutions
Here's how you can substitute some of the ingredients:
Sugar - you can use a different type of sugar, like brown sugar or turbinado sugar, in this recipe. Keep in mind that the flavor will change, since those sugars bring some warm molasses type flavors.
Fresh Ginger - if you can't find fresh ginger anywhere, you can't really use the powdered stuff. Instead, try to see if you can find ginger juice (like The Ginger People ginger juice) or a jar of ginger paste that only has ginger in the ingredient list.
Lemon - lime would work great here too.
Champagne vinegar - use white wine vinegar, rice vinegar, or apple cider vinegar instead.
Variations
Here are some variations on this recipe:
Keto Friendly shrub - instead of the sugar, try using allulose in its place. Most sugar substitutes won't break down the fruit, but this one will work fine. You'll need to use about 1⅓ cup of allulose in place of 1 cup of sugar.
Spiced Shrub - add a cinnamon stick along with the ginger and lemon for a shrub with even more warm spice flavor.
Berry Ginger Shrub - add in a handful of cut up strawberries to the ginger, lemon and sugar mixture. This will add some bright berry flavor and color to the finished shrub.
Equipment
If you are making a cold process shrub, like this recipe, you'll need a few basic things to get started:
Glass container with a lid, or bowl that you can cover
Long spoon, like a bar spoon, or spatula
Knife & cutting board
Fine mesh strainer or sieve
Funnel
Resealable glass container to store the finished shrub
If you're making a hot process shrub, switch out the glass container or bowl for a small saucepan. You'll use the saucepan to heat up the produce and sugar together.
Hot Process vs Cold Process Shrub
This shrub recipe uses a cold process, which requires the fruit and sugar to sit out for a day or two. This helps the sugar extract all of the juices and flavor from the fruits and any botanicals (like the ginger). After it sits out a could of days and the fruits get soft and macerated, you'll mix in the vinegar, then strain it into your container for storage.
A hot process shrub uses heat to get the fruit and sugar to break down. You'll make a simple syrup of equal parts sugar and water, then add the fruit. Simmer it until the fruit gets soft and mushy, then stir in the vinegar and let it cool to room temperature. Then, strain it into your storage container.
The biggest pro of using heat is that it's a much faster process. But, cold process will give you a much brighter flavor, truer to the fruit's raw flavor. The hot process will taste more like cooked fruit or jam.
For fruit like berries or apples, you could go either way. But for melons and citrus, the cold process will definitely give you a truer and more refreshing flavor.
Instructions
Start out by preparing the ginger. No need to peel it -- just chop it up, and add it to your glass container.
Add in the sugar. Peel your lemon and add the peel into the container.
Add in the juice of the lemon, and then stir everything together.
Cover up your container. You can either seal it if it's a resealable jar, or just cover it with a wrap if it's a bowl.
Let the container sit at room temperature for around 48 hours. You can stir it up every now and then if you want. During this time, the sugar will create a syrup and infuse the liquid with flavor from the ginger and lemon.
You might have some extra undissolved sugar at the bottom, like I did. Just stir everything together, and add in the vinegar.
Stir everything well, until the sugar is fully dissolved.
Use a fine mesh strainer and a funnel set up together to strain the liquid into your storage container.
Seal up your storage container. Then, you can use your shrub right away, or refrigerate it for up to 2 months.
Hint: if you don't want to wait 48 hours for the ginger to break down, you can use the hot process method. Boil equal parts water and sugar, add the chopped up ginger and lemon peels and simmer for 5 minutes. Then stir in the vinegar and lemon juice, and let it cool before straining it into your storage container. Keep in mind that the flavor of the ginger will be a little milder with the hot version.
Frequently Asked Questions
What kind of drink is a shrub?
A shrub is a mixture of sugar, fruit and vinegar that creates a tangy syrup. The syrup is then used in all kinds of drinks, from just mixing with seltzer to mixing up layered and interesting cocktails.
What does a shrub taste like?
Any shrub will definitely have a vinegary note to it, but also a strong fruit flavor and sweetness. Since it's usually pretty diluted, the vinegar is not super strong, but more of an acidic undertone. If your shrub is too vinegary, try reducing the vinegar or using a mild vinegar, like white wine vinegar.
Top tip: How to use a Shrub
There are so many ways to use shrubs, but here are a few tasty ideas!
Mixed with club soda: add 1 ounce shrub to a glass with ice and 4 to 5 ounces of club soda. (I actually love drinking this when I'm under the weather!)
Shrub Mule: add ½ ounce of shrub to your favorite mule, like this delicious Tequila Mule, to punch up the ginger taste even more.
Double ginger: add some to your ginger ale or ginger beer (for ginger lovers only!)
Mix with liqueur: Try out this gin-based Shrub Cocktail with Pimm's for some fall flavors.
📖 Recipe
Ginger Shrub with Lemon
This tasty Ginger Shrub recipe combines fresh ginger root with lemon, sugar and vinegar for a great cocktail ingredient.
Ingredients
1

knob

fresh ginger root

(about 3" to 4" long, or more for more ginger flavor)

1

lemon

1

cup

sugar

1

cup

Champagne vinegar

(or apple cider vinegar)
Instructions
Day 1
Chop up the ginger root (skin and all) and add it to your glass mixing container or bowl.

Wash and peel the lemon, and add the peels into the container.

Cut the lemon in half and juice it. Add the juice into the container.

Mix everything together and seal up the container or put wrap over the bowl.

Let it sit at room temperature for around 48 hours. Stir it occasionally if you'd like.
Day 3
Open up the container and stir everything up. There might be undissolved sugar at the bottom.

Pour in the vinegar and mix until all the sugar is dissolved.

Strain out the ginger and lemon bits, and use a funnel to add it to your storage bottle.

Use right away, or keep the finished shrub in the refrigerator for up to 2 months.
Nutrition
Serving:
1
ounce
Calories:
71
kcal
Carbohydrates:
18
g
Protein:
0.1
g
Fat:
0.1
g
Saturated Fat:
0.003
g
Polyunsaturated Fat:
0.01
g
Monounsaturated Fat:
0.001
g
Sodium:
2
mg
Potassium:
21
mg
Fiber:
0.3
g
Sugar:
17
g
Vitamin A:
2
IU
Vitamin C:
5
mg
Calcium:
4
mg
Iron:
0.2
mg
Made with WP Recipe Maker plugin