This refreshing Grapefruit Mocktail is a delicious, easy to make non-alcoholic drink with only three ingredients. Fresh pink grapefruit juice and cinnamon syrup make an interesting and super tasty flavor pairing! Sparkling water adds some festive bubbles and extra grapefruit flavor. Perfect for baby showers, dry January or for anyone who just loves grapefruit!
If you've never tried grapefruit with cinnamon, it's an amazing flavor combo. It's actually very common in Tiki-style drinks, too! Don's Mix is a well known grapefruit and cinnamon mixer, developed by Tiki pioneer Donn Beach, aka Don the Beachcomber.
This mocktail is one of my go-to drinks during dry January, since it's citrus season! Pink grapefruit is the perfect choice for this time of year, and I always have cinnamon syrup left over from the winter holidays. This drink is similar to a Grapefruit Rickey, but without alcohol and with a little extra flavor.
Looking for more non-alcoholic drinks? Try out this fancy Raspberry Mocktail, or sip on a Ginger Beer Bitters mocktail. You can also easily make many cocktails into mocktails, too, by changing out the alcohol for non-alcoholic spirits (Monday brand or Lyre's brand are my favorites).
Jump to:
Ingredients
All you need to make this drink are three ingredients:
Grapefruit juice - preferably freshly squeezed pink grapefruit juice. This way you can also use the fresh grapefruit for a garnish!

Grapefruit seltzer

- you can also find this listed as "pamplemousse" flavored seltzer (the French word for grapefruit). Although you can also use plain seltzer here, it's nice to add an extra boost of grapefruit flavor.
Cinnamon syrup - this is the key ingredient to making this drink a little more special! I used my own easy recipe for homemade cinnamon syrup, but you can use store bought too. Try out DaVinci cinnamon syrup for a budget friendly option.
Optionally, try adding a couple of dashes of grapefruit bitters to the drink. It adds to the complexity and flavor of the finished drink. Plus, Fee Brothers brand grapefruit bitters are non-alcoholic!
Substitutions
Here are some substitutions you can make for this cocktail.
Grapefruit juice - if you don't have grapefruit, try out orange juice instead. Or, blood orange juice makes a wonderful substitute too. And you can still use the cinnamon!
Grapefruit seltzer - use plain seltzer or lemon seltzer if you can't find grapefruit. Or, you can use flavored still water if you want to avoid carbonation. Try out Bubly grapefruit flavoring drops to make your own flavored water.
Cinnamon syrup - if you can't get your hands on cinnamon syrup, or you're just not a fan, try flavoring the drink with maple syrup, plain simple syrup, or whatever flavor you like that goes with grapefruit. Rosemary syrup or sage syrup work for an herbal flavor, or try jalapeño syrup for a spicy kick!
Variations
Here are some ways to make this drink extra special:
Non-alcoholic tequila - grapefruit and tequila are best friends flavor-wise! Although this is a mocktail, you can add in some non-alcoholic tequila, like Lyre's tequila style non-alcoholic spirit. (Or, of course, real tequila if you're imbibing.)
Keto-friendly grapefruit mocktail - are you reducing sugar as well as alcohol? This is a really easy drink to make keto friendly, as all you need to do is switch in sugar-free syrup. Check out my cinnamon syrup recipe for some info on how to make your own sugar-free cinnamon syrup using allulose sweetener.
Foamy top - to give this drink a foamy top for an elegant look and feel, you can add in a vegan cocktail foamer, or an egg white to the cocktail shaker. You'll need to do a second and longer shake, without ice, after the first shake to develop the foam (or use a milk frother). Strain it into the glass, then slowly and carefully pour in the seltzer into the center of the drink.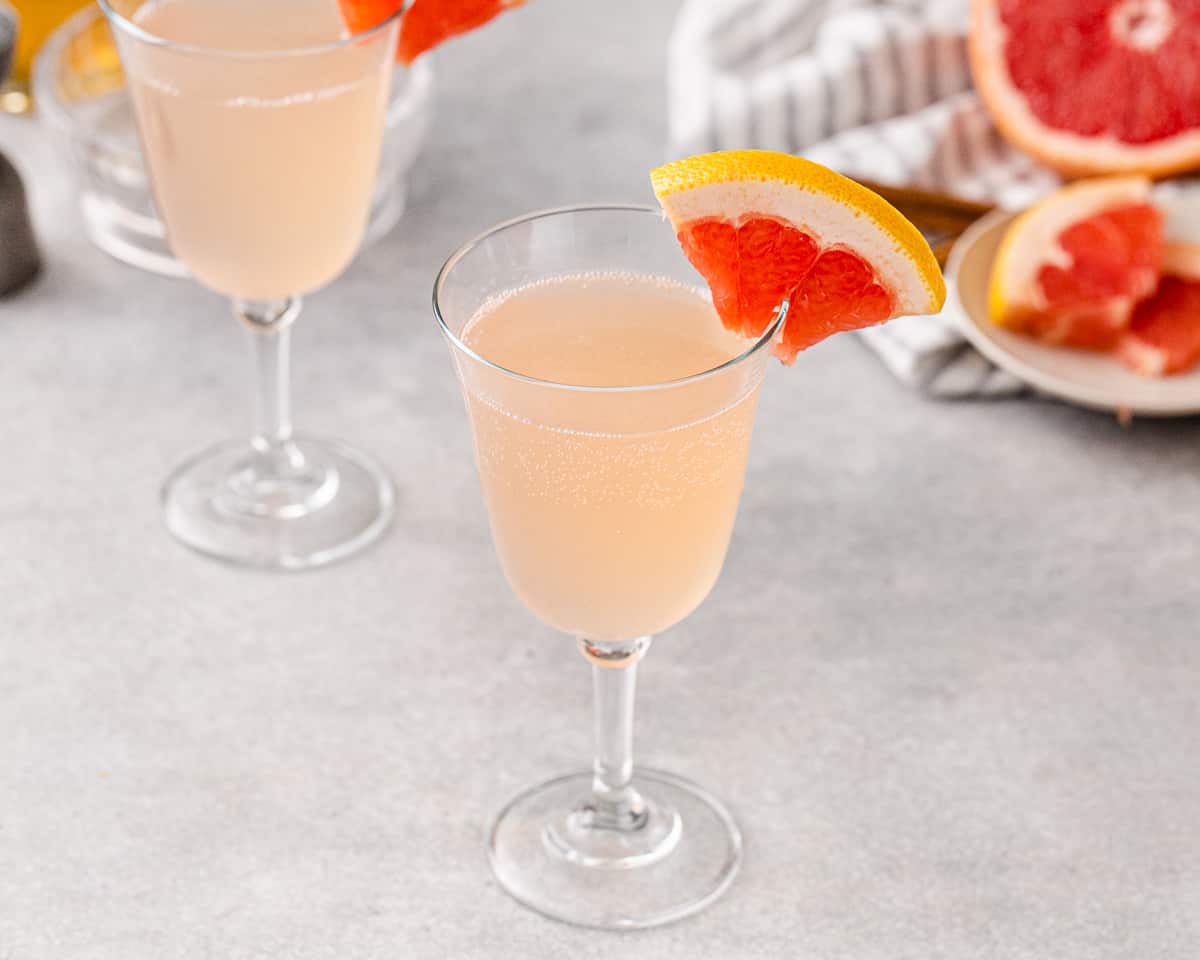 Equipment
To make this drink, you'll need to have a jigger or small measuring cup, as well as a cocktail shaker, cocktail strainer, fine strainer (to get out the grapefruit bits) and a serving glass. I like to use a stemmed white wine glass for this drink, but anything that holds at least 8 ounces works!
If you're looking to restock your bar equipment, I really love the products from A Bar Above! You can get 10% off using my discount code, LKDrinks. Their bar tools are good looking, super durable, and also dishwasher safe!
Instructions
Start out by preparing your grapefruit garnish. Cut a slice of grapefruit about ¼" thick, and then cut that slice into quarters. Each quarter is the garnish for one drink.
Next, juice your grapefruit.
Then, measure out your grapefruit juice and pour it through a fine mesh strainer into a cocktail shaker. The strainer will get out all of the pulp and seeds.
Next, add the cinnamon syrup to the cocktail shaker.
Fill the shaker with ice, seal it up and give it a quick shake. You only need to shake it about 10 times to chill the liquid. Since this is already a mocktail, you don't want to dilute it too much.
Strain the mixture into your serving glass, and top it off with the grapefruit seltzer.
Add the grapefruit garnish to the rim of the glass, and serve.
Hint: if you want to add in some grapefruit bitters, just add it in along with the grapefruit juice before shaking with ice.
Frequently Asked Questions
Can I use white grapefruit in this mocktail?
You can definitely use white grapefruit in place of the pink grapefruit! This is a great option if you like a little less sweetness.
Can I make this mocktail taste more like a cocktail?
If you want to make this drink taste more like a cocktail, but without the alcohol, try out an alcohol-free spirit. Monday, Lyre's, Seedlip and Spiritless all make non-alcoholic spirits with varying degrees of success. Or, try adding non-alcoholic bitters, apple cider vinegar, or a little bit of pickle brine for an interesting mocktail kick.
Top tip
If you're stirring up these mocktails for a party or baby shower, it's easy to make them in a pitcher. For a 48 ounce pitcher, just mix 12 ounces grapefruit juice with 6 ounces of cinnamon syrup in the pitcher. Then add in 24 ounces of the seltzer, and fill the rest with ice.
If you're worried that the seltzer will lose carbonation, you can mix just the juice with the syrup and ice in the pitcher. Pour 3 ounces of the mixture into each glass, followed by fresh seltzer. Garnish each glass with grapefruit, and enjoy!
📖 Recipe
Grapefruit Mocktail
This Grapefruit Mocktail combines fresh pink grapefruit with cinnamon syrup and bubbly grapefruit seltzer for a refreshing non-alcoholic drink.
Equipment
Fine mesh strainer

(to strain out the grapefruit pulp)

Cocktail serving glass

(at least 8 ounces in capacity)

Knife and cutting board

(if using fresh grapefruit)

Citrus juicer or reamer

(if using fresh grapefruit)
Instructions
Add the grapefruit juice to a cocktail shaker. If you're using freshly squeezed juice, pour it through a fine mesh strainer to get rid of the pulp and seeds.

Add the cinnamon syrup to the cocktail shaker.

Fill the shaker with ice and shake for only about 10 seconds. This will chill the mixture.

Strain the mixture into your cocktail serving glass.

Fill the glass with the grapefruit seltzer.

Add the fresh grapefruit garnish, and serve.
Notes
To make your own cinnamon syrup, try my Cinnamon Syrup recipe (either the regular or keto-friendly version).
To purchase cinnamon syrup, try out DaVinci cinnamon syrup or any available at your local grocery store.
You can substitute in maple syrup if you don't like cinnamon.
Nutrition
Calories:
102
kcal
Carbohydrates:
25
g
Protein:
0.3
g
Fat:
0.1
g
Sodium:
33
mg
Potassium:
102
mg
Fiber:
0.1
g
Sugar:
19
g
Vitamin A:
7
IU
Vitamin C:
15
mg
Calcium:
12
mg
Iron:
0.3
mg
Made with WP Recipe Maker plugin