This one is for Christmas lovers and grinches alike! The Grinch Mimosa is such a fun and tasty holiday cocktail. This festive drink is not only delicious but also super eye catching, with its bright green hue and red sugared rim. It's the perfect addition to your Christmas Eve cocktail menu or for Christmas morning brunch!
Festive Twist on a Classic Mimosa
The original mimosa cocktail, traditionally made with orange juice and Champagne, has been a brunch staple for decades. This recipe gives the classic a holiday twist, drawing inspiration from the green and red colors of Christmas.
Switching out the orange juice for pineapple juice also gives this a special and different flavor, and the red rim is really vibrant and cute!
Ingredients
Here are the ingredients you'll need to make this drink:
Pineapple juice - this brings some sweetness and slightly tart pineapple flavor. Use fresh pressed juice if you have it, but I just used Dole brand pineapple juice.
Blue Curacao liqueur - this is an orange-flavored liqueur that has a deep blue color. A little goes a long way here! The blue takes over really quickly if you use too much. This does bring a touch of sweet orange flavor, but it's mostly about the color. Drillaud Blue Curacao liqueur is a popular brand. (For this liqueur, brands are all pretty similar in quality.)
Sparkling wine - can't forget the bubbles in a mimosa! I used Prosecco, but Champagne or Cava work well too.
Red sugar - although this is optional, it kinda makes the drink! I used red sanding sugar, which is available online or in most supermarkets or craft stores.
Substitutions
Here are some ways you can substitute the ingredients in this cocktail:
Sparkling wine - If you don't have sparkling wine, try using plain white wine if you want to avoid the bubbles. Or, if you're a fan of the bubbles, try substituting in sparkling water. With the water, you can also add in a shot of aged rum or brandy plus a little dry vermouth or Lillet Blanc for more of a white wine flavor.
Blue Curacao - in place of this blue liqueur, you can use Midori liqueur, a melon liqueur with a bright green color. To get the same shade of green, you'll just have to add more of it than you would add of the Blue Curaçao. Or, if you don't have Midori, try using a drop of blue or green food coloring.
Pineapple juice - you can sub in orange juice for the pineapple. Freshly squeezed is best if possible!
Red Sugar - if you can't find this, you can use plain white sugar on the rim of the glass, which will also look really good.
Variations
Here are some variations on this recipe:
Non-Alcoholic Version: you can easily make a non-alcoholic version! Just use sparkling apple cider in place of the Prosecco. Instead of the blue liqueur, you can use Blue Curaçao syrup.
Cotton Candy - for an extra festive touch, decorate each drink with a little cloud of white cotton candy sitting on top of the glass. You can serve it with the cotton candy on top, or actually pour the sparkling wine in through the cotton candy.
St. Patrick's Day Version - swap out the red sanding sugar for green sugar to give this a St. Paddy's Day feel! You can also add in a touch of whiskey, like Jameson Irish Whiskey.
Halloween Version - you can use purple sugar on top to make this drink look like a Hocus Pocus Drink (minus the edible glitter!)
Equipment
Since this drink is made in the serving glass, you don't need much equipment! It's served in a Champagne glass, but you could also use a coupe glass.
You'll just need a dish for the sugar and a small container for the pineapple juice (to rim the glass), along with a jigger and a long bar spoon.
You can always grab the jigger and bar spoon from my favorite spot - A Bar Above! You can get 10% off using my discount code, LKDrinks. Their bar tools are really durable, and also can be cleaned in the dishwasher when you're done mixing.
Instructions
Start out by adding the sugar to the rim of the glass. Dip the rim into pineapple juice, or you could also use water for this step.
Then, dip the wet rim into the sanding sugar. Pick it up, turn, and then re-dip, and repeat until the whole rim is coated.
To make the drink, pour in the juice and then add in the Blue Curaçao.
Stir it up with a long bar spoon, so the color is evenly distributed.
Then, pour in the Prosecco or sparkling wine, and serve.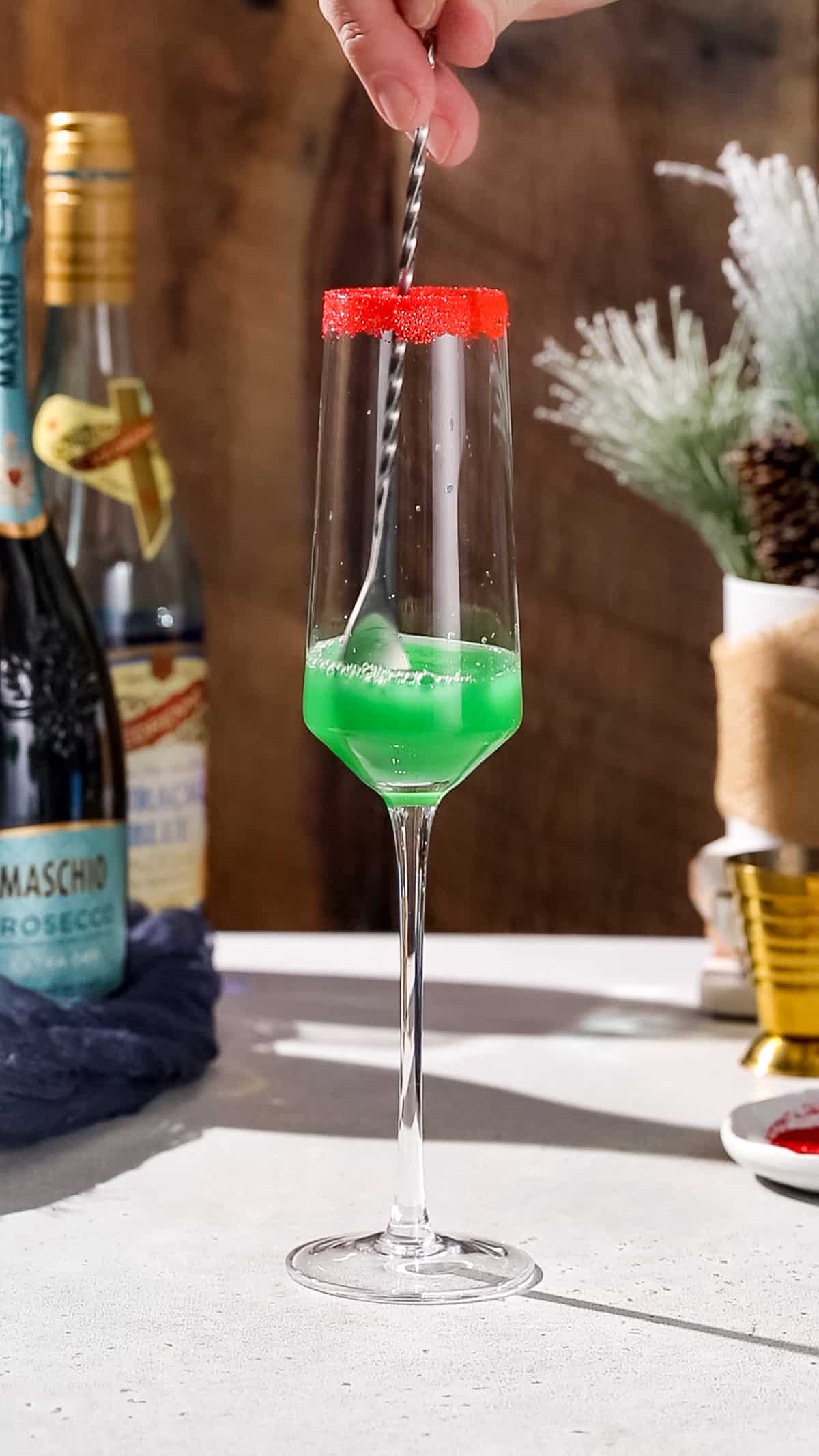 Hint: If you are planning to make a bunch of these, you can add the sugar to all of the rims beforehand. If you allow them to dry before drinking, they will harden onto the side of the glass and form a crust, which helps them stay on the glass longer while drinking.
Frequently Asked Questions
Can I make a Grinch Mimosa in advance?
It's best made fresh, but you can add the sugar rim to the glass in advance. If you want, you can also add the juice and Blue Curaçao in advance, but you should keep it in the fridge until it's ready to serve.
Is a mimosa Prosecco or Champagne?
The original mimosa used Champagne, but Prosecco is much more commonly used these days. It's a little sweeter than Champagne, less yeasty, and typically much less expensive.
Top tip
For a truly vibrant green, use just a small amount of blue Curacao. Too much will make it look blue instead of green really fast.
If you accidentally add too much, just add in some extra pineapple juice and make 2 drinks!
📖 Recipe
Grinch Mimosa Christmas Cocktail
The Grinch Mimosa is a festive and easy drink for the holidays! It's a fizzy green cocktail with a red sugar rim.
Equipment
Small dish

(for the red sugar)

Small cup or other container

(for the pineapple juice when rimming the glass)
Ingredients
Garnish
2

tablespoon

pineapple juice

(for wetting the rim of the glass)

2

tablespoon

red sanding sugar

(for the glass rim)
Instructions
Garnish
Add the red sugar to a small dish and the pineapple juice to a small container.

Dip the rim of your cocktail glass into the juice. (Alternatively, you could use a lemon or lime slice to wet the rim, or some water instead.)

Dip the rim of the glass into the red sugar. Lift up the glass, turn it, and re-dip. Repeat until the whole rim is coated.
Cocktail
Add the pineapple juice into the serving glass.

Add in the Blue Curaçao liqueur, using your bar spoon to measure.

Use the bar spoon to stir the liquid up so that the color is evenly distributed.

Pour in the Prosecco, and serve. Cheers to the holidays!
Notes
Unless you're making these for a crowd, you can reuse the pineapple juice from wetting the glass rim in the actual cocktail itself.
Nutrition
Calories:
120
kcal
Carbohydrates:
15
g
Protein:
0.3
g
Fat:
0.1
g
Saturated Fat:
0.01
g
Polyunsaturated Fat:
0.03
g
Monounsaturated Fat:
0.01
g
Sodium:
10
mg
Potassium:
175
mg
Fiber:
0.1
g
Sugar:
14
g
Vitamin A:
3
IU
Vitamin C:
6
mg
Calcium:
18
mg
Iron:
1
mg
Made with WP Recipe Maker plugin