Hibiscus Syrup is both sweet and slightly tangy, and it's the perfect addition to craft cocktails! It's super easy to make at home and tastes delicious. All you have to do is add dried hibiscus flowers as you make your simple syrup. It adds a very deep pink color, as well as a sweet and tart flavor to your homemade drinks.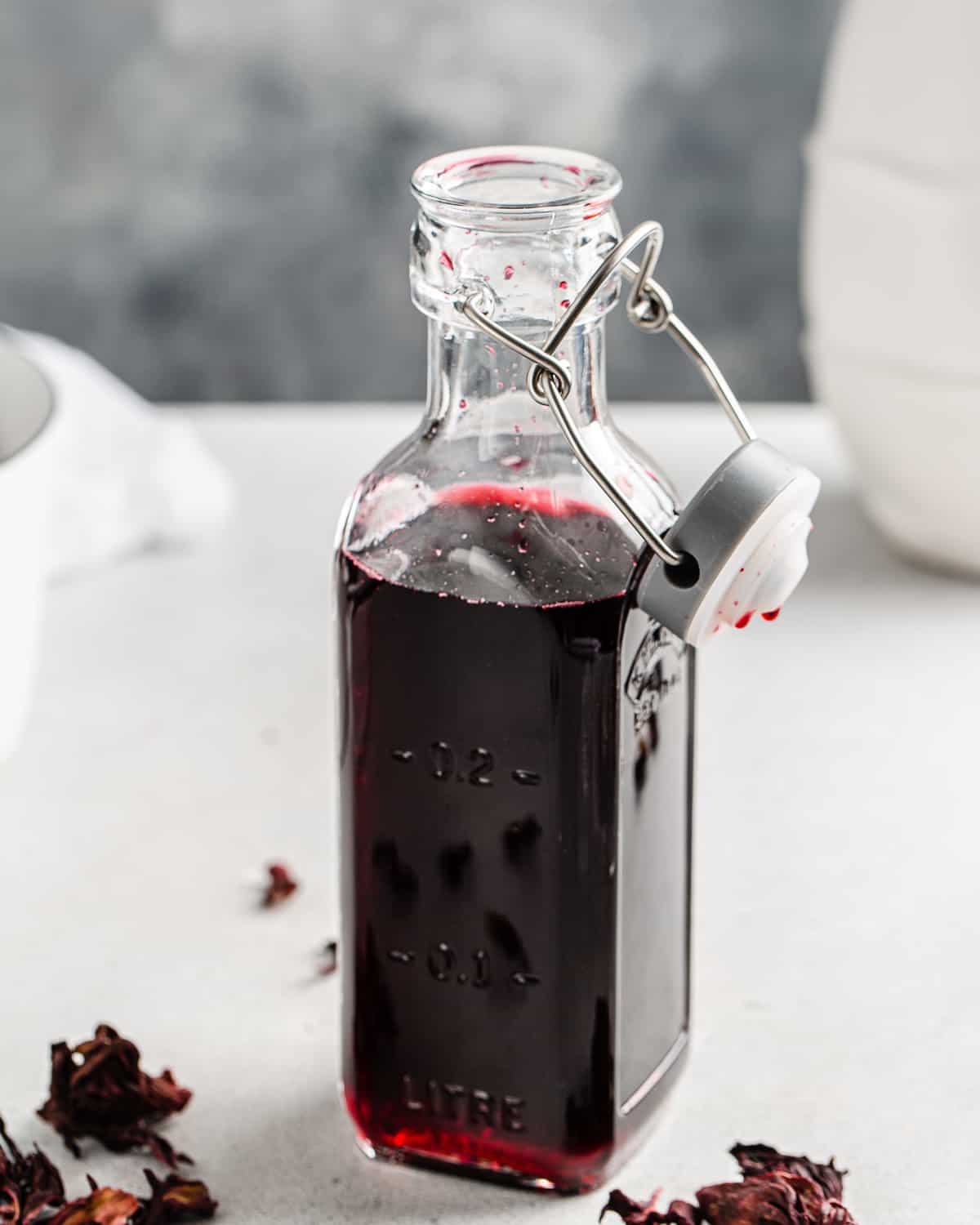 Hibiscus flowers grow in warm weather, so they are often used in summery and tropical drinks. The flavor goes perfectly with clear spirits like tequila and rum. Since this syrup recipe uses dried hibiscus flowers, you can make it any time of year!
Check out my Hibiscus Gin Cocktail for a delicious drink recipe featuring this syrup. You can also add it in place of simple syrup in a Classic Margarita (or a pitcher of them!).
My Hibiscus Vodka Cocktail is a little different since it uses vodka infused with hibiscus. You can use both the infusion along with this syrup for an even stronger hibiscus flavor!
For more flavored syrups, check out my Sage Syrup or my Rhubarb Syrup recipes. Or, grab the recipe for unflavored Simple Syrup.
Jump to:
Ingredients
To make this syrup, all you'll need to have on hand are three ingredients.
Water
Sugar - refined granulated sugar or cane sugar both work great for this recipe. Cane sugar gives the syrup a little bit of a warmer flavor.
Dried hibiscus flowers - I used these Maui Hibiscus Flowers because they are whole flowers, which makes it easier to strain them out of the syrup. Plus, you can use them for a garnish if you want.
Substitutions
Here are some substitutions you can make to this recipe.
Hibiscus tea - if you can't get whole dried hibiscus flowers but you have hibiscus tea bags, you can use those instead. Just put in the tea bags at the same point as you would put in the whole flowers. Check to make sure hibiscus is the only ingredient in the tea, or you will get other flavors in the syrup too (which could be a plus if you like it!).
Sugar free - you can easily make this syrup without sugar by using allulose sweetener. Allulose is the best option because it acts like sugar, giving the syrup thickness and body in addition to sweetness. Just use a little more than you would sugar, about 2 to 3 extra tablespoons, to get the same level of sweetness. You can also use erythritol or other sweeteners, but you will need to add in xanthan gum as a thickener to get a similar result.
Variations
These are some delicious ideas to give your syrup a new flavor variation.
Spiced Hibiscus syrup - this variation is inspired by a popular Jamaican drink called sorrel. Sorrel is a soft drink made with a variety of Jamaican hibiscus and steeped with spices. To make spiced hibiscus syrup, just add whole baking spices or mulling spices (like cinnamon, allspice, star anise, and ginger) along with the flowers in your syrup. You can also use dried Jamaican sorrel flowers for a more authentic flavor.
Hibiscus Rose syrup - add in dried edible rose petals along with the hibiscus flowers to create a more floral version of this syrup.
Hibiscus Mint syrup - after you take the syrup off of the heat, add in some fresh mint leaves while it cools to give your syrup a fresh minty note.
Equipment
To make this recipe, you'll need the following equipment:
Small saucepan (at least 1 quart) to heat up the sugar and water
Measuring cups and/or kitchen scale
Spatula or spoon to stir the mixture
Trivet or cooling rack where the pot can sit to cool
Lid to cover the pot while it cools (you can also use a plate or a kitchen towel instead)
Strainer to strain out the hibiscus flowers
Clean airtight bottle to store the syrup (at least 10 ounces large to hold a full recipe)
Funnel to transfer the syrup to the bottle.
Instructions
Start out by adding your water, sugar and hibiscus flowers to a small saucepan.
Stir everything together and place over medium-high heat. Bring to a boil, stirring occasionally, and then turn the heat down so the mixture simmers.
After 3 minutes of simmering, remove the saucepan from the heat. Cover with a lid and place it on a trivet or heatproof surface to cool.
Once it reaches room temperature, use a fine mesh strainer together with a funnel inserted into your storage bottle. Pour the mixture through the strainer and funnel and into the bottle. You can use it right away, or seal it up and store it in the fridge for 2 weeks.
Hint: if you want your container to hold the entire recipe's worth of syrup, make sure you're using at least a 10 ounce container. These 12 ounce swing-top bottles are great, or a mason jar with a pour spout lid also works well.
Frequently Asked Questions
What does hibiscus taste like?
Hibiscus has a more fruit-like flavor than a flowery flavor. It is tart, almost like a cranberry, with deep berry and pomegranate notes.
What flavors taste good with hibiscus?
Hibiscus is super versatile and pairs well with a lot of spices and fruits. It pairs really well with berries, summer fruits, and herbs like mint. Pairing it with mulling spices is a really delicious option, and it can be enjoyed cold or warm.
Top tip
Adding ounce of vodka to a batch of this syrup will increase its shelf life by a few weeks. Just make sure you're only planning to use it in cocktails! One recipe of the syrup plus one ounce of 70-proof vodka will be around 3.2% ABV (alcohol by volume). For reference, that is about ⅔ the alcohol by volume of a standard beer.
📖 Recipe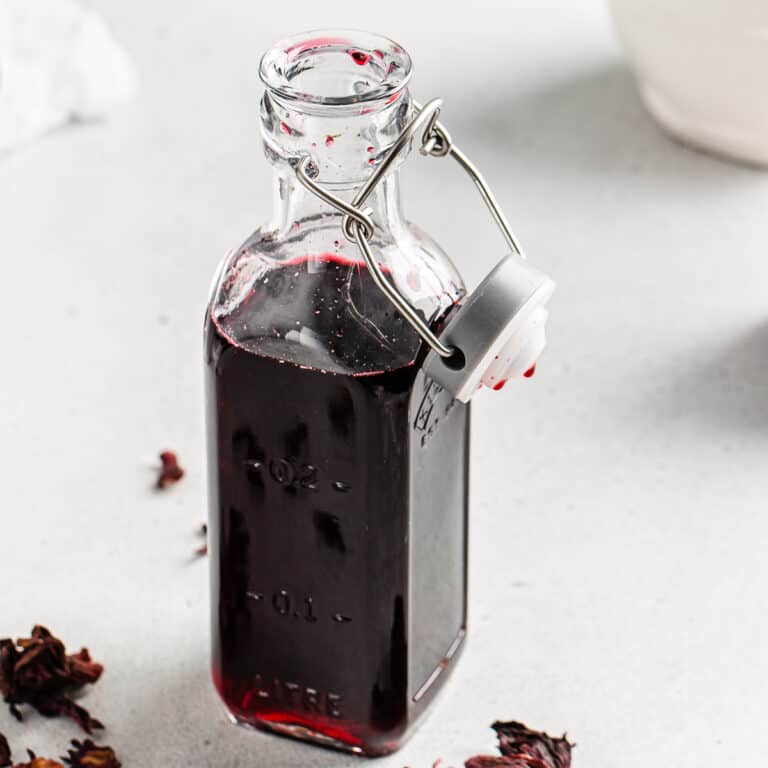 Hibiscus Simple Syrup
This sweet and tart Hibiscus Simple Syrup is wonderful to have on hand for cocktails, and really easy to make.
Equipment
Small saucepan

Trivet or cooling rack

Saucepan cover or lid

Fine mesh strainer

Funnel
Instructions
Add the water, sugar and dried hibiscus flowers to a small saucepan.

Place the saucepan over medium-high heat and, stirring occasionally, bring to a boil.

Turn the heat down to medium and simmer for 3 minutes.

Remove the saucepan from the heat. Cover and allow to cool to room temperature.

Using a fine mesh strainer and a funnel, strain the hibiscus flowers out of your syrup while you pour the syrup into your storage container.

You can use the syrup right away, or seal the storage container and store it in the refrigerator for around 2 weeks. Discard at any sign of mold.
Nutrition
Serving:
1
ounce
Calories:
77
kcal
Carbohydrates:
20
g
Fat:
0.1
g
Sodium:
2
mg
Potassium:
5
mg
Sugar:
20
g
Vitamin A:
70
IU
Calcium:
3
mg
Iron:
0.03
mg
Made with WP Recipe Maker plugin