If you've never made Homemade Limoncello before, you might be surprised at how easy it is. The hardest part is waiting a couple of weeks for the lemons to infuse! This sunshine-yellow liqueur is a traditional digestif in Italy, but is very versatile in mixed drinks too.
One of my favorite places on earth is Taormina. Taormina is a little town in eastern Sicily, and although I was only there for two days in high school, it's stayed with me forever. There was a full-on lemon grove at our little hotel, and when I opened the window, a flood of sunlight and lemon scent poured into our hotel room.
It's no wonder the Italians have been bottling that flavor for centuries. Although you might not have fresh lemons growing in your backyard, you can still get a taste of Taormina. You mostly just need alcohol, lemons, and a lot of patience.
Limoncello is most often served ice-cold in a little glass after dinner, but it is also wonderful to use as a mixer in cocktails. Because it's made from extracting the peel of the lemon and has none of the acidic juice, it's not sour at all. In fact, it's super sweet. The great thing about making it yourself is that you can control the sweetness (not to mention, it's way less expensive ounce for ounce!)
Infusion
The method for making your own limoncello is to first make an infusion of alcohol and lemon rinds. The key thing here is to get as little of the white part as possible when you peel. That part has a lot of bitterness, and you don't want that to come out in the infusion or it will take over the flavor. I used a vegetable peeler, and cut off any excess white pith with a paring knife.
For the alcohol, I used vodka, but you can also use grain alcohol (Everclear) to get a deeper lemon flavor in less time. Just keep in mind that your liqueur strength will be different at the end, and you may have to adjust the sugar/water ratios. You'll also probably end up with cloudy limoncello, which is totally fine, just aesthetically different.
It takes a while for the lemon to fully infuse in to the alcohol. Feel free to sample as the days/weeks go by, until you feel you've gotten optimal lemony-ness (I wait 4 weeks using vodka).
Finishing the Homemade Limoncello
When you make the final liqueur, you'll need to add a sweetening agent to the infusion. Whether your limoncello comes out cloudy or not depends on a few different factors, including whether you used Everclear and the temperature of your syrup when you combine everything. This article has some interesting information on the science behind limoncello!
To finish your liqueur, you'll first need to make a sugar syrup by heating water and sugar together on the stove. Once the syrup is cooled and you've strained out all of the lemon rinds (and you will definitely want to strain twice), you can mix the infusion and syrup together. And now you've got limoncello!
Finally, use a funnel to pour it into bottles. Give it out as gifts, use in cocktails (and it goes surprisingly fast that way!), or drink as a digestif like the Italians. You can experiment a lot with this, and even add cream to the liqueur. Try out different citrus fruits too!
Other Recipes You Might Like
Have You Tried This Recipe?
Have you made your own limoncello or other liqueur? I would love to hear about your experience! If you enjoyed this recipe, I would truly appreciate a star rating or comment below!
📖 Recipe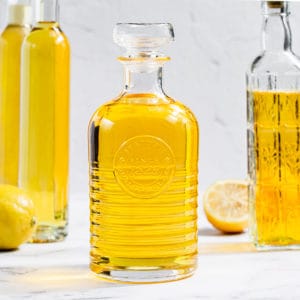 Homemade Limoncello
This Italian digestif is an easy project to make at home, given a little patience (and lots of lemons).
Equipment
Large glass container

Fine mesh sieve and/or cheesecloth

Saucepan

Citrus Peeler or Knife
Ingredients
For the infusion
16

lemons

1

liter

decent quality vodka (not too expensive)

- see notes at the bottom
For the syrup
400

g

sugar

(2 cups)

737

g

water

(3 ¼ cups)
Instructions
Make the infusion
Wash your lemons well, and then using a sharp paring knife or a vegetable peeler, peel off just the outer yellow part of the rind. Try to get as little of the white part as possible.

Dump the peels and vodka into your container.

Wait a while (like, 3-4 weeks). Shake the container whenever you think of it. Also, juice those peeled lemons and freeze the juice into cubes for later cocktail use.
Make the syrup and final liqueur
To make the syrup, just combine the sugar and water in a saucepan and heat on medium high until it boils. Let it gently bubble for 5 minutes, then remove from the heat and let it come to room temp.

While the syrup cools, strain the lemon peels out of the vodka infusion. Then, strain it all again through a fine mesh sieve. You can even line the sieve with cheesecloth to make sure you get any little lemon bits out.

When the infusion is strained and the syrup is cool, combine the two in a large container and mix well. If you used Everclear or another high-proof base, it might turn cloudy at this point, which is totally normal.

Congrats! You have limoncello! Now use a funnel to put it into those fancy tall limoncello bottles. You can maybe give one away as a gift, but if you'd rather hoard them all, that's cool with me.

You can store at room temp, but many people keep it in the fridge (or freezer if you used Everclear, just for an extra cold drink).
Notes
Instead of vodka, you can also use Everclear or grain alcohol. This will reduce the infusion time, but you'll need to increase the amount of syrup you add. Using this higher-proof spirit will also likely cause your limoncello to become cloudy when you add the syrup, which doesn't affect the taste at all.
Nutrition
Serving:
1.5
fl oz
Calories:
98
kcal
Carbohydrates:
10
g
Protein:
1
g
Fat:
1
g
Saturated Fat:
1
g
Sodium:
1
mg
Potassium:
4
mg
Fiber:
1
g
Sugar:
10
g
Vitamin A:
1
IU
Vitamin C:
3
mg
Calcium:
4
mg
Iron:
1
mg
Made with WP Recipe Maker plugin