Jalapeño Simple Syrup is one of the easiest ways to add a spicy kick to any cocktail! It's perfect to have in your fridge to add to any margarita or daiquiri. It is so easy to make at home, and it really has a nice peppery flavor from the fresh jalapeños.
This syrup is great to have on hand year-round for any jalapeño lover! If you are growing your own peppers, they are usually in season in late summer. That is a great time to make and use this syrup, as the evenings start to get a little chilly.
This syrup is used in my delicious Spicy Blood Orange Margarita recipe. It would also be amazing added to this Rum Mango Cocktail.
Jump to:
Ingredients
You only need three ingredients to make this syrup. Here are the things you'll need to have ready:
Water - preferably filtered or spring water.

Granulated sugar

- white sugar or cane sugar work best to showcase the fresh pepper flavor.

Fresh jalapeño peppers

- look for glossy peppers with smooth skin. If you try to use pickled or jarred jalapeños in this syrup, they will give a very different flavor.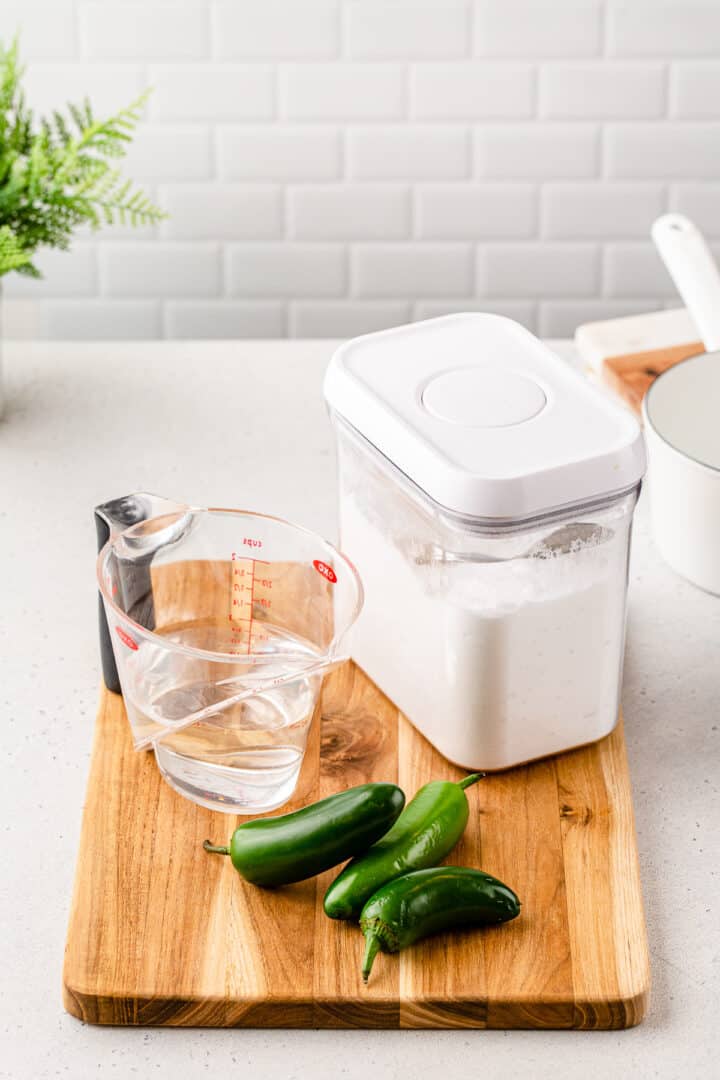 Variations
There are a bunch of different ways you can change up this recipe to make it the way you like! Here are a few:
Sugar Free - you can make a keto friendly version of this syrup by using allulose instead of regular sucrose. Erythritol also works, but the cooling effect of the erythritol may work against the spiciness!
Non spicy - you can use a green bell pepper the same way as the jalapeños in this recipe to make a mild pepper-flavored syrup. Although not quite the same flavor, it is pretty close and would be a great substitute if you want that flavor without the kick.
Extra spicy - you can use any hot pepper in this recipe that you enjoy! Habañero peppers are higher on the Scoville Scale and will make this syrup super spicy. You could even use ghost peppers if you are feeling brave! Or, you can do a mix of pepper types for a custom flavor blend.
Citrus Jalapeño syrup - to add a lemon flavor in with the jalapeños, you can throw in a couple of thin strips of lemon peel in with the pepper slices. You can do this with any citrus fruit. If you add a grapefruit peel, it would be perfect for a spicy Paloma.
Equipment
You'll need to have a few things on hand to make this spicy syrup (and you probably already have most of them). Here's what you'll need:
Small saucepan (at least 1 quart) to heat up the sugar and water.
Knife and cutting board for slicing the fresh peppers.
Optional gloves for handling the spicy peppers.
Measuring cups and/or kitchen scale.
Spoon or spatula to stir the mixture.
Heat-safe trivet or cooling rack for the hot saucepan.
Lid to cover the saucepan while it cools (or a plate or cutting board if you don't have one).
Strainer to strain out the jalapeño slices.
Clean airtight bottle or other container to store the syrup (at least 10 ounces large to hold a full recipe).
Funnel to transfer the finished syrup to the bottle.
Instructions
Start out by measuring out your water and sugar. You'll need equal parts of the water and sugar by volume. Combine the water and sugar in a small saucepan, and set it over medium-high heat.
Stir the mixture gently to combine. Bring the mixture to a boil, then turn down the heat to medium (or medium-low, depending on your stove) and let it bubble slowly for 3 minutes.
As the syrup cooks, you can slice up your jalapeños. You can also cut them up before starting the cooking process. Just set a damp paper towel on top of the slices until you're ready to use them.
After 3 minutes, turn off the heat and add the sliced peppers into the hot syrup. Give it a stir. Then, remove it from the heat onto a trivet or cooling rack and cover it with a lid or plate.
Let the mixture steep for about an hour, until it gets to room temperature. Then, take the clean container where you'll be storing the syrup. Strain the mixture into the container, seal it up and store it in the fridge. You can store it for about a month, but discard if you see any signs of mold.
Hint: unless you are used to cutting up and handling spicy peppers in your kitchen, disposable gloves are a good way to protect your hands. If you've ever rubbed your eye and didn't realize you had spicy pepper juice on your hand, you know what I mean!
Frequently Asked Questions
How long does jalapeno infused simple syrup last?
When kept in a sealed container in the refrigerator, this jalapeño simple syrup will last about a month. Discard the syrup if you see any sign of mold.
What can you do with jalapeno syrup?
The biggest use for jalapeño syrup is in cocktails, and it's especially good in margaritas or any type of tequila drink. You can also use it to add some heat to a dessert. Drizzle some of it onto ice cream for a different kind of sweet! Jalapeños go really well with pineapple and mint flavors.
Top tip
If you know you will be using this syrup for cocktails only, you can add an ounce of vodka (or even blanco tequila) to the finished syrup. This will help preserve it and keep it from growing mold. Just keep in mind that it will make your finished cocktails a little bit stronger, so you can add a touch less of your main spirit if you do add it in.
📖 Recipe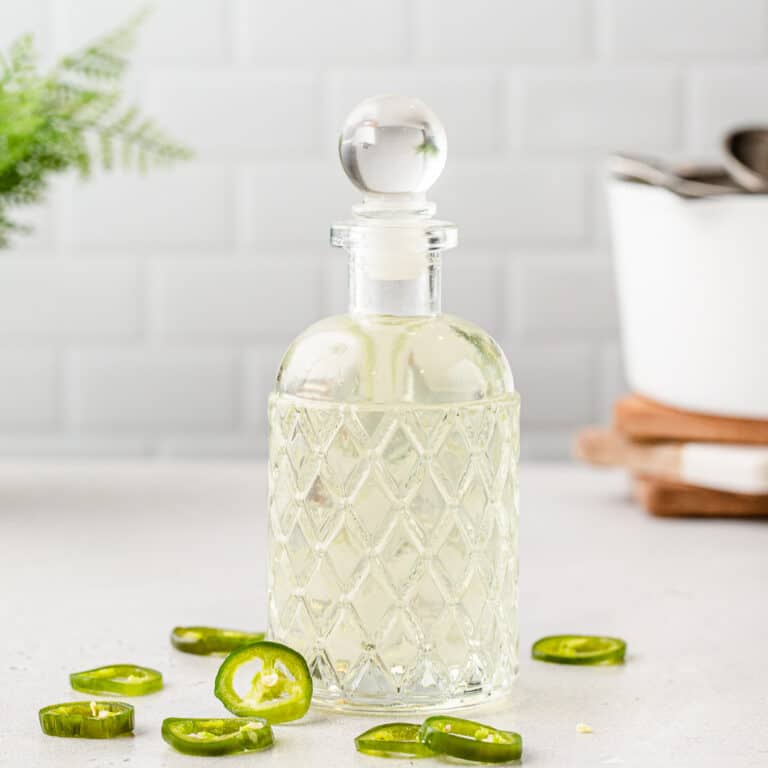 Jalapeño Simple Syrup
This spicy Jalapeño Simple Syrup is easy to make, and has the heat and peppery flavor of fresh jalapeños.
Equipment
Small saucepan

(at least 1 quart/10 deciliters capacity)

Knife and cutting board

Gloves

(optional - for handling the peppers)

Trivet or cooling rack

Saucepan cover or lid

Fine mesh strainer

Funnel
Ingredients
1

cup

water

236 grams

1

cup

granulated sugar

200 grams

2

jalapeño peppers

fresh
Instructions
Measure out the water and sugar and combine them in a saucepan.

Stir gently and set the mixture over medium-high heat.

Wash and slice the jalapeño peppers while the syrup heats.

Bring the mixture to a boil, then lower the heat to a rapid simmer and let it bubble for 3 minutes.

After 3 minutes, turn off the heat and add in the jalapeño slices.

Remove the saucepan from the burner and put it on a trivet or cooling rack. Cover the saucepan and let it sit to steep for about an hour.

Once the syrup has cooled to room temperature, use a strainer and funnel to strain it into a clean bottle or sealable container.

Close up the bottle and store the syrup tightly sealed in the fridge for about a month. Discard if any sign of mold appears.
Nutrition
Serving:
1
ounce
Calories:
78
kcal
Carbohydrates:
20
g
Protein:
1
g
Fat:
1
g
Saturated Fat:
1
g
Polyunsaturated Fat:
1
g
Monounsaturated Fat:
1
g
Sodium:
1
mg
Potassium:
7
mg
Fiber:
1
g
Sugar:
20
g
Vitamin A:
30
IU
Vitamin C:
3
mg
Calcium:
1
mg
Iron:
1
mg
Made with WP Recipe Maker plugin