The refreshing Kiwi Mojito is such a perfect warm weather cocktail! Also called a Kiwi Lime Mojito, this is made with delicious fresh kiwi, lime and mint leaves. You'll be reaching for this tasty drink all summer long. It's perfect to enjoy whether you're enjoying a sunny afternoon on the deck or winding down after a long day!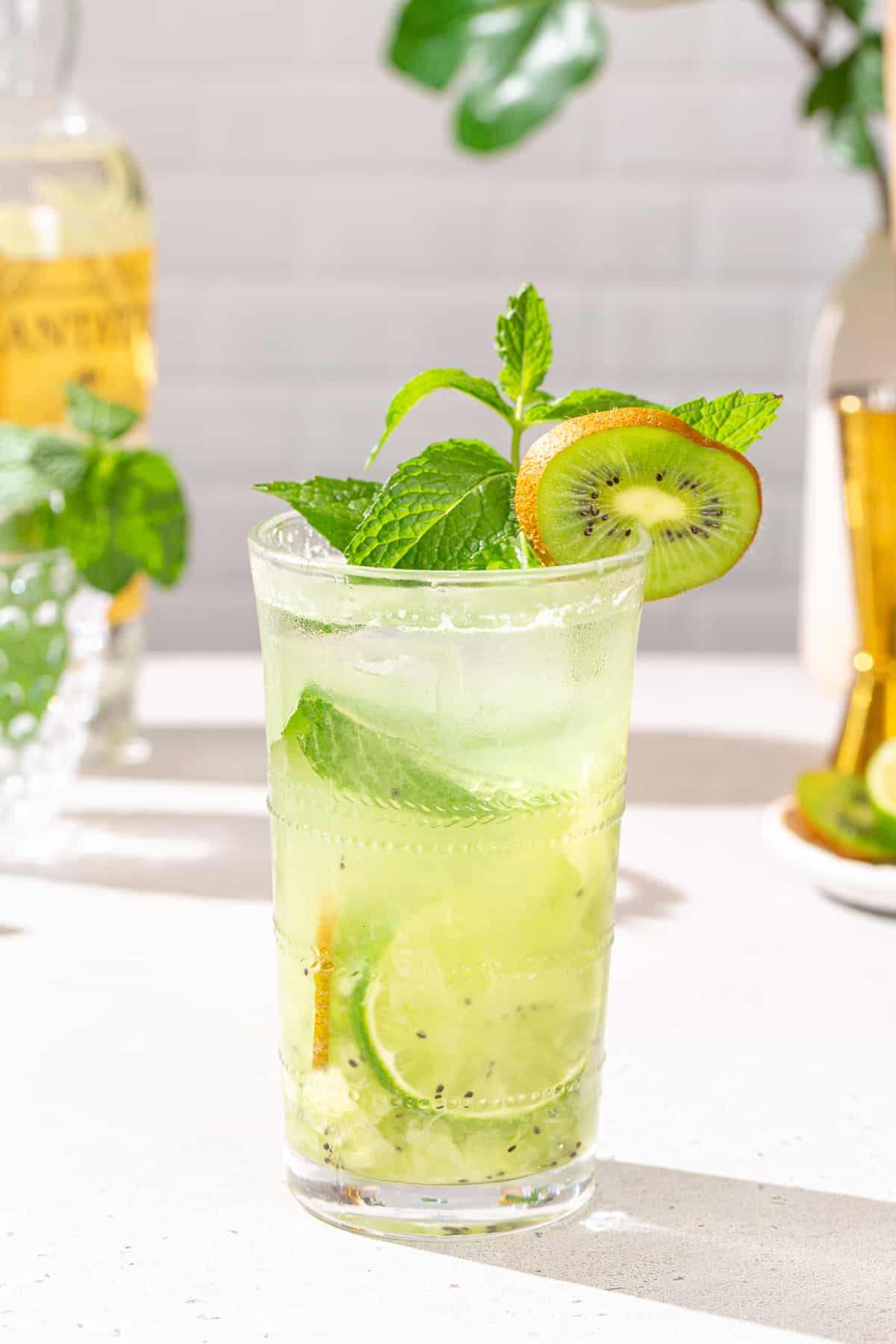 History of the Mojito
The classic Mojito recipe traces its roots back to 16th century Cuba. It was originally made to be a medicinal potion. It started as a mixture of lime, sugar, mint, and "tafia," a precursor to today's rum.
It stayed local to the area through the centuries. But in the 1930s, the mojito began gaining international fame, thanks in part to Ernest Hemingway's public adoration of the cocktail. It's stayed popular, with modern versions using lots of different fruit flavors to put their spin on the traditional mojito.
Ingredients
To create your perfect Kiwi Mojito, gather up these ingredients:
White rum - I used Plantation 3 Stars White Rum, which is both a delicious white rum and a great value.
Kiwi - also known as kiwifruit or Chinese gooseberry, this tasty little fruit is native to China, although often associated with New Zealand. (The name "kiwi" comes from a New Zealand native bird.) It's both tangy and sweet, and perfect for a mojito.
Lime juice - fresh is best!
Sugar - a traditional mojito recipe uses sugar, but you can use simple syrup too if you have it on hand.
Fresh mint leaves - the fresher the better for the best mint flavor.
Seltzer - this adds both refreshment and bubbles to the drink.
Garnish - optionally add some lime slices, kiwi slices and fresh mint sprig for garnish. You could also add lime wedges if you want your guests to be able to squeeze in some more lime juice.
Substitutions
Here are some ways you can substitute the ingredients in this cocktail:
Rum - if you don't have white rum, try using vodka, tequila or even gin. You can also try a dark rum or spiced rum for a different flavor.
Kiwi - if you can't find any fresh kiwi, you can substitute in a store bought kiwi puree or syrup. If you do, you can omit the the extra sugar.
Sugar - instead of the sugar or simple syrup, you can use maple syrup or agave nectar.
Seltzer - club soda or any sparkling water works for the seltzer, but you can use plain water if you're avoiding carbonation.
Variations
Part of the beauty of mojitos is that they are so versatile! Here are some variations on this recipe:
Keto Friendly Kiwi Mojito - try using allulose instead of sugar for a more keto-friendly version of this drink! Or, just omit the sweetener since you're getting some natural sweetness from the ripe kiwi.
Non-alcoholic Kiwi Mojito mocktail - you can just add in some extra sparkling water in place of the rum. Or, you can use a rum substitute, like Lyre's blah.
Mojito with Tequila - swap out white rum for tequila to bring in some agave flavor. You can also swap out the sugar or syrup with agave nectar!
Strawberry Kiwi mojito - add a fresh strawberry to the kiwi before you muddle for an added berry flavor.
Equipment
Mojito-making doesn't call for a million bar gadgets, but you'll need a few essentials:
Tall glass for serving
Muddler (or wooden spoon)
Bar spoon
Straw (optional but recommended!)
Knife & cutting board (for preparing the fruit)
Teaspoon (for peeling the kiwi)
If you need a new bar spoon or muddler, I highly recommend the products from A Bar Above! They are always top quality and easy to clean. You can get 10% off using my discount code, LKDrinks, during checkout.
Instructions
Start out by preparing your kiwi. Cut a few slices for garnish, then set them aside while you peel the rest of the fruit.
The best way to peel a kiwi is actually with a spoon! (My son taught me this!) Then, cut the peeled fruit into chunks.
Add your kiwi chunks to your serving glass, followed by the sugar or syrup.
Mash the fruit and sugar together with a muddler until they are well mixed. Then, pick some fresh mint leaves and add them to the glass.
Stir the mixture together with a long bar spoon. Try not to crush the mint too much, or you'll end up with an off bitter taste to the drink.
Then, squeeze in the fresh lime juice.
Measure and add in the white rum. Then, add in your ice.
Give everything a stir. Then, top with club soda.
Add in your kiwi and lime slices to the drink for garnish. You can also cut a slit in the slices and attach them to the rim of the glass.
Clap a sprig of mint between your hands before adding it as a final garnish. Then, serve and enjoy! Cheers!
Hint: If you're using store bought mint, you can "shock" the mint by dunking it in ice water before using it in your drink. This will revive it and make it look and taste much more crisp.
Frequently Asked Questions
How do you make a mojito with kiwi?
The best way to make a mojito with kiwi is to peel the fruit, then muddle it in the glass. Keep in mind, you'll have some pieces of fruit left at the bottom of the glass. Drink it with a straw to get all the little bits at the bottom!
Does a Kiwi Mojito have alcohol?
Yes, it contains white rum, like a traditional lime mojito.
Is a Mojito Cuban or Mexican?
The mojito was created in Cuba, as far back as the 1600s. Unlike many Mexican cocktails that use agave-based tequila, the mojito uses white rum.
Top tip
The key to a top-notch Kiwi Mojito is freshness! Always opt for fresh fruit and mint whenever possible. And a good white rum is a huge plus! Plantation 3 Stars White Rum is my favorite. If you can find Havana Club white rum (look for the version that was produced in Cuba), that would be even more authentic!
📖 Recipe
Kiwi Mojito
This Kiwi Mojito cocktail is such a delicious summer cocktail! With fresh kiwi, lime, mint leaves and white rum, it's so refreshing and easy to make.
Equipment
Cocktail serving glass

(tumbler style)

Knife and cutting board

(for fresh fruit)
Ingredients
Cocktail
2

ounces

white rum

1

kiwi fruit

1

Tablespoon

sugar

(or ¾ ounce simple syrup)

6-10

leaves

fresh mint

½

ounce

fresh lime juice

(from ½ regular lime)

2-3

ounces

seltzer
Garnish (optional)
1-2

kiwi slices

1-2

lime slices

1

sprig

fresh mint
Instructions
After cutting slices of kiwi and lime for your garnish, peel the rest of the kiwi fruit using a teaspoon.

Cut the fruit into chunks and add them to your cocktail serving glass.

Add in the sugar, and use the muddler to mash the fruit together with the sugar.

Add the mint leaves to the glass, and stir everything with a bar spoon. (Don't muddle the mint, or it'll become bitter.)

Add in the lime juice and the white rum.

Fill the glass with ice and give everything a stir.

Then, top it off with seltzer water.

Add the lime slices, kiwi slices and the fresh mint sprig as a garnish.
Notes
If you can't find fresh kiwi, try using kiwi puree. It already has sugar, so you can skip the extra sugar in the recipe.
Nutrition
Calories:
234
kcal
Carbohydrates:
26
g
Protein:
1
g
Fat:
0.5
g
Saturated Fat:
0.03
g
Polyunsaturated Fat:
0.3
g
Monounsaturated Fat:
0.04
g
Sodium:
18
mg
Potassium:
207
mg
Fiber:
3
g
Sugar:
20
g
Vitamin A:
141
IU
Vitamin C:
73
mg
Calcium:
40
mg
Iron:
0.3
mg
Made with WP Recipe Maker plugin