The Lavender Mule is a tasty floral version of a Moscow Mule vodka cocktail. This delicious drink combines lavender syrup with fresh lime and ginger beer. This is a perfect cocktail for springtime and early summer! You and your guests will love this easy to make and refreshing floral cocktail.
You can make this drink anytime using dried lavender, but fresh lavender in season makes a beautiful garnish too! Lavender season ranges from early summer to late summer, depending on what variety it is and the local climate. (Check out more info on fresh lavender.) I used lavender from my garden that I had dried, but you can purchase a dried bouquet of lavender online if you don't have access to fresh blooms.
Looking for more floral recipes for your next garden party? Try this Gin and Violet cocktail, or the beautiful Elderflower Gin Fizz. If you want some more ginger beer options, try out the tasty Tequila Mule or the Gin Gin Mule.
Jump to:
Ingredients
Here are the ingredients needed to make this simple and refreshing drink.
Vodka - any vodka will work great.
Ginger Beer - try to use a good quality ginger beer, with a lot of ginger flavor. I used Bundaberg ginger beer, but Q Mixers and Fever Tree also make great versions.
Lavender Syrup - I used homemade syrup from my Lavender Syrup recipe, but you can also use store bought lavender syrup (this lavender syrup by Collins is a good pick).
Lime juice - freshly squeezed if possible.
Fresh lime - (optional) for garnish.
Lavender sprigs - (optional) for garnish.
Substitutions
Here are some ways you can substitute the ingredients in this cocktail:
Vodka - if you don't have vodka, try using light rum. Gin or tequila blanco will also work well here.
Ginger beer - if you prefer to have more control over the ginger flavor, try using a ginger syrup (like Fiji ginger syrup) along with plain seltzer. You can also use ginger ale if you can't get ginger beer -- it will just be less gingery.
Lavender Syrup - if you don't have lavender syrup, you can use plain simple syrup or maple syrup, but you'll need a different way to get the lavender flavor. You could do this by using a dash of lavender extract (~⅛ teaspoon or so). Or, if you have dried lavender, you can steep some dried lavender buds in the vodka itself. Just add the buds to your vodka and let it sit for an hour or two, then strain out the buds. If you want a stronger lavender flavor, let the buds sit in the vodka for a longer time.
Lime juice - you can use lemon instead of lime, and it will taste great.
Variations
Here are some variations on this recipe:
Keto friendly Lavender Mule - To make this into a keto-friendly drink, just switch out the lavender syrup for a syrup made with a sugar free sweetener (this Blueberry Lavender syrup by Jordan's Skinny Syrups is a tasty option.) You'll also need to use a sugar free ginger beer, like Remedy sugar free ginger beer.
Virgin Lavender Mule - This is really easy to make into a mocktail. Just omit the vodka! You can add in more ginger beer or plain seltzer water in place of the vodka if you want. Or, just add more ice to the glass.
Blueberry Lavender Mule - You could do this with any fruit, but blueberries go especially well with lavender! Add 5 to 10 blueberries to the bottom of your cocktail shaker and mash them up before adding your liquid. You could also use a tablespoon of blueberry preserves in the shaker if you don't have fresh berries. When you strain out the drink, do a double strain using a regular cocktail strainer and a fine mesh strainer if you want to make sure the little bits of fruit don't make it into the glass.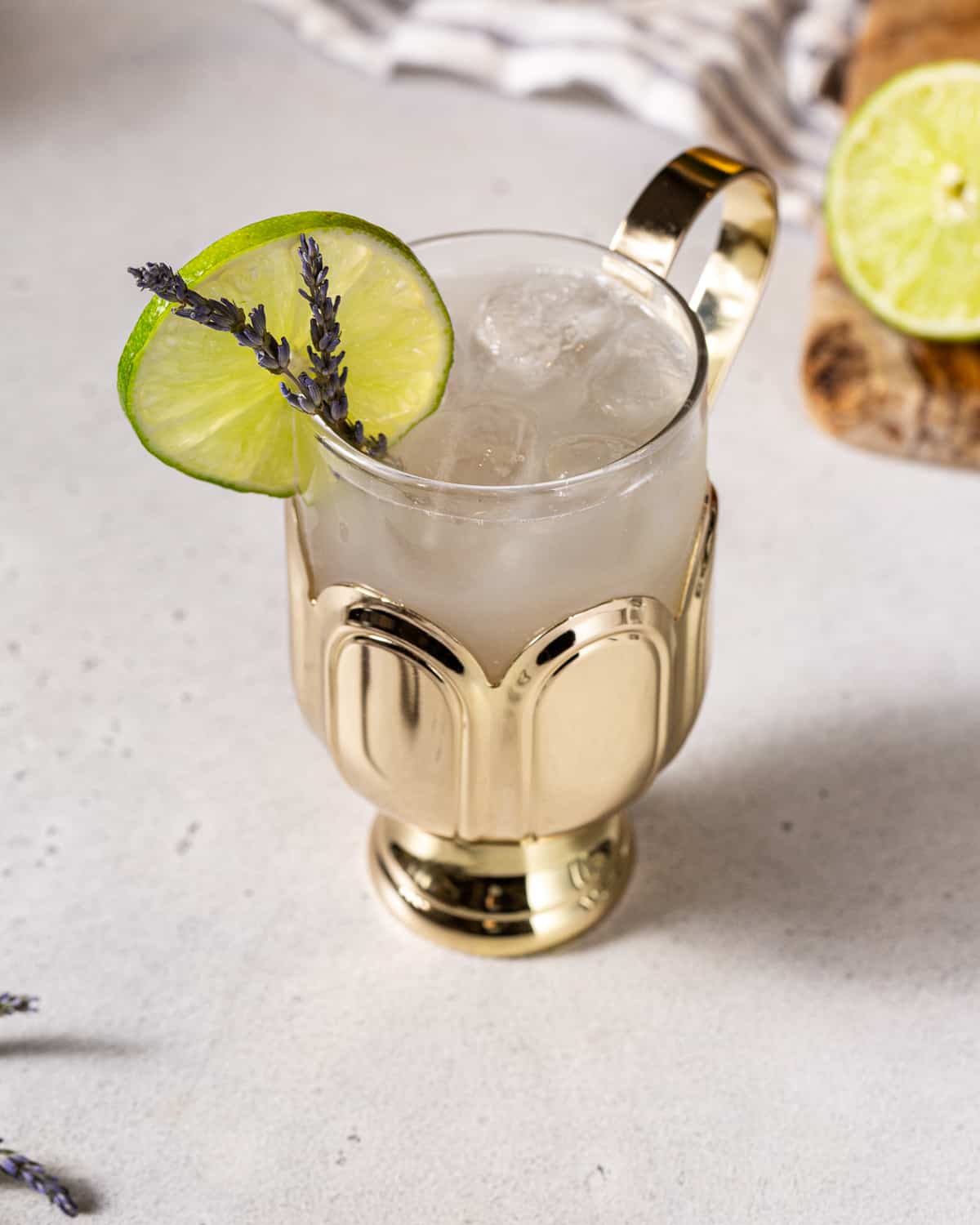 Equipment
You'll need some basic bar equipment, like a jigger or small measuring cup, as well as a cocktail shaker and strainer.
Moscow Mules are traditionally served in a copper mug, and you can certainly use one for this drink! I actually used a hot toddy mug, which worked really well. You can find the mug I used on Amazon here: gold and glass hot toddy mug.
Need any new bar equipment? Definitely check out the products from A Bar Above! You can get 10% off using my discount code, LKDrinks. They're easy to use and clean, and they look beautiful too!
Instructions
Start out by preparing your lime wheel garnish. Cut a slice out of the center of a fresh lime, and then cut a slit on one side of the slice. Set it aside while you prepare your drink.
Begin making the drink by adding the lime juice into the cocktail shaker.
Then, add in the lavender syrup and the vodka.
Fill the shaker with ice, and give it about 15-20 hard shakes. Add fresh ice to your serving glass.
Strain the drink into the serving glass, and then top it off with ginger beer.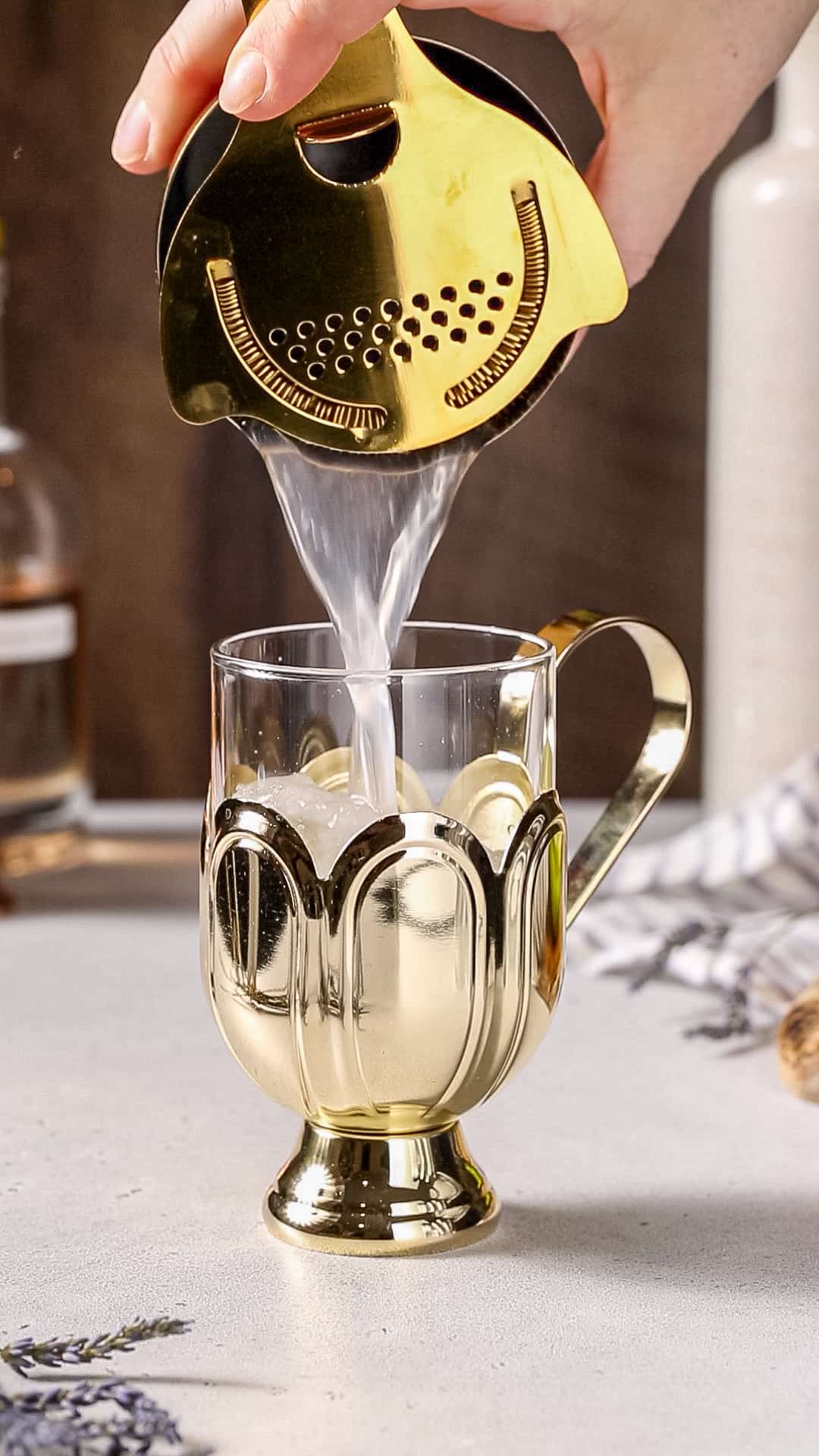 Add the lime slice garnish, wedging it onto the rim of the glass where you had cut the slit in it earlier. Then add either dried or fresh lavender sprigs for an extra garnish before serving.
Hint: If you can't find either fresh or dried lavender, try putting a drop or two of lavender extract or lavender bitters on top of the drink as a finishing touch. It will give a nice floral aroma that is similar to what you'll get from having the sprig garnish.
Frequently Asked Questions
What does lavender syrup taste like?
Lavender syrup tastes sweet and floral, just like the way lavender smells. The flavor of lavender can be a little overpowering if you use too much of it, so a little goes a long way.
What alcohol is in a Moscow Mule?
The traditional alcohol in a Moscow Mule is vodka. If you use other spirits, the name changes -- so, using bourbon would make it a Kentucky Mule, and using gin would make it a Gin Buck.
Top tip
This is a great drink to serve at parties! A great way to do it is to prepare the base drink (lime juice, lavender syrup and vodka) in a pitcher, and then add the ginger beer right when you serve it. This will help keep the carbonation fresh. A really cute option is to set up a mule station where your guests can pick from a few different flavors in pitchers, then add their own fresh ginger beer!
📖 Recipe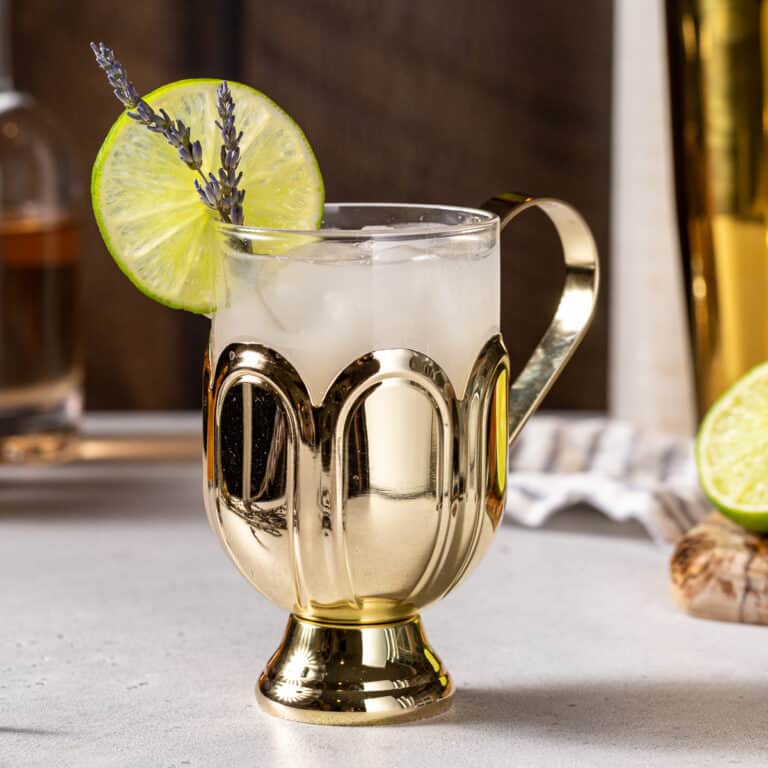 Lavender Mule
This refreshing drink is a lavender version of a Moscow Mule cocktail. With flavors of lime, ginger and lavender, it's the perfect springtime sipper.
Equipment
Cocktail serving glass

(traditionally, a copper mug or hot toddy mug)

Knife and cutting board

(if you're using fresh lime)
Ingredients
Garnish (optional)
1

slice

fresh lime

2

sprigs

fresh or dried lavender
Cocktail
2

ounces

vodka

¾

ounce

lime juice

½

ounce

lavender syrup

3-4

ounces

ginger beer
Instructions
Prepare your lime slice garnish by cutting a slit in one side that you'll use to attach it to the rim of the serving glass. Set it aside along with the lavender.

Add the lime juice, lavender syrup and vodka to a cocktail shaker.

Fill the shaker with ice, seal it up and give it 15-20 hard shakes.

Fill your serving glass with fresh ice, and strain the mixture into the glass.

Pour the ginger beer into the serving glass.

Attach the lime slice to the rim of the glass, and add the lavender sprigs next to the lime before serving.
Nutrition
Calories:
205
kcal
Carbohydrates:
19
g
Protein:
0.1
g
Fat:
0.02
g
Sodium:
11
mg
Potassium:
37
mg
Fiber:
0.3
g
Sugar:
15
g
Vitamin A:
14
IU
Vitamin C:
8
mg
Calcium:
9
mg
Iron:
0.2
mg
Made with WP Recipe Maker plugin