This Lavender Vodka Cocktail is light, refreshing and perfect for spring! The floral lavender flavor comes from using lavender syrup, and it's just the right amount without being overpowering. A dash of floral bitters and a crisp and clean vodka make this spritzer the perfect early summer drink.
Although you can enjoy this drink anytime of year, for me it's perfect for springtime. By the end of winter I am always so ready for flowers and more sunshine! The best part of this drink is that you don't have to wait for fresh lavender to be in season. You can use store bought lavender syrup, but it's even better to make your own cocktail syrup with dried lavender.
This Vodka Champagne Cocktail would be delicious with a touch of the lavender syrup instead of plain simple syrup! It would also go really well in this Earl Grey Gin Cocktail.
If you're looking for another easy-to-make lavender cocktail, check out the insanely delicious Lavender Mule.
Jump to:
How to Make Homemade Lavender Syrup
It's pretty simple to make homemade flavored syrup. You can find more detail and how-to photos in my Lavender Syrup post. It's essentially like making tea, but with lots of sugar and lots of cooling time!
To make a simple lavender syrup, put 1 cup (235 ml) of water and 1 cup (200 g) of sugar into a small saucepan, along with about ¼ cup of dried lavender. Bring the mixture to a boil, stirring occasionally, and then simmer for another 3 minutes.
After simmering, remove it from the heat and cover the saucepan with a towel or lid. Let it cool completely to room temperature, and then use a fine mesh strainer to strain the liquid into a clean bottle with an airtight seal. Then, just keep your lavender syrup in the fridge and use as needed. It should keep in the fridge for about a month.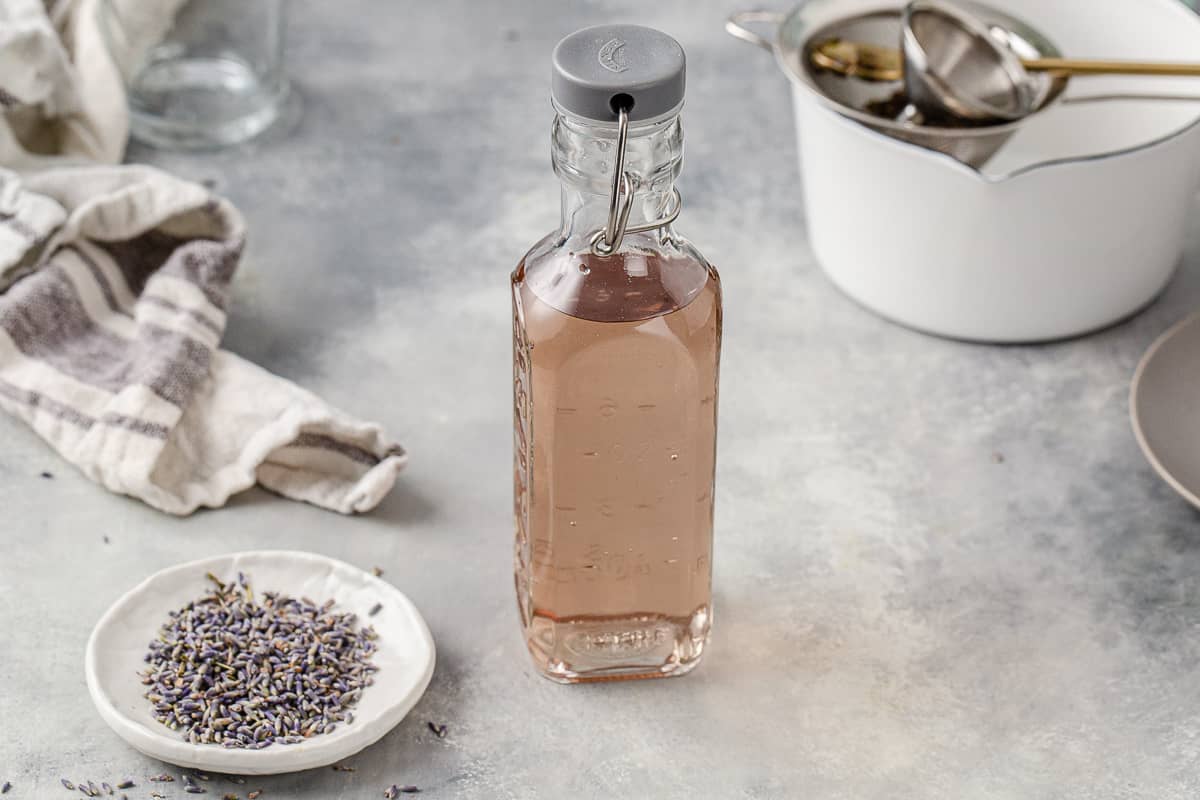 Ingredients
There are only a few ingredients, and lavender is the main flavor if this drink. I recommend getting high quality ingredients if you can, but don't go for anything super expensive. There is quite a bit of seltzer in this, so no need to splurge on your vodka!
Vodka - I used Neft Vodka, which was gifted by the brand. Another great and reasonably priced vodka is Tito's Vodka.
Lavender Syrup - I made homemade syrup, which is really easy to do (see the section of this post How to Make Homemade Lavender Syrup for more info). You could also buy a bottle -- this lavender syrup by Collins is a great choice if you are looking for a small-sized bottle.
Bitters - I used these lavender bitters by Strongwater.
Lemon juice - preferably fresh squeezed.
Seltzer
Rose Geranium Hydrosol - (optional) This is essentially a little spritz of flavor that you spray on just before serving the drink. This one was made by Bluestem Botanicals. (Note: Make sure the one you use is edible, as some are just made for topical spray use on the face.)
Lemon peel - use as a garnish on the rim of the glass, or just add it into the glass before serving.
Substitutions
Here are some ways to substitute ingredients if you don't have something on hand.
Vodka - you can use white rum or gin instead of vodka in this drink. Keep in mind that they will change the flavor based on which one you choose.
Lavender syrup - if you're looking to cut back on sugar, you can use a sugar free lavender syrup instead. If you don't have it, you can either make your own (see How to Make Homemade Lavender Syrup) or use a different flavor of syrup. If you choose to use a plain simple syrup, just keep in mind that the main flavor of the drink will be lemon.
Lemon - you can use lime or grapefruit juice instead of lemon juice. If you are using bottled juice, make sure no sugar is added or your drink will end up being too sweet.
Bitters - if you don't have lavender bitters, lemon bitters work well in this drink.
Variations
Non-alcoholic - to make this a mocktail, just omit the vodka and add a little more seltzer. The bitters have a tiny amount of alcohol, so omit them if it is a concern.
Spirit forward - if you prefer a cocktail with more of a thick, punchy mouthfeel, you can serve this drink in a coupe glass without ice, and omit the seltzer.
Other floral flavors - instead of a straightforward lavender syrup, you can add other flowery flavors to your syrup for different tastes. I highly recommend this floral syrup sampler pack by Amoretti as a low-cost way to try out different floral flavors.
Champagne - you can use Champagne or sparkling white wine instead of (or in addition to) the seltzer. If you do, you'll probably want to cut the vodka down by half, or it will be a deceptively strong drink!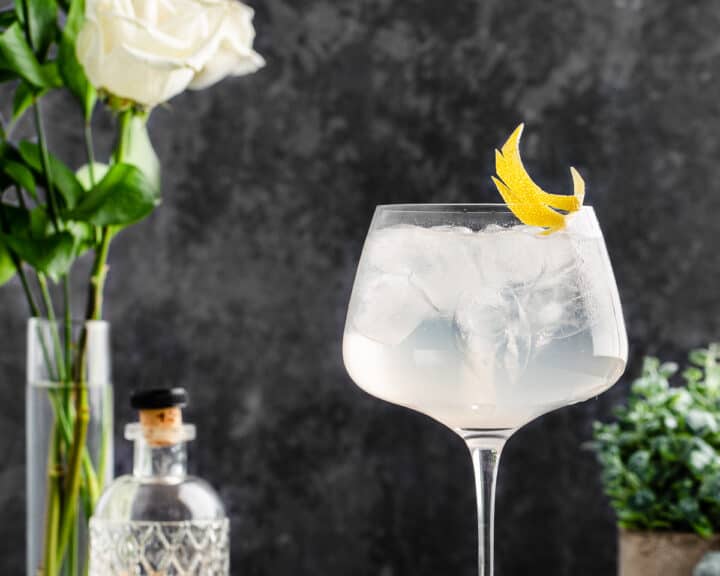 Equipment
You'll need just a few tools to make this drink, the most important being a jigger, or a small measuring cup. You will also need a cocktail shaker and strainer, although it's not necessary if you want to just build this drink in the serving glass.
If you're using a fresh lemon, you'll also need a citrus juicer.
I really love using all of the bar equipment from A Bar Above, and you can get 10% off using my discount code, LKDrinks. Their bar tools are durable and dishwasher friendly too!
Instructions
Start off by preparing your garnish. You can do this by using a vegetable peeler to peel off a large piece of lemon rind, and then using a sharp knife to shape the rind. Cut a slit down the middle of the rind if you want to attach it to the rim.
Set your garnish aside and then start building the drink in a cocktail shaker. First, add in the lemon juice.
Next, add in the lavender syrup and the vodka.
Add the bitters, and then fill the shaker with ice and shake everything about 15-20 times. Fill your serving glass with ice and strain the drink into the glass.
Then, top everything off with freshly opened seltzer. Add the garnish onto the rim of the glass.
Spray the hydrosol over top of the drink once or twice, and serve.
Hint: the bigger your serving glass, the more ice and seltzer you will need to add to fill it up. You can pick and choose your level of seltzer by just picking a different glass! I suggest at least an 8 ounce glass to leave enough room. The glass used in the photos (Viski Spritz glass) is 16 ounces.
Frequently Asked Questions
What is lavender syrup used for?
You can use lavender syrup in any place you would use plain simple syrup! Any drink that could use a little extra floral flavor would benefit. It goes particularly well with gin.
Do you need to use fresh or dried lavender to make syrup?
You can use either fresh or dried lavender to make lavender syrup. They are both very flavorful and aromatic. Dried lavender is more convenient, since it's much easier to find and can be stored in an airtight container for a long time.
Top tip
You can mix the lavender syrup with the vodka ahead of time if you plan to make a lot of these cocktails. This will also create a type of lavender liqueur that you can use in different ways. Keep it in the fridge or freezer to have on hand for a long time!
📖 Recipe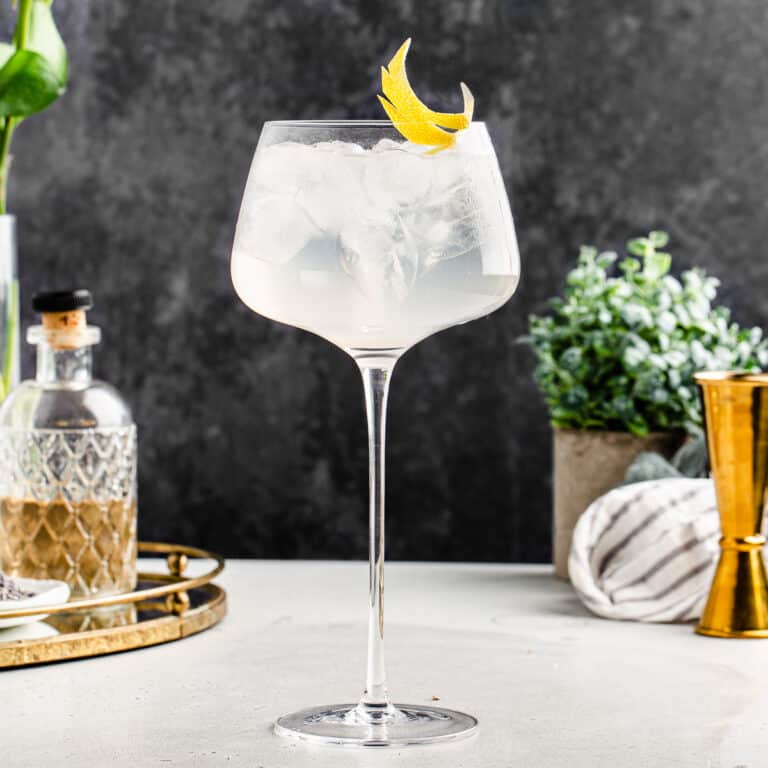 Lavender Vodka Cocktail
This spritz-style cocktail is a light and refreshing drink for spring. The lavender syrup complements the lemon juice and lavender bitters perfectly.
Equipment
Knife and cutting board

if using fresh citrus

Vegetable peeler

for lemon peel garnish
Ingredients
1½

ounces

vodka

1

ounce

lavender syrup

see Notes

1

ounce

lemon juice

preferably fresh squeezed

3

dashes

lavender bitters

4-8

ounces

seltzer

depending on the size of your serving glass and taste preferences

2

sprays

Rose Geranium hydrosol

optional - made by Bluestem Botanicals

lemon rind

optional - for garnish
Instructions
Prepare your garnish by using a vegetable peeler to peel a section of lemon rind. Use a knife to clean up the edges and to cut a slit in the middle if you want to add it to the rim of your serving glass. Set aside.

Add the lemon juice, lavender syrup, vodka and lavender bitters to a cocktail shaker.

Fill the cocktail shaker with ice and give everything about 15 to 20 hard shakes.

Fill your serving glass with ice and strain the liquid into the glass.

Add seltzer to your serving glass.

Add the prepared lemon peel to the rim of your serving glass (or twist and put it inside the drink).

Optionally spray the hydrosol over top of the drink 1 to 2 times, and serve immediately.
Notes
Full instructions for making lavender syrup are on my Lavender Syrup recipe post, or you can use store bought syrup.
Nutrition
Calories:
195
kcal
Carbohydrates:
22
g
Protein:
1
g
Fat:
1
g
Saturated Fat:
1
g
Polyunsaturated Fat:
1
g
Sodium:
32
mg
Potassium:
40
mg
Fiber:
1
g
Sugar:
14
g
Vitamin A:
2
IU
Vitamin C:
11
mg
Calcium:
9
mg
Iron:
1
mg
Made with WP Recipe Maker plugin