This Limoncello Martini is a refreshing and delicious vodka drink. It's like a Lemon Drop cocktail, but using Limoncello instead of orange liqueur gives it an even more lemony flavor. With just four ingredients, this simple and tasty drink is perfect for any occasion!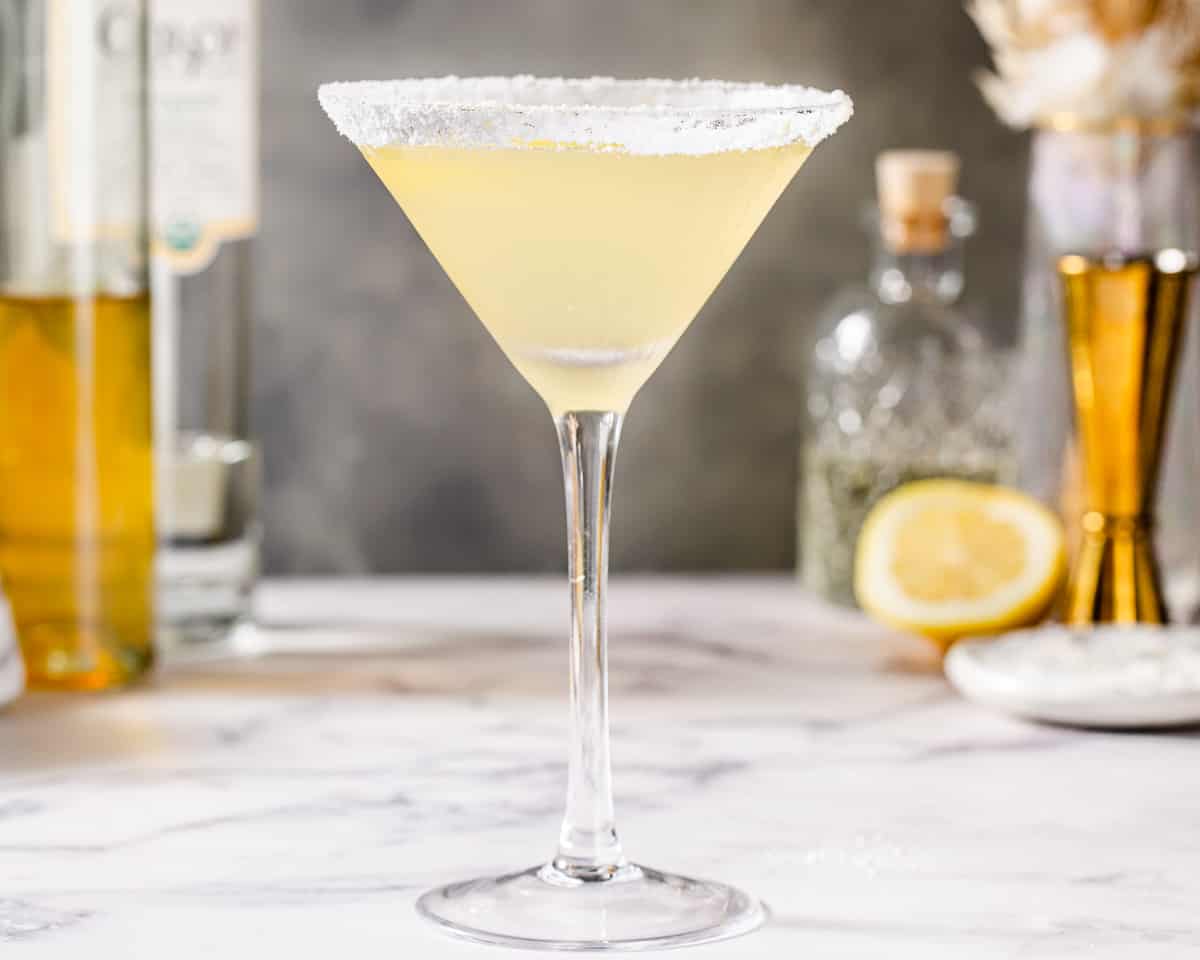 This drink is super easy to make at home, and it's really versatile. It would easily fit on a fancy cocktail hour menu, but it's also a perfect pick for chilling in the backyard on a summer afternoon.
For more light and refreshing summer drinks, check out this Amaro Spritz, or this Cucumber Gin Spritzer. This Vodka Champagne Cocktail is another simple and refreshing cocktail for any occasion!
Jump to:
Ingredients
Here are the ingredients you'll need for this cocktail:
Vodka - although you can use plain vodka, I like to use lemon or citrus vodka to boost the other lemon flavors even more.
Limoncello - this Italian liqueur is a mixture of half simple syrup and half an extraction of lemon peels. Although lemony, it's not sour at all since it is made from the peels. You can use store bought Limoncello, or use my recipe to make your own Limoncello.
Simple syrup - you can make your own simple syrup, or buy premade syrup.
Lemon juice - preferably freshly squeezed for the best flavor! This is the main flavor in the drink besides the Limoncello.
Sugar - (optional) add sugar to the rim of the cocktail glass as a garnish. I like to use superfine (also called caster) sugar, which is granulated sugar with very fine particles. I find that it gives a better coating to the rim and tends to just look better! You can blitz regular sugar in a blender or food processor to make this if you don't have it (or just use regular sugar).
Lemon zest - (optional) rub some fresh lemon zest into your sugar for an additional lemony flavor on the rim of the cocktail.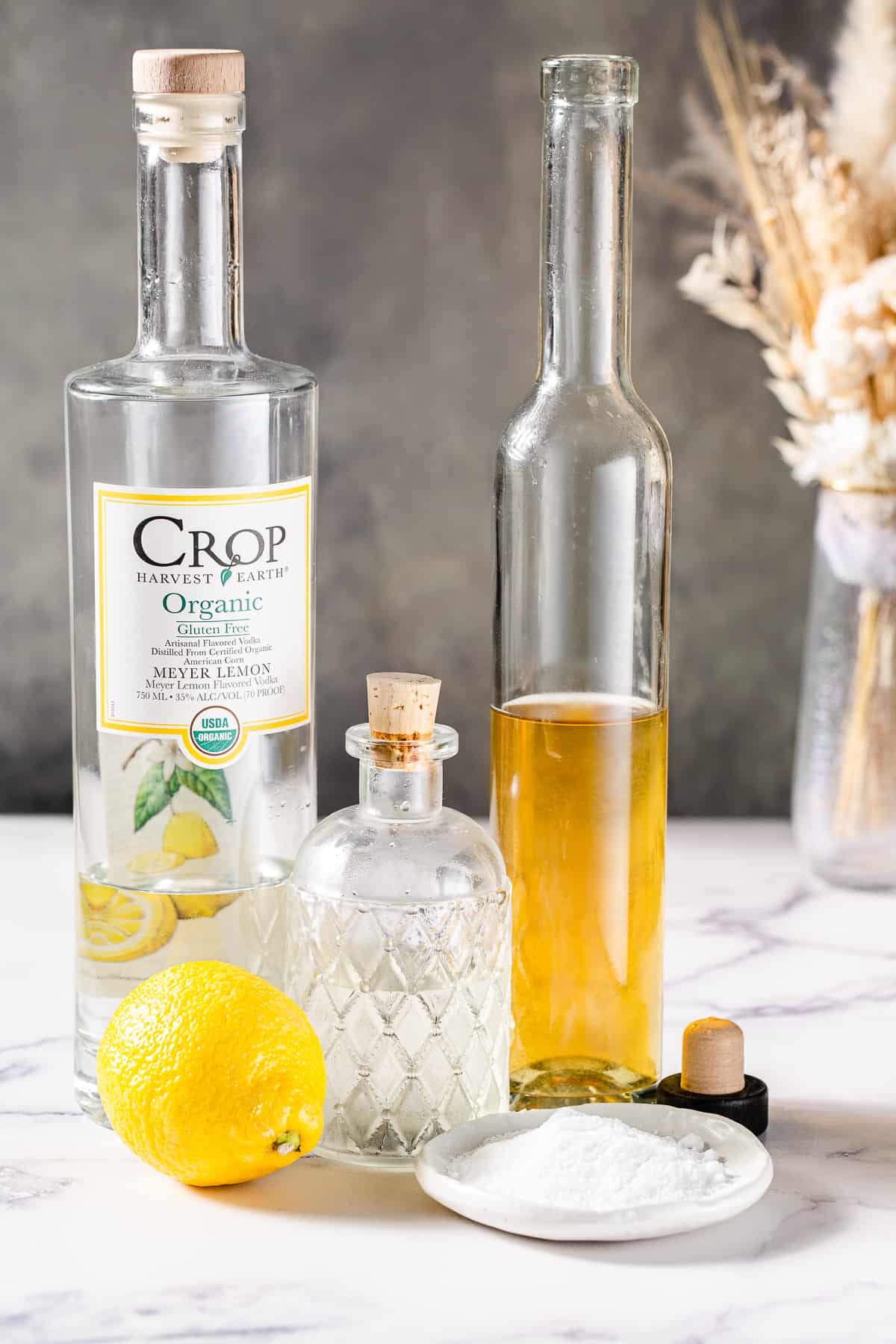 Substitutions
Here are some substitutions you can make if you need to:
Vodka - you can use any spirit, but vodka allows the lemon flavor to dominate the drink. If you need to substitute, the best option is probably white rum, as it has a fairly neutral flavor.
Limoncello - if you don't have Limoncello, you can use a different citrusy liqueur instead. Triple Sec or Orange Curaçao would work well (and using the Triple Sec makes it a Lemon Drop).
Keto-friendly - you can definitely make this drink low in sugar and Keto-friendly! It just requires some work ahead of time, because you'll need to make your own Limoncello. Just use a sugar substitute instead of regular sugar when making the liqueur. Then, either use a Keto-friendly syrup in the drink, or make your own using a sugar substitute like allulose (my favorite sugar sub!). You can even use a sugar substitute to rim the glass.
Variations
If you're looking for ways to change this up, here are some ideas!
Limoncello Highball - rather than serving this drink in a martini glass, grab a highball glass (tall with straight sides) and fill it with ice. Strain the drink over the ice and top it off with seltzer or lemon-lime soda.
Limoncello and Mint - add some fresh mint to your cocktail shaker when making this drink, and then garnish with a large sprig of mint before serving.
Limoncello and Rhubarb - instead of regular simple syrup, use some Rhubarb Simple Syrup for a little bit of pink color and tangy rhubarb flavor.
This Limoncello Thyme Spritzer is another great way to use Limoncello in a cocktail!
Equipment
You'll need a cocktail shaker, a cocktail strainer, and a jigger or small measuring cup to make this drink. You'll also likely want to have a sharp knife and a cutting board for the citrus and the garnish.
If you're going to make the sugar rim with lemon zest, a Microplane zester is my favorite for citrus. As for the cocktail glass, I made this in a large martini glass, but any stemmed cocktail glass works great. The martini shape will give you the most room for sugar on your rim, though!
Check out A Bar Above if you're in need of any new bar equipment, and you can get 10% off using my discount code, LKDrinks! Their bar tools are beautiful, durable and dishwasher safe.
Instructions
If you plan to add a sugar rim to your drink, start out by preparing the sugar. Zest your lemon and add it to the sugar, and then rub the zest into the sugar so the lemon oils start to come out.
Cut your lemon in half and rub the cut side all along the outside rim of the glass. Then, carefully dip it into the lemon sugar. After a couple of seconds, lift up the glass, turn it, and dip it again, pausing each time when it is in the sugar. Repeat this until the whole rim is coated.
Note: When you're done with the rim, there will probably be some lemon sugar left over. You can keep it stored in an airtight bag or container in the refrigerator for several months.
Set the glass aside while you make the rest of the drink. Add the lemon juice, simple syrup, limoncello and vodka to your cocktail shaker.
Fill the shaker with ice and then seal it up. Give it about 15 to 20 good shakes. This will dilute and chill the drink.
Strain the drink into your prepared serving glass. If you'd like, you can float a thin slice of lemon on top of the drink as a garnish. You could also cut a slit in the lemon slice and add that to the rim of the glass instead. Serve and enjoy!
Hint: if you want to chill your cocktail glass, the best way is to stick it in the fridge or freezer after you've already done the sugar rim.
Frequently Asked Questions
What are the ingredients in a Limoncello Martini?
A Limoncello Martini contains vodka, Limoncello liqueur, lemon juice and simple syrup.
What does Limoncello pair with?
Limoncello goes well with other citrus flavors, like lemon, orange or lime. It also pairs very well with herbal and floral flavors, like mint, basil, and lavender.
Top tip
It's easy to make a big batch of these drinks for a party. Just combine all of the ingredients together in a pitcher, and for each cocktail, add in about ½ ounce of water.
Chill the pitcher in the fridge for at least an hour before serving. Since it's already chilled and diluted, you don't need to shake it with ice. Just pour it into the serving glass and enjoy!
You can also add the sugar to the rim whenever you like. It will stay stuck on there until you're ready to serve!
📖 Recipe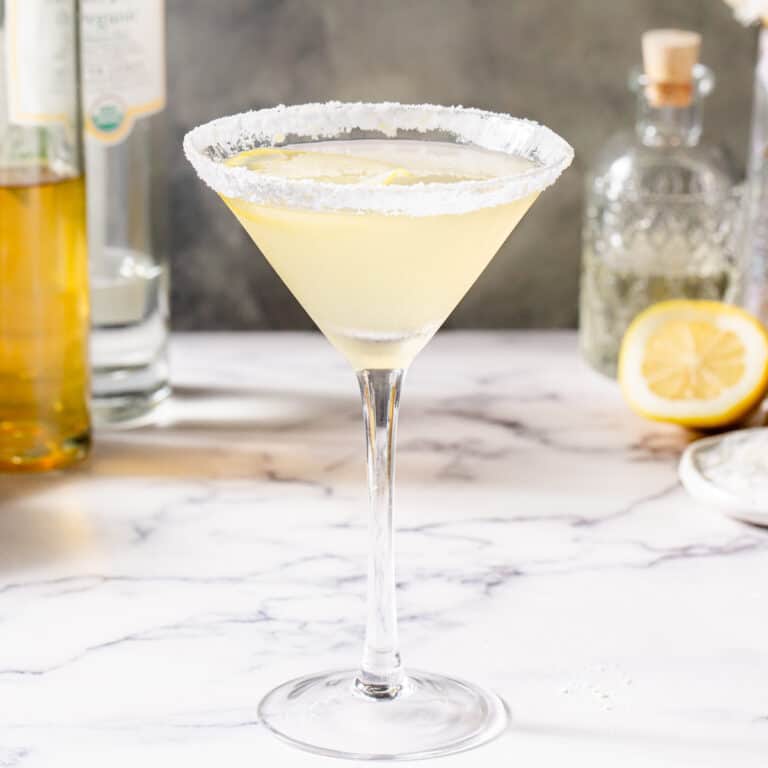 Limoncello Martini
Limoncello Martini, a sweet and lemony vodka cocktail with Limoncello liqueur
Equipment
Knife and cutting board

(for citrus and/or garnish)

Citrus zester

(if using zest in sugar rim)
Ingredients
Garnish
¼

cup

superfine sugar

(to rim the glass)

½

tablespoon

lemon zest

(to rim the glass)

1

slice

lemon

(to float on top - fresh or dehydrated)
Instructions
Sugar Rim
Rub the sugar and lemon zest together until the lemon oils are mixed well into the sugar.

Wet the outside rim of the glass with either a cut lemon or water.

Dip the rim of the glass into the sugar and zest mixture, pausing each time you dip. Set the glass aside.
Cocktail
Add the lemon juice, simple syrup, Limoncello and vodka to a cocktail shaker.

Fill the shaker with ice, seal it and shake about 15-20 times.

Strain the drink into your prepared cocktail glass.

Float the slice of lemon on the surface of the drink and serve.
Nutrition
Calories:
288
kcal
Carbohydrates:
26
g
Protein:
0.2
g
Fat:
0.1
g
Saturated Fat:
0.01
g
Polyunsaturated Fat:
0.01
g
Sodium:
9
mg
Potassium:
46
mg
Fiber:
1
g
Sugar:
24
g
Vitamin A:
4
IU
Vitamin C:
16
mg
Calcium:
9
mg
Iron:
1
mg
Made with WP Recipe Maker plugin