The Limoncello Spritz is a citrusy and refreshing cocktail featuring Limoncello, the authentic lemon liqueur of Italy. With bubbly Prosecco and club soda, this is basically the perfect summer cocktail! A garnish of some lemon slices and a sprig of thyme finishes things off. The perfect drink to enjoy on a hot summer day!
This Limoncello Spritz recipe is one of the most refreshing ways to enjoy this liqueur. Many traditionalists will drink limoncello neat, straight out of the freezer in a shot glass. By adding it to a spritz, it becomes a lighter, more sippable before-dinner tipple. A Limoncello Martini is also a delicious way to enjoy this liqueur!
If you're in search of more summertime spritzes, check out the Hugo Spritz, the Amaro Spritz or the Lillet Spritz. If you want to go down the rabbit hole, I highly suggest making your own limoncello too!
Jump to:
History of Limoncello
Limoncello is an Italian lemon liqueur primarily produced in Southern Italy, including Sicily, the Amalfi Coast, and the gulf of Naples.
The liqueur's roots trace back to the early 20th century. There is a story about a guesthouse owner who invented it, but lots of locals in these regions claim to have developed it. It actually wasn't commercially produced until the 1980's!
Today, it's the second most popular aperitivo in Italy (behind Campari), and known worldwide. (And it's not too difficult to make your own limoncello at home using lemon peels!)
Ingredients
To mix up this summertime sip, you'll just need these simple ingredients:
Limoncello - This Italian liqueur is the star of the show! Use your own if you've made it, but store-bought is perfect too.
Prosecco - This sparkling white wine brings both sweetness and acidity to the drink.
Seltzer or soda water - This will not only add some extra bubbles, but make the drink more refreshing.
Fresh lemon slices - These are optional, but add extra lemon flavor and aroma.
Fresh thyme - A sprig of thyme makes for a nice presentation, and this fresh herb gives an extra tasty flavor to each sip.
Substitutions
Here are some ways you can substitute the ingredients in this cocktail:
Limoncello - although this ingredient is pretty important, you can try to use a different citrus liqueur if you don't have it. The most common is probably Triple Sec, which is an orange flavored liqueur.
Prosecco - try substituting in Champagne, Cava, or any other sparkling white wine.
Fresh citrus - if you don't have fresh lemon for garnish, a dehydrated lemon slice will work great. You can also use any other citrus fruit, like lime or orange.
Thyme - in place of thyme, you can also try using fresh basil or mint.
Variations
Here are some variations on this recipe:
Keto Friendly Limoncello Spritz - in order to make this spritz lower in sugar, you may want to make your own limoncello, using a sugar substitute like allulose in place of the sugar. Or, try using a sugar free lemon syrup and mix it half and half with vodka for a quick fix. Other than that, just look for a Brut Prosecco or sparkling wine.
Virgin - if you're avoiding alcohol, try using lemon juice and simple syrup, or a pre-made lemon syrup, instead of the liqueur. You can also use one of these bottles of the best reviewed non-alcoholic champagne.
Strawberry Lemon Spritz - try adding some strawberry syrup or muddling some fresh strawberries to add to the drink.
Lemon Juice - use lemon wedges instead of slices for garnish in case you want to squeeze in a little lemon juice to the drink. This will bring a more bright lemon flavor.
Aperol Spritz with Limoncello - for a lemony twist on the classic Aperol Spritz cocktail recipe, add ½ ounce of Aperol and reduce the limoncello to ½ ounce.
Equipment
This is a pretty simple drink to make, but a couple of bar tools will help! You'll need a cocktail glass. I love using a tall stemmed glass for this, but a large stemless wine glass will work great too!
Definitely grab a jigger to measure things out. A bar spoon or cocktail stirrer will come in handy too.
If you're using fresh lemon for the garnish, a knife and cutting board will also come in handy!
Instructions
Start out by preparing your garnish. I used a slice of lemon, which adds so much to the aroma and experience of the drink!
Then, fill a wine glass with ice.
Measure and add the limoncello to the wine glass, and then add in the Prosecco.
Top with seltzer, and give everything a gentle stir to combine.
Add in the lemon slices. Then, if you're using fresh thyme, clap the thyme between your hands to release the oils and aromas.
Add the thyme to the glass, and serve immediately. Cheers!
Hint: Try to chill all of your ingredients for at least 30 minutes in the refrigerator before making the drink. (This includes the cocktail glass!) It'll help your drink stay colder longer.
Frequently Asked Questions
What's in a Limoncello Spritz?
Like most Spritz cocktails, the Limoncello Spritz has a base of liqueur, sparkling wine and seltzer. This one mixes Limoncello liqueur with Prosecco and a splash of seltzer for a deliciously refreshing sip.
How are you supposed to drink Limoncello?
The traditional way to enjoy Limoncello is to drink it straight, without ice, from a shot glass or liqueur glass. It's a good idea to keep it chilled in the fridge or freezer when you drink it this way. But, you don't have to limit yourself! Cocktails with Limoncello are delicious and a great way to enjoy it.
Top tip
While it's certainly possible to make a pitcher of Limoncello Spritz cocktails, I think it's better to make each one fresh.
A great way to set this up at a party is to set out a bottle of Limoncello, a bottle of Prosecco and seltzer on ice. Set up a separate ice bucket with a scoop, and also some wine glasses.
You can make a cute sign telling them how to make the cocktail, and you can pre-cut lemon slices for them too. You can also have a few different liqueurs for them to mix and match spritzes!
📖 Recipe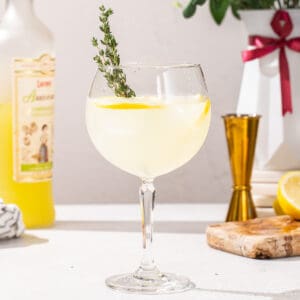 Limoncello Spritz
This refreshing Limoncello Spritz is the perfect summer cocktail! Refreshing, bubbly and easy to make, with Limoncello liqueur, Prosecco and club soda.
Equipment
Knife and cutting board

(if using fresh citrus)
Ingredients
Garnish
2

lemon slices

(optional but recommended)

1

sprig

fresh thyme

(optional but recommended)
Cocktail
2

ounces

Limoncello Liqueur

3

ounces

Prosecco

(or other sparkling wine)

1

ounce

seltzer water
Instructions
Fill your serving glass with a good amount of ice cubes.

Top it off with the seltzer.

Add in the lemon slices for garnish. (If you want to have an option to squeeze in some lemon juice, use lemon wedges instead.)

Clap the fresh thyme between your hands to release the aromas, and add it to the glass.
Nutrition
Calories:
249
kcal
Carbohydrates:
23
g
Protein:
0.1
g
Fat:
0.02
g
Polyunsaturated Fat:
0.01
g
Sodium:
12
mg
Potassium:
82
mg
Fiber:
0.1
g
Sugar:
23
g
Vitamin A:
48
IU
Vitamin C:
2
mg
Calcium:
13
mg
Iron:
1
mg
Made with WP Recipe Maker plugin