The Lion's Tail Cocktail is a classic cocktail recipe that combines bourbon with allspice dram, lime, and bitters. This flavor combination is a little unusual, but it works so well! The contrast of warm spices and lime make this the perfect fall cocktail.
History of the Lion's Tail Cocktail
The Lion's Tail Cocktail first appeared in print in the celebrated Café Royal Cocktail Book, published in London in 1937. It was created by L.A. Clarke. Not much is known about Clarke, but the drink's legacy still lives on!
Its name refers to the saying "twisting the lion's tail," a phrase that means to annoy or provoke something that has a lot of power (usually referring to Great Britain). Also, this drink specifically calls for bourbon (source), an American spirit. So, many people believe that Clark was an American bartender who emigrated to England during Prohibition.
Ingredients
Here are the ingredients you'll need:
Bourbon Whiskey - the original recipe actually names "Seagram's Bourbon Whisky" (source). Since that isn't produced any more, go for your favorite bourbon. I used Penelope bourbon here.
Allspice Dram - this allspice liqueur is also called Pimento Dram, since allspice berries come from the pimento tree. It has a warm spice flavor that is kind of like cinnamon or cloves, but with a spicy undertone. I used The Bitter Truth Pimento Dram.
Bitters - Angostura bitters balance out the sweetness and give this drink some extra flavor.
Lime Juice - preferably fresh lime juice.
Maple syrup - the original calls for "gomme syrup", which is a thickened syrup using gum arabic. Maple syrup is a great substitute here, but you can buy classic gum syrup if you want to experience the original.
Orange peel - the orange peel garnish adds a touch of extra aroma and flavor (and it looks kinda like a tail!)
Substitutions
Here are some ways you can substitute the ingredients in this cocktail:
Bourbon - if you don't have any bourbon, you can try using a blended whiskey. Or, a dark rum would work really well here too.
Allspice dram - this is probably going to be the hardest one to find for many people. Try looking for St Elizabeth Allspice Dram if you can't find The Bitter Truth brand. If you can't find it, try making a DIY Allspice Dram.
Maple Syrup - if you don't have this, just omit it or use regular simple syrup.
Lime juice - try lemon juice, or use a True Lime packet mixed with a little water.
Bitters - substitute with a different flavor of bitters. Elemakule Tiki Bitters would be great in this drink.
Variations
Here are some variations on this recipe:
Tiki Lion's Tail - try adding in a splash of pineapple juice, and a touch of cinnamon syrup to make this more like a Tiki drink.
Spicy Lion's Tail - go for a little more heat by adding some spicy elements to the mix! Swap out the bitters for a habañero version, using Strongwater Bonfire Bitters or Bittermens Hellfire Bitters.
Non-alcoholic - you can make an alcohol-free version of this drink with a few substitutions:
Equipment
This is a simple drink to make with a few standard bar tools. You'll want to have jigger, a cocktail shaker and strainer, and a Martini glass.
For bonus points, a second fine mesh strainer is nice to have, to catch any stray ice shards. Also, a channel knife (like the Viski channel knife) is an easy way to make long strips of citrus peel.
If you need any new bar equipment, A Bar Above is my favorite! Grab 10% off if you use my discount code, LKDrinks. Their bar tools are really beautiful, and dishwasher safe too!
Instructions
Start out by making your garnish, if you're using one. Use a channel knife to cut a long strip of orange peel.
(Note: If you don't have a channel knife, use a vegetable peeler instead to make a long strip, and cut it to size with a paring knife.)
Wrap the orange peel around the handle of a bar spoon or something like a chopstick. Set it aside while you make the drink.
Add the lime juice and the allspice dram to the cocktail shaker.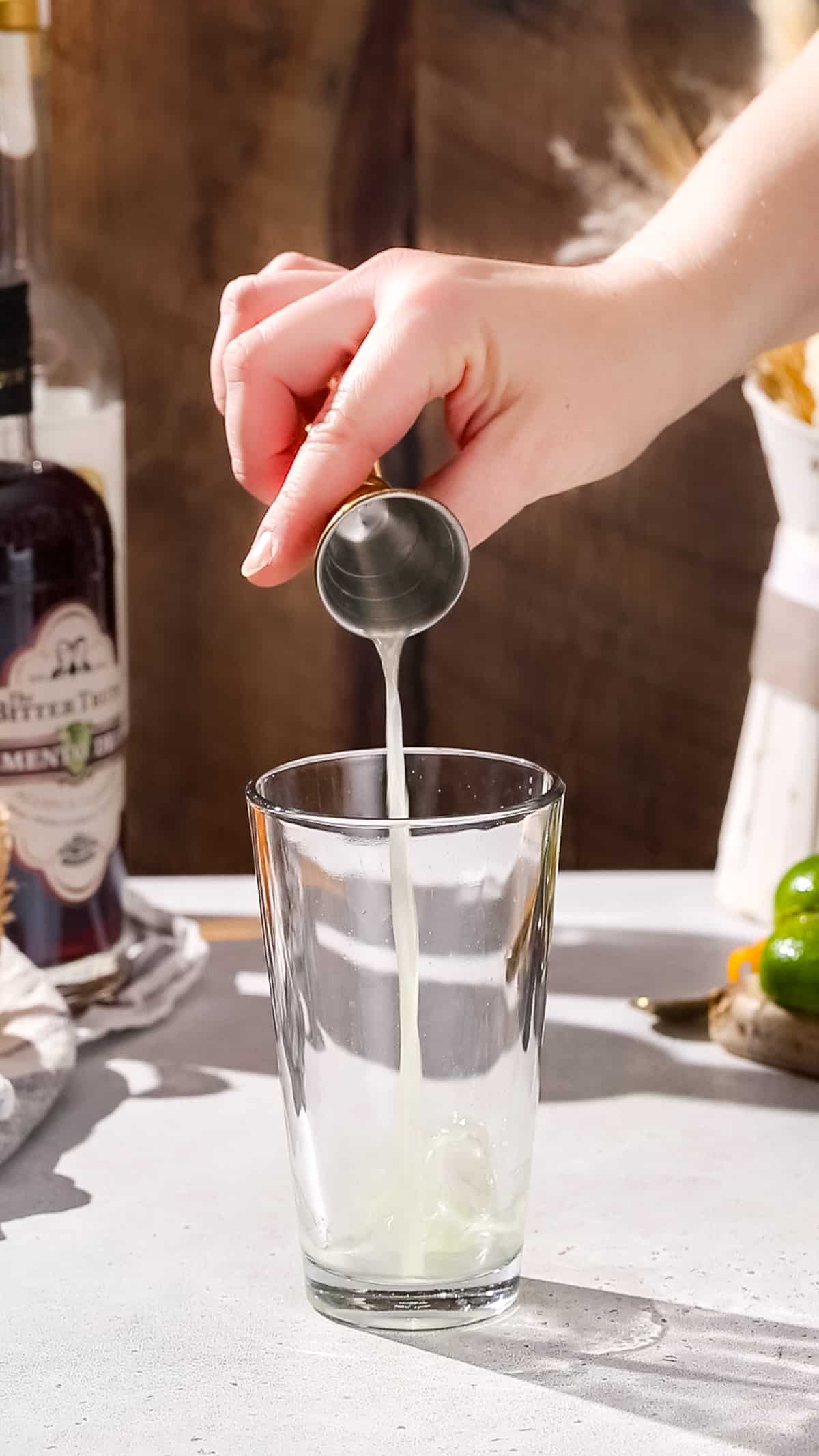 Then, add in the maple syrup and the Angostura.
Finally, add in the bourbon.
Fill the shaker with ice and seal it up.
Shake vigorously, about 15-20 times, to chill and dilute the drink.
Then, strain the drink into the serving glass. You can double strain by pouring the liquid through a fine mesh strainer, or just strain it directly into the glass.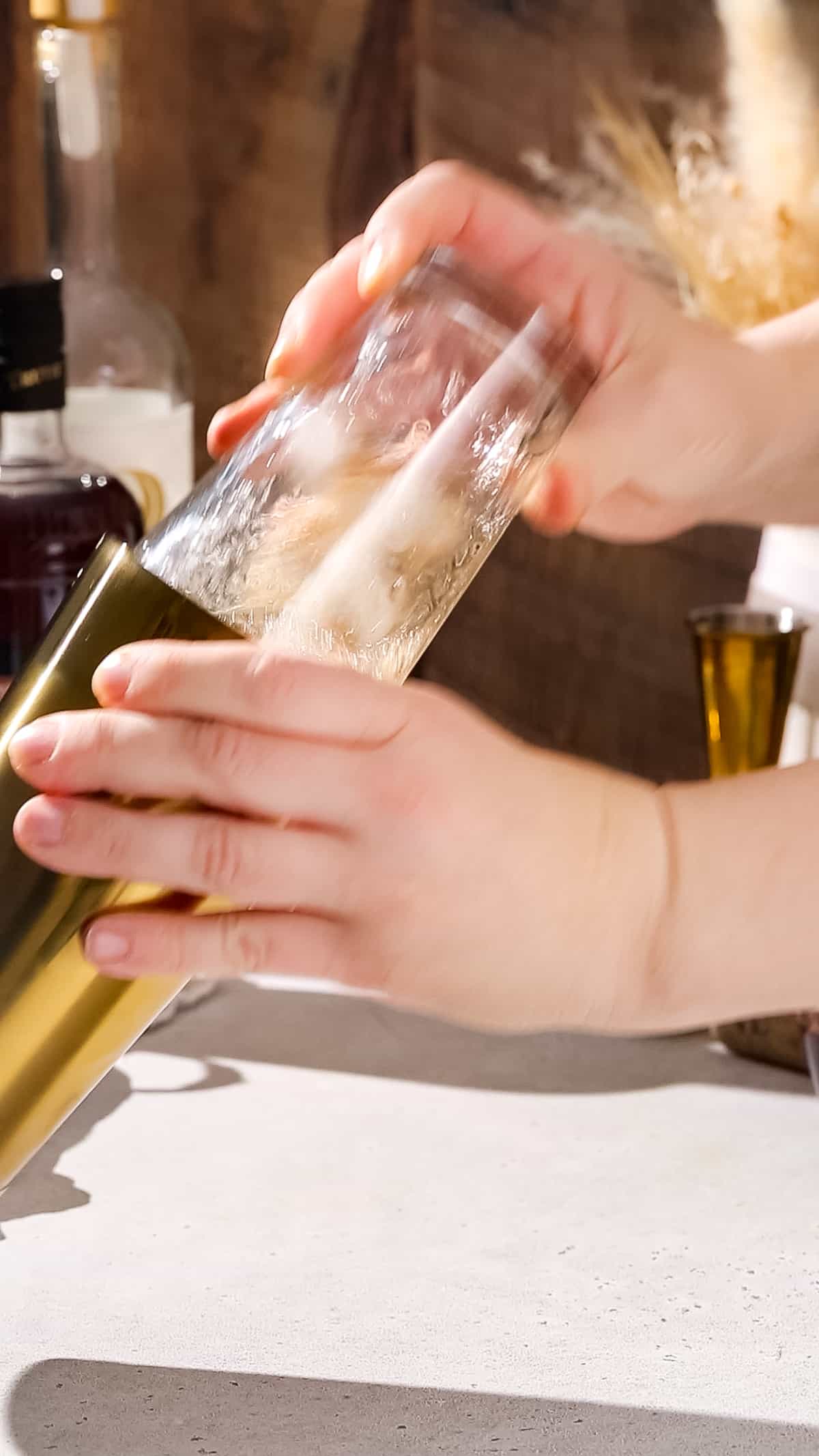 Add your orange peel garnish, and serve.
Hint: Chill your serving glass for about 30 minutes before serving the drink. It'll help keep it colder longer!
Frequently Asked Questions
How do you use allspice dram?
Allspice dram is found in a lot of Tiki drinks, like the Ancient Mariner or Three Dots and a Dash. It goes really well with pineapple, but it also is wonderful in Christmas cocktails. It makes for a delicious Christmas Old Fashioned!
Where can I find allspice dram?
You can usually find allspice dram at your local liquor store. Remember that it is sometimes called pimento dram, so try asking for both names. If not, try an online retailer (like Total Wine in the US, or The Whisky Exchange for the UK/International).
Can I replace the bourbon with another spirit?
Absolutely! Try a Jamaican rum or rye whiskey for a different twist.
Top tip
You don't need a huge glass to serve this cocktail! It's a classic drink, which usually means it's small but potent. A 5 ounce cocktail glass (150 ml) would be plenty.
📖 Recipe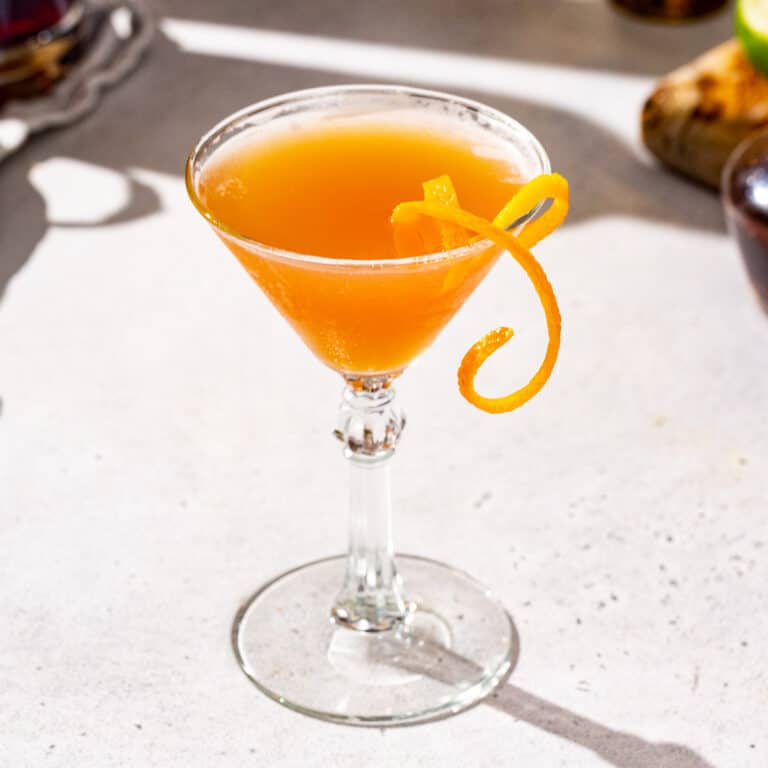 Lion's Tail Cocktail
The Lion's Tail Cocktail is a delicious classic bourbon drink featuring allspice dram and lime juice.
Equipment
Bar spoon

(or teaspoon - to measure the syrup)

Knife and cutting board

(if using fresh lime)

Martini glass

(around 5 or 6 ounces capacity)
Instructions
For the orange peel garnish, use a channel knife to cut a long strip of orange peel. (Or, use a vegetable peeler to make a long strip, and straighten the edges with a paring knife.)

Curl the orange peel strip around the handle of a bar spoon or a chopstick, and set it aside while you make the drink.

Add the lime juice, allspice dram, Angostura bitters, maple syrup, and bourbon to a cocktail shaker.

Fill the shaker with ice.

Seal it up and give everything a good shake, about 15-20 times.

Strain the drink into your serving glass. If you have a fine mesh strainer, use both the regular strainer and the fine mesh strainer together.

Add the orange peel garnish to the side of the glass, and serve. Cheers!
Nutrition
Calories:
220
kcal
Carbohydrates:
16
g
Protein:
0.1
g
Fat:
0.01
g
Sodium:
1
mg
Potassium:
18
mg
Fiber:
0.1
g
Sugar:
11
g
Vitamin A:
7
IU
Vitamin C:
4
mg
Calcium:
2
mg
Iron:
0.03
mg
Made with WP Recipe Maker plugin