This Non-Alcoholic Sangria tastes so much like the real thing, you won't miss the alcohol! With alcohol-free wine and fresh juice, it's a delicious mocktail to serve for any occasion. Using fresh cut up apples and oranges gives it an authentic feel.
This drink is perfect to serve at baby showers, or just anytime you want to take a break from booze but miss the flavor! The red wine base is has the alcohol removed, so it really has a wine flavor and body without the buzz.
Alcohol-removed wine doesn't taste quite the same as regular wine. But, with the juices and sweetener added in this drink, it definitely tastes like Sangria when mixed together!
If you like this recipe, try out my Ginger Beer Bitters Mocktail, or this tasty Grapefruit Mocktail! You can also get some more mocktail ideas here: Mocktail Recipes.
Jump to:
About Non-alcoholic Wine
If you're expecting non-alcoholic wine to taste exactly like wine, you're probably going to end up a little disappointed. It's not exactly the same, and that's because it goes through a process called dealcoholization to remove the alcohol.
The end result is going to have some qualities of wine, but the taste and mouthfeel will be different. Many companies add in additional ingredients to make it taste more like the real thing.
Some companies actually market unfermented grape juice with some additives as alcohol-free wine. Always be sure to check the label to see if "dealcoholized wine" or "alcohol-removed wine" is one of the ingredients, so you know you are getting actual wine with the alcohol taken out after the fact.
Note: Alcohol-free wine may contain a little bit of alcohol, up to 0.5%. While this is a small amount, it is not zero, so it's important to keep in mind. You can read some more background info on dealcoholized wine here: Dealcoholized Wine on Healthline.com.
Ingredients
Here are the ingredients you'll need to make this drink:
Alcohol-removed red wine - this is the key ingredient! (Scroll up to the previous section for more info on non-alcoholic wine.) There are a bunch of different non-alcoholic wines on the market. I used Fre Non-alcoholic wine blend by Sutter Home, but some other good ones for this recipe are Lussory Non-alcoholic Merlot or Wander + Found Non-alcoholic Pinot Noir.
Lemon juice - preferably freshly squeezed.
Orange juice - preferably freshly squeezed. I actually used blood orange juice since they're in season, but any type of orange juice works.
Simple syrup - to sweeten up the drink and balance out the citrus.
Substitutions
Here are some ways you can substitute the ingredients in this drink.
Alcohol-removed red wine - if you can't find any, or if you want to make sure there is zero alcohol in the final drink (alcohol-removed wine may have up to 0.5% alcohol in it), try using a mixture of grape juice, vinegar and sweetener. Start out with around 24 ounces of grape juice, preferably 100% concord grape juice, and add in a tablespoon of red wine vinegar or sherry vinegar plus a tablespoon of simple syrup. Mix well and keep in the refrigerator for about a week.
Citrus juices - you can use store-bought juice instead of fresh juice, although fresh has a better overall taste. If you can only find bottled juice, I recommend dissolving in a packet of True Lemon to enhance the flavor.
Simple syrup - you can use maple syrup instead, or use a sugar-free cocktail syrup to avoid adding extra sugar. Or, just make your own using the tips in my How to Make Simple Syrup post.
Variations
Giving the visitor ideas on how they can change this recipe to better suit their dinner guests, or their cultural cuisine, is a great way to increase the chances they make the recipe
Regular Sangria - you can use this same recipe for regular Sangria if you're not avoiding alcohol! Just use a regular bottle of red wine, preferably Merlot or Pinot Noir. You can also add some apple brandy or orange Curaçao liqueur for an extra kick.
Non-alcoholic White Sangria - instead of red wine, try using alcohol-removed white wine or moscato (sparkling) wine.
Non-alcoholic Apple Cider Sangria - try out this delicious recipe for Fall Apple Cider Sangria, but switch out the vodka for pear juice and substitute in non-alcoholic white wine.
Equipment
To make a full batch of this mocktail, you'll need a glass pitcher to mix everything together in. A 1 liter (~33 ounce) size pitcher works great. (I used a cold brew coffee pitcher!)
You'll also need a jigger or measuring cup, a citrus juicer for your fresh citrus fruit, a long spoon, and a knife and cutting board for all the fruit.
For serving glasses, I used lowball whiskey glasses, but wine glasses also work perfectly.
Instructions
Start out by cutting up your citrus fruit. Cut an orange into slices and add them to your pitcher.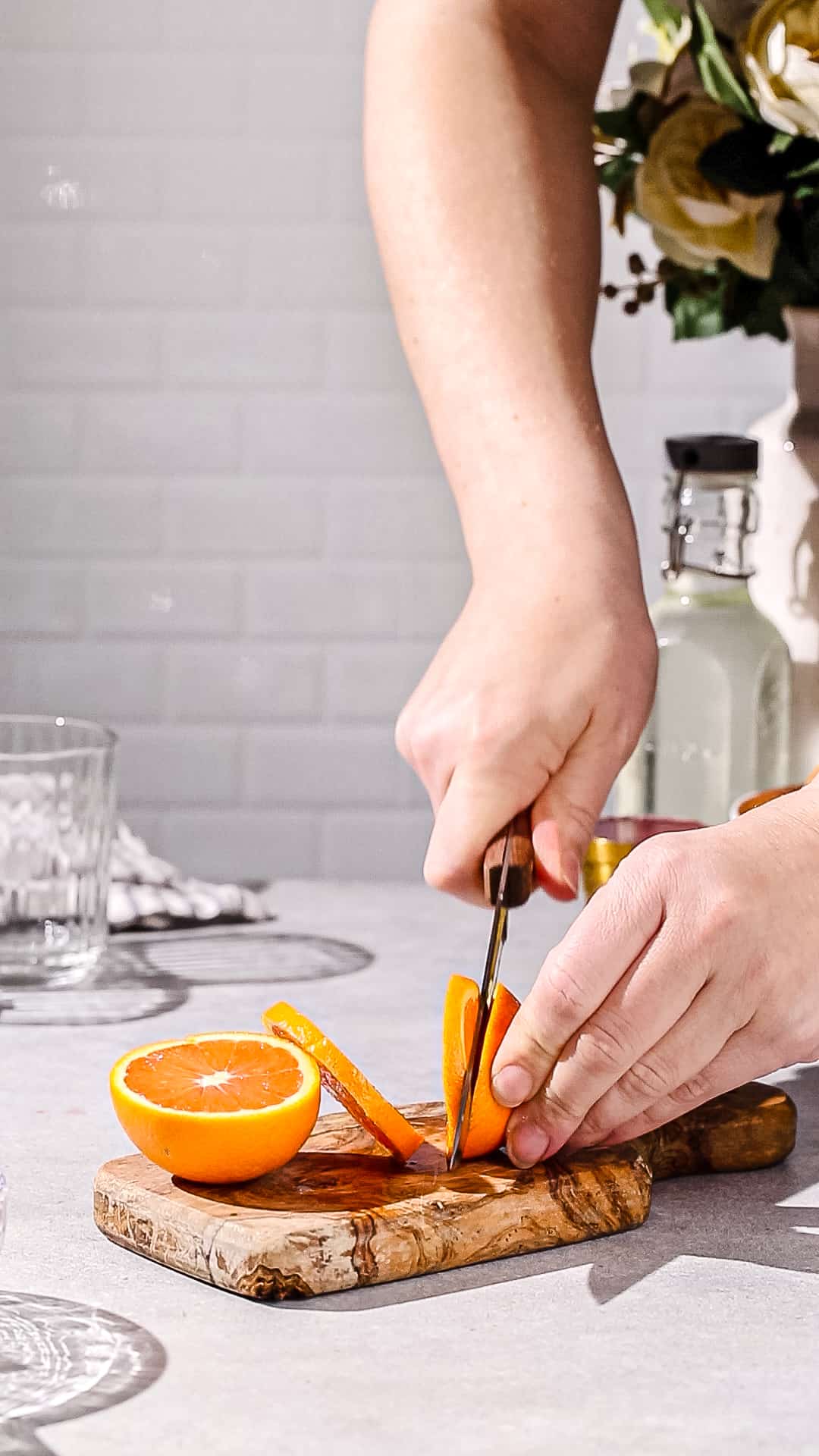 Then cut your apple up into chunks, making sure to cut out the core first. Add the apple pieces into the pitcher.
Next, juice your lemon and orange (or just measure it out if you're using store bought juice) and pour it into the pitcher along with the fruit.
Add the simple syrup to your pitcher and stir to combine.
Pour the entire bottle of alcohol-removed wine into the pitcher, and stir everything until it is fully combined.
If your wine was not already chilled, chill the sangria in the fridge until it is cold. Then pour into individual glasses to serve. Add a little of the fruit to each glass, and garnish with half of an orange slice on the rim of the glass.
You can store the pitcher in the fridge for 4 to 5 days. You may want to remove the citrus after day 3 since the peels may eventually make the drink too bitter.
Hint: You can try out different fruits, like cut up strawberries or peaches, to add in to the sangria as well.
Frequently Asked Questions
What is non-alcoholic sangria made of?
Non-alcoholic sangria can be made with alcohol-removed wine, plus citrus juice and sweetener. You can also make it using grape juice instead of the alcohol-removed wine.
Does virgin sangria contain alcohol?
If you are using alcohol-removed wine, virgin sangria could contain a very small amount of alcohol, since non-alcoholic wine is allowed to contain up to 0.5% alcohol. If you are using grape juice, there won't be any alcohol at all in the final drink.
What can I put in non-alcoholic sangria in place of brandy?
If your favorite sangria recipe calls for brandy, try adding in a non-alcoholic whiskey in its place (like Monday Whiskey or Ritual whiskey alternative).
Top tip
Traditionally, sangria is served chilled, but without ice. If you need to cool your drink down in a hurry, try using frozen whiskey stones or a wine chiller bucket or stick to chill it down. This will make it cold without melting and diluting the drink itself.
📖 Recipe
Non-Alcoholic Sangria
This Non-Alcoholic Sangria tastes so much like the real thing, you won't miss the alcohol! Made with alcohol-free wine and fresh juice, it's a delicious mocktail for any occasion.
Equipment
Pitcher

(at least 1 liter/34 ounces in capacity)

Knife and cutting board

(for cutting the fruit)

Long spoon

Serving glasses
Ingredients
1 to 2

whole fresh orange

1

whole fresh apple

1

ounce

lemon juice

(from about ½ medium-sized fresh lemon)

2

ounces

orange juice

(from about 1 fresh orange)

1

ounce

simple syrup

750

ml

alcohol-removed wine

(1 bottle) - (see Notes)
Instructions
Cut your orange into slices and your apple into chunks. Discard the core of the apple and any orange seeds, and set aside a few orange slices for the final drink garnish.

Add the cut up fruit to your pitcher.

If you're using fresh citrus for the juice, make it now using your citrus juicer.

Add the lemon juice and orange juice to the pitcher.

Add the simple syrup to the pitcher, and give everything a stir to combine.

Add the entire bottle of alcohol-removed wine to your pitcher, and stir again to combine.

If your wine is not already chilled, put it in the fridge to cool down.

When you're ready to serve, pour the drink from the pitcher into your serving glasses. Add a little of the fruit from the pitcher to each glass.

Add a half of an orange slice to the rim of each serving glass as a garnish before serving.
Notes
Some great choices for alcohol-removed wine are:
Keep in mind that alcohol-removed wine may still have up to 0.5% alcohol. If this is an issue for you, you can simply use grape juice, and optionally add in 1 Tablespoon of red wine vinegar or sherry vinegar plus 1 Tablespoon simple syrup.
Nutrition
Serving:
6
ounces
Calories:
114
kcal
Carbohydrates:
29
g
Protein:
1
g
Fat:
0.3
g
Saturated Fat:
0.05
g
Polyunsaturated Fat:
0.05
g
Monounsaturated Fat:
0.01
g
Sodium:
10
mg
Potassium:
198
mg
Fiber:
1
g
Sugar:
27
g
Vitamin A:
46
IU
Vitamin C:
8
mg
Calcium:
18
mg
Iron:
1
mg
Made with WP Recipe Maker plugin