The Passion Fruit Spritz is such a beautiful and refreshing cocktail! It's a Spritz with a tropical flair, made with a mix of Chinola passion fruit liqueur with Prosecco and a splash of seltzer. A float of Empress gin on top gives this drink a pop of beautiful purple color. With a slice of lime and an optional orchid for garnish, this is the perfect summer drink to enjoy on a hot afternoon!
The Passion Fruit Spritz is such an easy cocktail recipe to make, and it looks so impressive with the float of gin on top! This is an easy layered cocktail to make, and such a simple way to impress your guests. Plus, the purple color brings to mind the purple skin of the passion fruit. (I do suggest giving it a gentle stir before actually drinking it though!)
If you want some more passion fruit ideas, try out the Passion Fruit Mango Sour, which uses the fresh fruit instead of a liqueur. For more tropical vibes, try adding some passion fruit liqueur to this Mango Mai Tai!
Jump to:
What is Chinola liqueur?
"Chinola" is the word for passion fruit in the Dominican Republic, so it's natural that their locally-made liqueur is named after it. Chinola liqueur is made in the Dominican Republic using passion fruits grown in the town of Majagual. The pulp of the fruits is used, along with a neutral grain spirit made from cane sugar and more cane sugar as a sweetener. At 21% ABV, this liqueur is just a little bit strong, and it brings a ton of fresh fruit flavor.
History of the Spritz
Originally an Italian creation, the Spritz has been a beloved classic drink since the 19th century. Typically, Venetians would add a splash of water to their wine to lighten up the drink. Over time, the spritz we know and love today was born – embodied in the Amaro Spritz, a fizzy blend of sparkling wine, bitter liqueur, and a splash of sparkling water.
The Passion Fruit Spritz puts a tropical twist on the Italian classic recipe. Like the Aperol Spritz, which is probably the most popular version, this sticks to the 3-2-1 ratio of Prosecco - liqueur - seltzer, but the addition of gin brings a little extra strength and pop of color to the final drink.
Ingredients
Here are the ingredients you'll need for this refreshing drink:
Passion fruit liqueur - I used Chinola liqueur here. This sweet and tangy liqueur has a deep passion fruit flavor and a yellow-orange color. It's made with real passion fruit puree, and has a great fresh taste. Some of the fruit pulp may sink to the bottom, so be sure to invert the bottle a few times to mix it all up together.
Prosecco - this sweet Italian sparkling wine is so perfect for summer! Make sure to chill the bottle so the final drink stays colder longer.
Seltzer - a little bit of seltzer brings a lot of bubbles and refreshment to this drink.
Empress gin - the purple color of Empress 1908 gin comes from a natural infusion of butterfly pea flowers. This adds not only a pop of color, but a delicious and bright gin flavor to cut the sweetness of the other ingredients.
Slice of lime (for garnish) - this gives a nice citrus aroma and complements the drink perfectly. You could also use a fresh lemon or orange slice.
Orchid flower (optional, for garnish) - orchids are edible, but be sure to gently rinse and dry the flower before adding it to your drink.
Substitutions
If you're missing an ingredient or two, don't worry. Here are a few alternatives you could use:
Passion fruit liqueur - You can try using El Padrino Passion Fruit tequila in place of the Chinola, but omit the gin if you do, otherwise the drink will be super strong. If you can't get hold of a liqueur, I recommend using either fresh passion fruit pulp, or store bought passion fruit puree.
Prosecco - You can swap this with any other sparkling wine to keep that essential spritz sparkle. Try Champagne, Cava or even a sparkling rosé.
Empress gin - If you can't get hold of Empress, you can infuse your favorite clear gin, vodka, tequila or rum with dried butterfly pea flowers for that pop of purple. Just mix the flowers into the spirit and let them soak for about an hour before straining them out.
Variations
Give your spritz a personal touch with these tasty variations:
Non-Alcoholic Passionfruit Spritz - to make a virgin version of this drink, just use passionfruit puree and a non-alcoholic sparkling wine (like one of these: best reviewed non-alcoholic champagne). For the purple float, you can make tea with the dried butterfly pea flowers. After it's cool, you can carefully pour it on top of your drink.
Peach Passion Spritz - add in some peach puree and garnish with a fresh peach for a sweeter variation.
Mango Spritz - instead of the passion fruit, use a mango liqueur or mango nectar.
Equipment
You'll just need a few things to mix up this drink. Grab a cocktail jigger, a cutting board and knife if you're using fresh lime, and a cocktail serving glass. I used a wine glass for this -- a large red wine glass would be perfect, but you can use any large glass!
I also love to use my Champagne bottle opener to make it super easy to open the bottle of bubbly! (Honestly don't know how people open it without this thing!!)
Instructions
Start out making the drink by preparing your garnish. Cut a slice of lime and set it aside, and optionally rinse and dry a fresh orchid flower to use.
Next, fill up your serving glass with ice, and measure and add your Chinola.
Add in the Prosecco, followed by a splash of seltzer.
Next, carefully pour the Empress gin using a cocktail jigger. If you have trouble with this step, just use the back of a bar spoon to help the liquid flow more evenly into the glass.
Then, garnish with a slice of fresh lime.
Add the optional orchid to the side of the glass, and serve. Cheers!
Hint: For the best taste, give the drink a gentle stir to mix everything together before drinking. You can serve it with a straw to let your guests know they should stir!
Frequently Asked Questions
What alcohol goes in a spritz?
A classic spritz includes a bitter liqueur like Aperol, along with Prosecco sparkling wine and club soda. This passion fruit version is a little bit sweeter, but cut with the addition of the gin.
What does passion fruit taste like?
Passion fruit has a fresh, tropical flavor, both sweet and tart. I think of it like a cross between mango and lemon, but with a deep richness all its own.
Top tip
Hosting a party and want to serve lots of spritzes? Try setting up a Spritz Station!
At your party, set up the liqueur, gin, a bottle of Prosecco, and seltzer all on ice. You can set out cocktail glasses with lime slices already attached, and a bucket of ice with a scoop for your guests to add ice to their glass. Write out a sign telling guests how to make the drink.
Guests can then serve themselves. This way, everyone gets a freshly fizzy, perfectly chilled Passion Fruit Spritz. You can even set out different liqueurs so they can choose their own spritz adventure!
📖 Recipe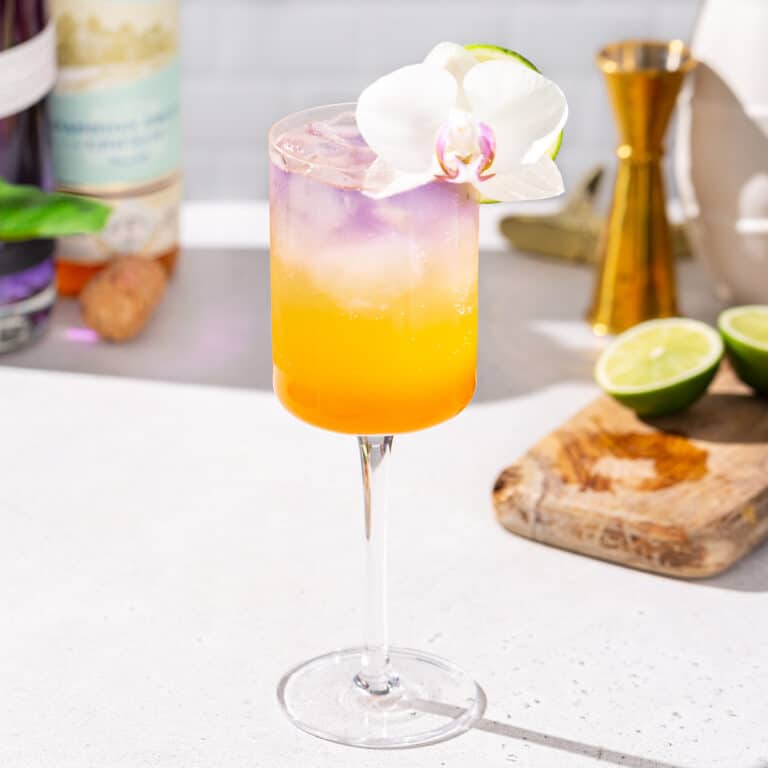 Passion Fruit Spritz
This delicious and refreshing Passion Fruit Spritz cocktail combines passion fruit liqueur with Prosecco, seltzer and a splash of purple colored gin on top.
Ingredients
Garnish
slice of fresh lime

orchid flower

(optional)
Cocktail
1½

ounces

Chinola liqueur

3

ounces

Prosecco

1

ounce

seltzer

¾

ounce

Empress gin
Instructions
Fill your serving glass with ice.

Add in the Chinola passion fruit liqueur.

Add in the Prosecco and the seltzer.

Carefully pour the Empress gin so it floats on top.

Add the lime slice and the optional orchid to the rim of the glass for a garnish.
Notes
Note: You can serve this with a straw so your guests can gently stir everything together before drinking. Cheers!
Nutrition
Calories:
222
kcal
Carbohydrates:
15
g
Protein:
0.1
g
Fat:
0.1
g
Saturated Fat:
0.1
g
Polyunsaturated Fat:
0.04
g
Monounsaturated Fat:
0.01
g
Sodium:
16
mg
Potassium:
89
mg
Sugar:
15
g
Calcium:
10
mg
Iron:
0.4
mg
Made with WP Recipe Maker plugin