This refreshing Limeade recipe could not be easier to make, and it's perfect for parties or just hanging out on summer weekends. The addition of pineapple juice brings up the sweetness naturally, so there is not as much added sugar compared to most lemon or limeade recipes. Always a plus in my book!
Pineapple and Lime
I wanted to make this as easy to make as possible, but still use fresh ingredients. Since limes pack more of a sour punch than lemons, you don't need to juice as many to get that lime flavor in the drink.
As for pineapple juice, although it's not fresh, the canned variety is all-natural. Also, the Dole brand of juice really tastes almost as good as fresh. You can read more in this post comparing different brands of pineapple juice. Spoiler alert: Dole is the best choice by far!
Adding Sweetness
The pineapple juice adds sweetness, but it's not quite enough to balance the limes on its own. I always keep simple syrup on hand, which makes it easy to add in without having to wait for granulated sugar to dissolve.
If you don't have simple syrup, you can try using honey in its place, which will add a nice warm flavor to the drink. Otherwise, I suggest using superfine (aka caster) sugar instead of regular granulated sugar, since the fine grains will dissolve a lot faster.
Of course, you can always use a sugar substitute instead of regular sugar. I recommend allulose, as it tastes the most like regular sugar.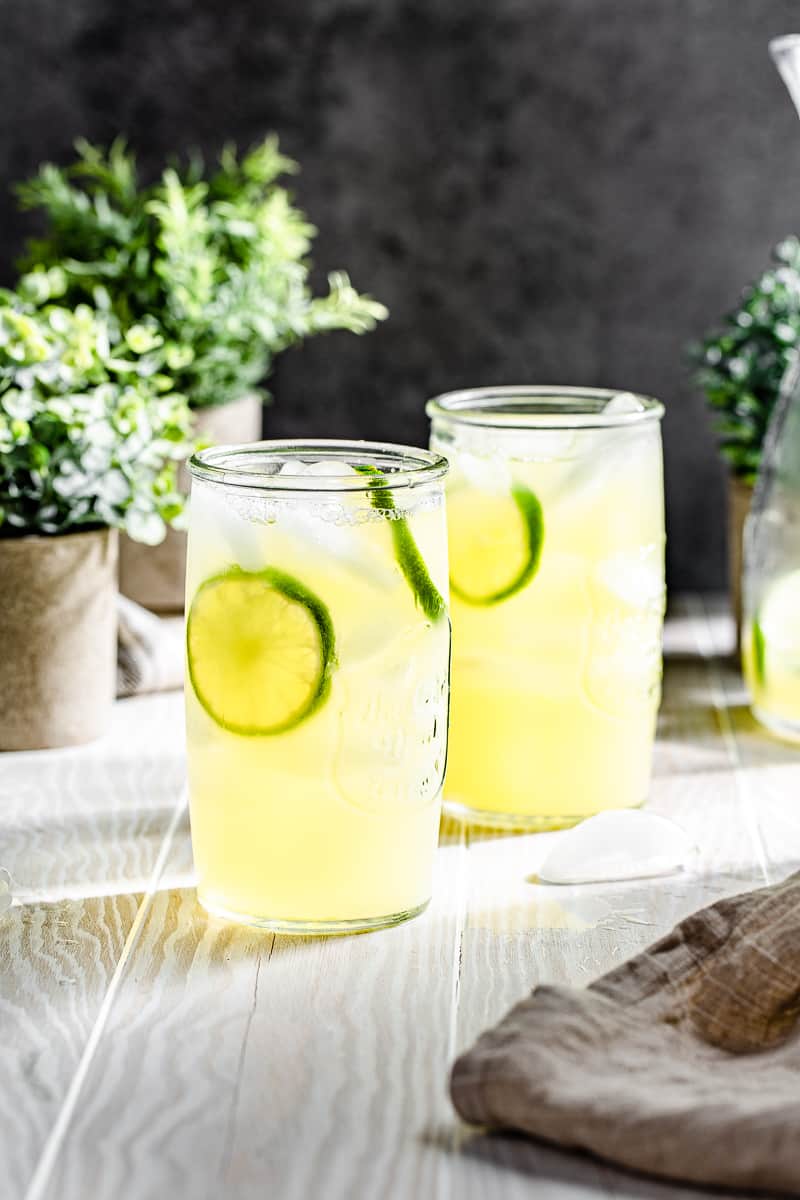 Making the Limeade
This is easy to make directly in the pitcher. Using a citrus press juicer, juice two limes. You can scoop out any pits that fall in along with the juice.
Then, add in one 6-ounce can of pineapple juice along with an ounce and a half of simple syrup. Add in about 12 ounces of water or seltzer water and lots of ice, and use a long spoon to stir everything up.
Cut up another lime into wheels, and place some of them in the pitcher and some in your serving glasses along with ice. Pour the drink into your serving glasses and enjoy! You can also add a little fresh seltzer on top for some more bubble action.
Other Recipes You Might Like
Did You Try This Recipe?
I would love to know if you tried this limeade recipe! Did you like the mix of pineapple and lime? Please leave me a star rating or a comment below, I would appreciate hearing how you liked it!
📖 Recipe
Limeade with Pineapple Juice
Refreshing and perfect for a summer party, this pineapple limeade is easy to whip up in minutes.
Equipment
Pitcher and serving glasses
Instructions
Cut two of the limes in half, and cut the third lime up into wheels, throwing out the end pieces.

Using a citrus press or other juicer, juice the four lime halves and place the juice into the pitcher.

Add the pineapple juice, simple syrup and water or seltzer into the pitcher.

Add ice to the pitcher and stir together with a long spoon.

Add several lime wheels to the pitcher. Fill your serving glasses with ice and lime wheels, and pour the drink into the serving glasses. Serve immediately.

If you are planning to make this in a large batch that will sit outside, a great idea would be to make a batch ahead of time and freeze it into ice cubes. Use those cubes for half of the ice that you put in the pitcher. That way, it won't get as diluted as the ice melts.
Notes
You can substitute an equal amount of honey for the simple syrup, or use 2 tablespoon of sugar (preferably superfine/caster sugar, so it dissolves quickly). You can also use a sugar substitute like allulose.
Nutrition
Calories:
65
kcal
Carbohydrates:
18
g
Protein:
1
g
Fat:
1
g
Saturated Fat:
1
g
Polyunsaturated Fat:
1
g
Monounsaturated Fat:
1
g
Sodium:
12
mg
Potassium:
102
mg
Fiber:
1
g
Sugar:
13
g
Vitamin A:
19
IU
Vitamin C:
14
mg
Calcium:
21
mg
Iron:
1
mg
Made with WP Recipe Maker plugin