This Pineapple Mocktail is a refreshing tropical escape in a glass! With just three ingredients, it's an easy to make and delicious non-alcoholic drink. Ginger beer, lemon and pineapple juice make a great flavor combination, like a virgin Moscow Mule with pineapple juice. Perfect for a warm summer afternoon, or anytime you want a little escape to the tropics!
Ingredients
You'll just need three ingredients for this drink:
Pineapple juice - although you can certainly use fresh pressed pineapple juice if you have a juicer, Dole brand works great in this drink.
Lemon juice - freshly squeezed lemon juice is best here, as it has the best flavor and tartness to offset the sweetness of the pineapple and ginger beer.
Ginger beer - use a good quality ginger beer for the most ginger kick! I love Bundaberg, but Fever Tree also has a good ginger beer. In a pinch, you can use ginger ale.
Substitutions
Here are some ways you can substitute the ingredients in this cocktail:
Pineapple juice - there is not really a substitute! But you can use orange juice instead, and it will be a tasty (but very different) drink.
Lemon juice - you can switch in lime juice if you don't have lemon juice.
Ginger beer - you can use ginger ale or lemon-lime soda if you don't have ginger beer.
Variations
Here are some variations on this recipe:
Pineapple Mule - add in a shot of vodka, and this drink is basically a pineapple mule! You can serve it in a copper mug with a lemon or lime slice and a wedge of fresh pineapple.
Lemon Bitters - for a little more complexity, add in 2 dashes of non-alcoholic lemon bitters (like Fee Brothers brand lemon bitters).
Lower sugar - although the juices will have naturally occurring sugar, you can reduce the overall sugar content by using a diet ginger beer (like Zevia Zero Calorie Ginger Beer). To make it even more Keto friendly, use a ginger flavored seltzer instead.
Add in some rum - if you're imbibing, this drink is great with a shot of dark rum added in.
Pineapple & Pomegranate - switch half of the pineapple juice out for pomegranate juice for a tasty flavor combination.
Equipment
To make this drink, you'll need to have a cocktail shaker, strainer, and a jigger or small measuring cup. You'll also need a serving glass (I used this iridescent gold-rimmed glass).
I definitely suggest serving this drink with nugget ice if you can get your hands on some. I use these nugget ice trays to make mine, but you can actually get some from a Sonic location if you have one nearby!
Instructions
Start out by adding the lemon juice and pineapple juice to your cocktail shaker.
Fill the shaker with ice and shake it just a few times to mix and chill (5 to 10 times is plenty). If your juices are already cold, you can choose to skip this step.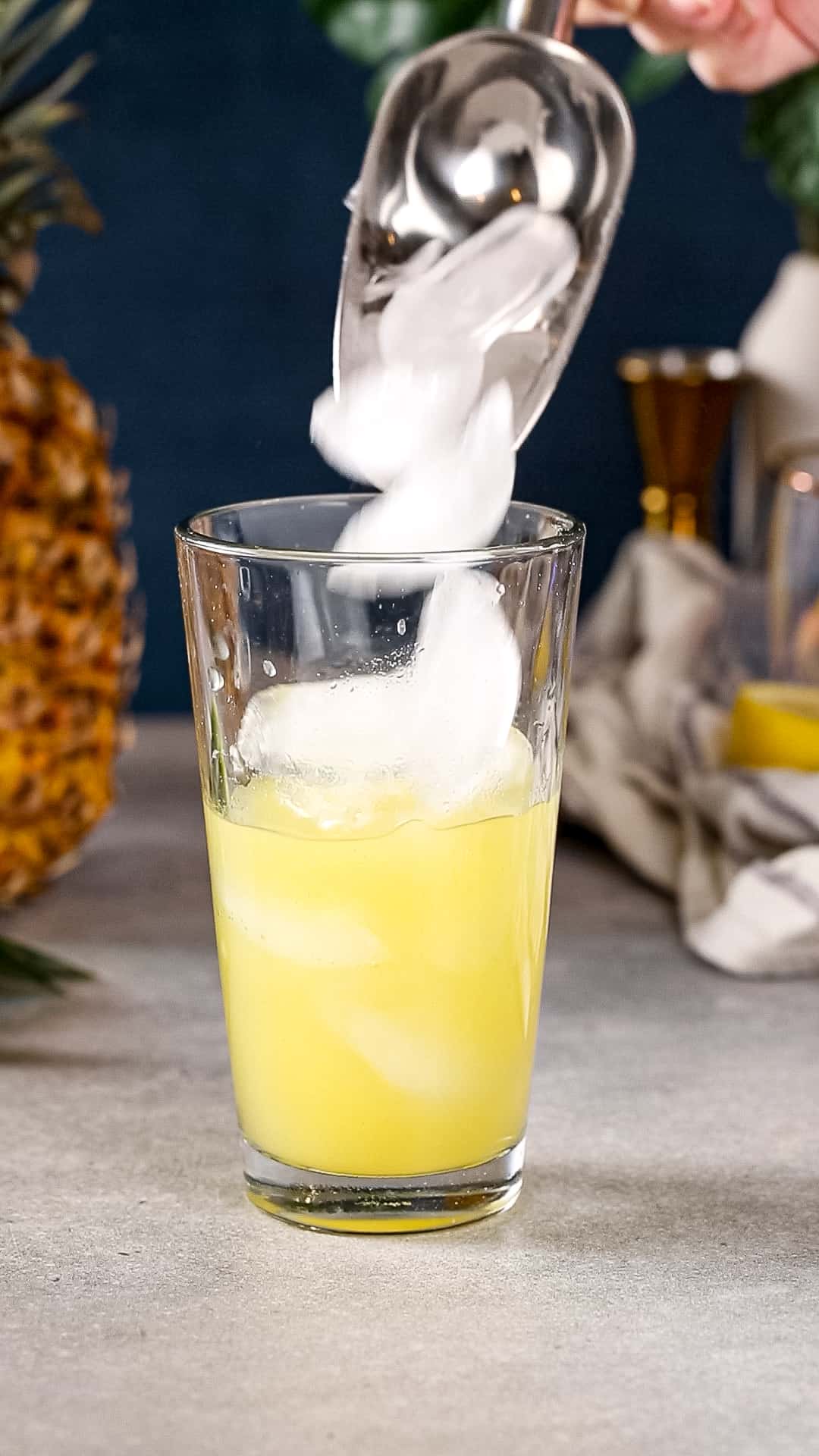 Fill your serving glass with ice and strain the juices into the glass.
Top off the drink with the ginger beer. If you have any fresh pineapple, you can use the fronds from the top of the fruit as a garnish (wash and dry them first).
Hint: Pineapple fronds can be frozen and saved for future drinks! Just pluck them out of the top of the fruit, wash and dry them, and keep them in a zip top bag in the freezer.
Frequently Asked Questions
What does mule mean in cocktails?
A mule (in drink terms) means a combination of ginger beer and citrus, along with a spirit. Mules are also sometimes called bucks.
What does virgin mean in a mocktail?
A virgin drink just means that it has no alcohol. Another term for these drinks is non-alcoholic, or a mocktail (mock cocktail).
Top tip
It's simple to make a big batch of Pineapple Mocktails for a party. About an hour before the party, you can juice your lemons, and combine the lemon juice with the pineapple juice. Chill it in a pitcher in the fridge.
When you're ready to serve, fill your serving glass with ice and measure out 3 ounces of the juice mixture. Top it with a freshly opened ginger beer and serve. You'll want to pour the ginger beer separately to keep the fizzy carbonation.
📖 Recipe
Pineapple Mocktail (Virgin Pineapple Mule)
Pineapple juice, lemon juice and ginger beer combine in this refreshing non-alcoholic drink.
Equipment
Knife and cutting board

(for lemon)

Cocktail serving glass
Ingredients
Drink
2

ounces

pineapple juice

1

ounce

lemon juice

3

ounces

ginger beer
Instructions
Add the pineapple juice and lemon juice to a cocktail shaker.

Fill the shaker with ice and shake it, only about 5 to 10 times.

Fill your serving glass with ice (nugget or crushed ice if you have it).

Strain the juices into the serving glass.

Pour the ginger beer into the serving glass.

Optionally add the pineapple fronds to the side of the glass as a garnish, and serve.
Nutrition
Calories:
65
kcal
Carbohydrates:
17
g
Protein:
0.3
g
Fat:
0.1
g
Saturated Fat:
0.01
g
Polyunsaturated Fat:
0.03
g
Monounsaturated Fat:
0.01
g
Sodium:
7
mg
Potassium:
104
mg
Fiber:
0.2
g
Sugar:
14
g
Vitamin A:
5
IU
Vitamin C:
17
mg
Calcium:
12
mg
Iron:
0.3
mg
Made with WP Recipe Maker plugin