This tropical-inspired Pineapple Whiskey Smash cocktail is a delicious and refreshing summertime sip. With fresh lemons, pineapple and bourbon whiskey, it is tangy, sweet and perfect for a hot afternoon in the sun.
A traditional whiskey smash combines whiskey with some kind of fresh fruit, usually lemon, and some mint. Using pineapple gives this drink a more tropical vibe, so instead of using mint, I garnished this with some pineapple fronds and added in some tiki-style bitters.
This drink would pair perfectly on your home bar menu with one of these Rum Mango cocktails, or a Sherry and Rum cocktail. Whiskey and aged rum both have warm flavors from aging the spirits in oak, so they tend to go well with similar ingredients.
Jump to:
Ingredients
To make this drink at home, you'll need to gather the following ingredients:
Bourbon Whiskey - no need to break the bank. An approachable blended bourbon like Penelope bourbon or Maker's Mark bourbon work perfectly in this drink.
Fresh pineapple - since this drink is a smash, it calls for fresh fruit to be muddled, or smashed, at the start. Try to use the ripest pineapple you can, preferably at room temperature, to get the maximum amount of juice.
Fresh lemon - if possible, let your lemon come to room temperature before making the drink to get the most juice out of them.
Salt - it might seem counterintuitive, but salt is a great addition to many cocktails. Adding salt to citrus counteracts some of the acidity from the lemon, and makes the drink taste smoother.
Simple syrup - homemade or store bought.
Bitters - I used Elemakule Tiki bitters to bring a little more of the tropics into this drink. It adds some traditional tiki spices, like cinnamon and allspice.
Red Aperitif liqueur - the most commonly known of this type of liqueur is Campari Aperitivo liqueur, but there are many brands that make it. Here I've used Luxardo Aperitivo liqueur, which is subtly different from Campari and equally as delicious.
Pineapple fronds - optional, for garnish.
Substitutions
Here are some ways you can substitute if you don't have some of the ingredients on hand.
Bourbon Whiskey - if you don't have bourbon, you can use rye whiskey, blended whiskey, or an aged rum in this cocktail.
Fresh pineapple - if you can't find fresh pineapple, just substitute in 1.5 ounces of pineapple juice per drink. Muddle the lemons first before adding in the juice.
Fresh lemon - you can use lemon juice if you don't have fresh lemons. The drink will lose a little of its citrus flavor if you don't have a fresh lemon peel to muddle, but it will still taste good.
Simple syrup - you can use maple syrup in place of simple syrup if you don't have any on hand.
Bitters - if you don't have the Tiki bitters, you can use Angostura bitters, and just sprinkle a little ground cinnamon on top of the drink at the end.
Red Aperitif liqueur - if you don't have this, you can use the same amount of grenadine instead, or pomegranate juice.
Pineapple fronds - instead of pineapple fronds, you can use a sprig of fresh mint, a wedge of fresh pineapple on the rim of the glass, or a large piece of lemon peel as garnish.
Variations
There are lots of variations on a Whiskey Smash. Give some of these a try for a new spin on this drink!
Classic Whiskey Smash - omit the pineapple, bitters and aperitivo, and add an extra lemon wedge, fresh mint and a little more simple syrup for a more traditional Whiskey Smash.
Blackberry Whiskey Smash - try substituting blackberries for the pineapple. You can also change out the bitters and use some lavender bitters for a more floral note, and omit the aperitivo.
Cherry Whiskey Smash - this is a great variation for fresh cherry season in mid-summer. Use cherries instead of pineapples, and add in a few drops of almond extract instead of the bitters. You can omit the aperitivo, or try adding in Ramazzotti Amaro instead for a more cola-like flavor.
Equipment
The most important bar tool to have on hand for a smash cocktail is a cocktail muddler. Of course, you can use any kind of tool meant for smashing, but a muddler works best since there is a lot of fruit to break down. I used this wooden cocktail muddler. (FYI: If you are muddling berries or something else that's dark, you might want to try a plastic or metal muddler since the wood might stain.)
Other than the muddler, you'll need a cocktail shaker, cocktail strainer, and a jigger. You'll also need a knife and cutting board to cut up your fruits, as well as a serving glass. I've used these Godinger Rocks glasses, but you can use any glass that holds around 10 to 12 ounces (or less if you want to use less ice).
Speaking of ice, these nugget ice trays are perfect if you want to easily make the tiny nugget ice, also known as Sonic ice or pebble ice, as shown in the photos. (And they're wayyyyy cheaper than the GE Opal nugget ice maker!)
Instructions
To make this drink, start out by adding your fresh fruit to a cocktail shaker. You can also just use a heavy-bottomed cup or glass that won't move around too much as you muddle.
Next, add a pinch of salt to the cocktail shaker, and then start muddling. You want to extract as much juice as possible during your muddle. Using room temperature fruit will help get more of the juice out.
Once you've finished muddling, add in the simple syrup and the bourbon whiskey to the cocktail shaker.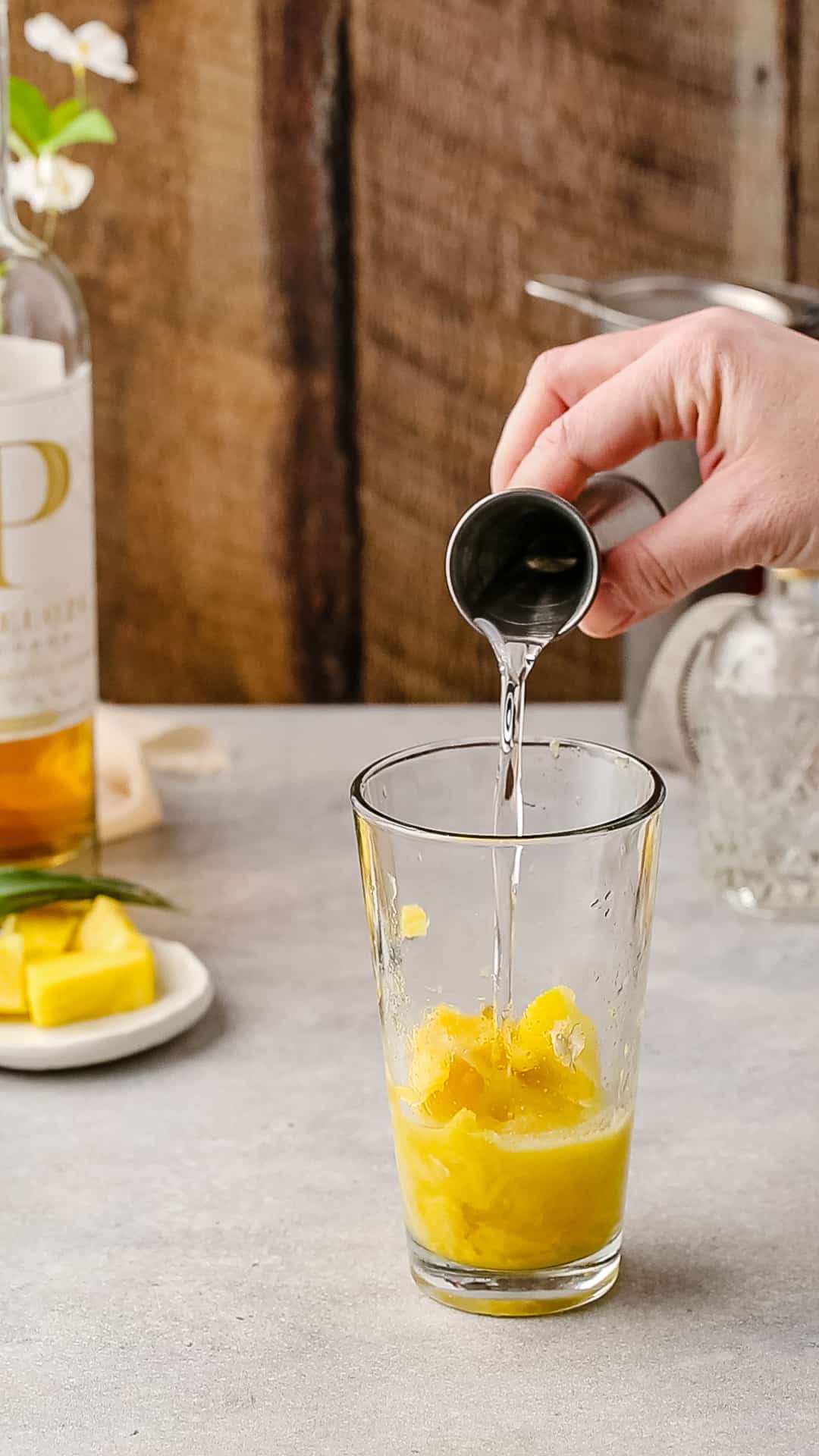 Then, add bitters to your cocktail shaker, and fill it with ice. Seal up the cocktail shaker and give it about 15 to 20 hard shakes.
Fill your serving glass with ice and strain the drink into the glass. You may want to use two strainers, a regular cocktail strainer and a fine mesh strainer, in case you get big chunks of fruit that get past the regular strainer.
Finish off the drink by pouring the red aperitivo liqueur over top of the drink. It will slowly settle to the bottom, creating a subtle layered effect. Then add the pineapple fronds as a garnish, and serve.
Hint: If you have a juicer, you can use that instead of muddling, if you prefer. Just use 1.5 ounces (44 milliliters) of pineapple juice and 1 ounce (30 milliliters) of lemon juice. Keep in mind that part of the flavor comes from the lemon rind itself, so keep the rind on when you're juicing it.
Frequently Asked Questions
When was the Whiskey Smash invented?
The classic Whiskey Smash dates back to the late 1800's, and was first published in Harry Johnson's New and Improved Bartender's Manual in 1888 (pg. 43).
What makes a drink a smash?
A smash typically is made with some seasonal fruit as well as citrus. The name comes from the process of muddling, or smashing, the whole fruit or chunks of the fruit as you make the drink. There are no hard and fast rules for a smash, so you can get creative with the different fruits that you use.
Is pineapple juice good with whiskey?
Pineapple and whiskey go really well together! You may first think of pairing rum with pineapple, but whiskey and bourbon are both great options to use with this tropical fruit.
Top Tip - Storing Pineapple Fronds
When you buy a whole pineapple, pluck off the fronds at the top. Give them a good wash, and dry them thoroughly. Then, seal them up in a freezer safe container, and keep them in the freezer until you're ready to use them. This way, you can always have perfectly fresh-looking fronds for all of your tiki cocktail needs!
📖 Recipe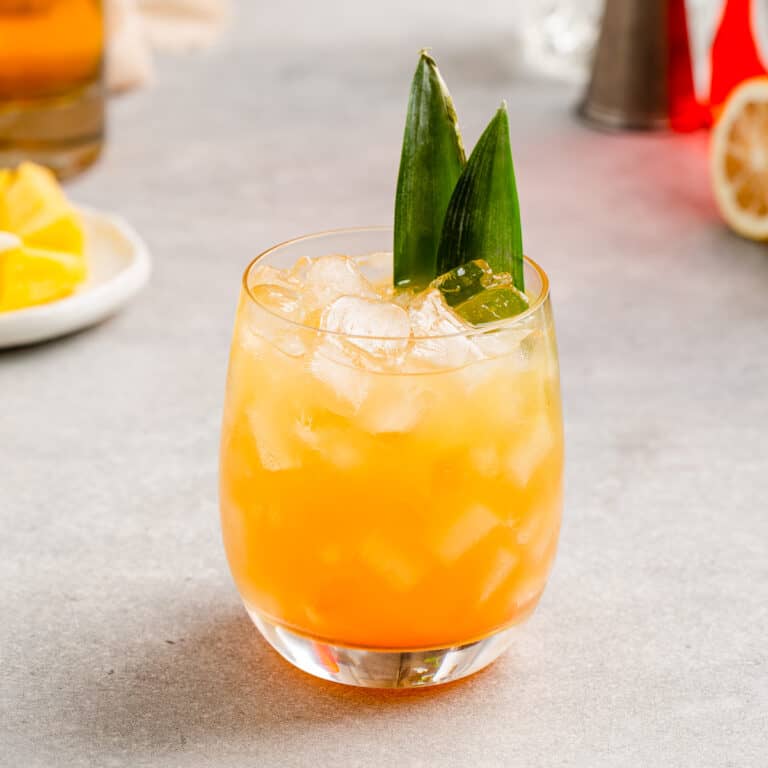 Pineapple Whiskey Smash
This refreshing, tropical-inspired cocktail combines bourbon whiskey with pineapple and lemon.
Ingredients
4

cubes fresh pineapple

see Notes

2

wedges of lemon

Pinch

fine grain salt

2

oz

bourbon whiskey

I used Penelope Bourbon

½

oz

simple syrup

1

dash

Elemakule Tiki bitters

¼

ounce

red aperitif liqueur

I used Luxardo Aperitivo

pineapple fronds

for garnish
Instructions
Add the pineapple, lemon and salt to a cocktail shaker.

Use a muddler to muddle the fruit well.

Add the whiskey, simple syrup and bitters to the shaker.

Fill the shaker with ice and shake well, about 15-20 hard shakes.

Fill your serving glass with ice (preferably nugget size or crushed ice).

Strain the drink into the serving glass.

Pour the red aperitif liqueur over the top of the drink. It will sink to the bottom.

Add pineapple fronds as a garnish, and serve.
Notes
If you don't have fresh pineapple, you can substitute in 1½ ounces of pineapple juice. If you substitute, still try to use fresh lemon and just muddle that instead. The flavors from the lemon rind really come through in the drink when you muddle the wedges.
Nutrition
Calories:
287
kcal
Carbohydrates:
38
g
Protein:
1
g
Fat:
1
g
Saturated Fat:
1
g
Polyunsaturated Fat:
1
g
Monounsaturated Fat:
1
g
Sodium:
11
mg
Potassium:
243
mg
Fiber:
3
g
Sugar:
28
g
Vitamin A:
105
IU
Vitamin C:
99
mg
Calcium:
33
mg
Iron:
1
mg
Made with WP Recipe Maker plugin