The Pistachio Martini is such a creamy and delicious treat of a cocktail! If you're a pistachio lover like me, this will be your go-to (especially when you're in the mood for something decadent!) It tastes just like boozy melted pistachio ice cream.
What is Pistachio Liqueur?
Pistachio liqueur is a creamy liquor made from real pistachios, a base of grain alcohol and cream. It has a true pistachio flavor, sweet and nutty. I used Fabrizia brand pistachio liqueur, which is absolutely delicious.
If you don't want to buy it, there are different ways of making this type of liqueur. You can make it as you would a homemade limoncello, where you soak pistachios in vodka to extract the flavor.
Or, you can take a quicker route and infuse the cream with pistachios over heat. Try out this method with this DIY pistachio liqueur recipe.
Note: Sometimes it can be hard to find pistachio liqueur in your local store, but it becomes more common during the winter holidays! If you can't find it in person, you can try looking online.
Ingredients
Here are the ingredients you'll need to make this cocktail:
Pistachio Liqueur - this nutty and creamy liqueur is the star of the show. I used Fabrizia brand pistachio liqueur.
Vanilla vodka - the vodka gives the drink a little bit more of an oomph, plus brings in a subtle vanilla sweetness. I used Stoli vanilla vodka.
Cream - this makes the drink even more decadent and delicious.
Honey - the honey is just used for the garnish, to help the pistachios stick to the glass.
Pistachios - these are for garnish, but they really do add a lot of flavor and deliciousness to the drink!
Substitutions
Here are some ways you can substitute the ingredients in this cocktail:
Pistachio liqueur - if you can't get your hands on this liqueur, try substituting in one ounce of Monin pistachio syrup, plus one ounce of cream. Or, in a pinch, use a quarter teaspoon of pistachio extract, plus one ounce of simple syrup and one ounce of cream.
Vanilla vodka - you can substitute in plain vodka here, or use vanilla rum or plain white rum.
Cream - you can use whole milk, half and half, or a non-dairy cream such as coconut cream.
Honey - you could also use melted white chocolate to stick the pistachios to the glass. Unless the pistachios are ground to a very fine powder, you need something really thick and sticky to keep them attached.
Variations
There are so many ways you can change up this recipe! Here are some ideas:
Top with whipped cream - adding some whipped cream on top is an easy way to make this drink even more over the top tasty.
Make it more green - add a few drops of Blue Curaçao liqueur plus a bar spoon of whiskey if you want to add some green color to this drink. Or, use a bar spoon of Midori melon liqueur, or even a drop of plain green food coloring.
Add in some Bailey's - you can add in a half ounce of Bailey's Irish Cream for a twist on this recipe, or even try some Godiva white chocolate liqueur for a different flavor.
Use a different liqueur - if you aren't a pistachio person, try out a different base liqueur. Frangelico is a hazelnut liqueur, or go for some Rumchata cream liqueur.
Keto Friendly Pistachio Martini - instead of using pistachio liqueur, try subbing in Jordan's sugar free pistachio latte mix. Vanilla vodka often has sugar added, so switch that out for plain vodka or white rum.
Non-alcoholic version - if you're avoiding alcohol, you can still enjoy a creamy pistachio mocktail. Try mixing up an ounce of Monin pistachio syrup with the cream, and use cold water in place of the vodka.
Equipment
You'll need to have a few basic bar tools for this cocktail:
Cocktail shaker
Cocktail strainer
Jigger or small measuring cup
Martini glass for serving
Some small dishes to add the pistachio garnish
To crush your pistachios, you can use a spice grinder, a blender or even a rolling pin. I used my Americana brand personal blender.
Looking to buy (or gift) some really great bar tools? I really love all of the products from A Bar Above, and they're coming up with new ones all the time. You can get 10% off using my discount code, LKDrinks!
Instructions
Start out by adding the pistachios to the side of the glass. I crushed them up in my blender, then added them to a dish. You could also crush them using a rolling pin.
Add some honey to a second small dish.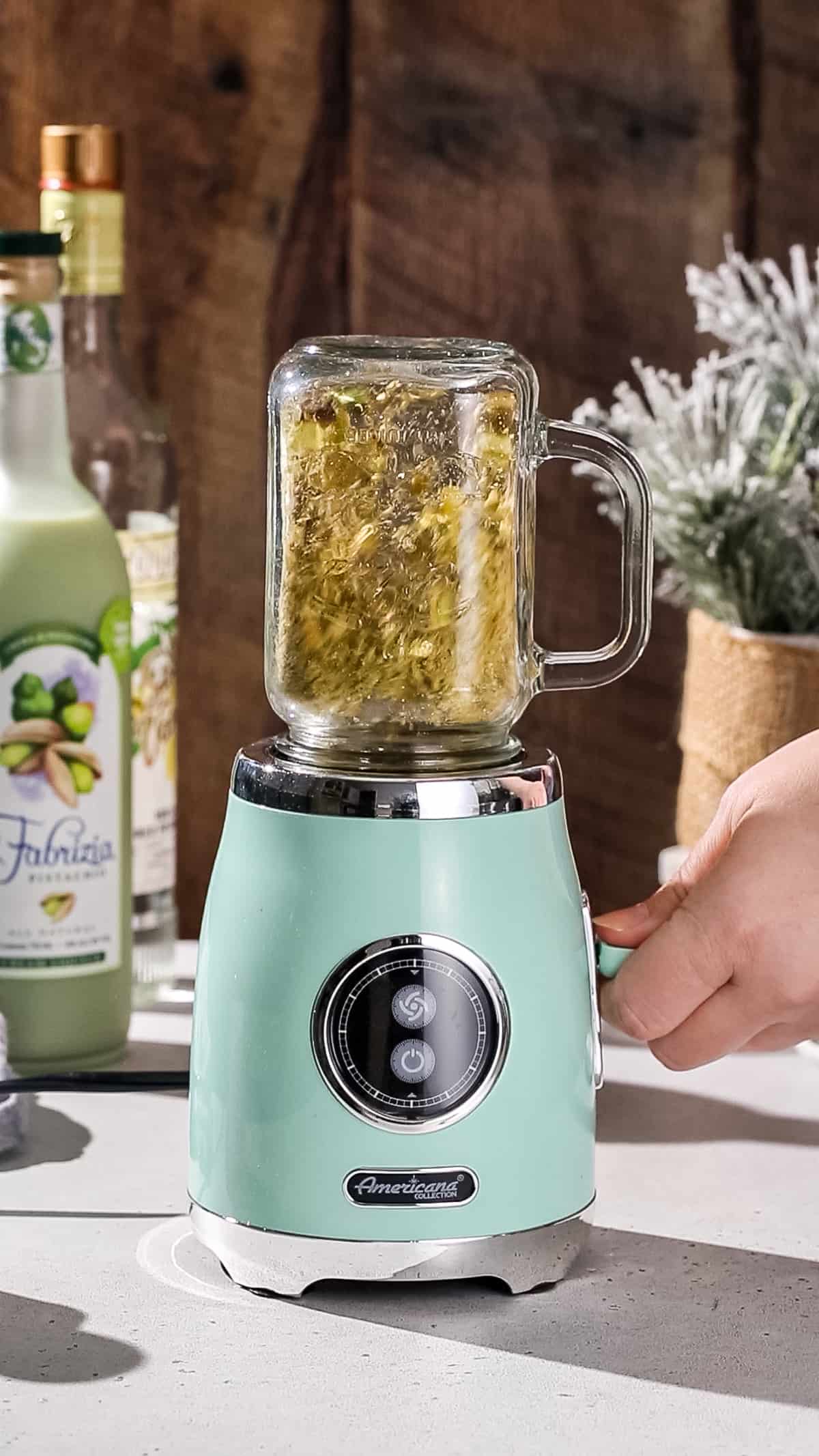 Then, either dip or spread honey onto your serving glass. You can do this all around the rim, or just on one side like I did.
Note: Try to make sure the honey layer is not too thick, or it will drip off the glass and make a mess! You can use the back of a spoon or a knife to spread it into a thin layer if you need.
Dip the glass into the crushed pistachios to coat it, and then set it aside while you make the drink.
Add the pistachio liqueur and vanilla vodka to a cocktail shaker.
Then, add in the cream, and fill the shaker with ice.
Shake vigorously, for about 15-20 times. Then, strain the drink into the glass, and serve.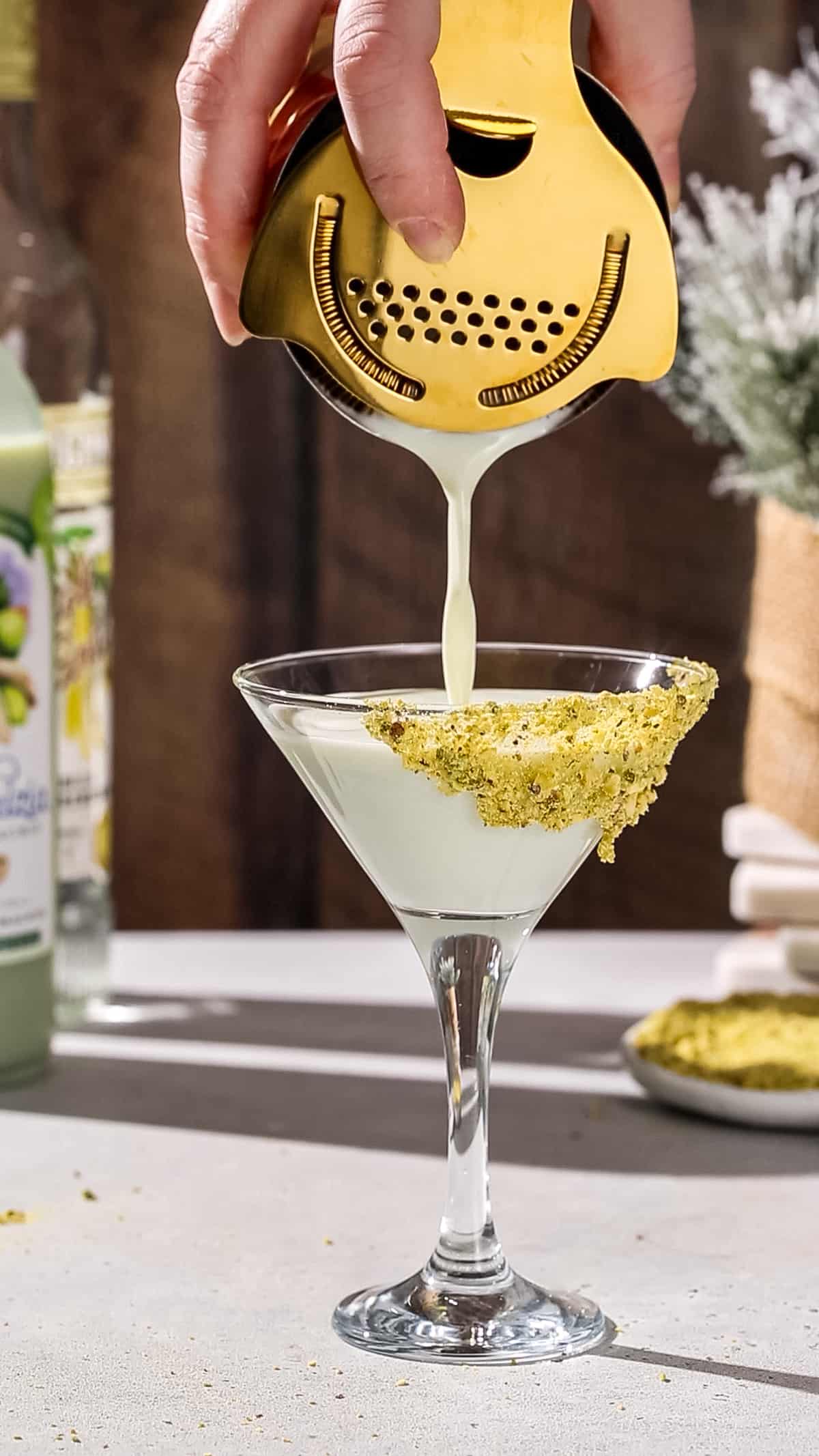 Hint: If you can, chill the vodka along with the liqueur and cream for at least 30 minutes before making the drink. This will keep it from over-diluting when you shake it up.
Frequently Asked Questions
What alcohol goes with pistachio?
Pistachio has a really distinctive flavor. Since it's a nut, it has natural fats and a creamy richness. It goes really well with warm flavors like vanilla, honey and cinnamon. Vodka, whiskey and rum are spirits that work really well with pistachio.
Is pistachio liqueur good?
The short answer is: yes! Pistachio liqueur is usually a cream type of liqueur and it has a ton of pistachio flavor. Fabrizia pistachio liqueur is a really good one.
What is pistachio liqueur made of?
It is typically made from pistachios, a neutral spirit like grain alcohol or vodka, cream, and sugar.
Top tip - Batching
This is an amazing drink to make as a big batch for a party! You can make it even up to a few days in advance. Just check on the expiration date of your cream before you start.
All you need to do is multiply the ingredients by the number of drinks you want to make, or use the handy calculator in the recipe card below. Add them all to a pitcher along with ½ ounce of water per cocktail. (The water is in place of the shaking with ice.)
Keep the pitcher in the fridge until you're ready to serve.
Garnish all of your glasses before the party starts so you have them ready to go! Then you can just pour the drinks directly from the pitcher.
If you want to froth up the drink before serving, pour each serving into a mixing glass and use a milk frother, or shake it up with a blender ball before pouring it into the serving glass.
📖 Recipe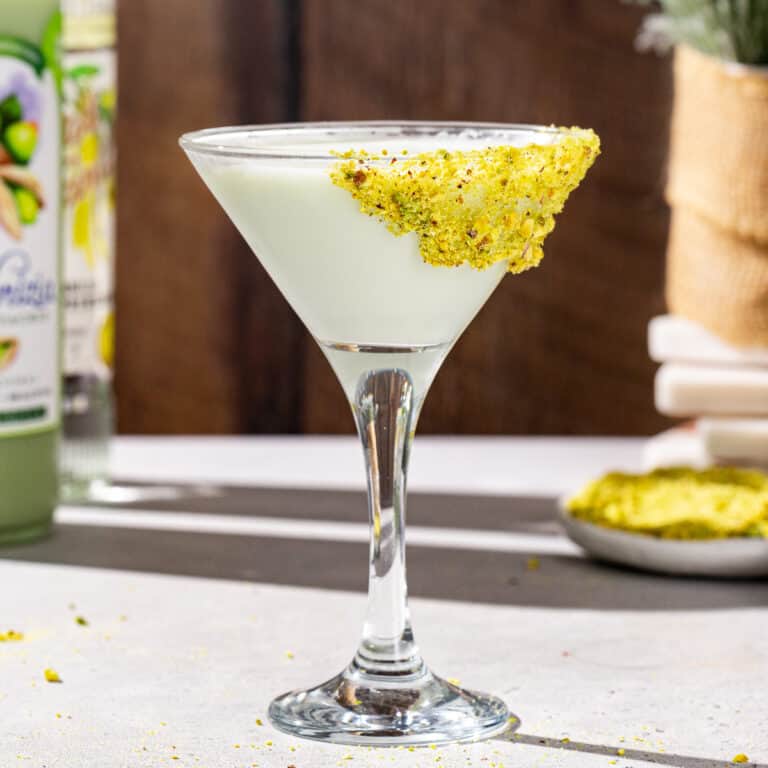 Pistachio Martini
This Pistachio Martini recipe is a rich and creamy cocktail with vanilla vodka and pistachio liqueur. Tastes just like boozy pistachio ice cream!
Equipment
2 Small dishes

(for the pistachio garnish)

Blender

(or spice grinder - for crushing the pistachios)
Instructions
Garnish
Crush the pistachios into small pieces, either by pulsing in a blender or spice grinder, or using a rolling pin.

Add the pistachios to a small dish.

Add honey to another small dish.

Dip the rim of your serving glass into the honey, or spread it on using a spoon or knife.

Dip the glass rim into the crushed pistachios. Set the glass aside while you make the drink.
Cocktail
Add the pistachio liqueur, vanilla vodka and cream to a cocktail shaker.

Fill the shaker with ice.

Seal up the shaker and give it 15-20 hard shakes.

Strain the drink into the prepared glass, and serve.
Notes
When you are adding the honey onto the glass, try to spread it in a thin layer so that it doesn't drip.
You can use melted white chocolate in place of the honey.
Nutrition
Calories:
389
kcal
Carbohydrates:
27
g
Protein:
1
g
Fat:
10
g
Saturated Fat:
7
g
Polyunsaturated Fat:
1
g
Monounsaturated Fat:
3
g
Cholesterol:
32
mg
Sodium:
13
mg
Potassium:
27
mg
Sugar:
27
g
Vitamin A:
417
IU
Vitamin C:
0.2
mg
Calcium:
19
mg
Iron:
0.03
mg
Made with WP Recipe Maker plugin