In the past few years I've seen a bunch of new types of gourmet marshmallows show up in stores. They've got a bunch of interesting flavors, and although they are all fairly good, they still pale in comparison to fresh, homemade marshmallows. These Raspberry Lemon Marshmallows up the ante with a bright fruit flavoring.
So many people I've talked to don't even realize that marshmallows can be made at home. They do require heating sugar to temperature, but that's probably the hardest part. Other than an infrared thermometer or candy thermometer and a stand mixer, you really don't need specialty equipment!
These marshmallows go perfectly with these Raspberry Linzer Bars. Serve them with this beautiful Raspberry Mocktail for a new take on teatime!
Jump to: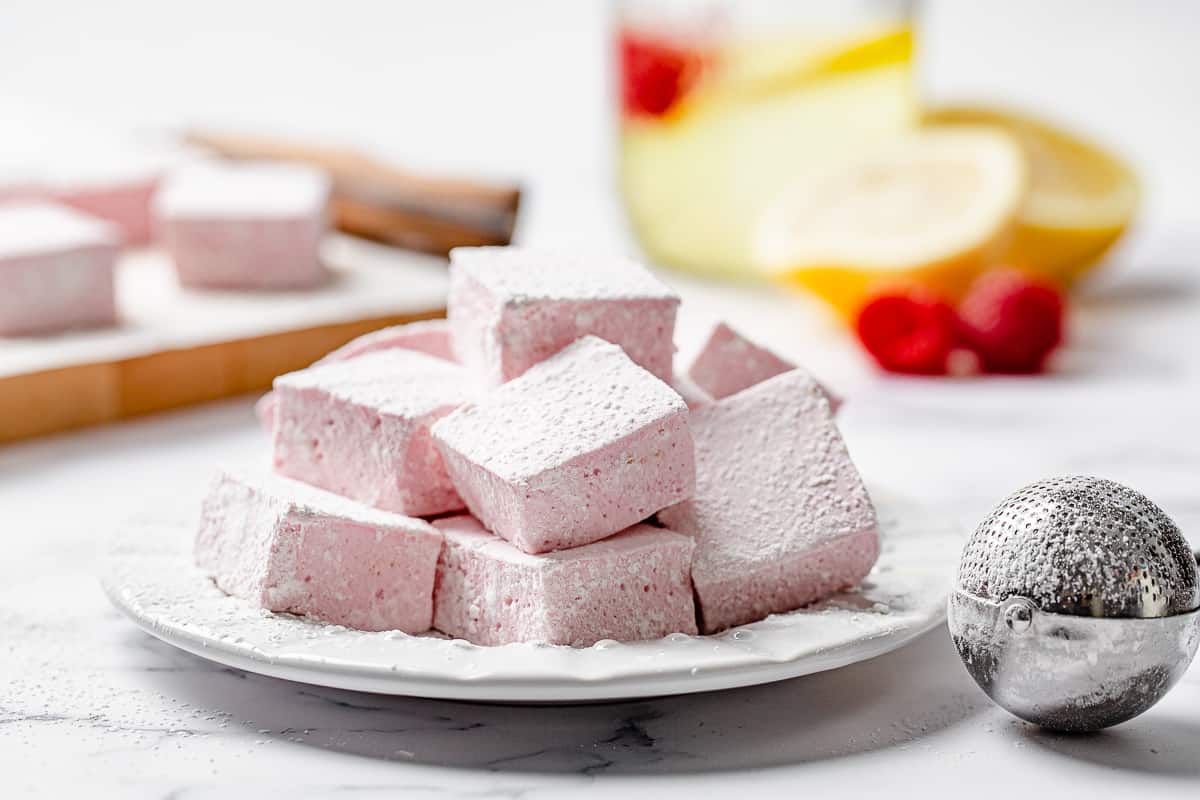 How do you make homemade marshmallows?
The basic gist of making marshmallows is that you are whipping up a hot sugar syrup, and stabilizing it with gelatin so that the air stays in. Then, you let them "cure", or set, at room temperature. While they set, they're coated in cornstarch and covered with a tea towel, so they don't dry out too much on the top and form a crust.
The most fun part is, once you've mastered the recipe, you can flavor them in so many different ways. Vanilla is the classic, but you can use any extract, or any fruit powder like in this recipe. You can even pipe the marshmallow fluff into shapes before it sets, or keep it simple and let them set in a pan.
After they rest for a few hours or overnight, just cut them up and dust all of the cut sides in powdered sugar or cornstarch.
Ingredients
Note that some marshmallow recipes call for egg whites, but they aren't necessary. Here are the ingredients needed for this recipe:
Lemon juice
Powdered gelatin
Water
Sugar
Corn syrup
Salt
Cornstarch
Substitutions
If you don't have freeze-dried raspberry powder, you can use a food processor to powder up any type of freeze-dried fruit. You can also use fresh raspberry juice -- just reduce the amount of water you put into the stand mixer based on how much liquid is in the juice. Alternatively, you can use raspberry jam; it won't be as tangy but will have a nice cooked-raspberry flavor.
If you are a vegetarian or vegan and want to avoid the gelatin, you can use agar. However, you need to cook it in order for it to activate. I recommend checking out this Vegan Marshmallow recipe, because I have not tested a vegan version.
You can also play around with the amount of gelatin you add: reducing the gelatin will give you a softer marshmallow.
If you want to omit the corn syrup, you can substitute an equal weight of maple syrup.
Equipment
I highly recommend a stand mixer for this recipe. It can be done with an electric hand mixer, but it will be difficult to pour in the hot sugar syrup. With either type of mixer, you'll need the whisk attachment.
You'll also need a saucepan, an 8"x8" baking pan, a spatula, baking spray and parchment paper.
Instructions
In order to make these marshmallows, you'll first want to prepare your pan. Spray the pan with baking spray, and then cut two parchment paper slings (so the paper overhangs the edges of the pan), one for each direction. Push them down to fit tightly in the pan, and set aside.
Measure out all of your ingredients, and have them all ready to go in prep bowls if you can. This is called mise en place (a French term for "everything in its place"), and it helps so much once you get into action!
Next, make a paste with the lemon juice and raspberry powder. Combine them in a small bowl and mix until the paste comes together. Scrape the paste into the bowl of your stand mixer, fitted with the whisk attachment, and add half of your water. Sprinkle the gelatin on top of the water and give it a little stir to combine everything.
Let the gelatin mixture sit and bloom while you prepare the sugar syrup. Add the sugar, corn syrup, salt and half of the water to a saucepan. Stir it together and cook over medium high heat. You can stop stirring when the liquid starts looking clear.
Once the sugar syrup reaches 240°F (115°C), immediately take it off of the heat. Turn the stand mixer on to its lowest speed and start to carefully pour the syrup into the stand mixer.
Note: Take care not to pour it directly onto the whisk attachment, or it could splatter and burn you. Instead, aim for the side of the bowl, so it drips down to the bottom where the whisk will reach it. You may end up with hardened sugar stuck to the bowl, but it's better than a burn!
Once the syrup is all poured in, turn up the speed and whip the mixture until it is light and fluffy, and the bowl is cool to the touch. This will take several minutes.
When the mixture is cool, scrape it into your prepared pan and use a spatula or butter knife to smooth it all out. Sprinkle a good layer of cornstarch on top, cover it with a kitchen towel or paper towels, and let it sit for at least 4 hours or overnight.
After it rests, use the parchment slings to move the marshmallows to a cutting board. Take a sharp knife and cut it up into squares. (You may need to clean the knife each time to get a clean cut.) When they are all cut, toss them with powdered sugar or cornstarch.
Storage
Keep these in an airtight container, with wax paper in between the marshmallow layers, for about a week.
You can also freeze them in the airtight container. Just be sure when you defrost to keep the airtight seal until they are fully defrosted (30-60 minutes), so no moisture gets on the marshmallows.
Important Note
When you are pouring the sugar syrup into the stand mixer, aim for the side of the bowl. You never want the hot sugar syrup to hit the moving whisk, or you risk getting burned.
📖 Recipe
Raspberry Lemon Marshmallows
Soft, homemade marshmallows with a tangy raspberry lemon flavor.
Equipment
Stand mixer with whisk attachment

8"x8" pan

Medium saucepan
Ingredients
1

tablespoon

lemon juice

(½ oz)

3

tablespoon

freeze-dried raspberry powder (not raspberry "juice" powder)

21

g

gelatin powder

(3 packets, or 2 ⅓ Tbsp)

1

cup

water, divided in half

298

g

sugar

(2 cups)

312

g

corn syrup

(1 cup)

¼

teaspoon

fine grain salt

30

g

cornstarch or arrowroot powder

(¼ cup)
Instructions
Prepare
Prepare a pan with baking spray and line it with two parchment slings, one in each direction. You can use an 8"x8" or 9"x13" pan, depending on how thick you want the marshmallows. I prefer to use 8"x8".

Fit a stand mixer with the whisk attachment. (You can make these with an electric hand mixer, but it is harder to add the hot syrup.)
Gelatin
Combine the lemon juice and raspberry powder in a bowl and mix until it forms a paste.

1 tablespoon lemon juice,

3 tablespoon freeze-dried raspberry powder

Add the paste to the bowl of a stand mixer along with ½ cup of water.

1 cup water, divided in half

Sprinkle the gelatin on top of the water and paste and stir a little bit to combine.

Let the mixture bloom for 10 minutes while you prepare the sugar.
Sugar Syrup
In a saucepan, combine the sugar, syrup and salt along with the other ½ cup of water.

1 cup water, divided in half,

298 g sugar,

312 g corn syrup,

¼ teaspoon fine grain salt

Put the saucepan over medium high heat and bring to a boil.

Using a cooking thermometer, bring the mixture up to 240°F, and then immediately remove it from the heat.
Make the Marshmallow Fluff
Turn on the stand mixer to low speed. While it's running, slowly drizzle the hot syrup down along the inside of the mixing bowl into the gelatin mixture.

Once the syrup is all added, turn the mixer onto high speed. After several minutes, the mixture will become fluffy and increase in volume. Whip until it is cool to the touch.
Cure & Cut
Add the marshmallow fluff into the prepared pan and smooth the top with a spatula until it is level.

Dust the top generously with cornstarch. You could also use powdered sugar to dust instead.

30 g cornstarch or arrowroot powder

Cover the pan with a hand towel and allow to set for at least 4 hours.

Once they are set, remove from the pan using the parchment sling. On a cutting board, cut the marshmallows into squares, cleaning the knife between cuts. Dust with more cornstarch so they don't stick together.
Notes
NOTE: When you pour the sugar syrup into the running stand mixer, be sure to aim for the side of the bowl. You don't want the hot sugar syrup to hit the moving whisk, or you risk getting a burn.
Adapted from King Arthur Flour and My Paleo Patisserie by Jenni Hulet
Nutrition
Calories:
96
kcal
Carbohydrates:
24
g
Protein:
1
g
Fat:
1
g
Saturated Fat:
1
g
Polyunsaturated Fat:
1
g
Monounsaturated Fat:
1
g
Sodium:
33
mg
Potassium:
25
mg
Fiber:
1
g
Sugar:
23
g
Vitamin A:
1
IU
Vitamin C:
22
mg
Calcium:
3
mg
Iron:
1
mg
Made with WP Recipe Maker plugin