Rhubarb Simple Syrup is a flavorful and colorful addition to your home bar. It's not only delicious, but really easy to make! This is a great addition to your home bar because the tart rhubarb goes so well with lots of different fruit flavors. Also, the pink color is a showstopper!
Since rhubarb is in season in the early summer months, that is the prime time to make this syrup. Of course, you can always cut up and freeze fresh rhubarb stalks so you can make it year-round!
This syrup is super versatile in cocktails. One delicious cocktail you can try it in is this Rhubarb Gin Cocktail. Looking for a different flavored syrup for your drinks? Check out how to make Sage Syrup, Jalapeño Syrup, or Caramel Syrup. The possibilities are endless!
Jump to:
Ingredients
Here are the ingredients you'll need to make this syrup recipe:
Sugar - white sugar will give you a more pure rhubarb flavor.
Water - filtered tap water is fine, or bottled water.
Fresh Rhubarb - this recipe calls for fresh rhubarb. See the Top Tip section of this post if you can only find rhubarb jam.
Lemon juice (optional) - you can add some lemon juice at the end if you'd like the finished syrup to have more of a tart and bright flavor.
Variations
To change up your syrup, here are a few variations you can play around with:
Strawberry Rhubarb - cut up 6 to 10 strawberries and add them in along with the rhubarb. This classic combination is great together and perfect for summertime drinks.
Rhubarb Ginger - for a little ginger kick, add some cut up fresh ginger root to the syrup while it's cooling down. For even more of a kick, add about a tablespoon of ginger juice to the finished syrup at the very end.
Keto friendly - if you want to skip the regular sugar, allulose is the best low calorie option for taste as well as the body and texture of the syrup. You'll need to use a little more of it to get the same sweetness as sugar (about a cup and a quarter instead of a cup).
Equipment
To make this recipe you'll need to have a medium saucepan, a knife and cutting board for the rhubarb, a funnel, and a fine mesh strainer.
You'll also need a container to store it in (preferably some kind of glass bottle). The recipe as written makes about 10 ounces of liquid, so you'll need at least a 10 ounce container. These 12 ounce swing-top bottles work really well.
Instructions
Start making this recipe by cutting your rhubarb into chunks. Next is an optional step, but I like to add the sugar and rhubarb together in a bowl, mix them up and let them sit for about 30 minutes. This will allow the sugar to draw out some of the liquid and flavor from the rhubarb.
Add the sugar, rhubarb, and water to your saucepan, and stir to combine. Place the saucepan over medium heat and bring it to a boil.
Turn down the heat as soon as it reaches a boil, and allow it to simmer. Keep an eye on it and as soon as you see the rhubarb start to break down into strand-like pieces, take it off the heat. Let the mixture cool to room temperature.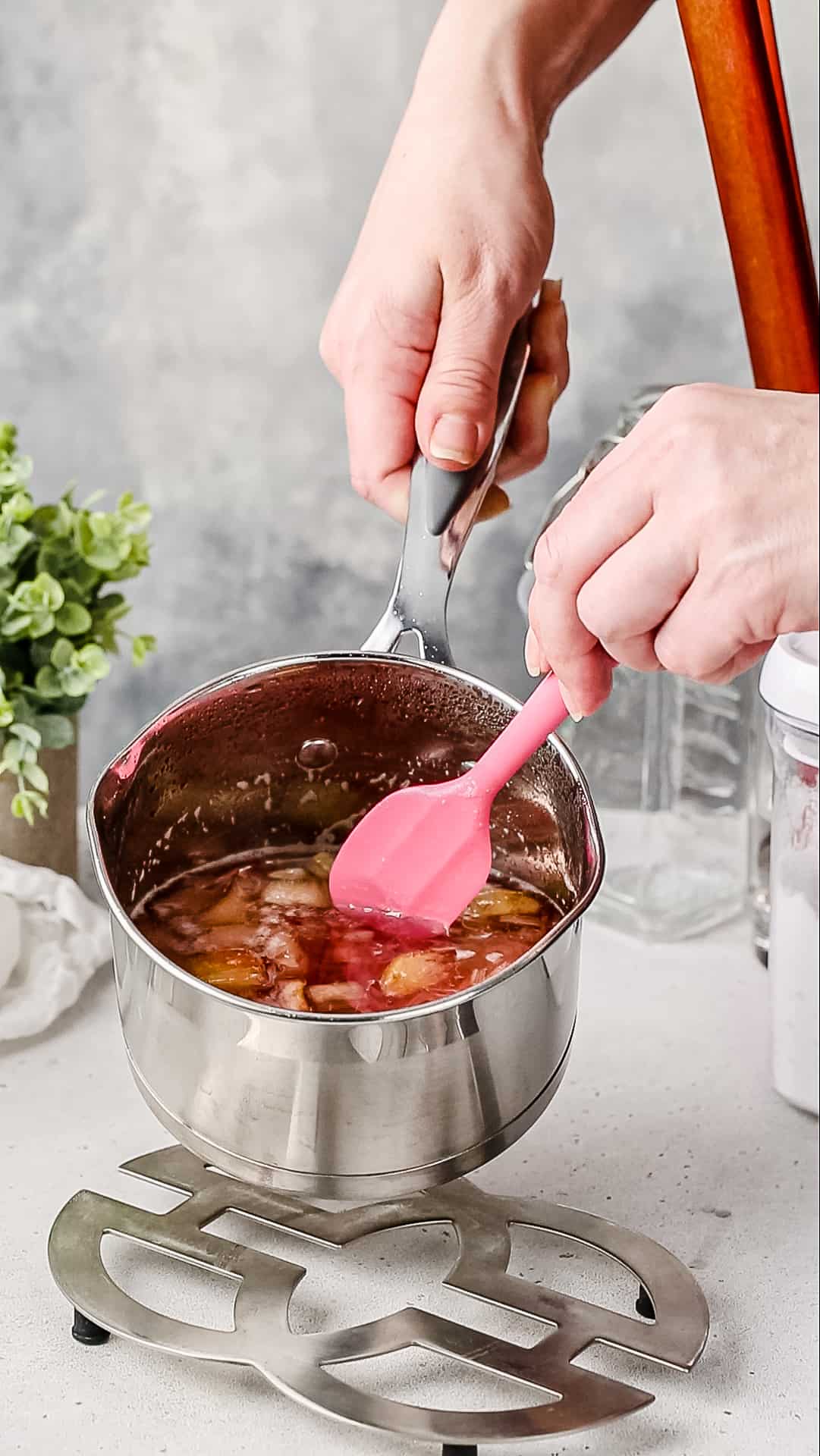 Once it's cool, use a funnel and fine mesh strainer to strain out the rhubarb, and the syrup will go directly into the bottle you'll be storing it in.
This syrup will keep for about 2-3 weeks in the refrigerator. Keep an eye on it towards the end of that time and discard if you see any signs of mold growth.
Hint: If you'll be using this for cocktails only, you can add an ounce of vodka to the syrup to prolong its life by a week or two. Just label the bottle saying that it has a little vodka, so you remember the extra alcohol when you are mixing up your drinks!
Frequently Asked Questions
How long does rhubarb syrup last?
Rhubarb syrup will last about 2 weeks, tightly sealed in the refrigerator. Discard at any sign of mold growth.
What does rhubarb syrup taste like?
Rhubarb syrup has a distinctive fruity and tart flavor. Raw rhubarb is even more astringent, but since this syrup is cooked, it takes on a more jam-like flavor.
Is rhubarb a fruit or a vegetable?
Rhubarb is botanically a vegetable, since it doesn't have any seeds and is made of the stalk of the rhubarb plant. At one point, it was legally considered a fruit in the U.S., based on the 1947 court case (C.J. Tower & Sons v. United States). It is prepared the same way many fruits are prepared, and has a tangy and fruity flavor.
Top tip
You can make a similar version of this recipe using rhubarb preserves or jam. It will taste a little bit more rich and less tangy since the rhubarb is cooked more, but will be delicious too. Just heat the jam together with double the volume of water (so 1 cup of jam plus 2 cups of water) until the jam all dissolves and it becomes like a syrup. Then, just let it cool, and strain out any leftover fruit chunks as you bottle it up. Add some optional lemon juice to brighten up the jammy flavor.
📖 Recipe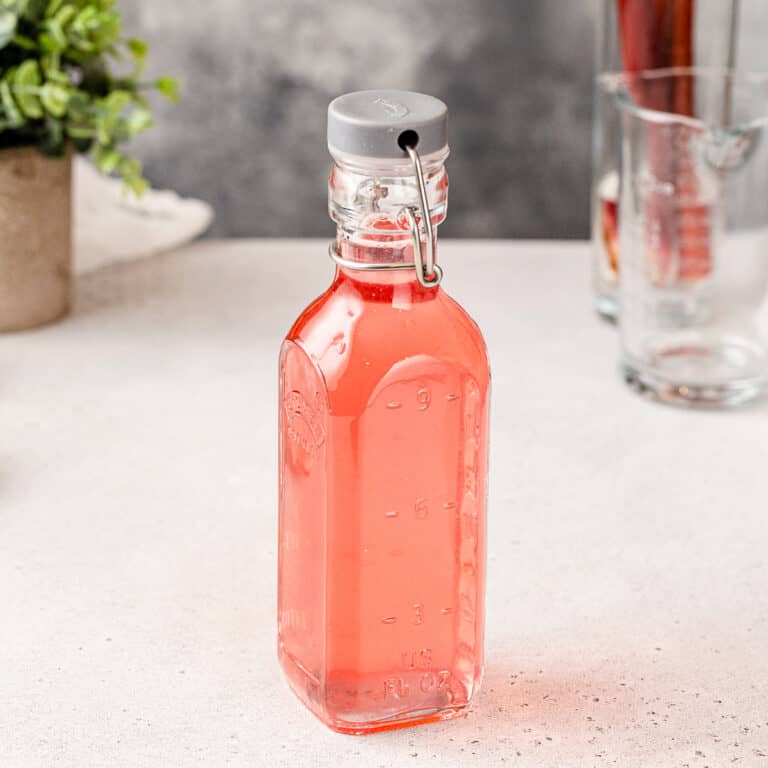 Rhubarb Simple Syrup
Fresh rhubarb is a great way to flavor syrup for early summer cocktails. This easy recipe can be made at home with just three ingredients.
Ingredients
1

cup

water

1

cup

sugar

1

stalk

fresh rhubarb

(washed, about 18 inches long)

1

Tablespoon

lemon juice

(optional)
Instructions
Mix and Heat
Cut up the rhubarb stalk into chunks.

Add the chunks along with the sugar to the saucepan (or a separate bowl).

Optionally, let the sugar and rhubarb sit for about a half hour so that the sugar draws out some of the liquid and flavor.

Add the water to the sugar and rhubarb in the saucepan and place it over medium heat.

Stirring occasionally, bring it to a boil and then turn the head down to low.

Let the mixture simmer for a few minutes. Take it off the heat as soon as the rhubarb pieces start breaking up into strings.

Cover the saucepan and allow the mixture to cool down to room temperature.
Bottle and Store
If you're going to use the lemon juice, stir it in at this point before bottling.

Add your funnel to the top of the storage bottle. Pour through a fine mesh strainer to strain out any rhubarb chunks as it goes into the funnel.

You can use the syrup immediately, or seal up the bottle and keep it in the refrigerator for 2 to 3 weeks. Discard at any sign of mold growth.
Notes
If you'd like to make this syrup keto-friendly, use the sugar substitute allulose for the best flavor and syrup thickness. You'll need to use about an extra ¼ of a cup (50 grams) for the same sweetness level.
Nutrition
Serving:
1
ounce
Calories:
78
kcal
Carbohydrates:
20
g
Protein:
1
g
Fat:
1
g
Saturated Fat:
1
g
Polyunsaturated Fat:
1
g
Monounsaturated Fat:
1
g
Sodium:
2
mg
Potassium:
15
mg
Fiber:
1
g
Sugar:
20
g
Vitamin A:
5
IU
Vitamin C:
1
mg
Calcium:
5
mg
Iron:
1
mg
Made with WP Recipe Maker plugin