Sage simple syrup is not only deliciously herbal and sweet, but it's also really easy to make at home! Flavoring simple syrup is one of the easiest ways to bring your homemade cocktails to the next level. It allows you to layer in more flavor, rather than just adding plain sugar syrup. Plus, it keeps really well in the fridge, so it's easy to whip up a delicious sage-flavored cocktail anytime!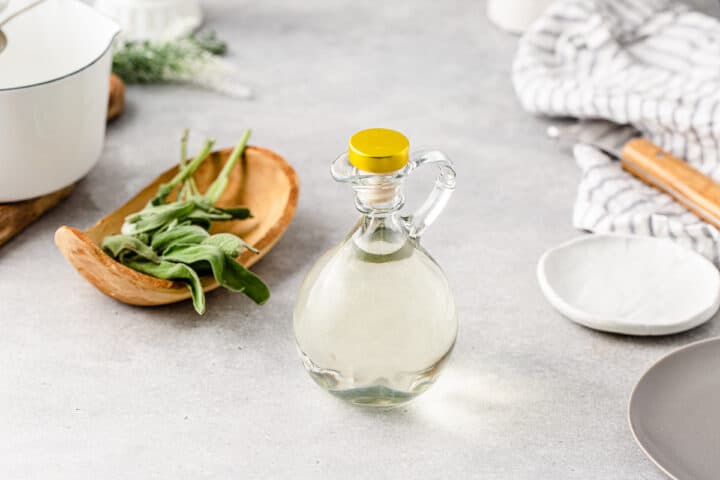 Sage syrup pairs really well with gin or tequila. With its fresh, herbal flavor, it really enhances the flavors in those spirits especially. It's great for spring or summer cocktails especially, with its refreshing taste.
This syrup is so delicious in my Cucumber Gin cocktail! If you're looking for a warmer-flavored homemade syrup for the fall and winter months, check out this delicious Caramel Syrup recipe.
Jump to:
Ingredients
All the ingredients you'll need to make this syrup are:
Water - preferably filtered or bottled for the best taste.
Sugar - either white sugar or cane sugar would work well here. I'd suggest not substituting brown sugar, because you won't get as pure of a sage flavor.
Fresh sage leaves - don't try to use dried leaves, as you'll get a totally different flavor. Fresh is best for this one!
Do you have to boil simple syrup?
The simple answer is no, if you are just making plain syrup. But, there are some advantages to boiling it. Most important for this recipe, when you're adding flavor, the heat can help extract the flavor from your fruits or spices.
Another interesting thing about boiling simple syrup is that when you boil and then simmer sugar and water for a certain amount of time, around 3 minutes, the sugar breaks down into its component sugars (glucose and fructose). This means it actually becomes "inverted" sugar. (See the Inverted Sugar Syrup article on Wikipedia for more info.)
Inverted sugar syrup has a couple of advantages over unheated syrup. The first is that it is less prone to crystallization. If you've ever made syrup that ends up with sugar crystals all over the bottom when you refrigerate it, it has crystallized.
The second advantage is that by bringing it to such a high temperature, it kills any bacteria and germs, effectively sterilizing the syrup. If you store it in a clean and sterile container, it will last longer and be less prone to growing mold.
Flavoring simple syrup
Depending on what you're trying to flavor the syrup with, there are a bunch of different techniques to flavor simple syrup.
Dried spices
When you're using hard, dried spices, like peppercorns, allspice or cinnamon, the best way to flavor syrup is to boil it right along with the sugar and water mixture. These dried spices are won't break down or change flavor at high temperatures, and they need a longer exposure to the liquid to get a stronger flavor infusion.
Fresh herbs
For fresh herbs, like sage and rosemary, it's best to put them into the hot syrup after you remove it from the heat rather than boiling them. Then, just leave them in while the syrup cools. This technique gets the most flavor out of the herbs while avoiding burning them or getting any bitter flavors from overheating them.
Fruits
Fruit Juice
There are a few different ways to make fruit syrups. If you have a juicer, probably the easiest way to make fruit-flavored syrup is by starting with fresh fruit juice. This also gives a really great and concentrated flavor.
You can make the syrup with juice by simply adding sugar to the fruit juice to dissolve without heating it, or heating everything up. Heating it will give a more jam-like flavor to your syrup, so it's all about what you're aiming for in terms of flavor.
Whole Fruits
Another way to make a fruit syrup is by a process called maceration. This is a technique in which you add sugar to cut-up pieces of fruit, mix everything together and let it sit for a number of hours. After a while, the sugar will draw liquid out of the fruit, essentially creating a syrup which you can then drain out using a strainer. This is great for strawberries and watery fruits like melons.
Yet another way to make fruit syrup is by boiling the fruit directly. This is really for hard fruits like cranberries, which don't have much juice and usually have a better flavor after heating. Apples are great to heat up this way as well. Just be sure to strain all of the solids out carefully after the syrup cools.
Equipment
You'll need to have a few things on hand to make this syrup, but most of them are common to have in the kitchen. Here's what you'll need:
Small saucepan (at least 1 quart) to heat up the sugar and water
Measuring cups and/or kitchen scale
Spoon or spatula to stir the mixture
Trivet or cooling rack where the pot can sit to cool
Lid, tea towel or paper towel to cover the pot while it cools
Strainer to strain out the sage leaves
Clean airtight bottle or other container to store the syrup (at least 10 ounces large to hold a full recipe)
Funnel to transfer the syrup to the bottle.
Instructions
Start out by adding your sugar and water to the pot. I use weight measurements for the sugar, but you can use either weight (grams/ounces) or volume (cups).
Once you have them both in the pot, place the pot on your stove and turn on the heat to high. Stir occasionally until it comes to a boil.
Once it reaches the boiling point, reduce the heat to medium high so it's a gentle boil. If we heat it too much, it will go beyond the boiling point of water and start to move towards caramelizing the sugar. Here, we're just trying to break down the sugar to create some inverted sugar (see this section for more information).
Keep it at a gentle boil for about 3 minutes. Then, take it off the heat, set it on a trivet or heat-safe surface, and add in the sage leaves.
Cover the pot and let it sit at room temperature while it cools. As it cools, the sage will flavor the syrup, kind of like brewing tea in a teacup.
Once the syrup gets to room temperature, you can bottle it up for storage or use it in your drink right away.
To bottle it, put a funnel into the opening of your storage bottle. Pour the syrup through a strainer and into the funnel so that it goes directly into the bottle. Cap up the bottle and store in the refrigerator for about a month.
Alternate method: if you prefer not to boil your sugar syrup, you will still need to steep the sage leaves using heat. You can do this by boiling plain water, then taking it off the heat and adding the sage. Once it cools, strain out the sage and stir in your sugar until it all dissolves.
Frequently Asked Questions
Does boiling simple syrup ruin it?
Definitely not! Boiling doesn't ruin it at all. It does affect the sugar, though: the sucrose in regular sugar will separate into glucose and fructose. There are some pros and cons to boiling or not boiling, but my biggest pro for boiling is that it lasts longer when you store it in the fridge.
How long does infused simple syrup last?
When made with the boiling method, infused simple syrup can last for around a month in an airtight container in the fridge, as long as you have strained out all of the solids. Always check for signs of mold before you use it, and discard if you see any mold.
Top tip
If you want to increase the shelf life of this syrup, and you know you will be using it in cocktails, you can add an ounce of vodka to it. This will help keep mold away and preserve the syrup. Just make sure you take the vodka into account when you're creating your cocktails! At this concentration, one recipe of the syrup plus one ounce of 70-proof vodka will be around 3.2% ABV (alcohol by volume).
📖 Recipe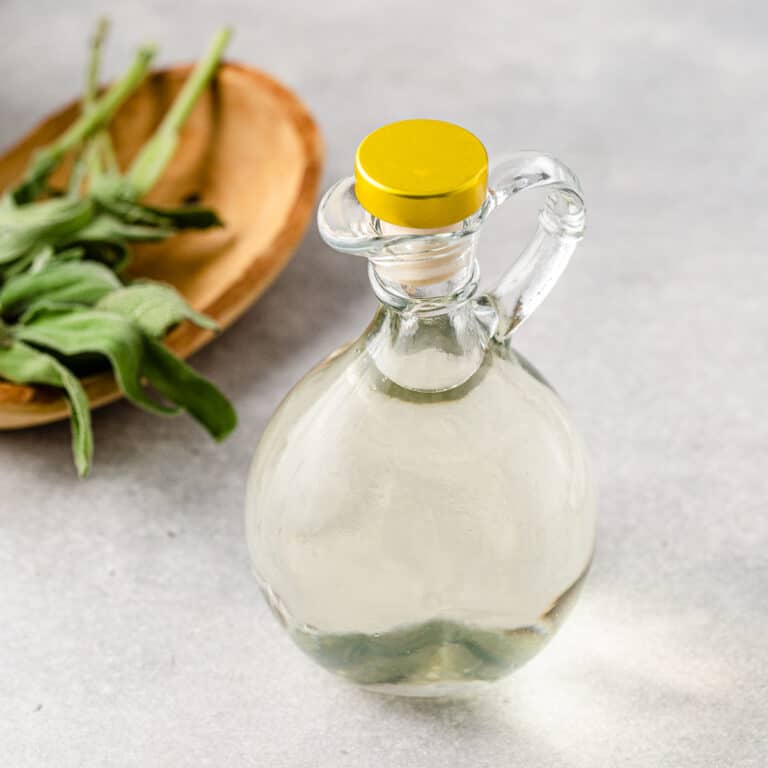 Sage Simple Syrup
A deliciously herbal cocktail syrup, flavored with fresh sage. Perfect for spring and summer cocktails.
Equipment
Measuring cups

or kitchen scale

Trivet or cooling rack

Cover for the pot

lid, tea towel or paper towel

Funnel
Ingredients
1

cup

water

1

cup

sugar

10

fresh sage leaves

(approximately) remove stems to avoid a bitter taste
Instructions
Add the sugar and water to the saucepan and stir to combine.

Place the saucepan on the stovetop on high heat and bring the mixture to a boil.

Once it starts to boil, reduce the heat to medium high and let it gently boil for about 3 minutes.

Remove the saucepan from the heat and place it on a trivet or cooling rack.

Add the fresh sage leaves to the hot syrup mixture.

Cover the saucepan with a lid or towel and let it cool to room temperature.

Set up your storage bottle with a funnel to pour through. Once the syrup is cool, carefully pour the syrup through both the strainer and the funnel into the bottle.

You can use the syrup right away, or store it in the refrigerator for about a month. Discard at any sign of mold.
Notes
If you would like to reduce the sugar in this syrup, I suggest substituting allulose because it has the best flavor in a sugar substitute. You can substitute 225 grams (1

⅛ cup)

allulose for 200 grams (1 cup) sugar.
Nutrition
Serving:
1
ounce
Calories:
77
kcal
Carbohydrates:
20
g
Protein:
1
g
Fat:
1
g
Saturated Fat:
1
g
Sodium:
1
mg
Potassium:
1
mg
Fiber:
1
g
Sugar:
20
g
Calcium:
1
mg
Iron:
1
mg
Made with WP Recipe Maker plugin