One of the easiest ways to impress your cocktail-loving friends is to make simple syrup at home. But when you start to infuse your homemade simple syrup with different flavors, it's a whole new ballgame! These sweeteners are mostly just a mix of equal parts sugar and water, but they are a fun and super duper easy way to take your drinks (and parties) to the next level. Here is a rundown of my absolute favorite simple syrups for cocktails.
Jump to:
Homemade Simple Syrup
If you have water and sugar, you can make a simple syrup! It's really just a mixture of sugar dissolved into water. The typical way to make it is to use one part granulated sugar to one part water (1 cup/200 grams of sugar to 1 cup/237 ml of water).
If you want to make rich simple syrup, just double the amount of sugar and keep the water the same (so, two parts sugar to one part water). This makes a sweeter and thicker syrup, and it lasts longer in the refrigerator, up to 6 months.
Although you don't have to heat it, I prefer to bring mine to a boil for about 3 minutes. Then, I cool it to room temperature, and store it in the refrigerator for up to a month. Click the recipe below to get the full details of how to make simple syrup for cocktails!
Simple Syrup
Simple syrup is a staple for mixing up cocktails, and it's super easy to make at home.
1

cup

water

(8.3 ounces by weight/8 fluid ounces)

1

cup

sugar

(7 ounces by weight)
Get the recipe
To step up your game a bit, try using something other than white sugar. The process is the same as making plain syrup, but the sugar itself brings its own flavor! Demerara Syrup is really popular in Tiki and tropical drinks, and a great syrup to have on hand.
Demerara Syrup
Demerara Syrup is a delicious sweetener for cocktails, coffee and more. Easy to make with just demerara sugar and water, it adds a warm caramel-like flavor to any drink.
Get the recipe
Some more simple syrups to try:
Honey Simple Syrup - combine equal parts honey and water in a saucepan, and heat it over low heat until the honey is all dissolved. Cool and store in a sealed container in the refrigerator for up to a month.
Turbinado Syrup - combine equal parts Turbinado sugar and water in a saucepan, and bring it to a boil for 3 minutes. Cool to room temperature and store in a sealed container in the refrigerator for up to a month.
Brown Sugar Syrup - combine equal parts brown sugar and water in a saucepan, and boil the mixture for 3 minutes. Cool and store in a sealed container in the refrigerator for up to a month.
Fruit Syrups
To flavor your syrups with fruit, the most common way is to cook the fruit along with the boiling syrup mixture. This method works great to get the flavor out of the fruit, and it leaves the syrup with a rich, jam-like taste.
Rhubarb and Jalapeno Syrup are both made with this cooked-fruit method.
Rhubarb Simple Syrup
Fresh rhubarb is a great way to flavor syrup for early summer cocktails. This easy recipe can be made at home with just three ingredients.
Get the recipe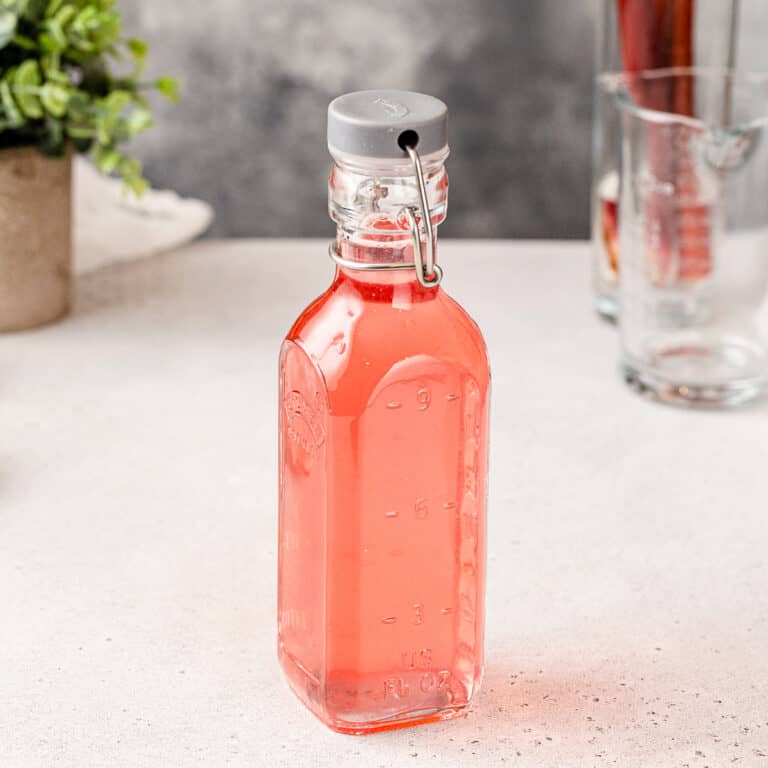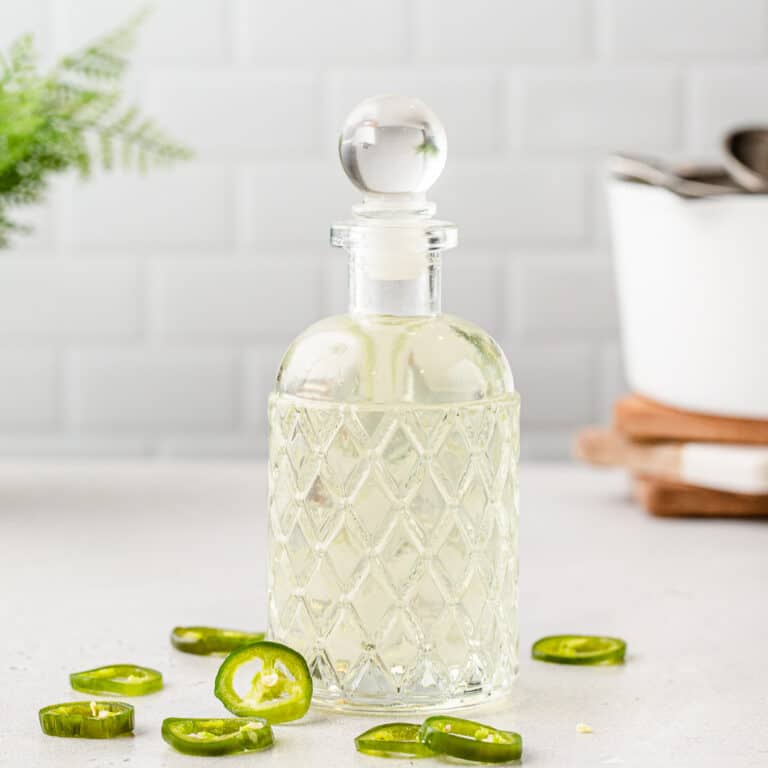 Another way to make a tasty cocktail syrup is to use a fruit puree. Mixing mango puree and simple syrup makes a thick and rich nectar that brings body and flavor to your drinks.
Mango Nectar
Mango Nectar is a thick, rich and sweet mixture of fresh mango puree and simple syrup. Perfect for tropical cocktails!
Get the recipe
Some more fruit syrups to try:
Strawberry Syrup - add in a cup of cut-up strawberries to the saucepan before boiling. Bring to a simmer and stir while it cooks for about 5 minutes, then strain out the berries, let it cool and bottle it. Bonus: you can use the cooked berries in a compote.
Blueberry Syrup - follow the same instructions as strawberry syrup, but no need to cut them up. The berries will pop open while you cook them, and it will thicken the syrup.
Watermelon Syrup - rather than heating up watermelon, try making a cold-process watermelon syrup. Blend the fruit into a puree and pass it through a fine-mesh strainer to get out most of the solids, until you have a cup of juice. Then, combine it with a cup of sugar in a mason jar. Store it in the fridge and shake it occasionally until the sugar is fully dissolved before using it in your drinks.
Flavoring with Herbs and Spices
Herbs and spices (including fragrant flowers!) are some of the most delicious things to use for infusing syrup. You can use dried or fresh, depending on what you're using. Many herbs work better fresh, like sage and mint. But, some work equally well dried, like lavender and hibiscus, and are easier to get your hands on.
With these ingredients, especially dried, you can think of it like making tea. The heat of the boiling liquid grabs the flavor, and you let it steep in there the entire time as it cools down to room temperature.
Lavender and Cinnamon are great flavors to make and go well in all sorts of drinks. The Lavender Mule is a personal favorite!
Lavender Syrup
This homemade Lavender Syrup recipe is easy and delicious. This syrup will transform your spring and summer cocktails and give them a tasty floral finish.
Get the recipe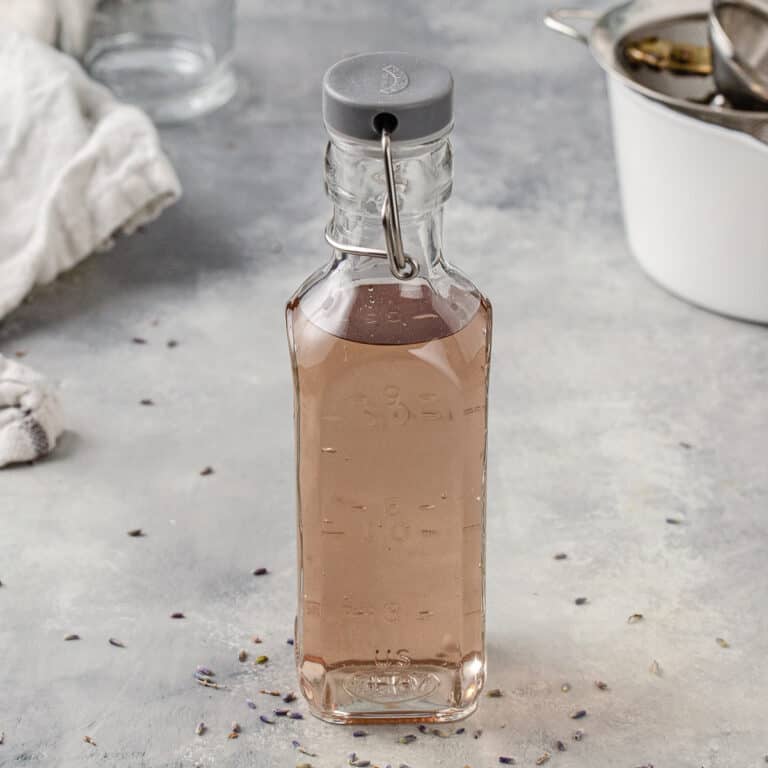 Cinnamon Syrup
This Cinnamon Syrup is the perfect spiced sweetener for all sorts of cocktails and coffee drinks. It's easy to make at home with only three ingredients.
Get the recipe
Sage Syrup is best made with fresh sage, and is so delicious in a Sage Margarita or other springtime cocktails.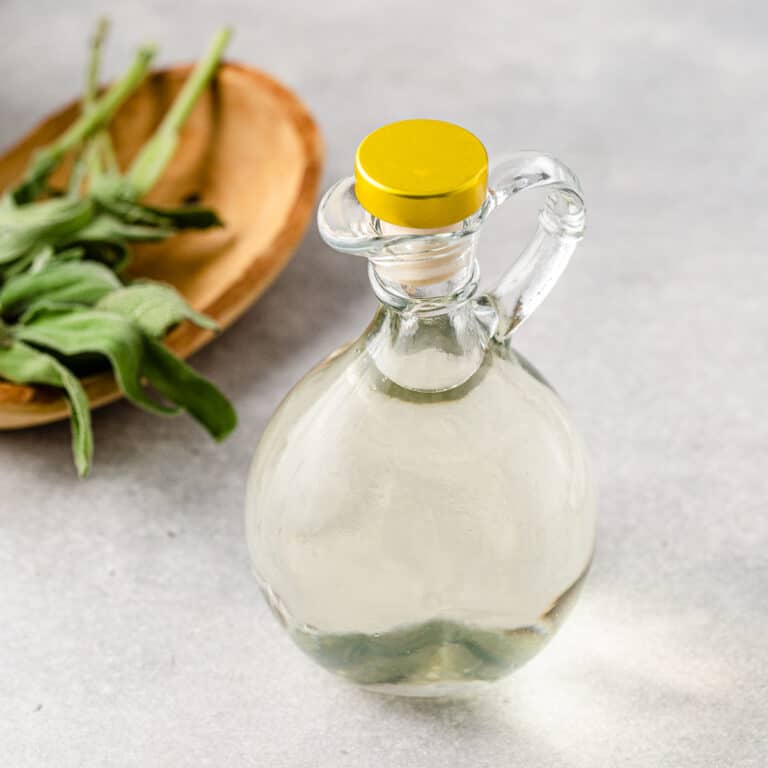 Earl Grey syrup is such a delicious and flavorful syrup, and it's easy to make with a few bags of Earl Grey tea!
Earl Grey Syrup
This Earl Grey Syrup just takes a few minutes to make, and will elevate your cocktails to the next level! Simple, easy and so delicious.
Get the recipe
Some more tasty ideas for herb, spice and flower syrups:
Mint Simple Syrup - this is best using fresh mint leaves, and you can use the same method as with the fresh sage. If you don't have fresh mint, though, try using a teaspoon of peppermint extract instead of dried mint, as it tends to have a better flavor.
Hibiscus Syrup - this is made with dried hibiscus flowers. Let the dried flowers steep in the hot liquid until it gets to room temperature, and strain them out. The resulting syrup is a gorgeous deep reddish-purple color and brings a tangy flavor to drinks.
Rosemary Syrup - like many herbs, this is best made with fresh rosemary. Just follow the same method as in the fresh sage recipe.
Flavoring with Extracts
An easy way to make flavored simple syrup is to just add some extracts to it. This is also a good way to help the syrup keep for a little longer in the fridge, since the alcohol content of an extract will keep any nasties at bay.
This Sugar Cookie Syrup uses a mix of vanilla and almond extracts for an amazing Christmas cookie flavor.
Sugar Cookie Syrup
This Sugar Cookie Syrup is perfect for holiday cocktails and lattes! It was inspired by the Starbucks syrup in their Iced Sugar Cookie Almond Milk Latte.
Get the recipe
Some more syrups to try using extracts:
Vanilla Simple Syrup - make regular simple syrup, and mix in a teaspoon of vanilla extract at the end.
Bitters Simple Syrup - use a teaspoon of cocktail bitters in your syrup for an easy way to add some complexity.
Lemon Simple Syrup - add in a teaspoon of lemon extract to your plain syrup.
Other Ways to Flavor Syrup
There are so many different ways to get flavor into your sweeteners! Below are recipes for a couple more unusual ways: smoking the syrup, and cooking the syrup into a thin caramel.
Top tip: You can make a syrup out of any kind of soda! There is usually enough sugar in soda that you won't have to add more. Pour the liquid into a medium saucepan on medium heat or low heat. Let it simmer for about 30 minutes, until it reduces down to a thicker syrup. Then let it cool and store it in the refrigerator for up to a month.
Cocktails That Use Simple Syrup
Here are some delicious cocktail ideas using flavored simple syrup!
Lavender Mule - a refreshing mix of lavender syrup with vodka, lime and ginger beer. Perfect for spring and summer!
Hibiscus Gin Cocktail - this drink mixes hibiscus syrup with pineapple juice and gin for a delicious and refreshing summertime sip.
Mango Mai Tai - a twist on the Trader Vic classic, this uses homemade mango nectar to set it apart.
Smoky Margarita - smoked simple syrup plays a starring role in this tasty tequila cocktail.
Rhubarb Gin Cocktail - this cocktail is amazing during fresh rhubarb season! The tangy rhubarb goes perfectly with gin in this tasty drink.
Best Simple Syrups to Buy
OK, I get it -- not everyone wants to make their own syrup! And some specialty syrups are harder to make at home. If you still want top-quality flavor, here are a few of the syrup brands I recommend trying for your homemade cocktails.
More Uses for Syrups
There are so many ways to use simple syrup other than just cocktails! Obviously, they work wonderfully to sweeten coffee or tea. But you can think outside of the box too.
Try drizzling your homemade syrups over pancakes or waffles. You can mix them into a buttercream frosting, or even use them as the base of a marinade or salad dressing. The only limit is your imagination!
---