The Southside is a delicious and simple cocktail that pairs gin with mint and lime. It has just four ingredients, and gin is the only spirit. No fancy liqueurs for this one! It's easy to make at home and super refreshing.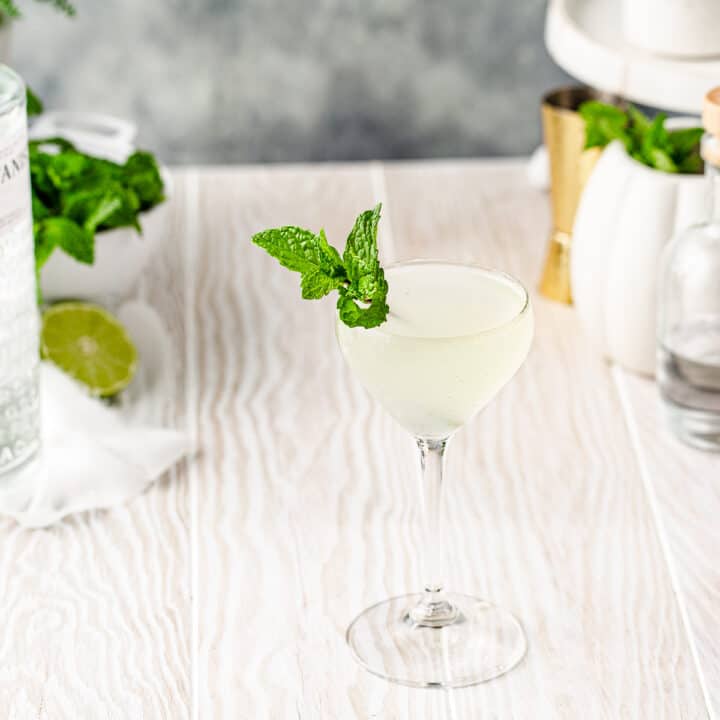 The Southside was invented in the early 1900's, and gets its name from the South Side district of Chicago. It was popular with Al Capone and his gang, and the story goes that the gin they drank was not as smooth as the North Side gin. So, they had to add sugar, juice and other flavors to make it more drinkable.
The Southside is a close relative of the Gimlet Cocktail, with mint being the main flavor difference. The Last Word cocktail stems from these two classics as well, but has a much more herbal profile with the addition of Green Chartreuse liqueur.
Jump to:
Ingredients
With only four ingredients, this one is simple to make. Just keep in mind that since there are so few ingredients, quality is really important here. Here's what you'll need:
Gin - this is traditionally going to be a London Dry style of gin, but you can use whatever you like best.
Lime juice - preferably fresh squeezed.
Simple syrup
Mint - fresh mint leaves, not dried.
Variations
There are a bunch of ways to take this recipe and run with it! Here are a few variations to try:
Southside Fizz cocktail - use the same recipe, but serve it over ice in a highball glass and top with seltzer water.
Southside Smash - muddle a blackberry in the bottom of your cocktail shaker, and then follow the rest of the recipe. This would also be great served over ice in an old fashioned glass.
Rum Southside - switch out the gin for rum, and you've got a Rum Southside. This is really similar to a Mojito, but served up (without ice).
Vodka Southside - switch out the gin for vodka to give this drink a more pure mint and lime flavor.
Equipment
To make this cocktail, you'll just need a jigger (small measuring cup), a cocktail shaker and strainer, and a serving glass. Try to use a stemmed serving glass, like a Nick and Nora or a Coupe glass.
You'll also want to have a knife and cutting board handy to cut the lime, as well as a citrus juicer.
Instructions
To start out making this drink, you'll want to cut and juice a fresh lime. Using a fresh lime will give it a deliciously fresh and tangy flavor.
Next, add in the simple syrup and gin. Then, pick about a handful of nice fresh mint leaves, and clap them between your hands a few times. (You could muddle them at the beginning, but it is not really necessary and could result in some bitterness coming from the mint leaves.)
Then, add ice to your cocktail shaker, and shake the drink well, about 15-20 hard shakes. Grab your serving glass and use the cocktail strainer to strain the drink into the glass.
Add a large mint sprig to garnish, and serve immediately.
Hint: If you prefer, you can garnish with a lime wheel, although mint is the classic garnish. You could also cut a large piece of the lime peel and squeeze the lime oils over top of it at the end to give it more of a lime aroma.
Frequently Asked Questions
When was the Southside cocktail invented?
This cocktail was likely invented in the early 1900's, before Prohibition. It became popular during Prohibition in the 1920's.
Why is it called Southside?
It is named after the South Side district of Chicago (or, possibly, the Southside Hunt Club located there). Although it was likely created before his time, this cocktail is famously linked to Al Capone and his gang, who were active in the South Side district of Chicago during Prohibition. The drink was popular with them because the unpalatable gin they drank was much tastier after adding fruit and mint.
What is a Vodka Southside?
Although traditionally made with gin, if you're not a gin fan, you can substitute vodka into a Southside. The lime and mint flavors will be purer, instead of having the flavors of the gin as a backbone. Citrus vodka would work well in this drink.
Top tip
This drink is best prepared and served fresh. If you prefer a less tangy, more mellow lime flavor, you can make a batch ahead of time and let it rest in the fridge for a few hours.
📖 Recipe
Southside Cocktail Recipe
With just four ingredients, the Southside is a simple and delicious drink. It's a mix of gin, fresh lime and fresh mint.
Equipment
1 Knife and cutting board
Ingredients
¾

ounce

lime juice

preferably from a fresh lime

¾

ounce

simple syrup

2

ounces

gin

traditionally London Dry style

5-10

mint leaves

fresh mint, not dried

sprig of fresh mint

for garnish
Instructions
Cut the fresh lime in half, juice it and measure out the lime juice. Then add the juice to the cocktail shaker.

Add the simple syrup and gin to the cocktail shaker.

Clap the mint leaves between your hands a few times to release the oils in the leaves. Add them to the cocktail shaker.

Fill the cocktail shaker with ice, seal it up and give it 15-20 hard shakes.

Open up the shaker and then strain the drink into the serving glass.

Take a large sprig of fresh mint and add it to the side of the serving glass for a garnish. Serve immediately.
Nutrition
Calories:
194
kcal
Carbohydrates:
18
g
Protein:
1
g
Fat:
1
g
Polyunsaturated Fat:
1
g
Sodium:
14
mg
Potassium:
47
mg
Fiber:
1
g
Sugar:
16
g
Vitamin A:
70
IU
Vitamin C:
7
mg
Calcium:
9
mg
Iron:
1
mg
Made with WP Recipe Maker plugin