This Vanilla Buttermilk Pound Cake is a favorite around here. It's super moist, with tons of flavor and a velvety texture. The glaze on top is completely optional, since this is the type of cake that really doesn't need a bit of frosting!
Pound Cakes are the Best
I have always been awed by beautiful layer cakes, with thick layers of frosting and pretty decorations. But pound cakes are honestly just the best kind of cakes for eating. A well-baked pound cake beats out a light, fluffy sponge cake any day of the week, in my opinion!
Pound cakes are so moist and tasty because the ratios of the ingredients are very different from a light and fluffy type of cake. If you're into learning more about the science of baking and how these ratios work, I highly recommend Shirley Corriher's book, BakeWise. I took inspiration from her recipes for this cake. She has a whole treatise at the beginning of the book about pound cakes, and it's such an interesting read and insight into recipe development.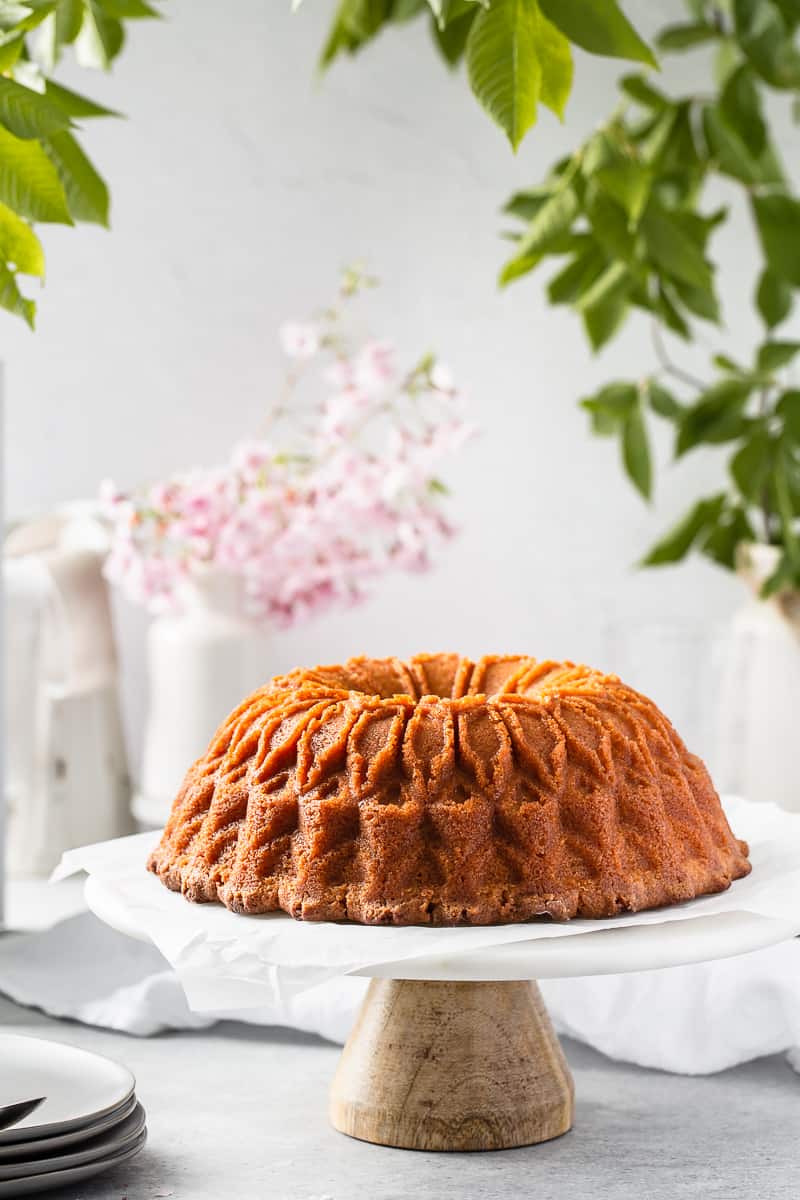 Baking in a Bundt Pan
This cake comes out best baked in a bundt pan or a tube pan. The middle core gives it support, since there isn't enough protein in this batter to support it in a different type of pan.
If you don't have a bundt or tube pan, I would recommend sticking to a smaller size pan, and using a heating core if you have one. This makes a lot of cake — bundts are normally 12 cups in volume, which is the same as two 9" round cake pans, or three 8" round cake pans.
Glaze and Icing
Although the vanilla glaze and icing drip are totally optional, they do give the cake a lot more moisture and sweetness. The glaze is basically a simple syrup, made by heating up sugar and water together until the sugar dissolves, and then adding in vanilla extract after it cools down.
The thick icing on top is made with powdered sugar, vanilla and either heavy cream or water. The amount of liquid depends on how you want the consistency to be. You can make it thick as in the photos here, or you can thin it out if you want to be able to see the pattern of the bundt cake more clearly.
You can also skip the icing altogether and just dust a little powdered sugar all over the cake. Can't go wrong with that!
Making the Vanilla Buttermilk Pound Cake
After preheating your oven to 350°F (177°C/gas mark 4), you'll want to really grease your bundt pan, especially if it has a lot of texture. I find that a baking spray with flour in it is the best way to get in all of the nooks and crannies. You could also spread in softened butter with a pastry brush and then dust on a layer of flour. Really get in every single surface, because you don't want it to stick and tear the cake.
I assembled the batter using the Reverse Creaming Method, not only because it protects the batter from being overmixed, but it's also just straight-up faster. (I talked more about the Reverse Creaming Method in this Chocolate Madelines recipe.) Also, since this is a lot of batter, a stand mixer or electric hand mixer is definitely my recommendation.
To put everything together, you'll mix the flour, baking powder, salt, nutmeg and sugar all together in a large bowl. Then, add the room temperature butter (make sure it is very soft) into the flour mixture. Mix until the butter is no longer visible and the texture is like a coarse sand.
After that, you'll add in the eggs, oil, vanilla extract and buttermilk. Whisk it all together and add it about a third at a time, mixing well after each addition. Scrape down the bowl and then mix again for about 30-60 seconds.
Baking the Cake
If you have a baking stone, you can set the pan directly on top of the stone to bake. This will probably take at least an hour to make, depending on your oven. In my oven, with the thermometer at 350°F (177°C), it took about an hour and 20 minutes to fully bake. The internal temperature of the cake should be 205°F (96°C) and it should no longer be gooey on the top.
Finishing the Cake
Once the baking is finished, allow the cake to cool in the pan for about 10 minutes. Then, put a cooling rack upside down on top of it. Flip the whole pan and cooling rack over so that they're right side up, with the cake pan on top. Carefully pull the pan up and off of the cake. And cross your fingers that it doesn't stick!
Once that's complete, you can glaze the still-warm cake with the vanilla syrup glaze. Wait to add the icing until it's completely cool, unless you want it to have a more translucent look.
Other Recipes You Might Like
Did You Make This Cake?
I would love to know if you baked this cake! Please leave me a star rating or comment below if you enjoyed this recipe. It's a family favorite around here!
📖 Recipe
Vanilla Buttermilk Pound Cake
A dense, moist, velvety pound cake with the warm flavors of vanilla and nutmeg. This can easily go from an everyday cake to a stunning centerpiece.
Equipment
Stand mixer or electric hand mixer (recommended)

Mixing bowls

Bundt pan or tube pan (recommended)

Baking stone (optional)

Baking spray, or softened butter/flour for the pan
Ingredients
Cake
375

g

all-purpose flour

(3 cups)

600

g

sugar

(3 cups)

1

teaspoon

baking powder

1

teaspoon

fine grain salt

½

teaspoon

nutmeg

freshly grated if possible

171

g

butter

room temperature (1½ sticks)

155

g

oil

neutral flavored, like canola (¾ cup/6 fl oz)

5

eggs

large size

1

tablespoon

vanilla extract

244

g

buttermilk

(1 cup)
Vanilla Syrup
400

g

sugar

(2 cups)

480

g

water

(2 cups)

1

tablespoon

vanilla extract
Vanilla Icing
115

g

powdered sugar

(1 cup)

2-4

tablespoon

heavy cream

or water

½

teaspoon

vanilla extract
Instructions
Prepare
Set an oven rack towards the bottom of the oven and place a baking stone on top, if you have one. Preheat the oven to 350°F (177°C/gas mark 4).

Prepare the bundt pan by coating it well with baking spray, or use a pastry brush to grease all of the crevices of the pan and then dust with flour.
Make the cake batter
In the bowl of a stand mixer fitted with the beater attachment or a large mixing bowl, add the flour, sugar, baking powder, salt, and nutmeg. Mix on low until combined.

Add the soft, room temperature butter to the flour mixture and mix on medium low until you can no longer see pieces of butter. It should be a sandy texture.

Add the oil, eggs, vanilla extract and buttermilk to a medium bowl or measuring cup with a spout. Mix to combine.

Add a third of the egg mixture to the flour mixture and mix well. Then add another third, mix well, and then the rest. Mix for 30-60 seconds on medium speed to build the structure of the batter.

Pour the batter into the prepared pan. Rap the pan against the countertop a few times to level it out and get rid of any large air bubbles.
Bake
The cake will take a while to bake. You can start checking at about an hour, but it will likely take an hour and 15 to an hour and 25 minutes to fully bake. There should be no wiggling or wobbling on the top of the cake, and it should not be very gooey. It should spring back when lightly touched with your finger, and the internal temperature should be 205°F (96°C).

Let the cake cool for about 10 minutes in the pan, and then flip it upside down by putting a cooling rack upside down on top of the pan, and flipping them over together. Carefully pull the pan up and off of the cake.
Vanilla Syrup
While the cake cools, combine the sugar and water in a small saucepan and heat it until the sugar dissolves. Let it cool for a few minutes and stir in the vanilla.

Using a pastry brush, brush the syrup all over the warm cake, trying to get in all of the crevices if your bundt cake is very decorated.
Vanilla Icing
To make the icing, simply whisk the powdered sugar so there are no lumps, and add about half of the liquid (all of the vanilla extract plus some of the heavy cream or water).

Whisk it together and check the consistency. If it is too thick, add more liquid. If it looks too thin, you can add some more powdered sugar.

Drizzle the icing over the cake. You want the cake to be completely cool when you do this if you want a thick icing look; if you want a more translucent look, you can ice a semi-warm cake.
Store
This cake will keep well at room temperature for about a week.

To freeze, cut slices, individually wrap them and then freeze them inside an airtight container.
Nutrition
Serving:
176
g
Calories:
559
kcal
Carbohydrates:
89
g
Protein:
5
g
Fat:
21
g
Saturated Fat:
7
g
Trans Fat:
1
g
Cholesterol:
78
mg
Sodium:
287
mg
Potassium:
73
mg
Fiber:
1
g
Sugar:
71
g
Vitamin A:
394
IU
Vitamin C:
1
mg
Calcium:
49
mg
Iron:
1
mg
Made with WP Recipe Maker plugin