The White Linen cocktail is such a refreshing summery drink, and it's super easy to make! Fresh cucumber and lemon juice pair perfectly with floral St Germain liqueur, and they go so well with the gin base. A little bit of bubbles from club soda brings in a nice crisp touch to finish it off. This one's a must-try!
This summery gin cocktail recipe is also sometimes called a St Germain Spritz (not to be confused with a Hugo Spritz, which is also a spritz made with St Germain!)
A few more St Germain cocktails are the Sunflower Cocktail, the French Gimlet and the Elderflower Gin and Tonic. All so tasty! You can't go wrong with elderflower!
Jump to:
History of the White Linen cocktail
This tasty drink was developed by Rene Dominguez, a mixologist and bartender, while working at Ella Dining Room in Sacramento, CA. He first made it during Sacramento Cocktail week in 2008.
It caught on locally and was also featured at Shady Lady Saloon, a popular local spot for craft drinks. It was even made into a small batch canned cocktail back in 2017 by a Sacaramento company called Can Can.
It's now considered Sacramento's signature drink, so definitely look for it on the cocktail menu if you're ever visiting there!
Ingredients
Here are the ingredients you'll need to gather up to make this drink:
Gin - many recipes will call for Hendrick's gin specifically, since it already has some cucumber flavors in it. I used The Botanist gin, which is also delicious and has lots of botanical notes.
St Germain - St Germain elderflower liqueur brings a unique floral flavor to the drink.
Lemon juice - preferably fresh lemon juice for the best flavor.
Simple syrup - you can use homemade simple syrup, or store bought.
Fresh cucumber - muddling cucumber gives the drink a delicious fresh flavor.
Soda water - this sparkling water brings some refreshing fizziness and lightness to the drink.
Substitutions
Here are some ways you can substitute the ingredients in this cocktail:
Gin - try using vodka if you don't have gin. You can even use a flavored vodka, like citrus or cucumber vodka (Effen cucumber vodka is a good one).
St Germain - if you can't find this liqueur, look for St Elder liqueur or Drillaud elderflower. Or, use d'Arbo elderflower syrup instead.
Lemon juice - lime juice works well in place of the lemon.
Simple syrup - add a tablespoon of sugar when muddling the cucumbers if you don't have simple syrup.
Garnish - try using a fresh mint sprig if you don't have a cucumber ribbon.
Variations
Try out these variations on the White Linen:
Pink Linen - add in a strawberry when you muddle the cucumber for a delicious pink tinted drink.
Prosecco - instead of the seltzer, try topping this off with Prosecco instead. So good!
Keto Friendly White Linen - you can make this with less sugar with a couple key substitutions. First, use a sugar free syrup instead of the simple syrup. (I make my syrups at home using allulose instead of sugar.) Then, instead of the St Germain, you can use Jordans Skinny Syrups Lemon Elderflower. Lots of great flavor with less carbs!
Virgin version - if you want to make a non-alcoholic White Linen, try using Monday Zero Alcohol gin. You can also sub out the St Germain and use d'Arbo elderflower syrup instead.
Equipment
You'll need a few key bar tools to make this drink. Probably the most important thing is a muddler, which is like a long stick you can use to mash up the cucumbers.
You'll also need a cocktail shaker and strainer, a jigger, and a citrus juicer if you're using fresh lemon. Bonus points for using a fine mesh strainer in addition to a regular strainer!
For the garnish, grab a cocktail pick or toothpick, a knife and cutting board, and a vegetable peeler.
Don't have something you need for this drink? Check out A Bar Above if you need to stock up on bar tools! You can snag 10% off using my discount code, LKDrinks. Their bar tools are really durable, and also can be thrown in the dishwasher when you're done mixing!
Note: If you don't have a muddler or have challenges with muddling, you can always just pulse the cucumber in a blender (like my fave Americana brand personal blender). Just pulse 2 or 3 times to get the juice out without making a puree.
Instructions
Start out this drink by making your garnishes. To make the cucumber ribbon, use a vegetable peeler to get a consistent thickness of cucumber the whole way.
Curl the cucumber ribbon up, and you can use a bar spoon as a support if you'd like.
Then, use a cocktail pick to skewer the cucumber ribbon. You can make a few different fun shapes with it, so play around!
If you're using a lemon slice, cut your lemon in half now and make a slice from the middle. Set the cucumber and lemon garnishes aside.
Next, add some cucumber slices to the cocktail shaker itself.
Add in the lemon juice and simple syrup before muddling. You don't want too much liquid at this point, but the lemon and sugar will help break down the cukes.
Mash it up! Use your muddler to crush the fresh cucumbers in the cocktail shaker.
Then, add in the St Germain.
Add in the gin, then fill the cocktail shaker with ice. Seal it up and shake vigorously, about 15-20 times.
Add fresh ice to your serving glass, and add your lemon slice to the side of the glass at this point.
Strain the shaken drink into the glass.
Top it off by pouring in the soda water, and then rest the cucumber ribbon garnish on the top of the glass.
Serve and enjoy! Cheers!
Hint: Try chilling your glass and all the ingredients for about 30 minutes before making the drink. That way it'll stay colder longer!
Frequently Asked Questions
What is the history of the White Linen cocktail?
This tasty sip was created in 2008 by bartender Rene Dominguez. It's now considered the signature drink of Sacramento, CA!
What does St Germain taste like?
The unique taste of St Germain gave it the nickname of "bartender's ketchup" because it goes so well with everything! It has a sweet but tangy flavor, with notes of apple, citrus and even passionfruit. Definitely one to try for yourself!
Top tip
When you're creating a cucumber ribbon, try to use the edge of the cucumber, where there are still no seeds. It'll be much easier to skewer it on to the cocktail pick if you use that part!
Of course, if you want to stick the cucumber on the side of the glass instead of using a pick, the seed part will work just fine.
📖 Recipe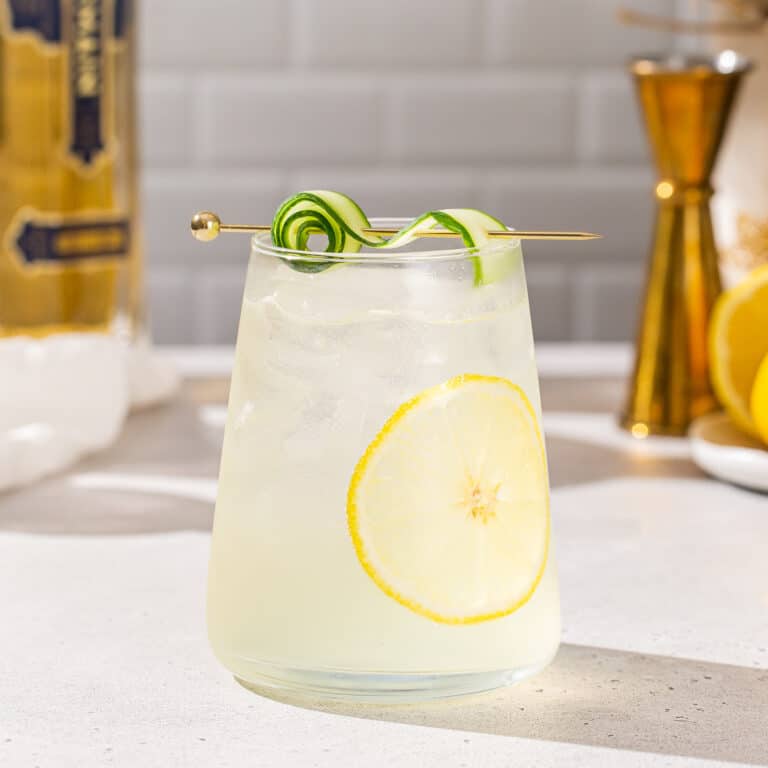 White Linen Cocktail
The White Linen cocktail is the perfect elderflower and gin drink for summer! It features fresh lemon, cucumber and St Germain liqueur.
Equipment
Fine mesh strainer

(optional)

Cocktail serving glass

(stemless wine glass, Collins glass or double old fashioned glass will all work)

Vegetable peeler

(if making cucumber ribbon garnish)

Knife and cutting board

(to cut up cucumber slices and lemon)
Ingredients
Garnish (optional)
1

cucumber ribbon

(use the part without seeds if you want to skewer it on a cocktail pick)

1

lemon slice
Cocktail
3

slices

cucumber

1

ounce

lemon juice

½

ounce

simple syrup

½

ounce

elderflower liqueur

1½

ounce

gin

(Hendrick's works great, or use your favorite gin)

2

ounces

seltzer
Instructions
Garnish (optional)
Use a vegetable peeler to create the cucumber ribbon.

Shape the cucumber ribbon into the shape you want (roll it up or make a zig zag) and skewer it onto a cocktail pick.

Set the cucumber aside, then make your lemon slice and set that aside while you make the drink.
Cocktail
Add the cucumber slices to a cocktail shaker.

Add in the lemon juice and simple syrup.

Use a muddler to mash up the cucumbers.

Add in the elderflower liqueur and gin.

Fill the cocktail shaker with ice.

Seal it up and shake 15-20 times.

Add ice and the lemon slice to your cocktail serving glass.

Strain the drink into your glass.

Top it off with the seltzer water.

Add the cucumber garnish to the top, and serve.
Nutrition
Calories:
197
kcal
Carbohydrates:
18
g
Protein:
0.2
g
Fat:
0.1
g
Saturated Fat:
0.01
g
Polyunsaturated Fat:
0.01
g
Sodium:
21
mg
Potassium:
69
mg
Fiber:
0.2
g
Sugar:
17
g
Vitamin A:
17
IU
Vitamin C:
12
mg
Calcium:
9
mg
Iron:
1
mg
Made with WP Recipe Maker plugin