Butterscotch is one of my favorite flavors. I think it often gets overlooked, but to me, it's basically a giant, warm hug in the form of something sweet. These Chewy Butterscotch Cookies are so simple and easy to make, and they are like little discs of butterscotch love.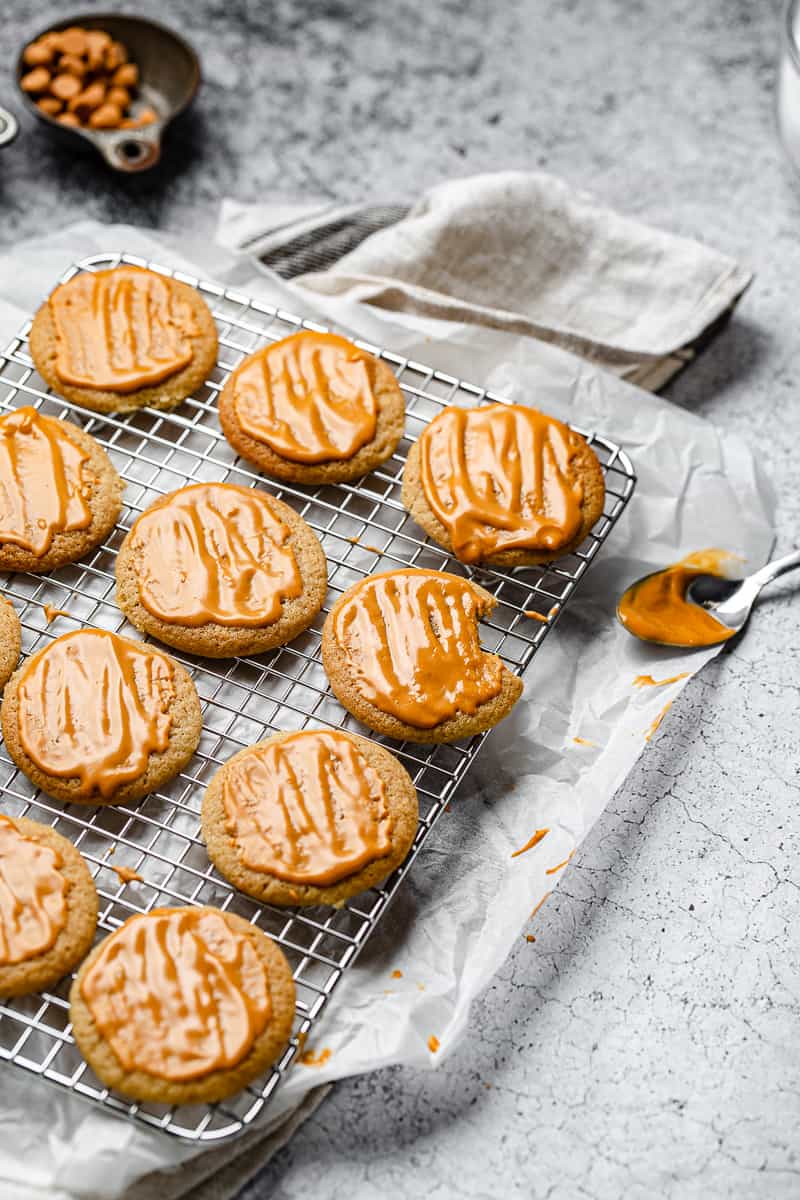 Butterscotch Flavoring
The key to this recipe is the butterscotch flavoring. I used LorAnn super concentrated butterscotch flavor, but you could also opt for a more natural extract like this one from OliveNation. If you are using a regular extract instead of concentrated, you should increase the amount of flavoring you put in to get that super butterscotch-y taste.
Butterscotch Chip Glaze
I'll be honest, these cookies are not exactly stunners when you first bake them. Not trying to be mean or anything... but... you know.
They're cute, I'll give them that! But I wanted to up the wow factor for them, and I had a half-full bag of butterscotch chips laying around, so the solution became clear. (Plus they were making it pretty obvious where my oven hot spots are!)
Making a glaze from baking chips is pretty simple: you just melt the chips and thin them out with a little coconut oil. It doesn't have to be coconut, but I found that works well since it is more solid at room temperature.
And voila! Delicious butterscotch bombs.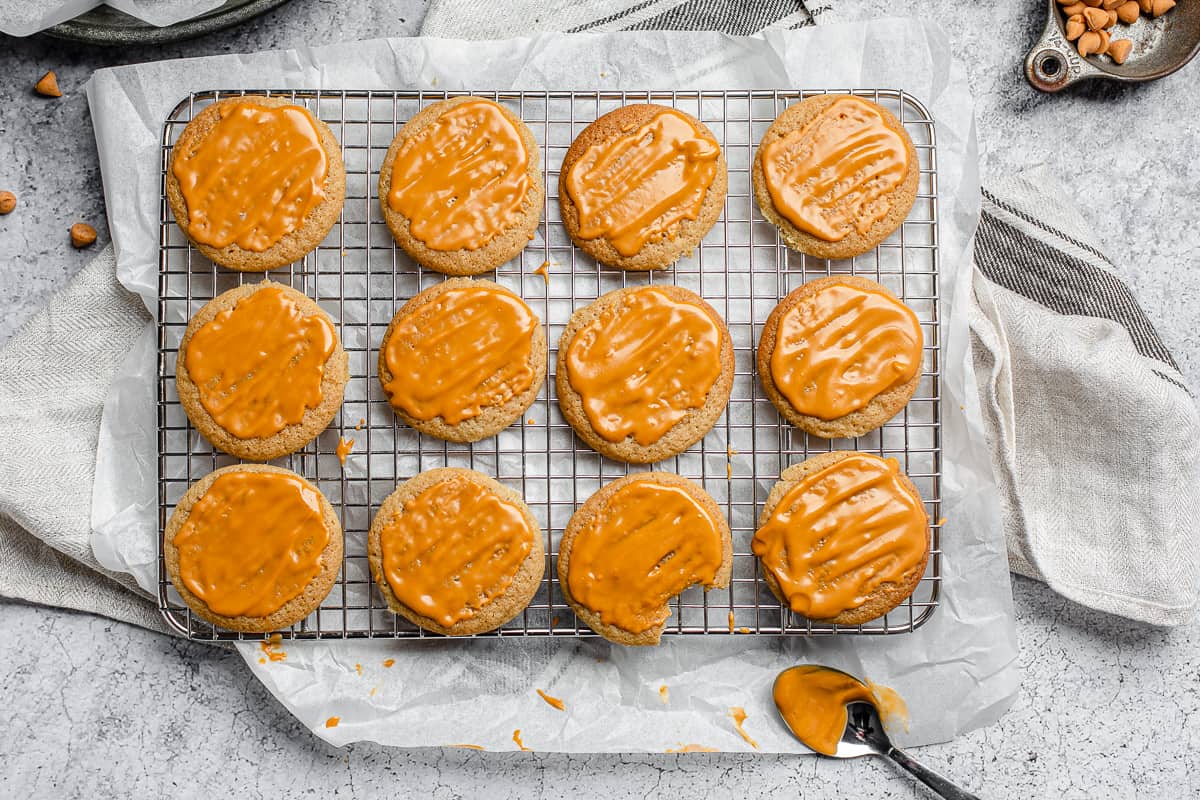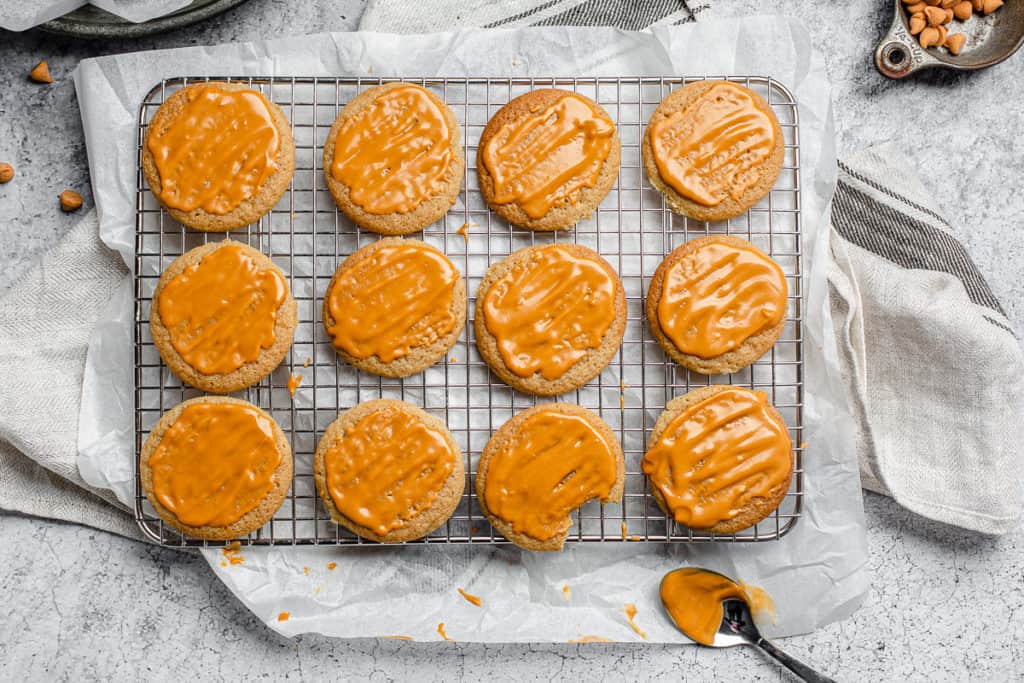 Making the Cookies
This cookie batter is really, really simple. You mix together everything but the egg and dry ingredients, and then you add those in too. Use a cookie scoop or tablespoon to drop them onto a baking sheet, and bake for 10 minutes. Quick and easy!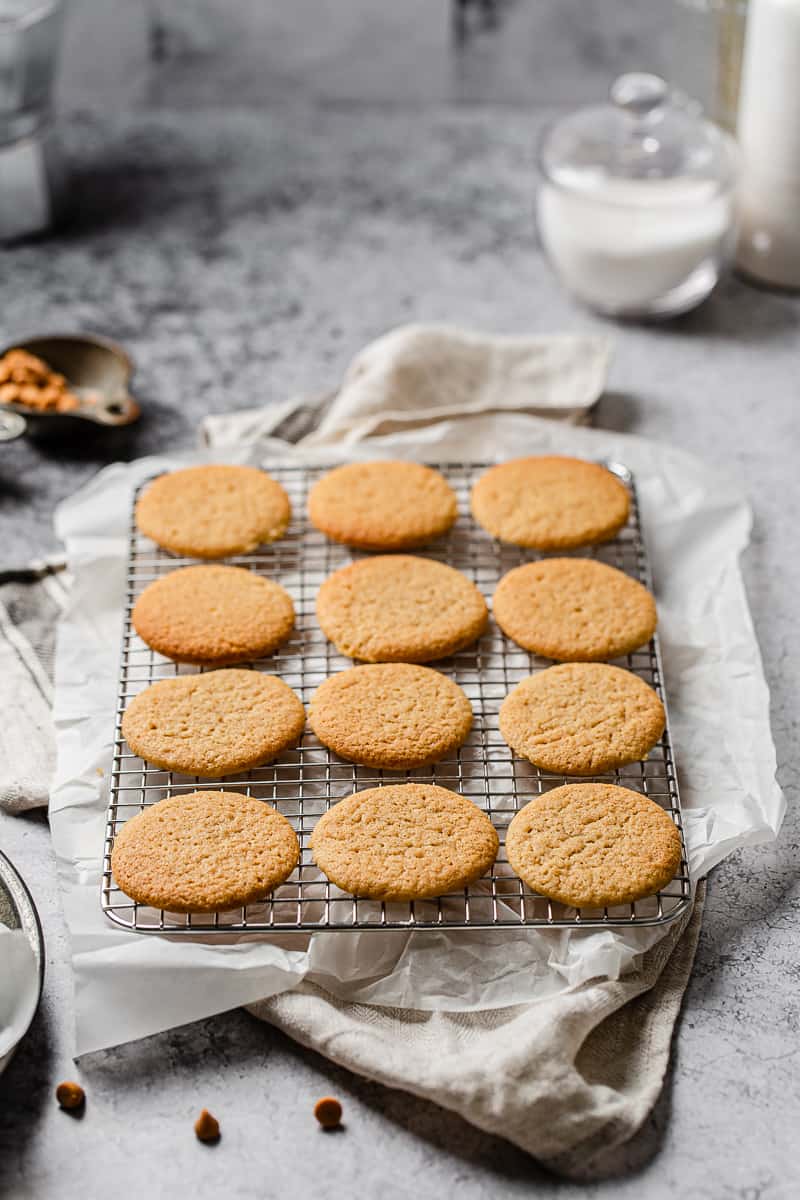 Once they've cooled a bit, you can move them to a cooling rack where you can add the butterscotch glaze. I just used the back of a spoon to smooth it out, but you can use an offset spatula for a smoother look.
After it cools, the glaze will harden a bit. It won't get as hard as royal icing, but will form a soft crust and become a frosting-like texture.
I adapted this recipe from The King Arthur Flour Cookie Companion, one of my favorite baking books. I'm pretty sure they didn't miss a single cookie recipe in there!! I omitted the pecans they had used, changed the egg ratio and added the glaze topping.
How do you feel about butterscotch? I'd love to know if you make these, let me know in the comments!
📖 Recipe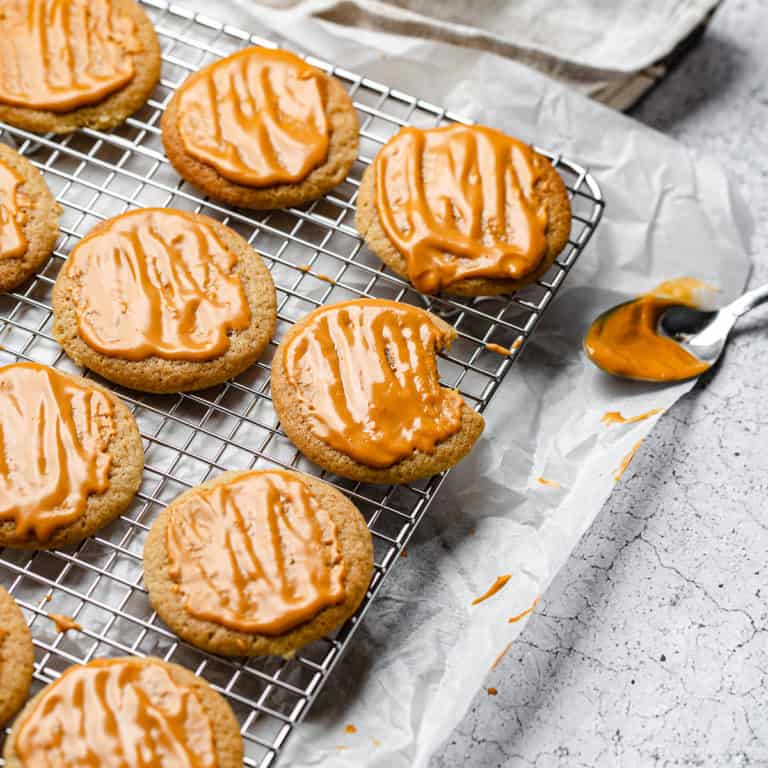 Chewy Butterscotch Cookies
A soft, chewy cookie exploding with butterscotch flavor, topped with a butterscotch glaze. Adapted from The King Arthur Flour Cookie Companion
Ingredients
Cookie Dough
110

g

all-purpose flour

(1 cup minus 2 Tablespoons/3.8 oz)

⅛

teaspoon

baking soda

¼

teaspoon

baking powder

57

g

unsalted butter, room temperature

(½ stick/¼ cup/4 Tbsp)

106

g

brown sugar

(½ cup/3.7 oz)

20

g

corn syrup

(1 Tbsp/0.7 oz) - light or dark if you want a more molasses-like flavor

¼

teaspoon

fine grain salt

½

teaspoon

vanilla extract

⅛

teaspoon

concentrated butterscotch flavoring

- increase this to ½ teaspoon if using regular extract

1

egg
Butterscotch Chip Glaze
115

g

butterscotch chips

(1 cup/4 oz)

13

g

coconut oil

(1 Tbsp/½ oz)
Instructions
Making the Cookies
Preheat the oven to 375°F (190°C/gas mark 5). Line a cookie sheet with parchment paper.

Add the flour, baking soda and baking powder to a bowl and whisk together. Set aside.

Add the butter, brown sugar, corn syrup, salt, vanilla and butterscotch flavor to a large bowl or the bowl of a stand mixer. Beat these together until fully incorporated.

Add the egg and mix until incorporated.

Add the dry flour mixture in and gently mix together, just until it is incorporated. The dough will be very soft and sticky.

Using a cookie scoop or a tablespoon, portion the cookies out onto the baking sheet, leaving about 2" space for them to spread.

Bake the cookies for 8-10 minutes. They will not really brown much at all, but they will spread out quite a bit and the tops will be speckled with little holes.

Slide the parchment paper with the cookies off of the cookie sheet and onto a cooling rack.
Making the Glaze
In a microwave safe bowl (or a heatproof bowl if you choose to do this in a double boiler), heat the butterscotch chips and the coconut oil on 50% power for 30 seconds. Mix well afterwards and continue to heat in 10 second bursts until almost all of the chips are melted. Mix well until they all fully melt.

With the back of a spoon or with a small offset spatula, spread the glaze on top of the cookies.

These cookies keep well at room temperature for about a week.
Notes
You can also try adding the butterscotch chips as a mix-in, rather than as a glaze. Both work really well! If you want to mix it in, just fold them into the batter at the end before scooping the cookies onto the baking sheet.
Nutrition
Made with WP Recipe Maker plugin