This Ginger Beer Bitters Mocktail is a delicious and refreshing non-alcoholic mocktail. With the flavors of ginger, lime and mint, along with muddled blueberries, it has enough zing to satisfy, even without adding alcohol.
The main challenge of a mocktail is to keep all of the flavors in balance without watering it down too much. Ginger beer makes a really great base for a mocktail, because its strong ginger flavor plays so well with other ingredients, especially lime.
Looking for more mocktail recipes? Check out this fancy Raspberry Mocktail, or this delicious Cranberry and Orange Juice Mocktail.
Jump to:
Ingredients
Besides the ginger beer and lime, I also wanted to include bitters in this mocktail because they really add so much complexity to a drink. Most bitters are made with alcohol, but Fee Brothers bitters don't have alcohol as an ingredient. Of course, you can always omit it, but it does add a little something extra to the flavor!
Here are the ingredients you'll need:
Ginger Beer - Bundaberg ginger beer is the best option for this drink, in my opinion! The flavor is amazing, not too sweet, with a strong ginger taste.
Lime juice - fresh is best, especially since you'll also want to use it as a garnish.
Fresh mint
Blueberries - fresh is best, but you can also use a few frozen blueberries instead.
Bitters - I used Fee Brothers bitters, which don't contain alcohol.
Honey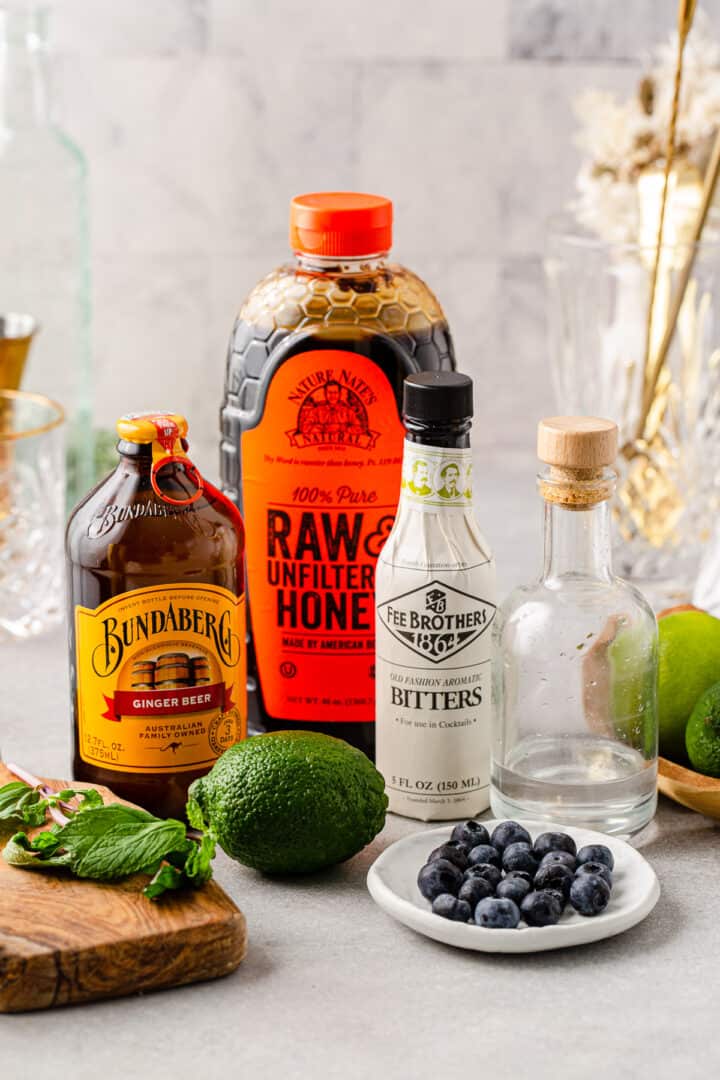 Substitutions
If you know how to make the recipe fit a certain diet, let the reader know here. Don't fake it - only provide guidance on topics you have actual experience with.
Ginger Beer - If you don't have this, you can use ginger ale, although it won't be as ginger-y. If you have it, add a spoonful of ginger juice to amp up the ginger flavor -- a little goes a long way.
Lime juice - If you don't have lime juice, substitute with lemon or another citrus juice.
Fresh mint - You can replace the fresh mint with a different fresh herb, like sage or thyme. Omit if you don't have access to fresh herbs.
Blueberries - Any kind of berry will work instead of blueberries. Remember that you can use frozen fruit as well. Frozen fruit won't give as nice of a garnish, but will muddle perfectly.
Bitters - If you don't have bitters, you can omit them.
Honey - You can use simple syrup or maple syrup instead. If you're following a low-sugar diet, you can omit the sweetener or use an alternative sweetener.
Variations
Some variations to change up this mocktail recipe are:
Spicy Ginger Beer Mocktail - spice it up by taking out the mint and adding some fresh jalapeno slices instead.
Virgin Moscow Mule - use a copper mug to serve this drink instead of an Old Fashioned glass. For a more traditional Moscow Mule style drink, only use the ginger beer and lime juice, with about an ounce of plain seltzer and lots of ice.
Blackberry Ginger Mocktail - swap the blueberries for blackberries, and swap out the honey for a spoonful of blackberry jam.
Ginger Beer Bitters Cocktail - add in 1½ ounces of vodka to spike this drink with alcohol. Rum or gin would also go really well.
Equipment
This is a pretty simple drink, but you do need some key items to make it work easily. The first is a citrus juicer to juice the lime. I love using either a citrus press or a citrus reamer to do this, so I avoid overjuicing and getting bitter lime rind in the juice.
The next piece of equipment you'll need is a muddler. I like this A Bar Above muddler, but you can use anything that has a flat end. This is just used to mash up the fruit and mix things around, so it's not critical, but does make the job easier.
You'll also need a cocktail serving glass. Since this is a drink to serve over ice, I like to use an Old Fashioned style glass. You could also use a highball glass if you prefer.
You'll also need a long bar spoon, which makes the drink easier to stir and also gives you a consistent size spoon to measure out the honey.
Instructions
Start out by juicing a lime directly into your serving glass. Add a little bit of honey, and stir up these two ingredients until the honey is dissolved.
Next, add in the bitters, blueberries and fresh mint.
Once they're all added, use your muddler to gently crush the fruit and mint. Just press it down into the fruit, and you can give it a little twist to break up the pieces. The mint will not need much muddling, so don't go overboard here.
After you muddle, you can then fill the cocktail glass with ice, and fill it with ginger beer. Give the drink a stir with a long bar spoon, and garnish with a lime, fresh mint and more blueberries.
Hint: for the lime garnish, I just used the half of the lime that I juiced, otherwise known as a "spent" lime. If you prefer, you can cut a wedge of lime instead.
Frequently Asked Questions
Is Ginger Beer alcoholic?
No, there is no alcohol in ginger beer. Like ginger ale or root beer, it's is a soft drink, but it has a stronger ginger flavor than ginger ale.
Can you use bitters in non-alcoholic drinks?
Most bitters do contain alcohol, but you'll usually use such small amounts of them that it won't really matter. But some brands of bitters, like Fee Brothers, do not contain alcohol, so you can use them in any mocktail.
How much sugar is in ginger beer?
It depends on the brand, but the Bundaberg brand I've used contains around 20 grams of sugar per 6 ounces of liquid. This is around a tablespoon and a half, which is roughly the same as Coca-Cola and other sodas.
Top tip
To reduce the sugar and calories in this drink, I recommend substituting out the ginger beer for a ginger-flavored sparkling water, like this Hint Ginger Seltzer. If you want to amp up the ginger flavor, you can also muddle slices of fresh ginger along with the berries and mint.
📖 Recipe
Ginger Beer Mocktail with Bitters and Blueberries
Spicy ginger beer in a non-alcoholic drink with lime, blueberries, mint, and bitters.
Ingredients
½

fresh lime

1

bar spoon

honey

5-8

blueberries

fresh or frozen, plus more for garnish

2-3

leaves

fresh mint

plus more for garnish

2

dashes

Fee Brothers bitters

Fee Brothers brand does not have alcohol

6

ounces

ginger beer
Instructions
Juice the lime directly into your serving glass, and reserve the spent lime shell for a garnish.

Add in the honey and stir until the honey is dissolved into the lime juice.

Add in the blueberries and mint leaves.

Use the muddler to mash the berries and mint until all the berries are broken.

Add ice to the serving glass and fill it with the ginger beer.

Add the spent lime, a fresh mint sprig and more blueberries for a garnish.
Nutrition
Calories:
102
kcal
Carbohydrates:
26
g
Protein:
1
g
Fat:
1
g
Saturated Fat:
1
g
Polyunsaturated Fat:
1
g
Monounsaturated Fat:
1
g
Sodium:
13
mg
Potassium:
45
mg
Fiber:
1
g
Sugar:
22
g
Vitamin A:
25
IU
Vitamin C:
10
mg
Calcium:
17
mg
Iron:
1
mg
Made with WP Recipe Maker plugin