This refreshing Hibiscus Gin Cocktail combines hibiscus syrup with pineapple juice and citrus. The herbal flavor from the gin pairs really well with the fruit flavors, without taking over the drink. With some bubbles from seltzer and a kick from spiced ginger bitters, it's a beautiful and delicious summertime drink!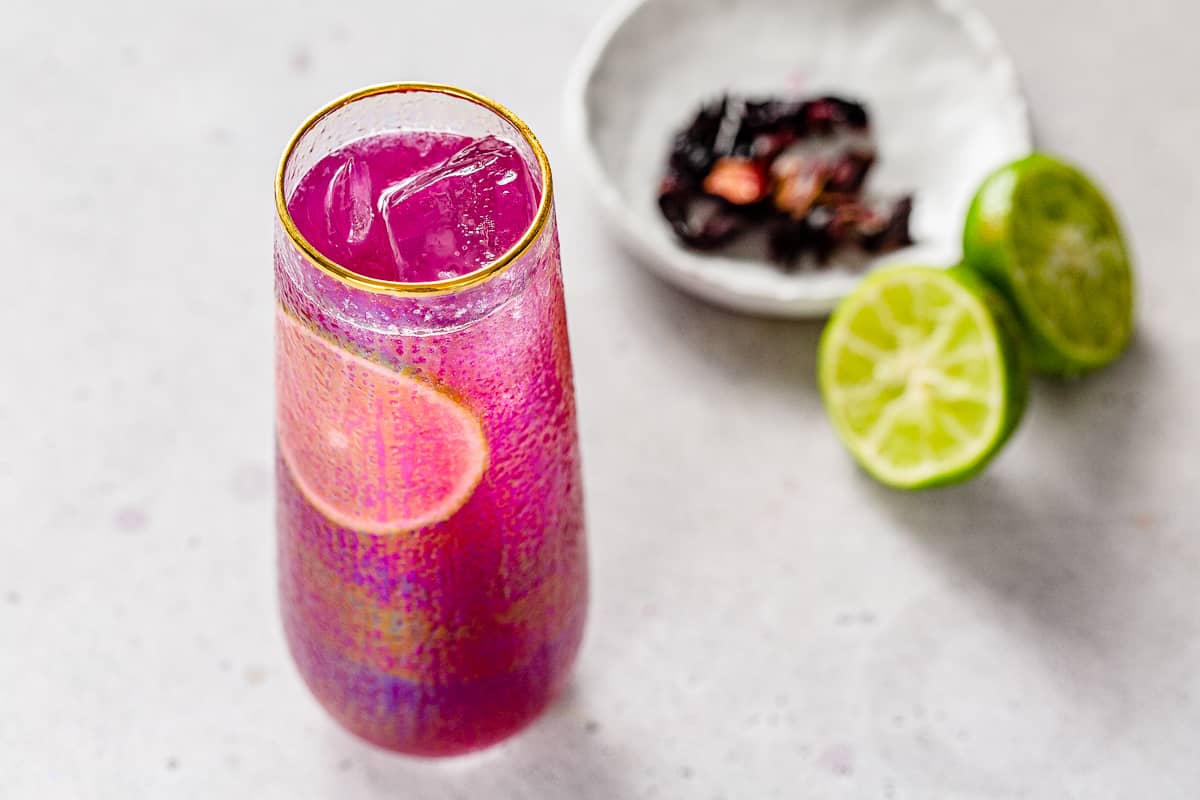 This is a great cocktail for summertime, since there are a lot of tropical fruit flavors. If you make a batch ahead of time, this drink would be great for a beach day!
This drink uses my Hibiscus Syrup recipe (and you can find a short version in this post below). Another delicious hibiscus-flavored drink is this fancy Hibiscus Vodka Cocktail, which actually uses the hibiscus to infuse the vodka instead of the syrup.
Jump to:
Ingredients
Here are the ingredients you'll need to have on hand to make this cocktail.
Gin - I used Malfy Gin (link to purchase on Drizly), which is a modern dry style gin. A citrusy gin like Malfy Con Limone would work great too.
Hibiscus Syrup - see my Hibiscus Syrup blog post for instructions, or you can use store-bought hibiscus syrup. You can substitute in grenadine syrup for a similar but sweeter tasting cocktail.
Pineapple juice - I used Dole brand pineapple juice. It's even better if you have a juicer and can juice your own!
Lime juice - preferably freshly squeezed.
Ginger bitters - I used Hella brand ginger bitters, which has some other baking spice flavors in it too.
Lime-flavored Seltzer - this gives an extra boost of lime. You can use plain seltzer or ginger seltzer too.
How to make Hibiscus Syrup
Note: Check out my Hibiscus Syrup blog post for the full detailed instructions.
Hibiscus syrup is super easy to make, and has a ton of tart flavor and color! All you need to do is combine equal amounts (1 cup each) of water, sugar and dried hibiscus flowers. I used these Maui hibiscus flowers.
Bring the mixture to a boil, then lower the heat and simmer for three minutes. Cover, let it cool and strain and bottle the syrup. It will keep for at least two weeks in the refrigerator.
Variations
Love this drink, but want to switch it up a bit? Here are some variations you can try.
Hibiscus and Rum - just switch out the gin for rum in this cocktail. I suggest trying an aged rum to bring in some warm molasses notes.
Hibiscus gin infusion - let your gin soak with some dried hibiscus flowers in it for about an hour before making this cocktail. Strain out the flowers before using. You'll get some additional hibiscus tartness and an even deeper color.
Hibiscus Gin Spritz - use a larger stemmed cocktail glass for this one. Reduce the amount of gin you're using to 1 ounce per drink. Then, instead of lime seltzer, use 2 ounces of Prosecco or other sparkling wine to top it off.
Equipment
To make this drink, you'll need to have some basic bar tools. Grab a cocktail shaker, a cocktail strainer, and a jigger with both a one and two ounce measure.
You'll also need a cocktail serving glass. I've used a stemless champagne glass, but a Collins glass or even a large wine glass would work great.
Need any new bar equipment for your home bar? I really love the products from A Bar Above! Grab 10% off using my discount code, LKDrinks. The gold is my fave!
Instructions
Start making this cocktail by adding your lime juice to a cocktail shaker. Then, add in the hibiscus syrup.
Add the pineapple juice, gin and ginger bitters to the cocktail shaker.
Fill the shaker with ice. Then, give the shaker a good shake, for about 15 to 20 seconds. Shaking with ice will chill and dilute the drink.
Fill your cocktail serving glass with fresh ice and wedge a lime wheel between the ice and the side of the glass as a garnish. The wheel will be inside, but you should be able to see the whole thing from outside the glass.
Then, strain the drink over top of the ice in the serving glass.
Top the drink with lime-flavored seltzer. Optionally, you can add on a piece of dried hibiscus flower on top as a garnish. If you have a fresh edible hibiscus bloom, even better!
Hint: If you fill the glass up with a lot of ice, you might not have a ton of room for seltzer. Don't worry! You can just omit the seltzer.
Frequently Asked Questions
What is hibiscus and what does it taste like?
Hibiscus is a flowering plant, mostly native to warm climates. There are many varieties of hibiscus, but the one used in recipes and drinks is also called Roselle, or sorrel. It has a deep red color and has a tart, almost berry-like flavor.
What goes with hibiscus in a cocktail?
The tart flavor of hibiscus pairs well with tropical fruits, berries, citrus fruits and even sparkling wine. It is also versatile enough to go well with baking spices, like ginger and cinnamon, which is why I included ginger bitters in this drink.
Top tip - Batching this cocktail
This cocktail is a great one to batch for a party, and definitely a winner at a girls' night! Since it uses citrus, it's best if you make it about an hour before the party starts. Use the servings multiplier in the recipe below to get the exact amounts for the number of drinks you want to make.
Add the lime juice, pineapple juice, hibiscus syrup, gin and ginger bitters to your pitcher, along with ½ ounce of water per cocktail. (The water takes the place of the ice when you shake it.) Stir everything together and let it chill in the fridge. When you're ready to serve, fill your serving glass with ice, add a lime wheel and fill the glass with the premade cocktail. You can either add seltzer or Prosecco on top for some bubbles.
Note: one dash of bitters is equivalent to ⅛ teaspoon. If you're making four cocktails in a batch you can use 1½ teaspoons of bitters instead of 12 dashes.
📖 Recipe
Hibiscus Gin Cocktail with Pineapple and Lime Juice
This refreshing Hibiscus Gin cocktail combines hibiscus syrup with pineapple and lime juice. A dash of ginger bitters spices things up.
Equipment
1 Knife and cutting board

(optional - if you're using fresh citrus)
Ingredients
1

ounce

lime juice

1

ounce

hibiscus syrup

(see Notes 1)

1½

ounces

pineapple juice

1½

ounces

gin

(see Notes 2)

3

dashes

ginger bitters

1

ounce

lime-flavored seltzer

1

slice of fresh lime

(optional - for garnish)

dried hibiscus

(optional - for garnish)
Instructions
Add the lime juice, hibiscus syrup, pineapple juice, gin and ginger bitters to a cocktail shaker.

Fill the cocktail shaker with ice, seal it up and shake well, about 15-20 good shakes.

Add fresh ice to your cocktail glass and place a lime slice garnish inside the glass, between the glass and the ice.

Strain the drink into the cocktail glass.

Pour the lime-flavored seltzer over top of the drink, and then serve. Optionally, you can add a dried hibiscus flower to the top of the drink.
Nutrition
Serving:
1
g
Calories:
220
kcal
Carbohydrates:
29
g
Protein:
0.3
g
Fat:
0.1
g
Polyunsaturated Fat:
0.03
g
Monounsaturated Fat:
0.01
g
Sodium:
16
mg
Potassium:
105
mg
Fiber:
0.4
g
Sugar:
18
g
Vitamin A:
20
IU
Vitamin C:
15
mg
Calcium:
15
mg
Iron:
0.2
mg
Made with WP Recipe Maker plugin