After years of making macarons and trying out and tweaking dozens of recipes, I've developed this one, and it's my go-to recipe! The best part? You can bake the shells without additional rest time (in fact, resting this recipe may give you lopsided shells). Not only that, but I use carton egg whites! For me, it's the most convenient recipe, and I've made it countless times with great results.
What are Macarons?
Macarons are a delicate cookie made from mixing a meringue (whipped egg whites and sugar) together with almond flour and powdered sugar. You pipe the resulting batter into rounds, then bake at a low temperature. Finally, you make the baked shells into little sandwiches, putting anything from buttercream to jam to ganache inside.
Sounds pretty straightforward, right? In my experience, until you get the hang of making them, they can be more like irritating, frustrating, and annoying. But then, you'll see the cute little feet at the bottom of your very own macarons, and your sense of accomplishment will know no bounds 🙂
What is the secret to making macarons?
Macarons are all about the technique! You'll likely find a ton of macaron recipes out there, and many of them have similar ingredient ratios. The fun (and sometimes frustrating) thing is, you just need to practice.
There are a couple of tricky parts to the recipe. Getting the batter to the right consistency is the first one. You need to know exactly what to look for and when to stop folding. The second tricky part is nailing down the right baking temperature and time for your particular oven. It's a process, so just keep trying until you get it!
A word of advice, though: try to only change one thing at a time if you are making tweaks and adjustments for your kitchen. That way you'll know how that one particular thing affected the bake!
Almond Flour and Egg Whites
Almond Flour
I personally don't grind my own almonds, although it's certainly possible. You can buy whole almonds (blanched if you don't want your macarons to be speckled), and grind them in the food processor, taking care not to go too far and make almond butter.
There are a couple of well-known almond flour brands out there. I prefer Wellbee's, but Costco often carries a big bag of Kirkland-brand almond flour. Blue Diamond and Bob's Red Mill are other brands that usually perform well. You want to look for a very fine, very consistent size of almond particles.
Egg Whites
I use carton egg whites for this recipe, although you can certainly use fresh egg whites. I like using carton whites because they work well, and it's so convenient to measure exactly what you need.
If I have fresh egg whites on hand from another recipe, I will use those. Sometimes I combine one fresh egg white and measure the rest from the carton. The only difference will be the amount of cream of tartar you use. Just use ⅛ teaspoon per 30 g of fresh egg whites (from approx. 1 egg), or ¼ teaspoon per 30 g of carton egg whites. These ratios were developed by Rose Levy Berenbaum in her amazing book, The Cake Bible.
Substituting
Macarons are traditionally made from sugar, egg whites and almond flour. A lot of people are allergic or sensitive to almonds and/or eggs, so there are a couple of things you can try to substitute.
You can substitute any other kind of nut for the almonds, although varieties with more fat like macadamias probably won't work very well. Cashews and hazelnuts are great options. You can also substitute plain all-purpose flour for the nuts (weight for weight). Macarons made with all-purpose flour are chewier and denser, and the batter will feel thicker when you're working with it. They'll still be cute and tasty, though!
For the egg whites, you can substitute aquafaba. This is the liquid from a can of chickpeas. It foams up and creates a wonderful meringue. Before you use it, heat the aquafaba on the stovetop and reduce the liquid out of it. You'll need to reduce it to about half the volume before using it in the recipe (so if you heat up 1 cup of it, you will end up with ½ cup of reduced aquafaba).
Equipment for Making Macarons
Stand Mixer
I really, really recommend a stand mixer for this recipe. Especially when using the carton egg whites, it really takes a long time for the meringue to whip up. The stand mixer will free you up to do other things while it whips.
I actually use a 3-quart bowl for the KitchenAid Artisan mixer. The smaller bowl helps the meringue get to stiff peaks even faster. The smaller Mini Artisan stand mixer should work really well for this recipe.
Baking Sheets
For baking sheets, I recommend that you try to find ones that are as flat as possible, heavy weight so they don't warp, and that don't have a lip. My favorites are these flat baking sheets from Vollrath. They have been perfect and are now dedicated for macarons in my house!!
If you don't have a flat baking sheet like this, just try using what you have on hand. It might work just fine for you, and I promise they will still taste delicious no matter what.
Silicone Mats or Parchment Paper
A lot of bakers swear by parchment paper for baking macarons, but in my oven, that always leads to overheating and exploded mini-volcano macarons. That's why I prefer silicone mats. However, you should know that they are both options, and one may work better in your oven than the other.
One big advantage of getting a dedicated silicone mat for macarons is that many of them have a pre-printed template. The Bluedrop brand mats are my favorite because they are so thin and work perfectly for my oven. Plus, they have different templates on each side. They also come with a separate teflon mat, which a lot of bakers use for macarons as well. You can try them both and see which one you like better!
Important Note: Do not bake these on waxed paper! It is not meant to be used in this way and will ruin your macarons.
Some Useful Macaron Equipment
Kitchen Scale
I know I talk about this one a lot. I truly believe you will get so much bang for your buck out of a kitchen scale! But, for this recipe, it's absolutely essential. You need to get the ratios correct in order to have a repeatable, consistent result.
This Oxo kitchen scale is my personal favorite, but any scale will do! This is another great kitchen scale option for a lower price.
Thermometers
An oven thermometer and a quick-read or infrared thermometer are both great things to have around. While not absolutely necessary, they will really help, especially with troubleshooting if you're having problems.
Piping Bags and Tips
You'll need these to pipe the batter into round circles. I recommend a piping tip that's on the smaller side, so you have more control. Click through these links (affiliate links) for my favorite reusable piping bag, and my favorite piping tip (Ateco 804).
If you have parchment paper, you can actually make a piping bag from a square of parchment. It's a little tricky, so I usually don't do that for macarons, but it can be done in a pinch.
Other Stuff
You'll also need a saucepan to heat the egg white/sugar mixture, a metal whisk (NOT silicone or plastic, as oils can bond to them and ruin the meringue), and a flexible but sturdy spatula for folding (this can be silicone).
Making the Macarons
Planning Ahead
If you do a little planning ahead, things will go a lot more smoothly when you bake. Measure out your dry ingredients ahead of time and sift them together, then store them in the fridge until you need them. You can also measure out your meringue ingredients beforehand, but I recommend storing them in a ceramic or metal bowl instead of plastic or silicone.
Sifting the Dry Ingredients
When you combine the almond flour and powdered sugar, you'll need to mix them really well together so there are no pockets of one ingredient. You can do this in a food processor by pulsing them together, being careful not to pulse too long, or you will end up with almond butter.
I prefer to whisk them together and then use a fine-mesh sifter to sift them. (Honestly, I just hate cleaning my food processor!) I sift them together twice, and if there are any large almond chunks I toss them out.
Kitchen Prep
This is a little bit of an extra step, but I do it every time. I wipe down the inside of the bowl I will use for the meringue (in this case, the stand mixer bowl), the wire whisk mixer attachment, and my silicone mats with white vinegar. It helps to clean up any leftover fats from previous uses.
Then, preheat your oven. You'll need to do some experimenting with your own oven, but for mine, I preheat it to 300°F (150°C/gas mark 2).
At this point you can prepare your baking sheet and piping bag, or wait until the meringue is whipping, as that always takes a while!
Making the Meringue
This is a Swiss meringue recipe, which means that the egg whites, sugar and cream of tartar are heated up in a bowl over simmering water. For this step, I use the metal bowl of the stand mixer. That way I can move it right to the stand mixer when it reaches the correct temperature.
Whisk the egg white, sugar and cream of tartar mixture the entire time while it's over the heat Otherwise you may end up with scrambled eggs at the bottom! You'll just be taking this mixture to 120°F (49°C). If you don't have a thermometer, stop as soon as the sugar is fully dissolved. It's better err on the side of a lower temperature here.
Move the bowl to the stand mixer and start whipping on low speed, then move to a higher speed as it starts to fluff up. Try not to go higher than medium-high speed, otherwise you may end up with a meringue that is not as stable.
When the egg whites reach soft peaks, you can add up to ¼ teaspoon of gel food coloring or a flavoring extract. Then, keep on whipping until you reach very stiff peaks. This could take a good 20 minutes to achieve.
Folding and Macronage
Macronage is a very fancy word for the way you fold together the dry ingredients and the meringue. Essentially, you will be carefully knocking the air out of the meringue.
Folding Together
Once you have achieved stiff peaks, take the meringue off of the stand mixer and dump all of the dry ingredients on top of the meringue at once. Hold your spatula vertically and cut down through the middle of the mixture, then use it to scrape up the bottom meringue and bring that back to the top of the pile. Turn the bowl and do it again. Keep doing this motion -- cutting down, bringing back up from the bottom -- until you have a kind of lumpy mass that more or less looks the same all the way through.
Macronage
Now that everything is combined, you will start the macronage. Turn your spatula so it is flat and parallel to the countertop. Push it down into the mixture about three times. Then, use it to scrape around the sides of the bowl and underneath the mixture, pulling the bottom of the mixture to the top. Push down on the mixture again (deflating the meringue), and scrape around the sides and bottom again.
Keep repeating this motion, and when your batter starts to look a little wet, you can start testing to see if it's ready. Scrape the spatula underneath the mixture, and then turn it to be vertical. Pull it up with the batter still on it, and check to see how it drips off the spatula.
If it tears off immediately and doesn't flow at all, you need to mix longer. If it is dripping off in a fast ribbon, you have gone too far and overmixed (try not to overmix, as there is no way to fix it at that point). If it flows off slowly a little bit and then tears, this might be at the proper consistency.
Do one more test to figure it out. Take the spatula and carefully lay a little bit of the batter flat on top of the batter in the bowl. Count to 30, and see if the edges of the test patch have gotten soft and mostly blurred into the mixture. If not, mix a few times more, and test again.
Piping
When you've reached the right consistency, do a little dance, and get ready to pipe! Fill the piping bag no more than ¾ full (otherwise it might sneak out the top). Twist the top of the bag and either hold it closed or clip it.
Hold the piping bag vertically and start to pipe round circles of batter onto the prepared baking sheet. I count in my head while piping to try to make the circles even, but you could just try to eyeball it. When you are done piping, make a circular flick with the piping bag as you stop squeezing to try to make a smooth top to the batter.
Baking
This macaron recipe does not involve resting, which is one of the reasons I love it! Everything happens in the oven. As soon as you finish piping and, optionally, putting on sprinkles, place the baking sheet in the hot oven.
If you're anything like me, you'll obsessively watch these little cuties bake and develop feet. But, it'll work even if you walk away 🙂 Set the timer for 12 minutes and then see how they look (don't open the oven yet if possible). If the feet are looking good, but they still look very wet, let them bake for another few minutes. When the feet start looking a little more dry, open the oven and turn the baking sheet around.
Let them bake for about 4 to 6 more minutes before you test for doneness. To test, open the oven door and use one finger to gently tap on the side of one of the macaron shells. If there is any wiggling, they need to bake longer. Let them go for another 2 minutes, then test again.
Once you have no movement in the shell, bake them yet again for 2 minutes. Then take them out and let them cool completely. Let them sit on the same baking tray while they cool.
Filling
After the shells are baked and completely cooled, you can remove them from the mat or parchment paper. To do this, you'll want to peel the mat off of the macaron, rather than peeling the macaron off of the mat. This will help prevent any tearing or sticking.
Match up the macaron shells into pairs of roughly the same size, and then use a piping bag full of your preferred filling to pipe a small amount of filling onto one of the shells. Sandwich the other paired shell on top. Ta-da! You have a finished macaron 🙂
There are so many ways to fill and decorate macarons that I'm going to keep it simple for now, but you can expect more macaron ideas from me in the future! My favorite filling is my Easy Swiss Meringue Buttercream, but the sky's the limit!
Other Recipes You Might Like
Did You Try This Recipe?
I would love to know how your macarons turned out!! Please leave me a star rating or comment below letting me know. I will do my best to respond to all of your macaron questions!
📖 Recipe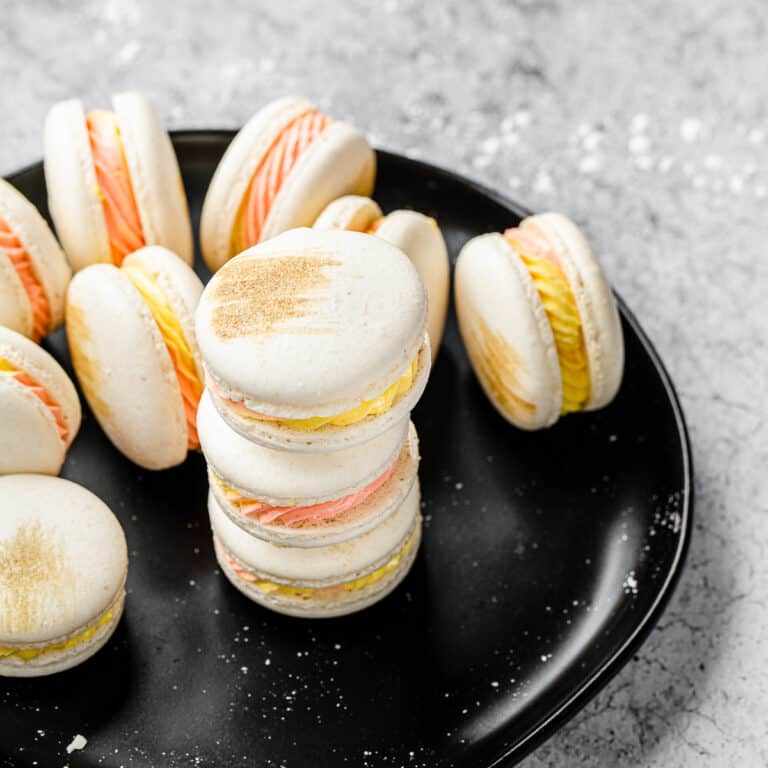 Macarons
No-rest, Swiss method macarons using carton egg whites
Equipment
Stand mixer with whisk attachment and, preferably, a 3-quart metal bowl

Medium saucepan

White vinegar for wiping bowl, whisks, and silicone mats

Silicone mat with printed macaron template (see post for recommendations and other options)

Parchment paper (if you are not using a silicone mat)

Piping bag with round tip (for macaron batter)

Piping bag with round or star tip (for filling)

Oven thermometer

For decoration: luster dust, candy melts or tempered chocolate, sprinkles (all optional)
Ingredients
Dry Ingredients
130

g

almond flour

very finely milled - see post for recommended brands

130

g

powdered sugar
Swiss Meringue
120

g

egg whites

either from a carton (my preferred) or fresh, from approx. 4 fresh eggs - weigh the whites after separating out the yolks

130

g

powdered sugar

1

teaspoon

cream of tartar

see Note #2 - use less for fresh egg whites
Instructions
Dry Ingredients
Weigh out your almond flour and powdered sugar and combine them in a bowl. Whisk together until combined.

130 g almond flour,

130 g powdered sugar

Using a fine mesh sifter, sift the almond flour and sugar mixture. Toss out any large chunks. (You can also do this step in a food processor by pulsing the mixture several times.)

Sift the mixture again and toss out any large chunks.

If you are making a large batch of dry ingredients ahead of time, store the mixture in an airtight container in the refrigerator. You can either keep the mixture pre-measured in separate containers, or keep it all in one large container and measure as you need (260 g of the mixture for this recipe).
Swiss Meringue
Set up an oven rack as far away from the heating element as possible. In my electric oven, this is the bottommost rack. Make sure you can see your oven thermometer.

Preheat your oven. You will need to adjust how you use your oven as you go, because every home oven is different, but a good starting point is 300°F (150°C). You may need to preheat the oven for quite a while to get it to a consistent temperature: I try to preheat for about an hour.

Wipe down a metal stand mixer bowl, the whisk stand mixer attachment, and a small metal hand whisk with white vinegar. (Note: If you are using a large stand mixer, 6 quart or above, you will need to double this recipe for the meringue to whip up properly.)

Add a small amount of water to a medium saucepan, making sure the bottom of the pan is completely covered, and bring it to a simmer.

Add the egg whites, powdered sugar, and cream of tartar to the metal stand mixer bowl and set the bowl on top of the simmering water. Optionally, you can add in powdered food coloring at this point.

Whisk the egg/sugar/cream of tartar mixture constantly while it is over the steam.

Use a cooking thermometer to occasionally check the temperature of the mixture, and remove from the heat when the mixture gets to 120°F (49°C).

Use a towel to carefully wipe the water off the bottom of the bowl (it will be warm), and attach the bowl to the stand mixer set up with the whisk attachment.

Turn the stand mixer on to a low speed and allow the mixture to whip as it cools down. After about 5 minutes, raise the speed to medium.

Meanwhile, while the meringue whips, set up your baking pans. Wipe your silicone mats down with white vinegar and place them on the pans.

Check your meringue. When it is a little foamy, you can raise the speed, working up to a maximum of level 6 speed. It takes longer to get to stiff peaks at this speed, but whipping on very high speed will lead to a less stable meringue with uneven sized bubbles.

As the meringue keeps whipping, set up your piping bag(s). Insert the piping tip and position the bag in a large glass or other tall, narrow 5b gbhhbcontainer with the bag edges folded down.

When the meringue reaches soft peaks, you can optionally add a small amount of extract and/or gel food coloring. Don't add more than ¼ teaspoon.

Keep whipping the meringue until it reaches very stiff peaks. This could take 20 minutes or so. When in doubt, keep whipping. Although possible, it is very difficult to overbeat Swiss meringue.

When you have reached stiff peaks, run the mixer on the lowest speed for 1-2 minutes. This will even out some of the meringue bubbles.
Macronage
Add the dry ingredients to the meringue all at once. Optionally, you can add powdered or gel food coloring at this stage.

Using a large flexible spatula, start gently folding the ingredients together. It will look like a shaggy mess for a while but will come together in a minute or two.

Once the mixture looks pretty well combined, you can start your macronage. Optionally, you can split the mixture at this point into separate bowls and add powdered or gel food coloring to each bowl. You will need to macronage each bowl separately with different spatulas, and keep the unused bowl(s) covered so they don't dry out.

Using your spatula, scrape around the sides of your bowl and gather the mixture into the middle of the bowl. Begin pressing the spatula down into the middle of the mixture. Scrape the sides and bottom of the bowl again, and press the spatula down again. Continue this process.

Test your mixture to see if it is ready for piping. For this recipe, the best test is a patch test. Gather the mixture together in the bottom of the bowl, and then scrape the spatula down underneath it. Turn the spatula vertically so you are picking up some of the batter, but some will drip off the bottom. Use the drips to carefully spread some of the batter on top of the mixture in the bowl. Watch the patch of batter you have spread, and count to 30. When you are done counting, if the edges of the patch are very soft and mostly spread into the rest of the batter, it is ready. If the edges are still very well defined, you will need to keep mixing. (See Note #3 below about other test types)
Piping the Batter
Check your oven thermometer at this point and adjust the temperature as needed so that the thermometer reaches the baking temperature you want. It usually ranges from 275°F (140°C) to 325°F (165°C), but keep in mind that every home oven is different. Above 325°F may cause your shells to get fairly browned.

When the batter is ready, scrape it from the bowl into your prepared piping bag. Make sure not to fill the bag more than ¾ full. If you have extra batter, cover it well so it doesn't dry out.

Twist the top of the bag closed and, optionally, secure it with a clip.

Pick up the piping bag and, holding it vertically, begin piping rounds onto your prepared baking tray. If you don't have a silicone mat or parchment with a template, you will want to space each round a couple of inches apart (not because they spread, but because they need to get heated evenly from all sides so they won't be lopsided).

For each piped round, try to do a little flick with the bag when you are done piping. Stop squeezing the bag and make a small, quick circle with the bag as you move it away from that round. This will help to avoid any peaks on top of the macaron shells.

As you pipe, try to make sure the rounds are approximately the same size. I do this by counting in my head as I gently squeeze the piping bag, but do whatever technique works best for you.

When you have piped all of the rounds, if you have any batter left over in the piping bag, stop up the bag so it doesn't dry out and let it sit until you are ready to pipe your next tray.

Pick up your baking sheet with the piped batter and, holding it as flat as possible, gently tap it onto your work surface. I do this tapping about 15 times, then turn the tray ¼ turn and do 15 more taps. Turn again twice more for a total of 60 gentle taps. This will help to bring any large air bubbles to the surface.

If you see any large air bubbles on the surface of any of your piped rounds, use a toothpick or a scribe to pop the bubble and use a circular motion to smooth out the surface as best you can.

Optionally, add sprinkles to the top of your piped rounds. Make sure they are oven-safe sprinkles and won't melt at the baking temperature, and that they are not too heavy. Small nonpariels or sanding sugar work well. Large sprinkles are best added after baking, using melted chocolate or edible glue to adhere them to the shells.
Bake the Macaron Shells
Since this is a no-rest recipe, bake as soon as possible after piping. Carefully put the baking sheet into your oven onto the prepared rack and close the oven door.

Baking time is something you will have to adjust based on your oven, but a good starting point is to bake for 18-20 minutes. At the 12 minute mark, check to see how they are baking, and to see what the oven temperature is. If the oven is getting too hot, open the oven door and turn the tray around, then close the door. Adjust the temperature controls if needed.

If your shells start to discolor or turn brown, turn the oven heat down and/or open the oven door a crack.

To test for doneness, open the oven and use your finger to very gently tap the side of one of the shells. If the top wiggles at all, it needs more time to bake. Check again after 2 minutes of baking.

When the shells stop wiggling, bake for another 2 minutes. Then remove the tray from the oven and place it on a cooling rack.

Allow the shells to cool on the baking sheet until they are completely cooled to room temperature.

When the first tray comes out, you can pipe your second batch so the oven has a chance to heat up again. Then, repeat the steps above for baking the second batch.
Finishing the Macarons
When removing the shells from the silicone mat or parchment paper, be sure to peel the mat away from the shells, instead of peeling the shells off of the mat. This will help the bottoms not to tear.

Match up pairs of shells that are approximately the same size, and line them up to get ready to pipe the filling. At this point you can optionally decorate your shells with melted chocolate, sprinkles, edible paint, etc.

Fill a piping bag with buttercream or your filling of choice. Depending on what style of filling you want, you can pipe swirls of filling with a star piping tip, but the easiest way to fill them is using a round tip. Simply pipe a dab of filling on one shell, then pull up as you stop squeezing the bag to make a shape like a Hershey's Kiss.

Take the matching shell and gently place it on top of the piped filling, pushing down carefully so the filling goes all the way to the edge of the macaron. Do the same for all of the matched pairs.
Mature and Store
Once you are done filling all of the macarons, it's time to mature them in the refrigerator. This just means to let them sit in the refrigerator so some moisture from the filing gets absorbed into the shell. Place the macarons into an airtight container and leave them in the fridge for about 24 hours.

After maturing, you can serve your macarons, or leave them in the refrigerator for about a week. If you want to store them longer, they freeze very well. Just make sure they are well wrapped in an airtight container.
Notes
1 - Important note: This recipe is given in weight only. I usually try to give weight and volume measurements, but it is really important to be accurate for macarons. As little as 5 extra grams of dry ingredients can really throw off any macaron recipe! If you don't have one, a kitchen scale will totally change your baking for the better, I promise!
2 - Cream of Tartar amount: If you are using fresh egg whites from regular eggs, use

⅛ teaspoon per egg white (30 g). If you are using carton egg whites, use ¼ teaspoon per egg white (30 g). The recipe listed shows the Cream of Tartar amount for all carton egg whites. Sometimes I use a mixture of fresh and carton, and modify the amount of Cream of Tartar accordingly.

These Cream of Tartar amounts were published by Rose Levy Berenbaum of realbakingwithrose.com.
3- Batter testing. A lot of other recipes say to mix the batter until it makes "figure 8's" as the batter flows off the spatula in a smooth motion. For this recipe, that consistency of batter is actually over mixed, and you will likely get hollow macarons. Do the patch test as described above, or stop when the batter flows a little bit off the spatula but then breaks.
Nutrition
Calories:
125
kcal
Carbohydrates:
20
g
Protein:
2
g
Fat:
5
g
Saturated Fat:
1
g
Polyunsaturated Fat:
1
g
Monounsaturated Fat:
1
g
Sodium:
30
mg
Potassium:
33
mg
Fiber:
1
g
Sugar:
18
g
Calcium:
12
mg
Iron:
1
mg
Made with WP Recipe Maker plugin