This Smoky Margarita is a deliciously different take on a margarita! Tequila and mezcal together work wonderfully with lime, triple sec and smoked simple syrup. A smoked salt rim and brûléed lime add a nice finishing touch. It's the perfect margarita to drink by a campfire!
This is a great cocktail to transition into the fall months. It's still a refreshing drink, but with the smoky twist and lightly aged reposado tequila, it has some deep and warm flavor notes.
Try out my Smoked Simple Syrup recipe to make your own smoked syrup! You can even use agave nectar and smoke it using the same method.
Also check out my Classic Margarita recipe to go back to basics!
Jump to:
Ingredients
Here are the ingredients you'll need in order to make this cocktail:
Tequila - reposado tequila works well in this recipe, since it brings a subtle oaky flavor from being aged. You can also use blanco for a cleaner flavor or añejo for an even deeper oak flavor.

Mezcal

- most mezcal has a naturally smoky flavor from how it's manufactured. It has some similarities to tequila since they are both made from agave.
Cointreau - you could use any triple sec liqueur, but Cointreau has less sugar than most.
Smoked simple syrup - make your own using my smoked simple syrup recipe, or try out Traeger vanilla smoked syrup.
Lime juice - preferably freshly squeezed.
Smoked sea salt (for glass rim) - I used Maldon brand.
(Optional) Slice of fresh lime and granulated sugar to make a brûléed lime garnish.
Equipment
You'll need a cocktail serving glass -- I used a large stemless wine glass, since you'll want to leave room at the top above the drink for the smoke to collect. You'll also want to have a cocktail shaker, strainer and a jigger or a small measuring cup, along with a knife and cutting board for the citrus.
A kitchen torch, like this Gilbot butane torch, is also a big help in order to get the best smoke from the cocktail smoker.
Cocktail Smoker
To help you get the smoke infused into the cocktail, I definitely recommend some kind of cocktail smoker. Although you can smoke the glass itself (turn the glass upside down over some burning wood chips) before pouring in the drink, infusing the whole drink with smoke will give you a stronger flavor.
There are a few different styles of cocktail smoker available. My favorites for this drink are the glass-top smoker style or the cloche style. I used this glass-top cocktail smoker kit, which worked beautifully (see picture below).
For the cloche style, this Breville smoker can be used with a cloche (basically a tall glass enclosure that you use to cover the drink, then fill it with smoke).
Substitutions
Need to make a substitution? Here are some easy ways to do it:
Tequila/Mezcal - although mezcal is becoming easier to find in the US, if you can't find any, just use all tequila. Alternatively, you can choose to use all mezcal if you have it. It's delicious!
Cointreau - any triple sec works here. Grand Marnier is a good substitute, or limoncello works well too.
Smoked syrup - if you don't have any smoked syrup prepared, just use plain syrup. Maple syrup or agave nectar also work really well in this drink.
Smoked sea salt - just use regular salt if you don't have smoked salt.
Keto friendly - if you need to make this drink keto friendly, just omit the Cointreau and use a sugar free syrup. Increase the syrup to 1 ounce and also increase the mezcal to 1 ounce.
Variations
Here are some ways you can change up this recipe:
Rosemary Smoky Margarita - use rosemary syrup instead of smoked syrup to give a little bit of a floral flavor. You can also burn dried rosemary instead of wood chips to give the smoke a different flavor. Garnish with a charred sprig of rosemary.
Smoked Tequila Margarita - instead of smoking just the syrup, you can also add smoke flavor to your tequila. To do this, add tequila to a resealable bottle, and fill it no more than half full. Fill the rest of the bottle with smoke and seal it up. Let the bottle sit for about 10 minutes, gently shaking every couple of minutes. Repeat the process for a deeper smoke flavor.
Non-alcoholic Smoky Margarita - to make this a virgin drink, switch out the tequila and mezcal for a non-alcoholic tequila substitute, like Lyre's Agave Riserva.
Instructions
If you're making the brûléed lime, start out by sprinkling sugar onto the lime. Then, use your kitchen torch to caramelize the sugar and char the lime. It will take a minute or two of concentrated heat to get it to color up nicely. Keep the heat of the torch on low so you have more control over the charring.
Wet the rim of your serving glass and dip it into a dish of smoked sea salt. Turn and continue to dip the rim until it is all coated in salt.
Add the tequila, mezcal and Cointreau to your cocktail shaker.
Add in the lime juice and smoked simple syrup. Then, fill it up with ice and shake it 15 to 20 times. This will dilute and chill the drink.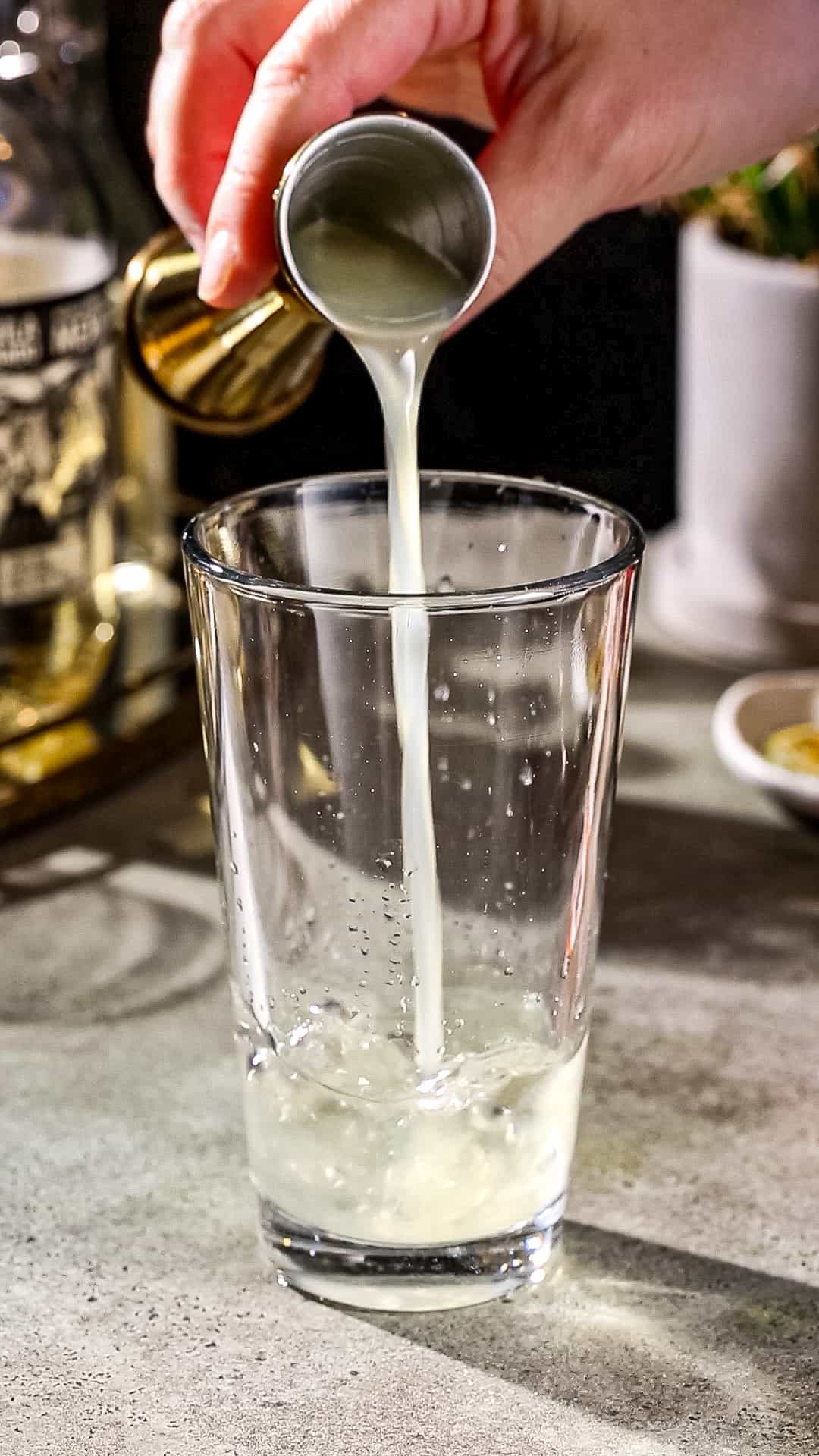 Fill your serving glass with fresh ice and strain the drink into the glass. Top the glass with your cocktail smoker (or place it into your smoking cloche) and place a pinch of wood chips into the smoker.
Light the chips and let the smoke collect in the glass as per the manufacturer's instructions. Seal it up and let it sit with the drink for 3 to 5 minutes.
Then, cut a slit in the brûléed lime, add it to the rim of the cocktail as a garnish, and serve.
Hint: Don't forget to have a working fire extinguisher handy whenever you're working with fire.
Frequently Asked Questions
What is the difference between mezcal and tequila?
Tequila is actually a type of mezcal! Both are made from the agave plant, but tequila has certain restrictions on where it can be made and from what type of agave (blue agave only). Mezcal is also typically made by roasting the agave in a pit, giving it more of a smoky flavor overall.
What is the best wood to smoke cocktails?
The answer kind of depends on the drink! For this margarita, a sweeter and lighter wood works great. I used cherry wood, but applewood works great too. For something like an Old Fashioned, oak or hickory wood work perfectly. You can also try out using dried herbs or flowers in a cocktail smoker for a different flavor.
Top tip
If you're planning to make at a party, you can pre-make all of the brûléed lime slices. Just torch them all together in a batch, or you could even put them under the broiler for a few minutes (keep a close eye on them!). Store them in an airtight container in the fridge, and they should keep for a day or two.
📖 Recipe
Smoky Margarita
With a mix of tequila and mezcal, along with smoked simple syrup, this Smoky Margarita is the perfect cocktail to sip by a campfire!
Equipment
Cocktail serving glass

Knife and cutting board

Kitchen torch

(optional - for brûléed lime garnish)
Ingredients
Garnish
1

slice

lime

(for garnish)

½

teaspoon

sugar

(for garnish)

smoked sea salt

(for garnish)
Cocktail
1

ounce

tequila

¾

ounce

mezcal

¾

ounce

smoked simple syrup

(linked to recipe. See Notes #1)

¾

ounce

lime juice

½

ounce

Cointreau

wood chips

(for cocktail smoker)
Instructions
Brûléed Lime Garnish
Cut a slice of lime and place it on a fire safe plate.

Sprinkle sugar over top of the lime to coat the top.

Use a kitchen torch to heat the sugar until it caramelizes and the lime starts to get some brown areas. Set the lime slice aside while you make the drink.
Smoked Sea Salt Rim
Add smoked sea salt to a small dish.

Using a cut lime or other liquid, wet the rim of the serving glass.

Dip the rim of the glass into the salt, turning after each dip until you've coated the entire rim.
Cocktail
Add the tequila, mezcal, Cointreau, lime juice and smoked simple syrup to a cocktail shaker.

Fill the shaker with ice and give the mixture about 15-20 good shakes.

Fill the prepared serving glass with fresh ice and strain the drink into the glass.

Set the cocktail smoker on top of the glass, being careful not to disturb the salt rim too much. Add the wood chips to the smoker. (See Notes #2)

Use the kitchen torch to light the wood chips and then seal the top of the smoker.

Allow the smoke to sit inside the glass for about 3 to 5 minutes.

Remove the smoker from the serving glass, add the brûléed lime to the rim, and serve.
Notes
If you don't have smoked simple syrup prepared, you can use plain simple syrup or agave nectar.
The instructions are for a glass-top cocktail smoker, but you can also use a cloche-style smoker or something else. Just follow the manufacturer's instructions after pouring the cocktail.
Nutrition
Calories:
231
kcal
Carbohydrates:
25
g
Protein:
0.2
g
Fat:
0.1
g
Saturated Fat:
0.02
g
Polyunsaturated Fat:
0.01
g
Sodium:
15
mg
Potassium:
51
mg
Fiber:
0.3
g
Sugar:
23
g
Vitamin A:
14
IU
Vitamin C:
8
mg
Calcium:
8
mg
Iron:
1
mg
Made with WP Recipe Maker plugin