This easy to make Starbucks copycat Sugar Cookie Syrup is the perfect syrup for the holidays! It's great for sweet cocktails, lattes and even drizzled on pancakes. It's super easy to make -- just 4 ingredients! -- and truly delicious. The vanilla and almond taste go perfectly together to give this syrup a warm and cozy flavor.
I love making this syrup to enjoy during Christmas and the winter holiday season. This recipe was inspired by the Starbucks syrup in their Iced Sugar Cookie Latte. It really tastes like a fresh baked sugar cookie!
I love this one in a cold brew coffee drink or in any espresso drink. And it goes super well with aged spirits, like whiskey or dark rum.
Looking for some more tasty homemade syrup recipes? This Cinnamon Syrup is an easy must-make for the holidays! Or, this Caramel Syrup is also wonderful for the winter months. If you want to go more in-depth, my tutorial How to Make Simple Syrup has some more info on the science of making homemade syrup.
For Christmastime cocktail ideas, check out my Sugar Cookie Eggnog for a delicious holiday drink! It would also go really well in this warm Whiskey and Caramel cocktail instead of the caramel syrup.
Jump to:
Ingredients
Here are the ingredients you'll need to make this syrup.
Sugar - you can use white or brown sugar for this syrup.
Water - preferably filtered or bottled water for the best taste.
Vanilla extract - I used double fold vanilla extract (double the strength), but regular works great too. Note that if you want this syrup to be clear in color, you will need to use clear vanilla extract. Otherwise it will be brown like in the photos.
Almond extract - almond extract is key here. It gives the syrup a warm nutty flavor and distinguishes it from vanilla syrup.
Substitutions
Here are some substitutions you can make for this recipe.
Sugar - any kind of sugar will work great here. Natural, brown sugar, coconut sugar, or an alternative sweetener all work (see the Variations section for a Keto-friendly version).
Vanilla extract - if you have a vanilla bean on hand, you can use it instead of the extract. Add it in to steep while the syrup cools. Or, you could try using butter extract instead.
Almond extract - if you don't have or don't want to use almond extract, try substituting in a different extract, like butter rum flavor. You could also use whole cinnamon instead. Just add in a cinnamon stick while the mixture cools.
Variations
Here are some ideas to make this syrup recipe your own!
Butter flavoring - prefer your Christmas cookies on the buttery side? Add a little butter flavoring to give this syrup a nice buttery kick! I like Watkins butter extract.
Up the almond flavor - if you prefer your cookies to be really almond-y, just switch the amounts of vanilla and almond extract.
Keto friendly - to make this recipe Keto-friendly, just use a sugar alternative. If you are using allulose (which I highly recommend!) add about ¼ cup (50 g) extra to match the sweetness of 1 cup of sugar.
Equipment
You'll just need a few things to make this recipe. Grab a small saucepan and a whisk or spatula. You can either use measuring cups or a kitchen scale for the water and sugar, and measuring spoons for the extracts.
You'll also need a funnel and a clean bottle to store the syrup. Mason jars work well for this, although I usually prefer a swing-top style bottle for easy pouring. Make sure the bottle is at least 10 fluid ounces in capacity.
I also am loving this little pocket label maker to print syrup labels using my phone! No more guessing what's what in my syrup collection (and it's a great way to add the date you made the syrup too!)
Instructions
Start out by combining the sugar and water in a saucepan. I like to weigh the sugar, but using a measuring cup is great too. Stir the mixture to combine before placing it over high heat.
Bring the sugar and water mixture to a boil, stirring occasionally. Then, lower the heat so the mixture simmers, and let it simmer for about 5 minutes.
Remove the mixture from the heat and let it cool for about 5 minutes. This is to avoid any splashes or sputtering when you add the extracts.
Measure and add the vanilla extract to the syrup, and stir to combine.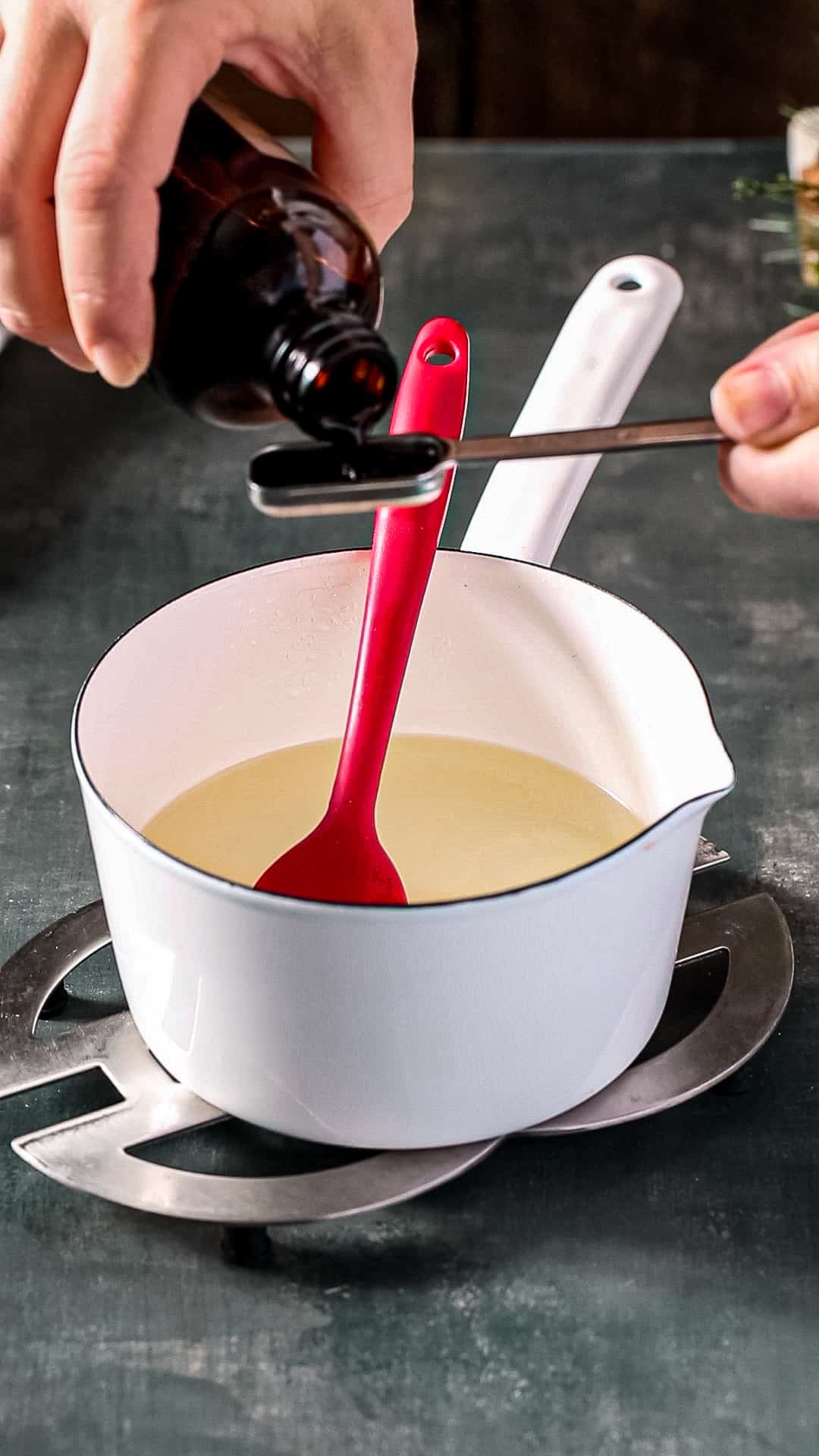 Then, measure and add the almond extract, and stir to combine.
Allow the syrup to cool to room temperature. This will take about 30 minutes to an hour. During this time, the alcohol from the extracts will mostly evaporate and just leave the flavors of the extracts in the mix.
Unless you're planning to use it right away, seal it up in an airtight container. Place a funnel in the opening of your storage bottle or container, and pour the cooled syrup into the bottle.
This syrup will keep for about a month in the refrigerator. Discard at any sign of mold.
Hint: if you want to speed up the cooling process, you can place the bottom of the pot in ice water and stir. Just be sure not to get any of the water in the syrup.
Frequently Asked Questions
Does Starbucks have a sugar cookie syrup?
Yes! Starbucks makes a seasonal sugar cookie syrup. You can actually buy this syrup (link here: Starbucks sugar cookie flavored syrup), but it's just as easy and tasty to make at home, and much more cost effective!
What is Starbucks sugar cookie syrup made of?
Like my recipe, the Starbucks version of this syrup is made of sugar, water, vanilla extract and almond extract. The commercial version of the syrup also contains preservatives.
What does sugar cookie syrup taste like?
If you've ever had a sugar cookie that uses both vanilla and almond extract, that is pretty much what this syrup tastes like! The almond flavor is nutty and rich, with notes of cherry. The vanilla flavor is a great backbone for this syrup and gives warm flavor notes.
Top tip
This syrup makes a delicious Iced Sugar Cookie Almond Milk Latte (even better than Starbucks)! To make one at home, add about ¾ cup of almondmilk or oat milk to your cup.
Add in about 1 ounce of the Sugar Cookie Syrup, and then use a milk frother to mix them together and froth up the mixture.
Then, add in a shot or two of freshly made espresso (I love using my Nespresso Vertuo for this). Fill the cup with ice, and give it a quick stir to combine everything.
Top it off with some holiday sprinkles if you're feeling festive! Cheers!
📖 Recipe
Sugar Cookie Syrup
This Sugar Cookie Syrup is perfect for holiday cocktails and lattes! It was inspired by the Starbucks syrup in their Iced Sugar Cookie Almond Milk Latte.
Equipment
Medium saucepan

Kitchen scale and/or measuring cups

Funnel
Ingredients
1

cup

sugar

(237 grams)

1

cup

water

(200 grams)

2½

teaspoon

vanilla extract

1½

teaspoon

almond extract
Instructions
Combine the sugar and water in a saucepan and stir until all the sugar is wet.

Set the saucepan over high heat and bring to a boil.

Once boiling, turn the heat down until the liquid is simmering, and let it simmer for 5 minutes. Stir occasionally.

Remove the saucepan from the heat. Let it cool for 5 minutes.

Add the vanilla extract and the almond extract to the saucepan and stir.

Let the mixture cool to room temperature, about 30 minutes.

Use a funnel to pour the finished syrup into a bottle for storage.

Seal the bottle and keep the syrup in the fridge for up to a month. Discard at any sign of mold.
Nutrition
Serving:
1
ounce
Calories:
82
kcal
Carbohydrates:
20
g
Protein:
0.001
g
Fat:
0.1
g
Sodium:
2
mg
Potassium:
3
mg
Sugar:
20
g
Calcium:
1
mg
Iron:
0.01
mg
Made with WP Recipe Maker plugin