The Corpse Reviver No. 2 may sound like an odd name for a cocktail, but it's actually super delicious and easy to make! With gin, lemon, orange liqueur and Lillet, this light and refreshing drink works well for any occasion.
The odd name of this drink comes from a family of cocktails called Corpse Reviver cocktails. They started appearing in the mid-1800's, and are meant to be a hair-of-the-dog type of hangover cure. This particular recipe was popularized in the 1930 book The Savoy Cocktail Book, which listed two Corpse Reviver recipes. This second one took off in popularity (and you'll see why when you try it!).
The Sunflower Cocktail is a variation on this recipe, using elderflower liqueur in place of the Lillet. Also check out the Banana Cow recipe for another hangover cure cocktail, with a little more nutrition and less alcohol! If you're on the hunt for another drink using Lillet, check out this Lillet and Gin cocktail recipe.
Jump to:
Ingredients
Here are the ingredients you'll need to make this cocktail.
Dry Gin - a London Dry style of gin is standard in this drink. I've used Highclere Castle Gin.
Lillet Blanc - this aromatized wine brings a white wine flavor, along with some herbal notes and a little sweetness. You can also use Cocchi Americano Bianco.
Triple Sec - Cointreau liqueur (an orange liqueur in the triple sec style) is specified in the original recipe. Other Triple Sec brands have more sugar, so feel free to use a different one if you like a little more sweetness, since this is the main sweetening ingredient.
Absinthe - this is used only as an accent to rinse the glass. This is a key ingredient because it just gives the drink an extra something when you take the first sip. I've put my absinthe in a cocktail spray bottle to mist the glass instead of rinsing it.
Lemon juice - preferably freshly squeezed.
Substitutions
Here are some substitutions you can make in this recipe, while keeping close to the original.
Gin - although dry gin with a strong juniper flavor is recommended, you can use vodka instead of gin if you prefer.
Lillet - if you don't have Lillet Blanc or Cocchi Americano, you can substitute in a sweet white vermouth.
Cointreau - orange Curaçao, limoncello or an apricot liqueur would all be great substitutes for the Cointreau.
Absinthe - if you don't have absinthe to rinse the glass, try a different licorice-flavored liqueur. Ouzo or anise liqueurs both have this as the main flavor.
Variations
Here are some variations on this classic cocktail.
Sunflower Cocktail - replace the Lillet Blanc with elderflower liqueur and you'll have a delicious Sunflower Cocktail. It's a little sweeter and has a great tangy and floral taste.
Corpse Reviver No. Blue - in place of the Triple Sec, use Blue Curacao liqueur. This will make it a little bit sweeter and a lot more blue in color!
Water Lily Cocktail - this gorgeous purple-colored drink is another cocktail that's very similar, but uses Creme de Violette instead of the Lillet. The violet-flavored liqueur transforms the drink to have a lot of sweetness and floral flavor.
Equipment
You'll need a cocktail shaker and strainer to make this cocktail, along with a jigger to measure the ingredients. If you're making a citrus garnish, you'll also need a paring knife and cutting board.
The drink is normally served up, without ice, so a stemmed cocktail glass is preferable to keep it colder longer. Choose one that is not too big, around 4 to 5 ounces in capacity. I used a Reidel Nick & Nora glass.
The cocktail spray bottle is optional, because you can also add a tiny bit of absinthe to the glass and swirl it around, rather than spraying it. I just like to have mine handy in the spray bottle!
Instructions
If you are making a citrus garnish, make the garnish just before mixing the drink so the curl has time to set. You can make this using a vegetable peeler and a paring knife, but another way to make this is using just a paring knife.
Cut a slice of lemon, and use the paring knife to remove the peel from all around the slice. Cut a slit in it so it's no longer a circle, and then twist it around a bar spoon or skewer. Set aside.
Add the lemon juice to the cocktail shaker, followed by the Cointreau.
Then, add in the gin and the Lillet Blanc to the cocktail shaker.
Fill the rest of the shaker with ice, seal the shaker and give it about 15 to 20 good shakes.
Spray or rinse the serving glass with absinthe. Then, strain the cocktail into the glass.
Add your prepared lemon twist garnish, and serve immediately. The absinthe aroma will be stronger when this drink is freshly poured.
Hint: If you like a stronger absinthe aroma, use a slightly larger glass to keep the rinse from getting lost in the drink after a few sips. I've used a 4 ounce glass in the photos, but a 5 ounce glass would work well for more absinthe.
Frequently Asked Questions
How did Corpse Reviver get its name?
The purpose of a Corpse Reviver type of cocktail is to be a hair-of-the-dog hangover cure, or just to be enjoyed in the late morning hours when you want something light. Enjoy with caution, though! As it says in the Savoy Cocktail Book, "Four of these taken in swift succession will unrevive the corpse again."
What does a Corpse Reviver No 2 taste like?
The lemon juice and Cointreau give this drink brightness and sweetness, while the Lillet and gin give it some herbal flavors and an undercurrent of white wine. Don't skip the absinthe rinse, as the licorice aroma really gives this drink a little something extra.
Top tip
With its spooky name, this cocktail would fit right in on a Halloween cocktail menu! To serve at a party, you can pre-mix all of the ingredients in a pitcher about an hour before the party starts. Instead of shaking with ice, just add about ½ ounce of water per cocktail, and chill the pitcher in the fridge. Rinse or spray the serving glass with absinthe just before serving.
📖 Recipe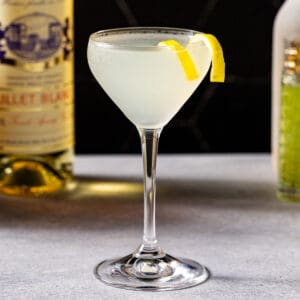 Corpse Reviver No. 2
Meant to be a hair-of-the-dog hangover cure, this delicious drink mixes gin, lemon, orange liqueur and Lillet Blanc to make a light and refreshing cocktail.
Ingredients
¾

ounce

lemon juice

¾

ounce

Cointreau liqueur

¾

ounce

gin

(London Dry style)

¾

ounce

Lillet Blanc

absinthe

(to rinse the glass or spray the glass using a cocktail spray bottle)

lemon peel

(for garnish)
Instructions
Garnish
Cut a lemon in half and then cut a slice of lemon. Cut a slit in the outer peel of the lemon slice.

Use a paring knife to cleanly separate the peel from the lemon slice, and you'll end up with a long strip of lemon peel with straight sides. Wrap the strip around a bar spoon or skewer and set aside while you make the drink. (see Notes)
Cocktail
Add the lemon juice, Cointreau, gin and Lillet Blanc to the cocktail shaker.

Fill the shaker with ice and shake 15-20 times.

Rinse or spray the serving glass with absinthe.

Strain the drink into the glass.

Add the lemon peel garnish and serve.
Notes
You can also make the garnish using a vegetable peeler if you don't want to cut the lemon right away. Just take off a long strip of the lemon peel and use the paring knife to shape it into a long, thin strip with straight edges.
Nutrition
Calories:
153
kcal
Carbohydrates:
10
g
Protein:
0.1
g
Fat:
0.1
g
Saturated Fat:
0.03
g
Polyunsaturated Fat:
0.02
g
Sodium:
2
mg
Potassium:
29
mg
Fiber:
0.1
g
Sugar:
9
g
Vitamin A:
1
IU
Vitamin C:
8
mg
Calcium:
1
mg
Iron:
0.04
mg
Made with WP Recipe Maker plugin