The Sunflower Cocktail is a light and citrusy drink, but it has enough layers of flavor to make it a very interesting sip. With tangy St Germain elderflower liqueur and gin, this drink is not only beautiful, but it's also easy to make.
This drink was developed by Sam Ross, who also created the Paper Plane. The Sunflower is actually a riff on an older classic cocktail, the Corpse Reviver No. 2. Instead of Lillet aromatized wine, this cocktail uses elderflower liqueur, which brings in a little more sweetness as well as a delicious floral flavor.
For another cocktail featuring St Germain, check out this beautiful Elderflower Gin Fizz. Or, this Lillet Gin drink is another citrusy and delicious everyday cocktail that uses Lillet aromatized wine.
Jump to:
Ingredients
Here are the ingredients you'll need to make this delicious cocktail:
Gin - I used Highclere Castle Gin. Any London Dry style of gin will work great in this drink.
St Germain - This elderflower liqueur is pretty easy to find with its distinct bottle. There are other elderflower liqueurs available, but this is the most common. It's also known as "bartender's ketchup" for how often it's used to modify drinks and make them more interesting.
Cointreau - Cointreau liqueur is a pretty recognizable brand name. It is a good quality Triple Sec, which is an orange-flavored liqueur. You can use any Triple Sec that you have on hand.
Lemon juice - preferably freshly squeezed.
Absinthe - You'll only need a tiny bit of this licorice-flavored liqueur. I keep some Absinthe in this inexpensive cocktail spray bottle for drinks like this one, that call for an Absinthe rinse.
Variations
Looking for a similar cocktail, but a little bit different? Try out these variations:
Corpse Reviver No. 2 - change out the elderflower liqueur for Lillet Blanc aromatized wine, and you are back to the (kind of scary sounding, but delicious) original version of this drink.
Water Lily Cocktail - this purple-hued drink switches out the elderflower liqueur for a different floral liqueur, Creme de Violette. This violet liqueur gives a different flavor, more sweet and less tart, for an equally tasty but different drink.
Vodka Sunflower - just substitute the gin for vodka to get a similar, but less herbal, drink.
Tequila Sunflower - change out the gin for tequila to get another delicious variation of this cocktail. Using tequila will give it a flavor that's a little bit like an elderflower margarita, but a little bit sweeter taste and richer mouthfeel.
Sunflower Highball - instead of serving this drink up, add it to a highball glass filled with ice and top with seltzer. The absinthe rinse will get a little lost here, so instead spray or float a tiny amount of it on top of the drink as a finisher.
Equipment
You'll just need a few things to make this drink. First, since this drink is served up, without ice, you'll want to have a stemmed cocktail glass. I used this iridescent coupe glass, which holds 4 ounces of liquid. This drink is small and concentrated, so you don't need a giant cocktail glass.
As for bar tools, you'll need a jigger or small measuring cup, plus a cocktail shaker and strainer. If you have a cocktail spray bottle, you might want to use it for the Absinthe, but it's optional.
If you're going the extra mile and making the cute lemon peel flower, you'll want to grab a vegetable peeler and a sharp xacto knife or paring knife. You'll also need a cutting board and a cocktail pick with a rounded end, that will look like the center of the flower.
Looking for any new bar equipment? The products from A Bar Above are my faves! You can get 10% off using my discount code, LKDrinks. Their bar tools are not only great to look at, but they can also be thrown in the dishwasher when you're done mixing.
Instructions
To start making this drink, prep your lemon peel garnish. This could mean just cutting a piece of lemon peel, or you could get fancy. I carved my lemon peel into the shape of a little flower using an xacto knife, and stuck a cocktail pick through it to look like a sunflower.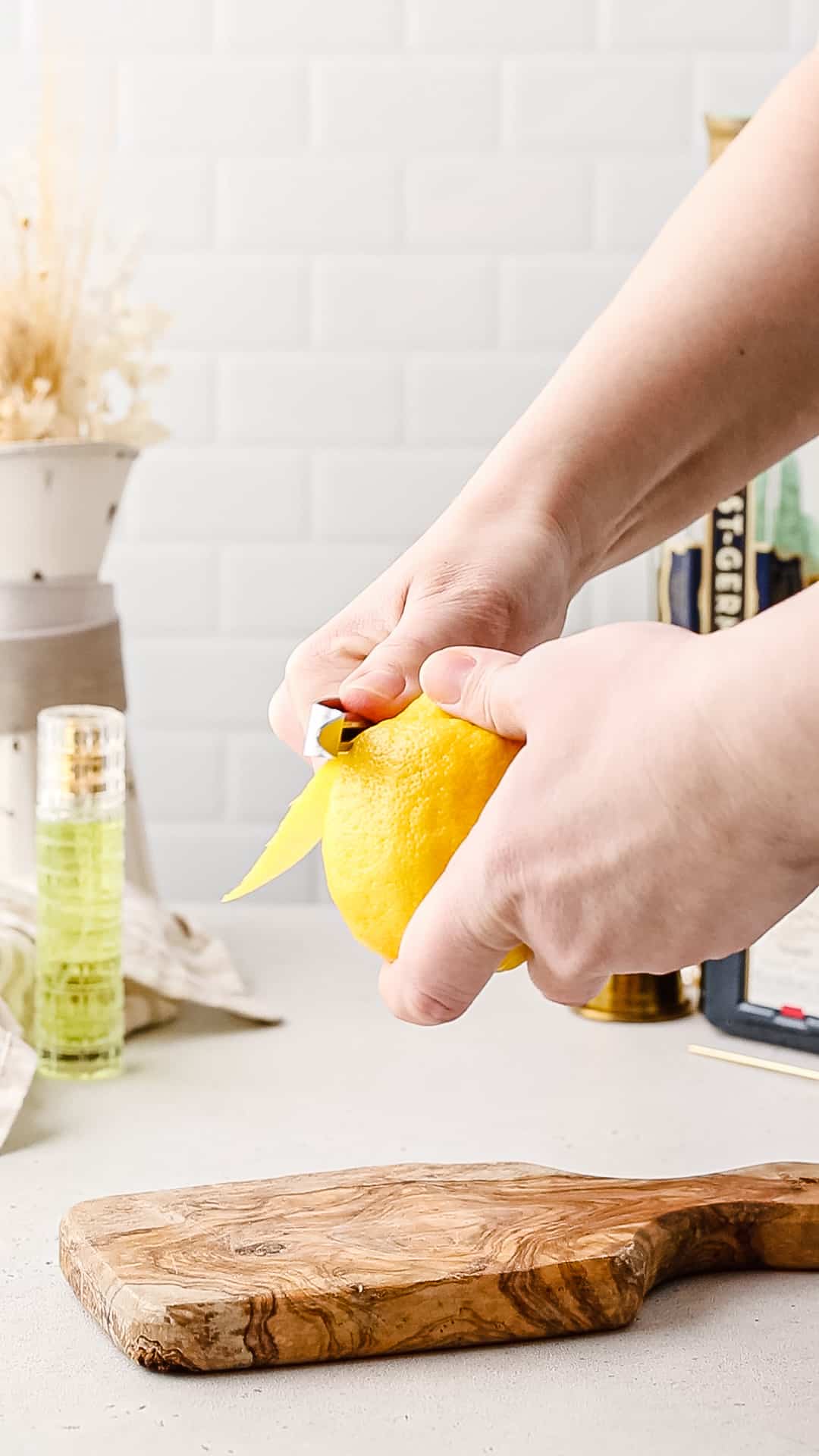 Next, start making the drink. Add the lemon juice and triple sec to your cocktail shaker.
Then, add the elderflower liqueur and gin to your cocktail shaker.
Next, spray the inside of your cocktail serving glass with absinthe. If you don't have a spray bottle, just add a tiny amount of absinthe to the glass and swirl it around to coat the inside.
Then, fill up your cocktail shaker with ice, seal it and give it 15-20 hard shakes. This will dilute and chill the drink.
Strain the drink into your prepared serving glass. I used a double strain method, which means that I used a Hawthorne strainer and fine mesh strainer together to catch any ice or lemon particles.
Finally, add the lemon peel garnish and serve.
Hint: if you don't have a bottle of Absinthe, you can use Sambuca or Ouzo, which have a similar licorice flavor. Neither of them have the bitterness of Absinthe, though, so you might want to add a few drops of bitters with them when you rinse the glass.
Frequently Asked Questions
How do you make a Sunflower cocktail?
This cocktail is easy to make. It's mostly just equal parts of gin, triple sec, elderflower liqueur and lemon juice. The little details of an absinthe rinse and lemon peel garnish really bring it up to the next level.
What does it mean to rinse a glass with alcohol?
To rinse a glass with alcohol means to add a little to the glass and swirl it around, discarding any excess that you've poured in. You could also opt to add the alcohol to a spray bottle, or atomizer, and spray it a couple of times directly into the glass.
Why do you rinse absinthe?
Absinthe gives a very strong flavor to a cocktail, so a little goes a long way. Rinsing the glass gives a hint of the anise and wormwood flavors of absinthe without overpowering the other ingredients.
Top tip
The longer you shake this drink, the more diluted it will get. Aim for about 15 to 20 hard shakes, and you should get a perfectly chilled drink with just the right amount of added water from the ice.
If you have a hard time getting a good shake, just stir the drink with ice instead for about 30 seconds. It won't get as aerated, but will still be a great drink.
📖 Recipe
Sunflower Cocktail
This gin cocktail is bright and citrusy, with a sweet and tangy floral addition from St Germain liqueur.
Ingredients
¾

ounce

gin

(preferably London Dry style)

¾

ounce

triple sec

(I used Cointreau)

¾

ounce

elderflower liqueur

(I used St Germain)

¾

ounce

lemon juice

1-2

sprays

absinthe

(or rinse the glass with it if you don't have a spray bottle)
Instructions
Garnish
Use a vegetable peeler to peel off a large piece of a lemon peel.

With an xacto knife or a sharp paring knife, cut the lemon peel into the shape of a sunflower.

Take a cocktail pick with a rounded end and pierce the flower shape in the center. Being careful to not nick your fingertips, push the pick all the way through so it looks like the round end is the center of the flower.

Set the garnish aside while you make the drink.
Cocktail
Add the gin, triple sec, elderflower liqueur, and lemon juice to a cocktail shaker.

Fill the cocktail shaker with ice, seal it and shake 15-20 times.

Spray or rinse your serving glass with absinthe.

Strain the drink into the serving glass.

Add the lemon peel garnish and serve.
Notes
For the garnish, making the sunflower shape is optional. I still recommend using a piece of lemon peel even if you don't shape it -- just twist it over top of the drink and rest it in the glass.
Nutrition
Calories:
197
kcal
Carbohydrates:
17
g
Protein:
1
g
Fat:
1
g
Saturated Fat:
1
g
Polyunsaturated Fat:
1
g
Sodium:
2
mg
Potassium:
29
mg
Fiber:
1
g
Sugar:
16
g
Vitamin A:
1
IU
Vitamin C:
8
mg
Calcium:
1
mg
Iron:
1
mg
Made with WP Recipe Maker plugin