This Gin and Violet cocktail is pretty and sophisticated, but also a bit different. The violet flavor is the main note, but the addition of bitters and ginger juice gives it a kick and keeps the violet from being overwhelming. With a sparkling sugar rim, it's perfect for a girl's night (or any night in my opinion!)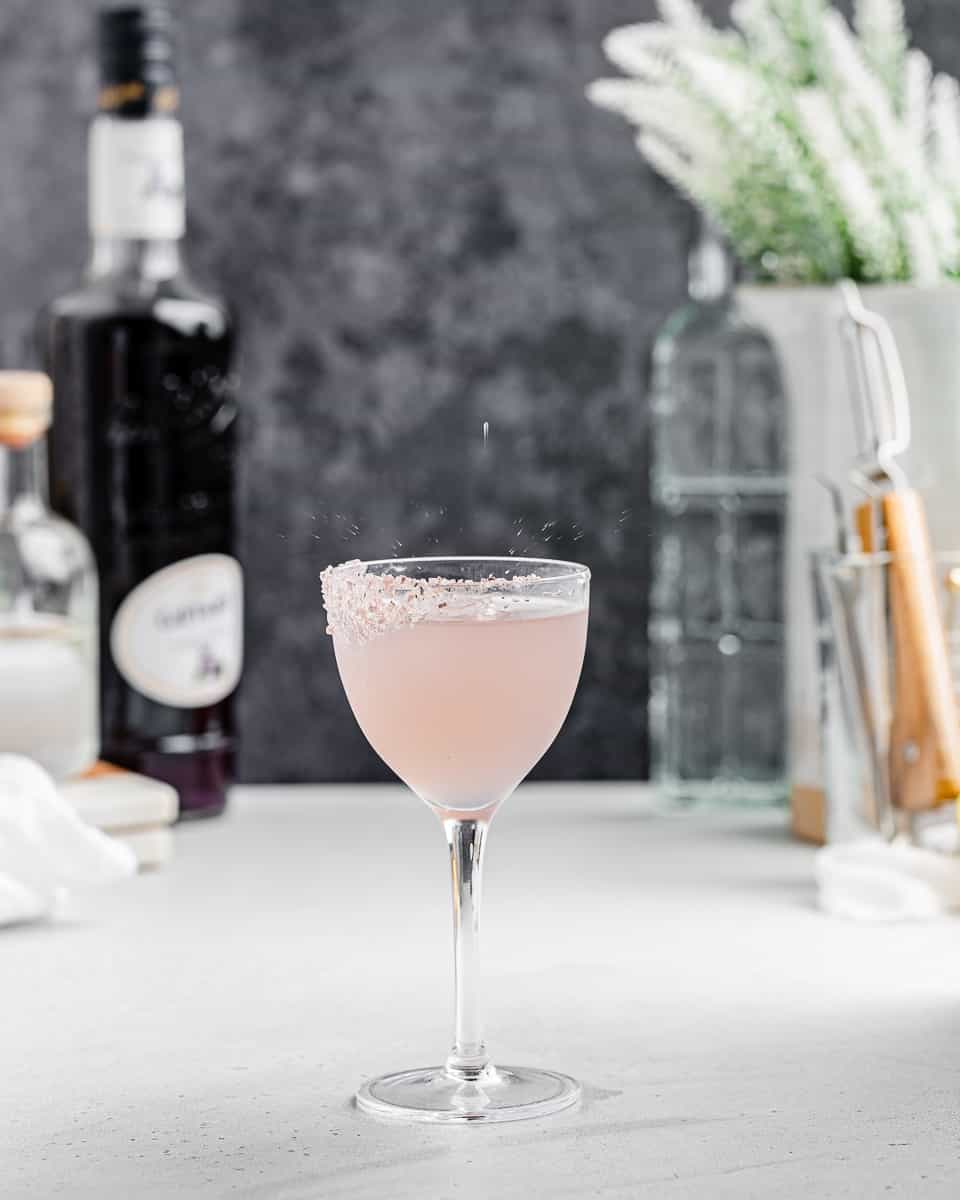 What is Creme de Violette?
It's no surprise that the star of this show is Creme de Violette. This violet-flavored liqueur gives the drink its color, but also has a very strong violet flavor. You only need a little bit to make a huge impact.
Creme de Violette is made by infusing violet blooms and leaves, and then combining that infusion with a sugar syrup. The result is a liqueur with a brilliant purple color, and a strong floral taste.
History of Violets
In the U.S. violets used to be hugely popular, up until the 1920s. In 1926, a Broadway play, The Captive, associated them with lesbianism. Unfortunately, there was a backlash against the play. Violet producers all but disappeared as the flowers dropped in popularity, since they are fragile and difficult to produce. This 2012 documentary called Sweet Violets is a really interesting look into the history of the U.S. violet industry.
In France, there is still a small group of growers producing violets. However, they're now grown more for their fragrance and use in liqueurs and perfumes than for floral bouquets.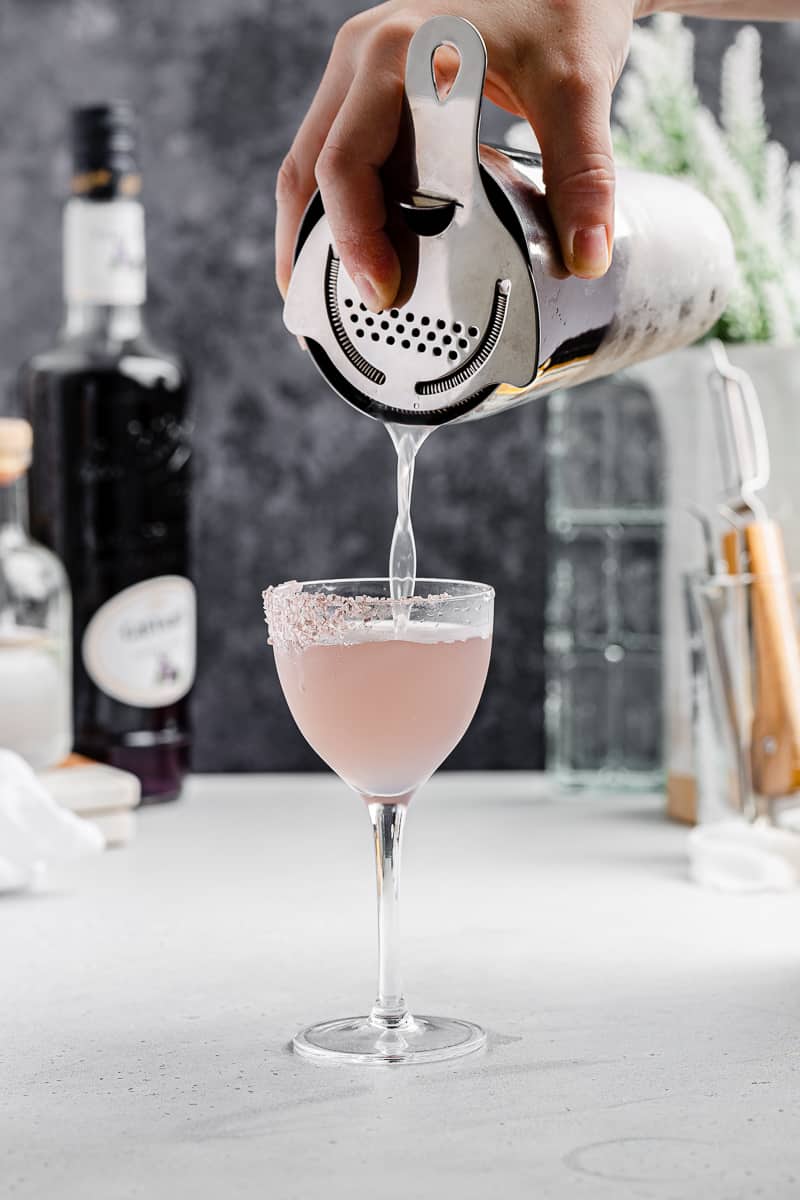 Making the Gin and Violet Cocktail
This Gin and Violet cocktail has several components, but it's easy to make. Start by adding the sugar rim to your serving glass. You can use a cut lemon to wet the rim, and then just dip it into sugar. I used a silver-colored, coarse sugar, like the one found here. (It looks pink in the photos because it reflects the color of the drink!)
Then, take a cocktail shaker and add the gin, Creme de Violette, freshly-squeezed lemon juice, simple syrup, ginger juice, and apple blossom bitters. You can also experiment with different types of bitters. They really add a lot to the cocktail, so I wouldn't recommend skipping the bitters!
Add ice to the cocktail shaker and shake 15-20 times, until the drink is well-chilled. Then strain it into the serving glass and serve immediately.
Other Cocktails You Might Enjoy
This Earl Gray Sour is another delicious spin on a gin sour
A Dragonfruit Mojito would be another perfect addition to a girls' night
This classic Last Word cocktail is simple and pretty, and you can use the maraschino liqueur with gin and Creme de Violette to make an Aviation cocktail
Did You Try This Recipe?
I would love to know if you gave this recipe a try! How did you like the violet flavor? I would really appreciate if you could leave a star rating or a comment below letting me know how you liked it!
📖 Recipe
Gin and Violet Cocktail
This pretty cocktail combines gin, Creme de Violette, lemon juice and ginger juice for a deliciously balanced drink.
Equipment
Cocktail serving glass

Coarse sugar and a cut lemon for glass rim
Instructions
Prepare the glass
Rub a freshly cut lemon on the side of your serving glass where you want the sugar to go.

Dip the wet part of the glass into the sugar so it sticks.

If you would like to chill the glass, add some ice and water to the glass at this point. Just be careful in dumping the water out before you pour in the cocktail, so you don't disturb the sugared rim. You could also just stick the glass in the fridge or freezer for a few minutes.
Make the drink
Measure and add the gin, Creme de Violette, lemon juice, simple syrup, ginger juice and bitters to a cocktail shaker.

Shake all ingredients with ice, about 15-20 times or until well chilled.

Strain the drink into your prepared cocktail glass and serve immediately.
Nutrition
Calories:
220
kcal
Carbohydrates:
23
g
Protein:
1
g
Fat:
1
g
Saturated Fat:
1
g
Polyunsaturated Fat:
1
g
Sodium:
15
mg
Potassium:
48
mg
Fiber:
1
g
Sugar:
21
g
Vitamin A:
2
IU
Vitamin C:
11
mg
Calcium:
5
mg
Iron:
1
mg
Made with WP Recipe Maker plugin