The Last Word cocktail is a classic gin cocktail that's not only mind-blowingly delicious, but also easy to make! This simple cocktail recipe has just four ingredients, with equal amounts of gin, lime juice, green Chartreuse and maraschino liqueur. It's tangy, refreshing, and a gorgeous cocktail for any occasion.
This is a great drink for anytime, with a great balance of fresh tartness and lots of herbal notes. It's also a perfect cocktail for St. Patrick's Day with its naturally green color!
If you're looking for another drink to get some use out of your Green Chartreuse, check out this delicious Kiwi Chartreuse Daiquiri, or the Irish whiskey based Tipperary Cocktail. Another drink that uses the Maraschino liqueur is this yummy Mezcal Chocolate Cherry cocktail.
Jump to:
History of the Last Word Cocktail
This Prohibition-era cocktail dates back to the 1920's, where it was served in the Detroit Athletic Club. After Prohibition, it continued in popularity until around World War II, likely because the ingredients became expensive and hard to find.
After fading into obscurity, it came back into the forefront during the cocktail resurgence of the early 2000's. Bartender Murray Stenson of Seattle's Zig Zag Cafe discovered it in Ted Saucier's 1951 book, Bottoms Up! The drink's perfect mix of sour, sweet, herbal and bitter flavors made it a hit once again.
Ingredients
The interplay of these four ingredients makes the Last Word a refreshingly complex drink.
Gin - this gives the drink its flavor base. A London dry gin works great.
Green Chartreuse - this naturally green herbal liqueur is famous for its many ingredients. is famous for its many herbal ingredients. It's pretty much irreplaceable in this drink, so I highly recommend giving it a try. When you're playing around with Chartreuse, keep in mind that it can easily overpower other ingredients. It also has a high alcohol content, about the same as the gin.
Maraschino Liqueur - the Luxardo company made a name for itself with its maraschino liqueur. It's pricey, but basically the gold standard of this type of liqueur. It's made from cherries, but it's not a sickly sweet cherry flavor like the neon red maraschino cherries you might see at the grocery store. Like the Green Chartreuse, it has a high percentage of alcohol.
Fresh lime juice - this gives the drink its tartness and also counteracts the sweetness of the two liqueurs.
Substitutions
If you don't have some of the ingredients, try these instead:
Gin - you can use vodka or tequila instead if you don't have gin on hand.
Chartreuse - there is really not a substitute for this, but Dolin Genepy Le Chamois is probably the closest match you'll find. You can also try using yellow Chartreuse, which has less of a strong flavor.
Maraschino liqueur - you can try using Cherry Heering instead, although it will make the drink a brownish color.
Lime juice - try using lemon instead, although it will be a little less tart.
Variations
Here are some riffs and variations for this classic drink:
Final Ward - created in 2007 by bartender Frank Ward, this drink switches the gin for bourbon and the lime for lemon juice.
Paper Plane - with equal parts of bourbon, Amaro Nonino, Aperol and lemon juice, this amaro-packed drink is absolutely delicious.
Wordsmith - this version substitutes out the gin for a pot-still Jamaican rum, creating a funky and delicious sip.
Equipment
To make this drink, you'll need a jigger, a cocktail shaker and a strainer, plus an optional fine mesh strainer. You'll also need a citrus press juicer, a knife and cutting board if you're using fresh lime.
This drink is traditionally served up, which means without ice, in a stemmed glass. I used a Nick and Nora glass, but a coupe glass or martini glass also work well. The glass should hold at least 4 ounces.
Instructions
To make the Last Word, prep your garnish before starting to build the drink. I chose to garnish with a lime curl, which you can make by cutting a slice of lime and removing the peel, and then curling it with your fingers. Another great garnish for this is a maraschino cherry (preferably Luxardo cherries if you can find them!)
To make the drink itself, add all four ingredients to your cocktail shaker, along with ice, and shake everything about 15-20 times in order to chill and dilute the drink. Then, strain the drink into the glass.
You can strain with just one strainer, or you can double strain like I show above. This just means that you'll use a fine mesh strainer underneath the regular cocktail strainer. This will strain out all of the lime pulp, plus any shards of ice that may have broken off during the shake.
Finally, just add your garnish and serve.
Hint: Try chilling your cocktail glass in the refrigerator before making the drink. This will keep it colder for longer. Or, you could chill it by filling it with ice water while you mix.
Frequently Asked Questions
What is Green Chartreuse?
Green Chartreuse is a naturally green liqueur, famous for using 130 different herbal ingredients. It's made in France by Carthusian Monks, who use a centuries-old secret recipe.
What is Maraschino Liqueur?
Maraschino liqueur is a sweet and strong cherry-flavored liqueur made from Marasca cherries. Different companies make their own version, but the Luxardo brand is the most well known.
Top Tip
If you plan to make a batch of Last Word cocktails for a party, I recommend combining the three liquor ingredients ahead of time, and juicing your limes just before the party. Keep the mix in a pitcher in the refrigerator, and measure out three ounces of liquid per drink into a cocktail shaker with ice. Then, just continue with the shaking and straining as in the regular recipe.
If you don't want to shake each drink, then add ½ ounce of filtered water per cocktail to the pitcher. Add in all of the lime juice just before the party, and serve directly from the pitcher. Cheers!
📖 Recipe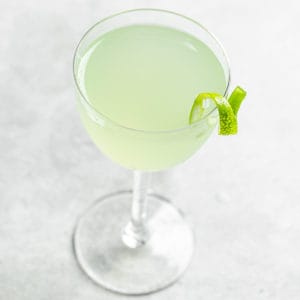 Last Word (Classic Cocktail)
This Prohibition-era classic is made with equal parts gin, Chartreuse, Maraschino liqueur and lime juice. It's refreshing but complex enough for a discerning drinker.
Instructions
Optionally chill the cocktail glass in the refrigerator, or by filling it with ice and water.

Prepare your garnish, either a curl of lime, a maraschino cherry or something of your own design.

Add the gin, Chartreuse, Maraschino liqueur and lime juice to the cocktail shaker.

¾ oz gin,

¾ oz Green Chartreuse liqueur,

¾ oz Maraschino liqueur,

¾ oz lime juice

Fill the shaker with ice, and shake the cocktail 15-20 times.

Empty the water and ice out of the cocktail glass or take it out of the refrigerator. Then, strain or double-strain the drink into the glass.

Add your garnish and serve.
Nutrition
Serving:
3
oz
Calories:
187
kcal
Carbohydrates:
17
g
Protein:
1
g
Fat:
1
g
Sodium:
4
mg
Potassium:
1
mg
Fiber:
1
g
Sugar:
15
g
Iron:
1
mg
Made with WP Recipe Maker plugin