This Lemon Loaf Cake is one of the easiest things to whip up! It is a rich, dense style of cake, which holds up well and even improves the next day. This is a dairy free cake, and even the tangy lemon glaze uses melted cocoa butter instead of cream to give it some body.
Creating a Dairy-Free Cake
Because this cake is dairy free, oil subs in for the butter. There is more water in butter than in oil, so it will need less oil in comparison. But that also means we will need to add some extra liquid.
In this case, the extra liquid is lemon juice to up the lemony factor. So, not using butter actually allows us to add in some extra lemon flavor to the cake.
How To Make This Cake Vegan
This cake uses eggs, but everything else is plant-based, so it would be pretty straightforward to transform this into a vegan recipe. This article gives a bunch of common egg substitutes, and surprisingly concludes that using carbonated water instead of egg worked the best in their tests.
Their test was done with a lighter style of cake, though. For this pound-style cake, I would start with the substitute of 2 tablespoons water, 2 teaspoons baking powder and 1 teaspoon oil per egg.
Pan Size
I'll be honest, I mainly wanted to make this cake because of this gorgeous NordicWare lemon loaf pan! Using a molded pan like this is a really easy way to make a loaf cake pretty. You just have to make sure to grease it really well. I love using baking spray to coat my pans, especially intricate ones like this. It makes cakes just fall out of the pan without sticking at all.
Any loaf pan that has a 6-cup capacity (1.4 liters) will work with this recipe. You can also bake this in a regular 8" round (20cm) cake pan, but you'll need to reduce the baking time to around 30 minutes since it is not as thick.
Lemon Glaze
I love adding a glaze to cakes. I just feel that it makes them look so luscious! Of course, this glaze is totally optional, but it adds a ton of lemon flavor. If you make it to the right consistency, you will still be able to see the pattern of a sculpture cake like this one.
Since most loaf cake glazes call for a little bit of cream, I substituted in a little melted cocoa butter instead. This gives the glaze a little body and helps keep it smooth.
If you don't have cocoa butter, you can make a glaze with just a mix of powdered sugar and lemon juice. Or, you can always just sprinkle plain powdered sugar on top. This cake is so moist that it doesn't need a ton of extra sugar!
Making the Lemon Loaf Cake
Mixing the batter
This is pretty much a one-bowl cake! Start by measuring out the sugar and adding the lemon zest. Use your fingers to rub the zest into the sugar, and set the bowl aside for about 30 minutes. The sugar will draw out even more of the citrus oils as it rests.
After the 30 minute rest is done, add in the flour and baking powder, and whisk it all together to combine. Add in the oil and mix everything until it is combined.
Then, mix in the eggs. Add the lemon paste and lemon juice, and mix until the batter is fully combined.
Baking the cake
In a loaf pan at 350°F (177°C/gas mark 4), this cake will take around an hour to bake. You should start checking it at about the 50 minute mark. Once the internal temperature is at 205°F (96°C), the top springs back when you touch it, and a cake tester comes out mostly clean, the cake is done.
Tangy Lemon Glaze
To make the glaze, first whisk the lemon juice and powdered sugar together until there are no lumps left. In order to give the glaze some body, most recipes will call for adding a little cream to a lemon glaze at this point. Because this recipe is dairy free, I substituted in a small amount of melted cocoa butter. If you don't have cocoa butter, you can try using white chocolate, although check the ingredients first because most white chocolate has some dairy.
Once your glaze is ready, you can drizzle it all over the cake. (I used a pastry brush, too, to make sure I got in all of the nooks and crannies of the design.) Then you're done!
Other Recipes You Might Like
Did You Try This Recipe?
If you gave this recipe a try, I would love to hear about it! Please leave me a star rating on the recipe, or drop a comment down below. I'd love to hear about your experience!
📖 Recipe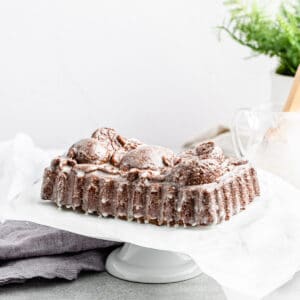 Lemon Loaf Cake (Dairy Free)
A rich lemon pound cake, covered in a tangy lemon glaze. Dairy free recipe.
Ingredients
Loaf Cake
300

g

sugar

- 1½ cups

Zest of 1 lemon

225

g

flour

- 1 cup

¾

teaspoon

baking powder

225

g

oil

- 1 ⅛ cups/9fl oz

3

eggs

1 ½

teaspoon

lemon extract or paste

optional

3

tablespoon

lemon juice

1.5 FL oz/ ¾ large lemon
Instructions
Prepare
Preheat the oven to 350°F (177°C/gas mark 4).

Prepare your baking pan by coating it with baking spray, or a layer of grease and flour.
Make the batter
Add the sugar and lemon zest to a bowl and rub the zest into the sugar. Cover the bowl and set aside for 30 minutes.

Add the flour and baking powder to the sugar and whisk together until combined.

Add the oil and mix until combined.

Add the eggs and mix until combined.

Add the lemon extract and lemon juice, and mix until fully combined.
Bake
Add the batter to the pan and tap it on the counter a few times to make it even on top. If you have a sculpted pan, this also helps to fill in any air bubbles in the top design.

Bake until the batter reaches 205°F (96°C) on a probe thermometer. The cake will spring back when touched with a finger, and a cake tester will come out mostly clean.

Let cool in the pan for about 10 minutes. Then, put a cooling rack on top of the pan and flip them over together so the cooling rack ends up on the bottom. Carefully remove the pan from the cake and let cool.
Glaze
Whisk the powdered sugar and lemon juice together until there are no more lumps.

While whisking constantly, drizzle the melted cocoa butter into the sugar and lemon juice mixture.

Put a piece of parchment paper or foil underneath the cake to catch drips. Drizzle the glaze onto the cake, or brush it on with a pastry brush.
Store
Uncut, this cake will keep about 3-5 days at room temperature. It also freezes very well, wrapped and stored in an airtight container. You can keep it in the freezer for several months.
Nutrition
Calories:
415
kcal
Carbohydrates:
55
g
Protein:
3
g
Fat:
21
g
Saturated Fat:
2
g
Polyunsaturated Fat:
6
g
Monounsaturated Fat:
12
g
Trans Fat:
1
g
Cholesterol:
41
mg
Sodium:
44
mg
Potassium:
43
mg
Fiber:
1
g
Sugar:
40
g
Vitamin A:
60
IU
Vitamin C:
2
mg
Calcium:
25
mg
Iron:
1
mg
Made with WP Recipe Maker plugin