The Lillet Spritz is such a refreshing and delicious summer drink! Featuring the delightful French aperitif Lillet, combined with sparkling Prosecco and a touch of seltzer, the Lillet Spritz is a simple but tasty mix of flavors. A slice of fresh lime along with the aroma of a fresh rosemary sprig make the perfect garnish for this bright and beautiful cocktail.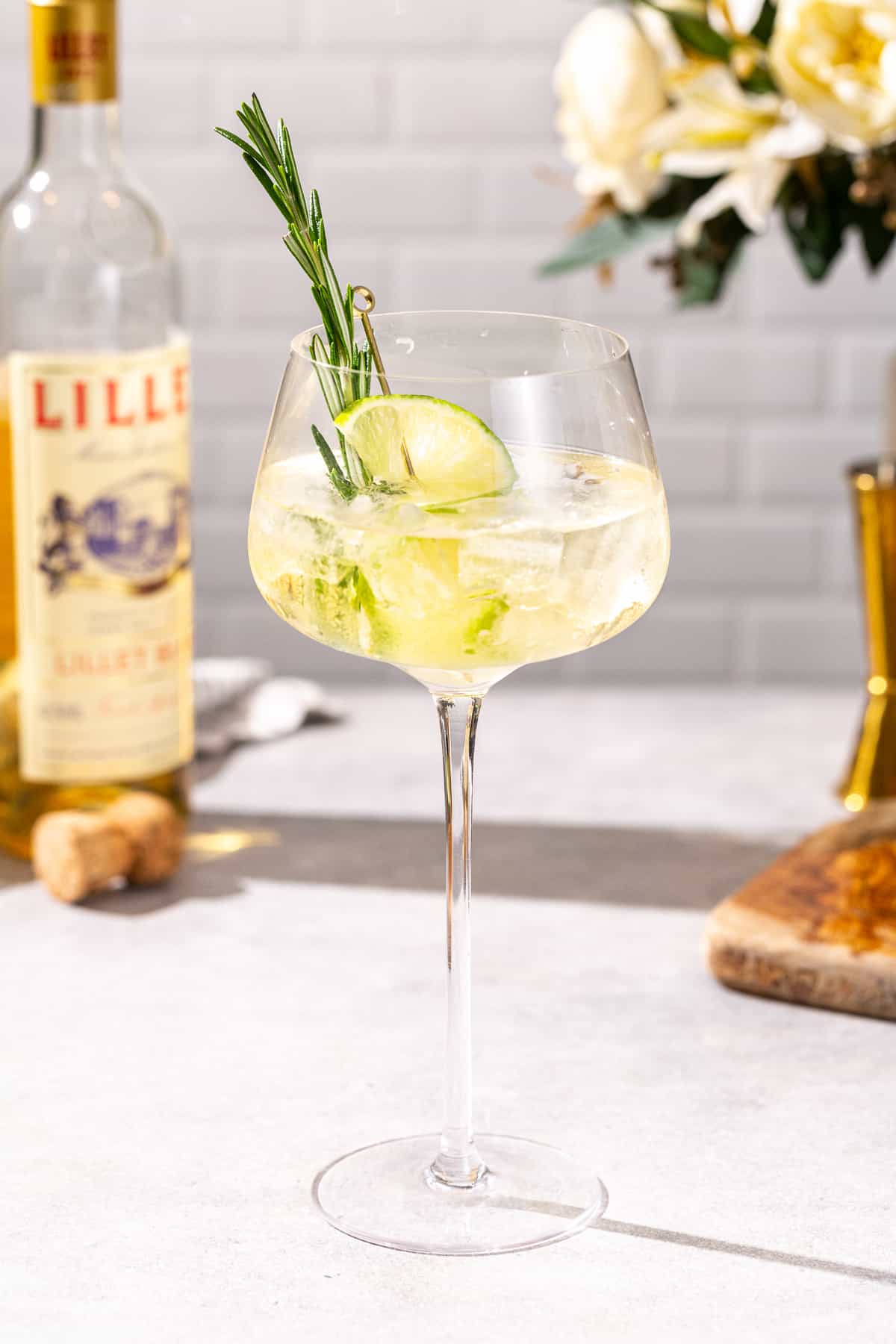 The light and refreshing Lillet Spritz is such an ideal summer drink, with its mix of herbal and sweet Lillet and bubbly Prosecco. This is a great change up if you're used to drinking an Aperol Spritz!
Looking for another summertime classic cocktail? The Hugo Spritz is a similar drink, but with an elderflower liqueur instead of the Lillet. You can pretty much make any liqueur into a spritz! Just follow the 3-2-1 method of the Amaro Spritz cocktail.
Jump to:
History of Lillet
Lillet Blanc is a renowned French apéritif, which means a sweetened liqueur-type spirit that is usually enjoyed before a meal. Created in Bordeaux, France, by Maison Lillet in the late 19th century, it was initially called Kina Lillet due to the bitter Cinchona bark used in its blend (the bark is also called "kina kina").
This fortified wine (wine with added alcohol) is made of 85% Bordeaux wines and 15% macerated liqueurs, mostly sweet and bitter oranges from various regions. Maison Lillet also makes other flavors, namely Lillet Rosé and Lillet Rouge, from different blends.
The modern version of Lillet emerged in the late 1980s, changing from Kina Lillet to a a more fruit-forward profile, with less sugar and also less bitterness. The new version became a global hit, and is most well-known in James Bond's Vesper Martini.
Ingredients
Here are the ingredients you'll need for this tasty drink:
Lillet - Lillet Blanc is a wine-based aperitif, made by flavoring white wine and adding some additional alcohol to make it stronger. This is actually delicious just on its own, but really shines in this cocktail.
Prosecco - Prosecco is Italy's version of Champagne, a sparkling wine that is a little sweeter and less yeasty than Champagne or Cava.
Seltzer - a touch of seltzer or club soda makes this drink even more bubbly and refreshing.
Lime slice - this garnish is optional, but highly recommended!
Fresh rosemary - another optional garnish, but this really enhances the drink with its woody evergreen aroma.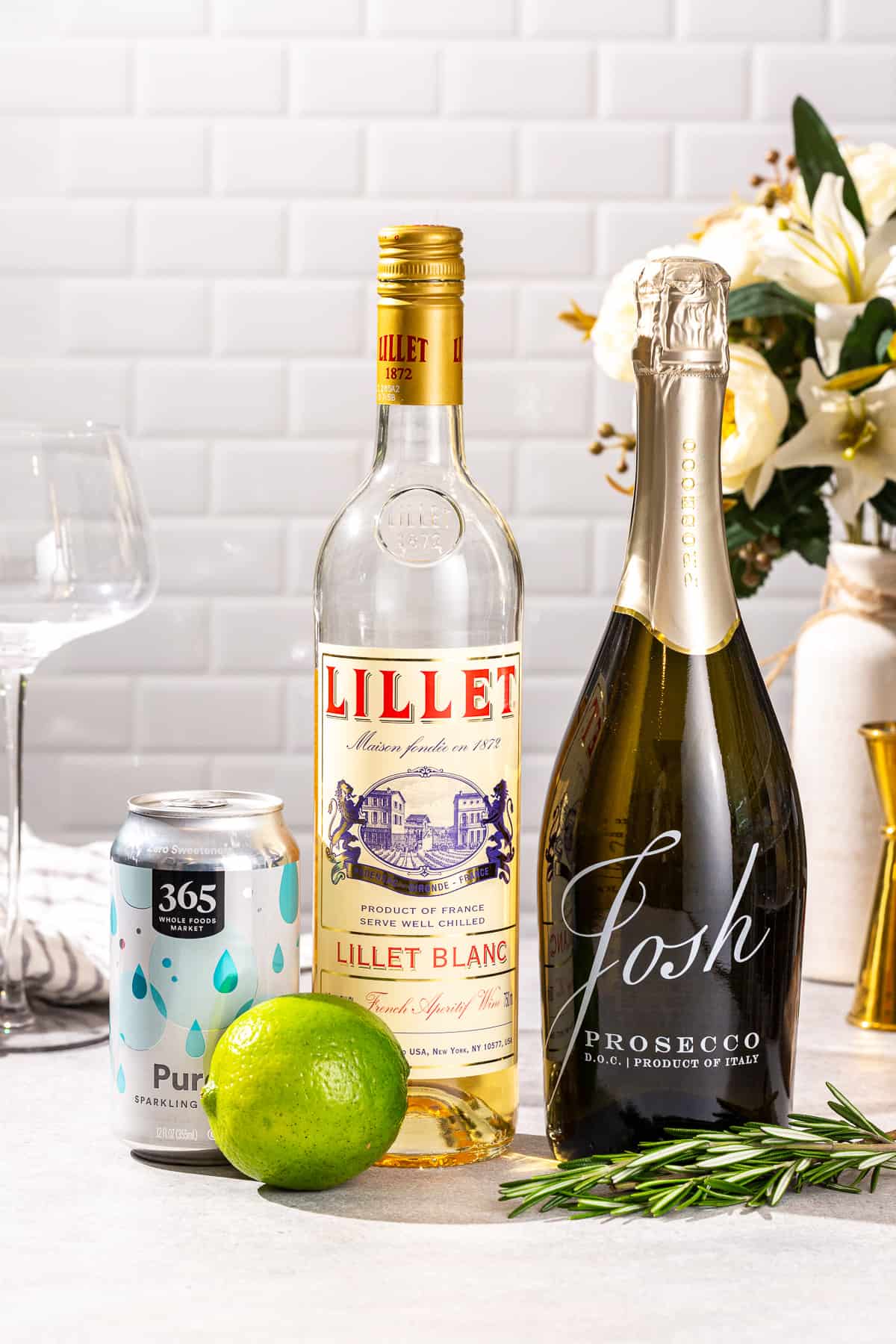 Substitutions
Here are some ways you can substitute the ingredients in this cocktail:
Lillet - if you prefer a rosé or red wine flavor, you might like to try Lillet Rosé or Lillet Rouge. These types of Lillet bring different flavors than the Lillet Blanc. If you can't find any of these, try to find Cocchi Americano Bianco, an amaro that is a fairly close match in flavor.
Prosecco - try out Champagne or Cava if you don't have this sparkling wine. You could also use a sparkling rosé if you have it, which will give this drink a blush color and slightly more complex flavor.
Seltzer - you can omit this sparkling water if you don't have it, or just add some ice water if you want to lengthen the drink. You could also just add some more ice cubes so the chill will last longer!
Garnishes - for a different garnish, try using orange slices, fresh mint, or slices of cucumber for a slightly different, yet equally refreshing flavor.
Variations
Here are some variations on this spritz recipe:
Virgin Spritz - if you're avoiding alcohol, you can make something similar to this drink by combining alcohol-removed sparkling wine (try one of these: best reviewed non-alcoholic champagne) with a vermouth substitute, like Lyre's Aperitif Dry.
Add in some fruit - this drink is delicious with some added fruit or fruit juice! Try adding in some slices of strawberry or kiwi for some additional color and flavor. You can muddle the fruit beforehand along with the Lillet, and then strain that into the glass before adding the Prosecco.
Fresh citrus - try adding in a squeeze of fresh lemon juice or lime juice to bring in some extra tartness and flavor.
Tea-infused Spritz - try infusing your Lillet with a few tea bags for a deliciously different flavor. Just combine them in a glass and let them sit for a few hours before removing the tea bags, and use the infused liquid in the recipe. The final drink will take on a darker color with some additional tannic and herbal tea flavors.
Equipment
You'll only need a few simple tools to make this drink. Just grab a jigger to measure your ingredients, and optionally, a bar spoon to stir things up. For glassware, you can serve it in a large stemmed spritz glass, or a stemless wine glass works great as well.
If you have any problems opening the bottle of Prosecco, this Champagne bottle opener is such a big help!
I use bar tools from A Bar Above and love them (especially the gold color)! You can get 10% off using my discount code, LKDrinks. Their bar tools are really durable, and also can be thrown in the dishwasher when you're done mixing!
Instructions
Start out by preparing your fresh lime garnish. Cut a slice of lime, and then make a slit in one side. Twist the slice, and then poke a cocktail pick or toothpick through the slice so it stays in a curled up shape.
Set the lime aside while you make the drink.
Fill your serving glass with ice, and then add in the Lillet.
Pour the Prosecco into the serving glass, and then top it off with seltzer.
Give the drink a quick but gentle stir with a bar spoon, and then add in your lime slice garnish.
Clap the rosemary between your hands to release the aroma before adding it to the cocktail as a garnish. Then, serve and enjoy!
Hint: If you can, chill all of the ingredients in the refrigerator for at least 30 minutes before making the drink. Bonus points for chilling the serving glass too!
Frequently Asked Questions
What is Lillet made of?
Lillet is made from a blend of white wine, citrus liqueurs, and a secret mix of fruits. It also uses Cinchona bark to add some bitterness and complexity.
Is Lillet stronger than wine?
Lillet is a bit stronger than your average wine. While wine usually has around 12% alcohol, Lillet has about 17%.
Is Lillet a type of vermouth?
Although Lillet and dry vermouth are similar and both made from a white wine base, they are considered different. This is because Lillet uses added liqueurs, and also uses Cinchona bark (quinine) instead of wormwood for its bitterness.
Top tip
The garnishes are optional, but they can really bring this spritz to the next level! If you don't have access to the fresh citrus or rosemary, try just using dried citrus slices. Just float them on top of the drink so they can rehydrate a little bit and release some of their flavors into the liquid.
📖 Recipe
Lillet Spritz
The refreshing Lillet Spritz cocktail is a refreshing wine-based cocktail that's perfect for summer! It's similar to the Aperol Spritz, but this tasty drink uses Lillet Blanc, Prosecco, and seltzer.
Instructions
Garnish
Cut a slit in the side of your lime slice.

Twist the lime slice and use a cocktail pick or toothpick to pass through the twisted slice, holding it in a twisted position. Set it aside along with the rosemary.
Cocktail
Fill your serving glass with ice.

Measure and add the Lillet Blanc to the glass.

Pour the Prosecco into the glass.

Top it off with the seltzer.

Give the drink a quick but gentle stir with a bar spoon.

Add the lime slice garnish to the glass.

Clap the fresh rosemary between your hands before adding it to the glass.
Nutrition
Calories:
134
kcal
Carbohydrates:
7
g
Protein:
0.1
g
Fat:
0.02
g
Sodium:
12
mg
Potassium:
83
mg
Fiber:
0.2
g
Sugar:
6
g
Vitamin A:
6
IU
Vitamin C:
2
mg
Calcium:
12
mg
Iron:
0.4
mg
Made with WP Recipe Maker plugin