If you're looking for a refreshing cocktail that will transport you to the warm shores of northern Italy, the Hugo Spritz will be your perfect drink! This delightful aperitif has become more and more popular in recent years, and with good reason. It features St Germain, an elderflower liqueur that gives this bubbly and refreshing drink a delicious floral flavor. So perfect for summer!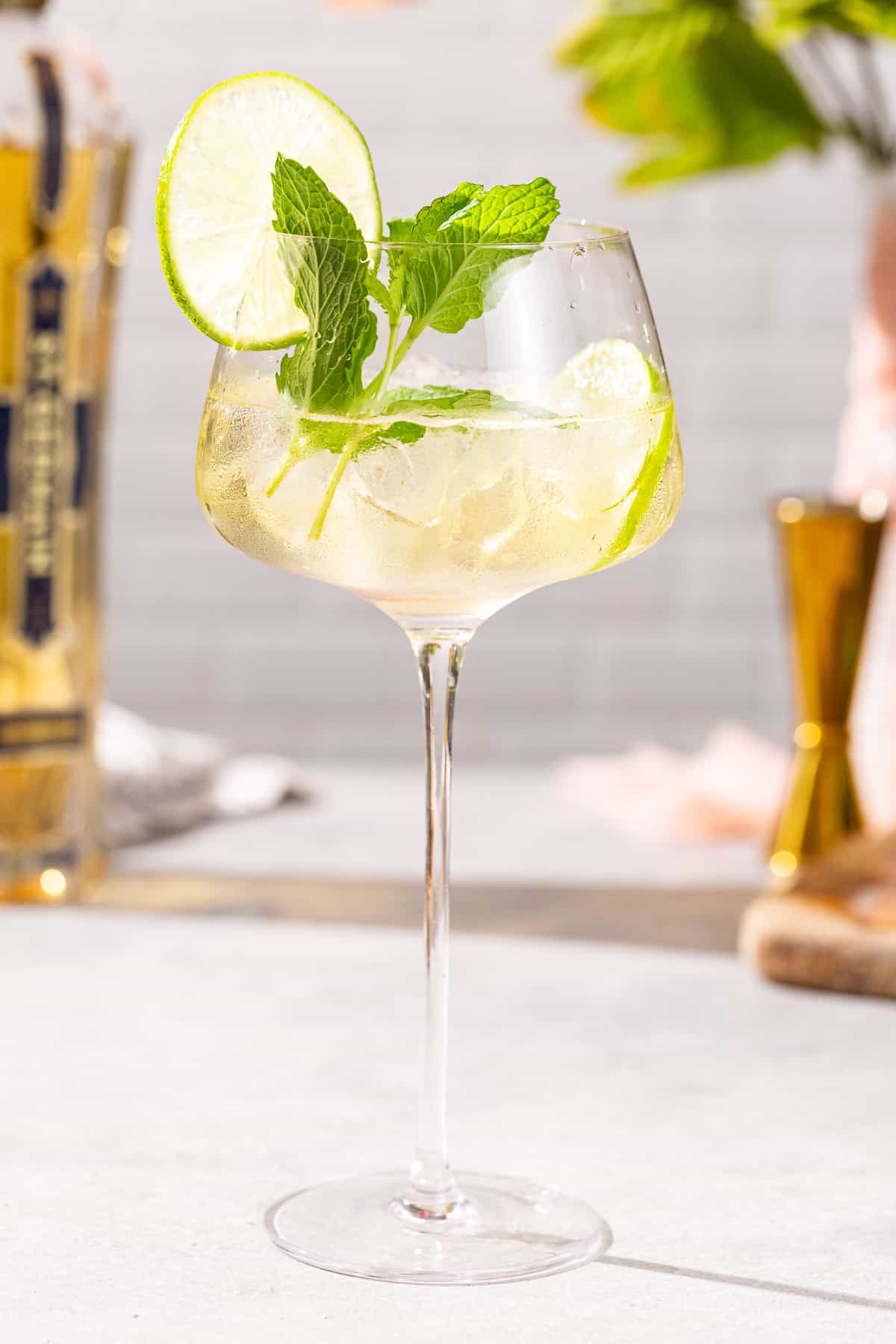 The Hugo spritz cocktail recipe follows the same 3-2-1 formula as the Amaro Spritz, with 3 parts of sparkling wine, 2 parts of liqueur and 1 part of club soda. The Aperol Spritz is probably the most well-known version of the spritz, but there are really endless possibilities!
If you're looking for even more refreshing summer spritzes, try out the simple but delicious Dirty Shirley. The Negroni Sbagliato and French 76 are both amazing options for the rest of your bottle of Prosecco! Or, try out the refreshing Lillet Spritz for a similar drink with more of a white-wine based flavor.
Jump to:
History of the Hugo Spritz
The Hugo Spritz, also known simply as the Hugo, is a relatively new addition to the world of classic cocktails. It was created in 2005 in South Tyrol, a picturesque region of northern Italy. Roland Gruber, a bartender at San Zeno Bar, came up with the drink as an alternative to the Spritz Veneziano, a popular sparkling aperitivo.
Inspired by the beauty of the local ingredients, Gruber wanted to craft a drink that captured the essence of the area. He decided to use an elderflower syrup, and the Hugo Spritz was born. He originally named it the "Otto", but changed his mind and made cocktail history.
Ingredients
To create the refreshing Hugo Spritz, you will need the following ingredients:
St Germain - St Germain elderflower liqueur is also known as "Bartender's Ketchup" because it has such a delicious and versatile flavor. It's truly the star of the show in this cocktail!
Prosecco - this Italian version of bubbly is slightly sweeter and has less of a yeasty flavor than Champagne.
Seltzer - (or club soda) using sparkling water adds some extra bubbles and helps make the drink even more refreshing!
Fresh Lime slices, for garnish. Optional, but definitely recommended here.
Fresh mint leaves - for garnish. Also optional but highly recommended!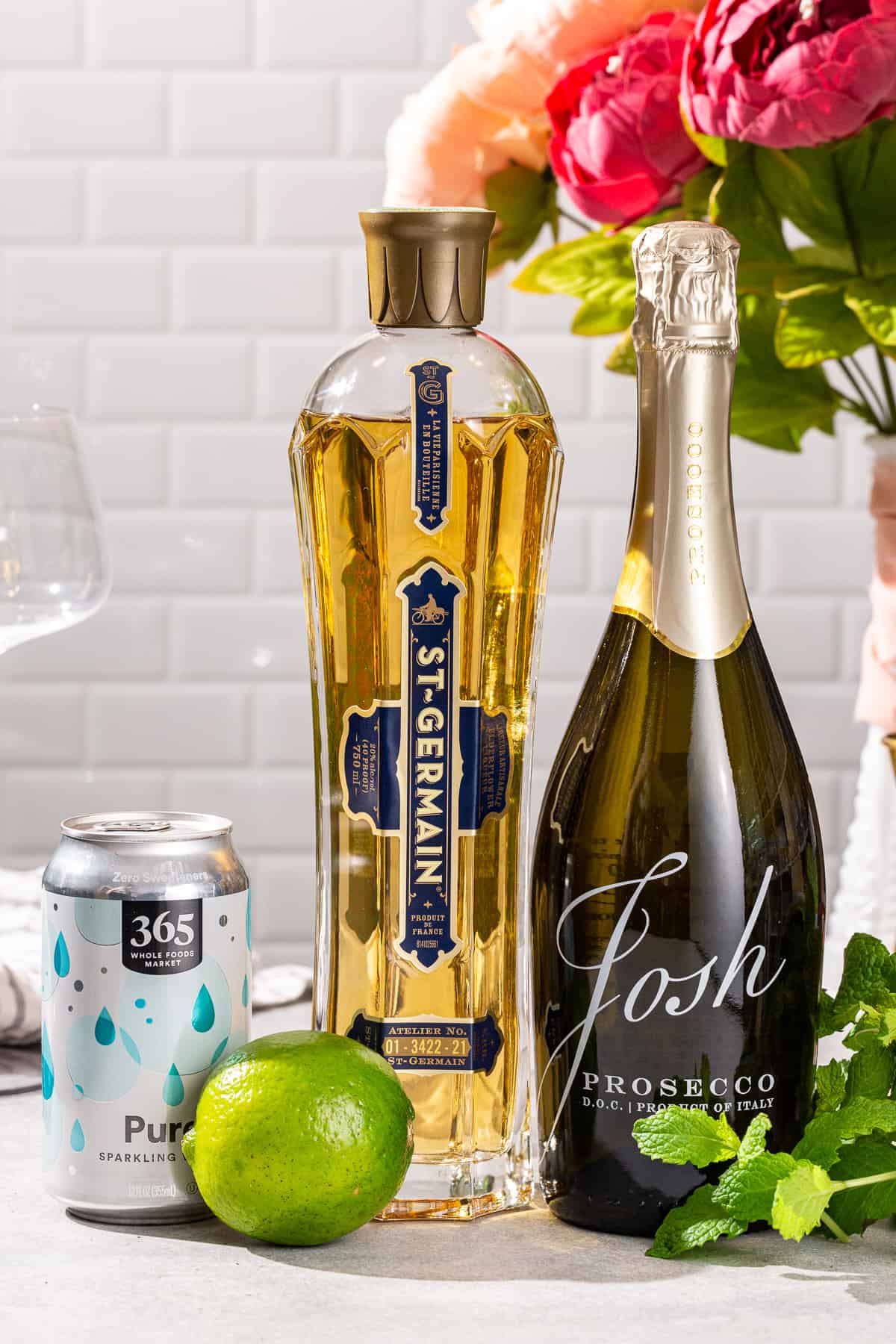 Substitutions
If you don't have all the ingredients on hand, here are a few substitution options for a similar cocktail:
St Germain - Drillaud Elderflower is another elderflower liqueur you can try. Or, instead of elderflower liqueur, you can use elderflower cordial or elderflower syrup. If you make this substitution, you can optionally add in about ½ ounce (15 ml) of vodka as well.
Prosecco - this can be substituted with Spanish Cava or any other sparkling wine.
Garnish - You can use a lemon instead of a lime here. You could also make a lime wedge instead of a slice if you'd like to be able to squeeze in some extra juice.
Variations
There are so many variations you can try to add your own twist to this cocktail. Here are a few ideas:
Virgin Hugo - for an alcohol-free version of this drink, try using a syrup like d'arbo Elderflower Syrup. Then, use an alcohol free bubbly alternative, like one of these: best reviewed non-alcoholic Champagne.
Keto Friendly version - for a low sugar version, try using Jordans Skinny Syrups Lemon Elderflower in place of the liqueur. You can use a no-sugar sparkling wine, like Bev Zero Sugar canned wine, or a Brut style Prosecco.
Strawberry Hugo Spritz - you can add in a ½ ounce of strawberry syrup and a little extra sparkling water, or muddle a few fresh strawberry slices before adding the other ingredients to give this drink a pop of bright color.
Equipment
You'll just need a few simple bar tools to make this drink. A jigger is a must to measure the ingredients. I really love my gold one from A Bar Above (and you can get 10% off using my discount code, LKDrinks).
A spritz glass or a large red wine glass is ideal for serving this cocktail. I used the Viski spritz glass here, which gives an elegant look and plenty of room for the mint leaves.
If you're using fresh citrus you'll also want to grab a knife and cutting board. And, a long bar spoon is nice to have for stirring, but you can also just use a regular spoon to gently stir.
Instructions
Let's get to the drink! Start out by prepping your lime and mint, and set them aside for now. If you need to refresh your mint, stick it in a glass of ice water while you make the drink.
Add ice to your serving glass and pour in the elderflower liqueur.
Add in the Prosecco, followed by a splash of soda water.
Give the drink a gentle stir with a bar spoon to mix the ingredients. Then, add your fresh citrus garnish.
Lightly clap the mint leaves between your hands to "wake up" the mint, meaning that you'll release some of the mint oils so it will give off the perfect amount of aroma.
Add the mint to the glass, and then serve and enjoy!
Hint: an easy way to elevate your spritz cocktail is to use clear ice instead of home freezer ice cubes, which are usually cloudy. The bagged ice at grocery or convenience stores is perfect for this! You can also make your own clear ice using a clear ice mold (or go the truly DIY route by using a cooler).
Frequently Asked Questions
What is the difference between an Aperol Spritz and a Hugo Spritz?
The main difference between the Aperol Spritz and Hugo Spritz is the type of liqueur used. In a Hugo Spritz, elderflower liqueur is used, and Aperol is used in the Aperol Spritz. The Hugo is a little bit sweeter and less bitter, but with a bit of tanginess. Usually, the garnish is different as well.
What does elderflower taste like?
Although it's a flower, the elderflower does have light, fruit-like flavor. It is slightly tangy and citrusy, and has flavors remeniscent of pear, pineapple and lychee.
Can I make the Hugo Spritz in advance for a party?
Although this drink is really best served fresh because of the carbonation, you can create a spritz station for your guests. Just have a bottle of the liqueur, along with Prosecco and sparkling water, on ice. Then, have out an ice bucket and ice scoop next to the serving glasses, with a simple sign for your guests on how to make their own spritz.
Top tip
The beauty of a spritz is that it's a relatively light drink that's not too high in alcohol (so you can easily enjoy a second cocktail!) If you want to make it a stronger drink, you can add in ½ ounce of plain or citrus vodka.
📖 Recipe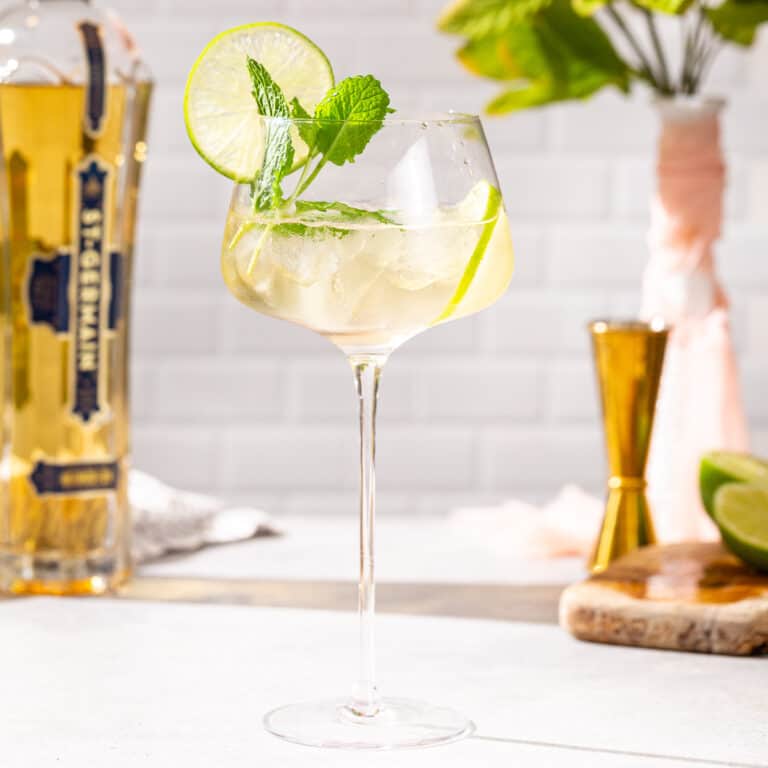 Hugo Spritz
This delicious elderflower spritz is so easy to make and perfect for summer! St Germain elderflower liqueur combines with Prosecco and soda water for an unforgettable and refreshing sip.
Ingredients
Garnish
2-3

slices

fresh lime

1-3

sprigs

fresh mint
Instructions
Garnish
Prepare your lime slices and fresh mint sprigs, and set them aside. If you need to refresh your mint, submerge it in ice water while you make the drink.
Cocktail
Add ice to your serving glass.

Measure and add your elderflower liqueur to the glass.

Add in the Prosecco, and then the seltzer.

Give the mixture a gentle stir with a bar spoon.

Add the lime slices to the drink. You can cut a slit in of of the slices and attach it to the rim of the glass for an extra fancy serve.

Lightly clap the mint sprigs in between your hands, and add it to the drink for a final flourish. Cheers!
Notes
Although I've made this drink by adding the liqueur first, you can certainly start with the Prosecco. Many people swear by adding the Prosecco and seltzer first, because otherwise the liqueur will stay on the bottom of the drink unless you give it a gentle stir.
You can make a DIY version of elderflower liqueur by combining 1 part elderflower syrup (I use d'arbo brand) with 1 part plain vodka. Great if you want to control the amount of sugar you use!
Nutrition
Calories:
253
kcal
Carbohydrates:
25
g
Protein:
0.2
g
Fat:
0.04
g
Polyunsaturated Fat:
0.02
g
Sodium:
12
mg
Potassium:
95
mg
Fiber:
0.5
g
Sugar:
23
g
Vitamin A:
49
IU
Vitamin C:
4
mg
Calcium:
16
mg
Iron:
0.5
mg
Made with WP Recipe Maker plugin